Hi folks. I had  a busy, but fun, week in the kitchen while my parents were here. I am going to keep meal planning simple this week and utilize some of the wonderful fresh herbs we have growing in the garden. We've had a morning shower about every other day since we planted so I haven't managed to kill them yet (just one or two but that's because they got too much water and we figured out the pot didn't have a drain hole- oops). So on the menu….
Menu for the Week of June 26th
Sunday
Tomato, Basil, Mozzarella Salad, Antipasti Tray (Vegetables, Olives, Hummus, Grapes Leaves), Crusty Bread
Monday
Barbecue Pulled Chicken Sliders

(but using whole wheat hamburger buns instead of minis), Slaw Salad, Crock Pot Beans
Tuesday
Salmon and Vegetables with Lemon and Dill, Orzo Salad with Feta and Garbanzo Beans
Wednesday
Chicken Sausage on the Grill, Vegetable Ratatouille with Fresh Oregano & Parsley, Leftover Orzo
Thursday
Bean and Cheese Chalupas (using Crock Pot Beans), Guacamole, Romaine Salad with Cilantro Lime Dressing
Friday
Out to eat or homemade pizza
Saturday
Holiday weekend so not sure of plans!
So moving on to the recipe for my pinto beans. You may have noticed that we eat a lot of bean and cheese tacos (or chalupas). It is my go-to meal when I haven't had time to cook. We all love them and the parents jazz them up with guacamole and hot sauce. Everyone is happy. Typically I use low fat refried beans, but lately have been using my homemade pinto beans instead. My husband LOVES barracho beans. He always requests them at the Mexican restaurant over the refried beans. I, on the other hand, don't get too excited about my side of beans. I prefer spending my calories on the other stuff- mainly my entree and chips. BUT since we have been eating so many beans over the years I decided to try my own homemade beans. I was skeptical because I have had many beans like this that are flavorless and too soupy. I don't not like my beans soupy. Sorry. So a couple months ago I made these crock pot beans and fell in love. They make the best bean and cheese tacos (using my fresh tortilla land tortillas) and I feel like I am getting a good quality taco/burrito like I would get in the restaurant….but better because I know my beans are healthy and not made with lard….and the little bit of ham really adds a richness to the taco.
Another benefit of cooking beans from scratch- super inexpensive. I paid a little over a dollar for the pound of beans, not much for the ham and we got probably a dozen servings out of it. Plus beans freeze great so I almost always put at least half in the freezer. You've got to try 'em! If you are skeptic like me, trust me on this one. I included a stove top method too so if you don't have a slow cooker you can try them too!
Sort em and soak them over night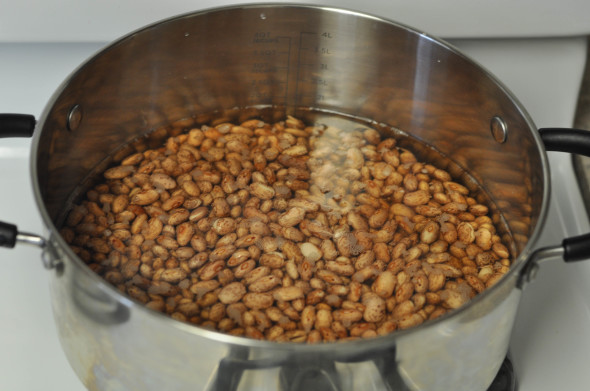 Transfer to slow cooker, add fresh water, half way through the cooking time add ham, onions and spices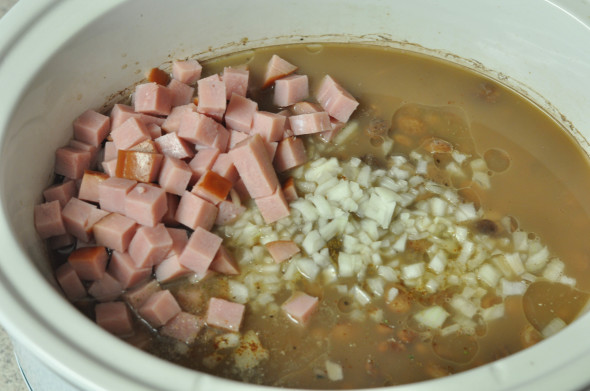 Straight off the slow cooker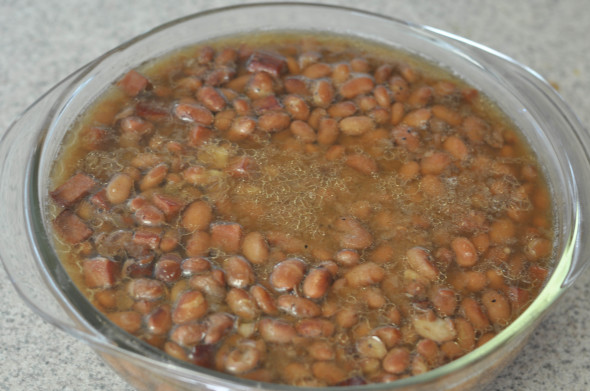 The next day, some of that liquid gets absorbed, the flavors intensify, they make the perfect taco/burrito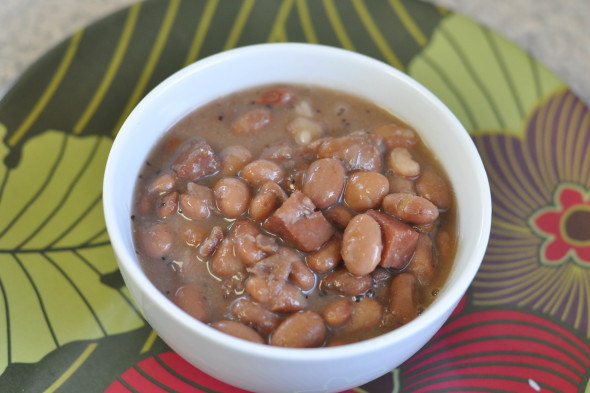 Seriously good people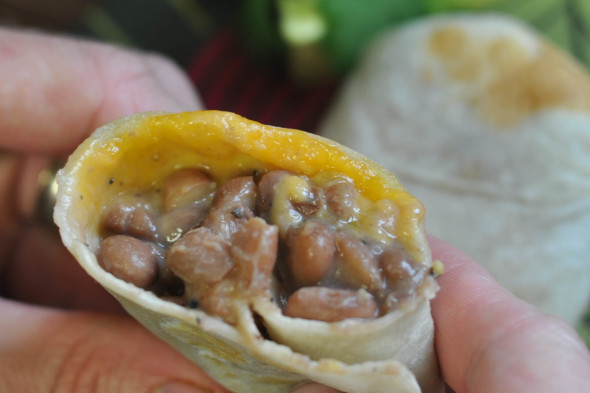 [print_this]
Crock Pot Pinto Beans & Ham
INGREDIENTS:
1 lb pinto beans
8 ounce ham steak or ham bone, left over baked ham, diced
1/2 small onion, finely diced (~1/3 cup)
2 Tablespoons vegetable oil
SPICES
2 teaspoons salt
1 1/2 teaspoons pepper (see note)
1 Tablespoon sugar
1/2 teaspoon cumin
1/2 teaspoon garlic powder
1/2 teaspoon onion powder
couple shakes of cayenne red pepper (optional)
DIRECTIONS:
1. Sort and rinse beans and let soak in a large pot overnight. In the morning or whenever you're ready to cook beans, dump water, rinse again and place in crock pot. Cover beans with fresh water (I don't like mine soupy so I only cover by ~3/4 to 1 inch). Add 2 teaspoons salt, 1.5 teaspoons pepper (or less), sugar and oil and turn crock pot to high. Let the beans cook for 2 1/2 to 3 hours with lid on (no peaking or stirring at this point- just let them cook).
2. After 2 1/2 to 3 hours, add diced onion, ham and remaining seasoning (cumin through red pepper). At this point you can add more water if it looks too low. The beans should be done after about 4-6 hours on high (mine were tender after 4 hours so I turned to low for 1 more hour. All slow cookers are different!) If still firm cook longer. Once they are tender, that is when I taste and adjust seasoning. If you don't use the ham, you'll probably want to add more salt.
3. Turn crock pot to warm until dinner time. Makes ~12-13 servings.
COOK'S NOTES: I used a total of 1 3/4 teaspoon and this made them pretty peppery. If you are not sure, start with 1 teaspoon and add more at the very end if desired. These beans get better on the second (and third) day so make ahead if needed for a party. After day 2 or 3, I freeze the remaining half to be used at a later date. You could also do this exact thing on the stove top. Just bring the beans to an initial boil after step 1, turn to low and simmer for 1 1/2 to 2 hours or until tender.
[/print_this]
Nutritious Eats Benefits: protein, fiber, iron, folate, low fat