Mediterranean Nachos are a delicious gluten free and vegetarian snack/appetizer loaded with hummus, veggies, feta and more- a fun spin on the classic Tex-Mex dish.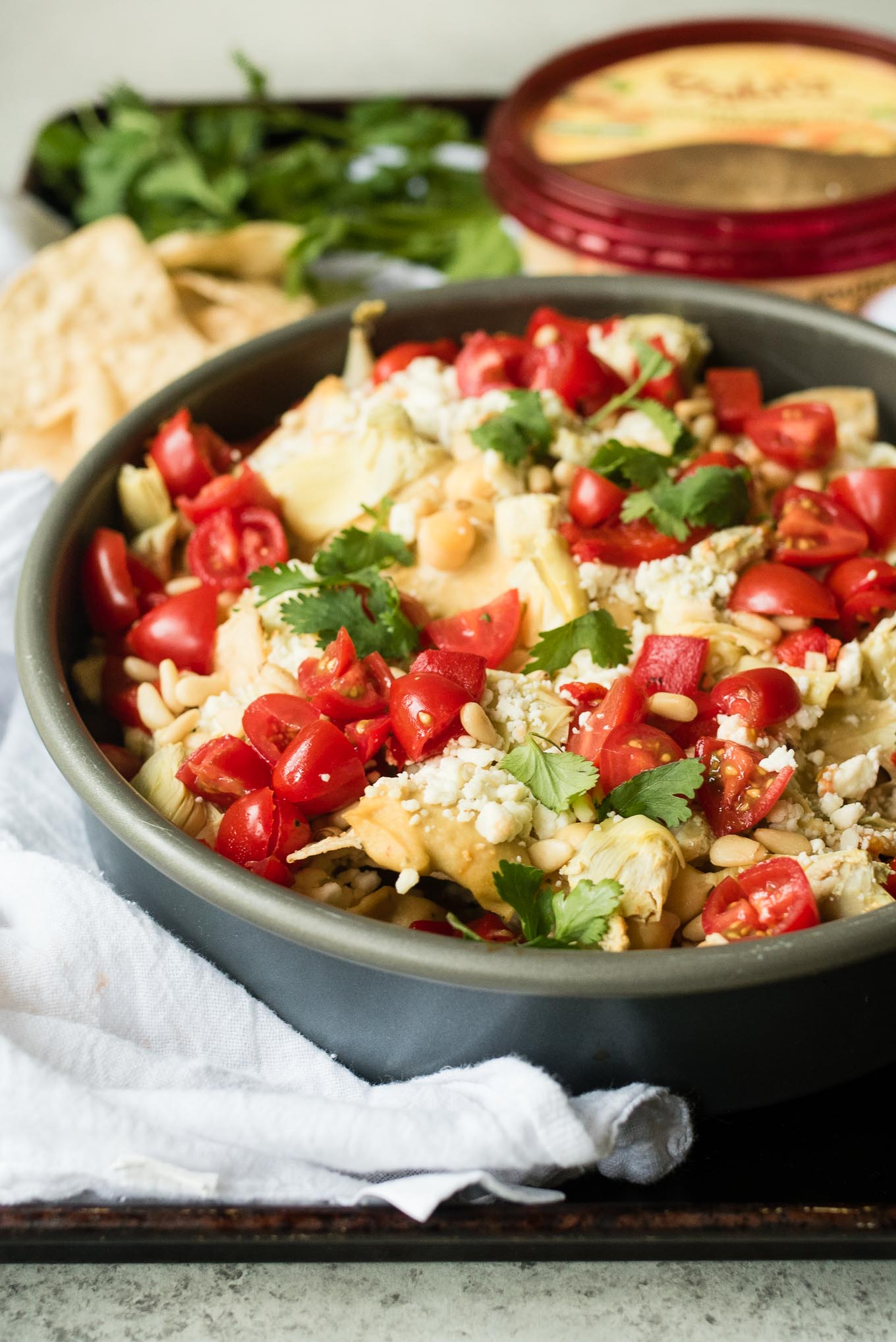 I received free samples of Sabra Hummus mentioned in this post. By posting this recipe I am entering a recipe contest sponsored by Sabra and am eligible to win prizes associated with the contest. I was not compensated for my time.
Mediterranean Nachos are layered with hummus, feta, pine nuts and other mediterranean flavors like roasted peppers and artichokes. They can be thrown together in minutes and are so good you might want to make a meal out of them.
Did you know this week is National Hummus Day tomorrow (May 13th)? I remember a long time ago when hummus used to be an "unusual" food when I started feeding it to my oldest when he was a baby. People thought it was so crazy, in a good way, that my baby liked hummus. Now it's so common that it's sold in individual portions for lunches or on-the-go meals. I see kids eating all the time which makes the Dietitian in me so happy!
My favorite store bought hummus is hands down Sabra hummus. It's has the perfect flavor and texture that I am looking for in a hummus.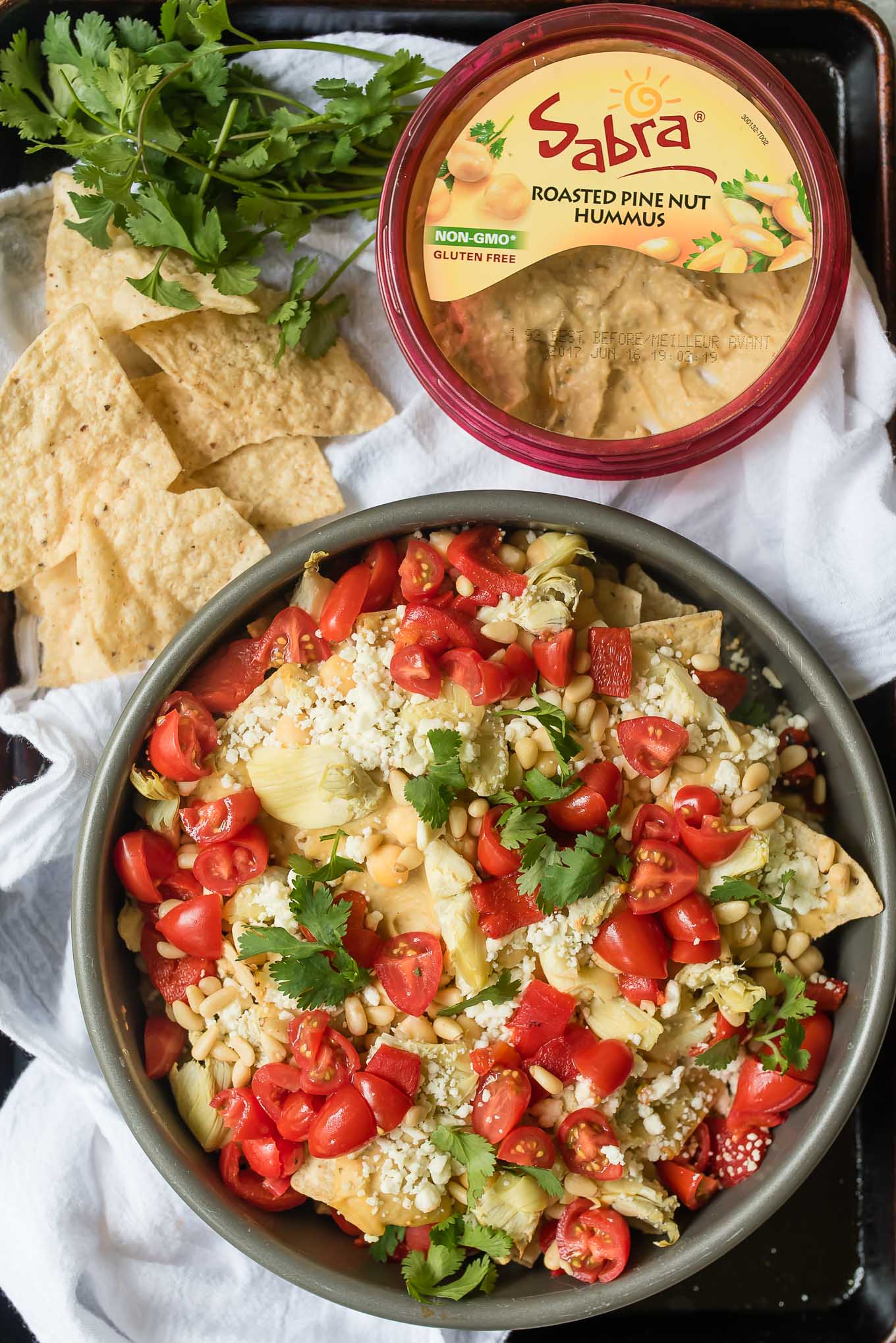 Hummus is a great plant-based protein that is fabulous as a sandwich spread, dip or condiment. It makes the prefect convenient and fiber rich snack because all you need is some crackers, pita or veggies to enjoy it.  These Mediterranean Nachos are a simple way to take your hummus to the next level. I used pantry staples like jarred roasted red peppers, canned artichoke hears, garbanzo beans and pine nuts, along side some fresh ingredients liker tomatoes, cilantro and feta cheese.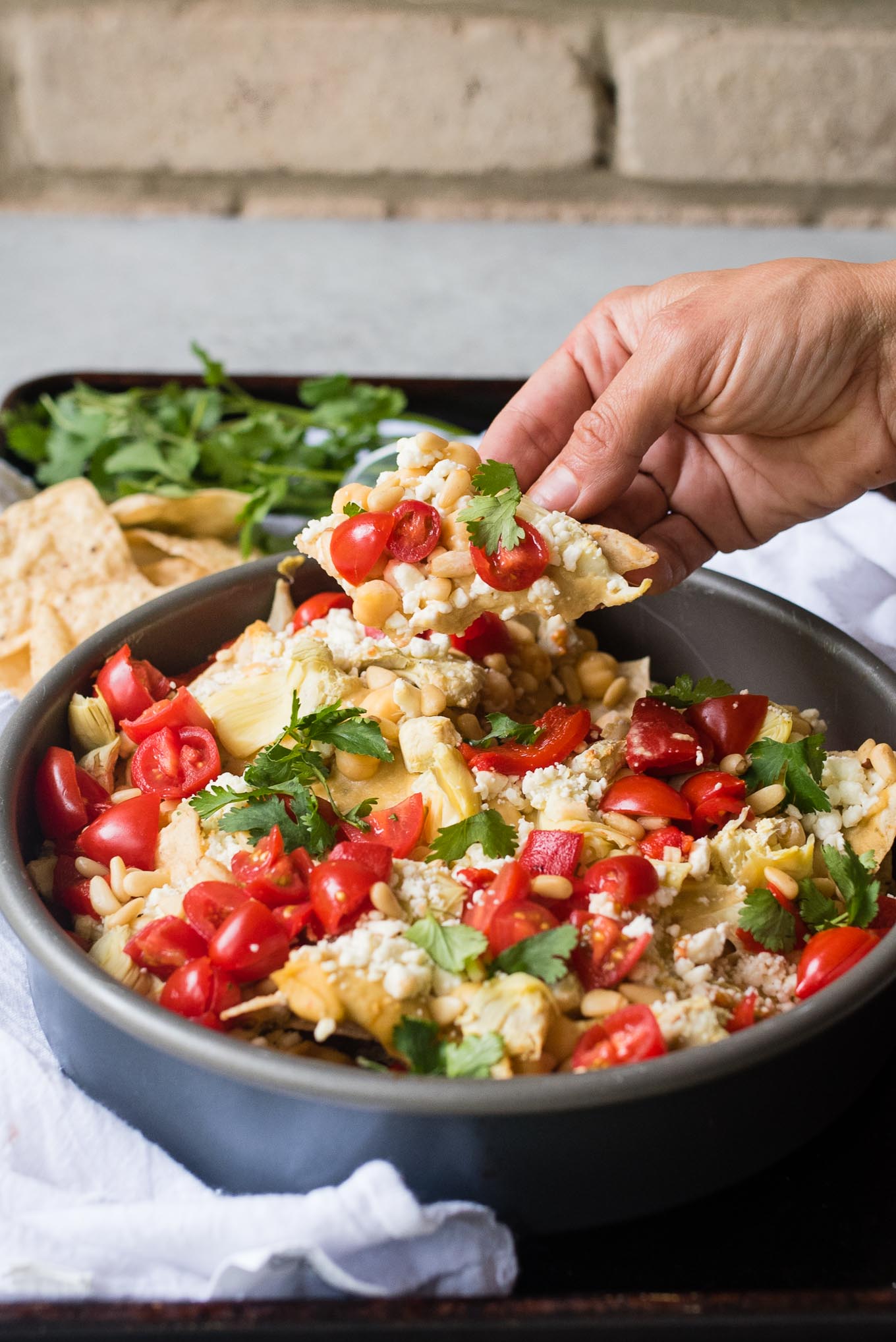 It look me a few minutes to toss everything on top and about 5 to warm it up. You could do this for an after school snack, a party appetizer, a light dinner paired with a side salad. You can scale down the portion or double it! So many options because hummus is for any time of the day, don't you agree?!
Sabra brand hummus has so many amazing flavors it's hard to pick a favorite! Although I'm always drawn to Supremely Spicy, I used the Roasted Pine Nut flavor in this recipe but you could use any of them. Check out all of these flavors on Sabra's website– I haven't seen all of them in my store, but I can't wait to find them!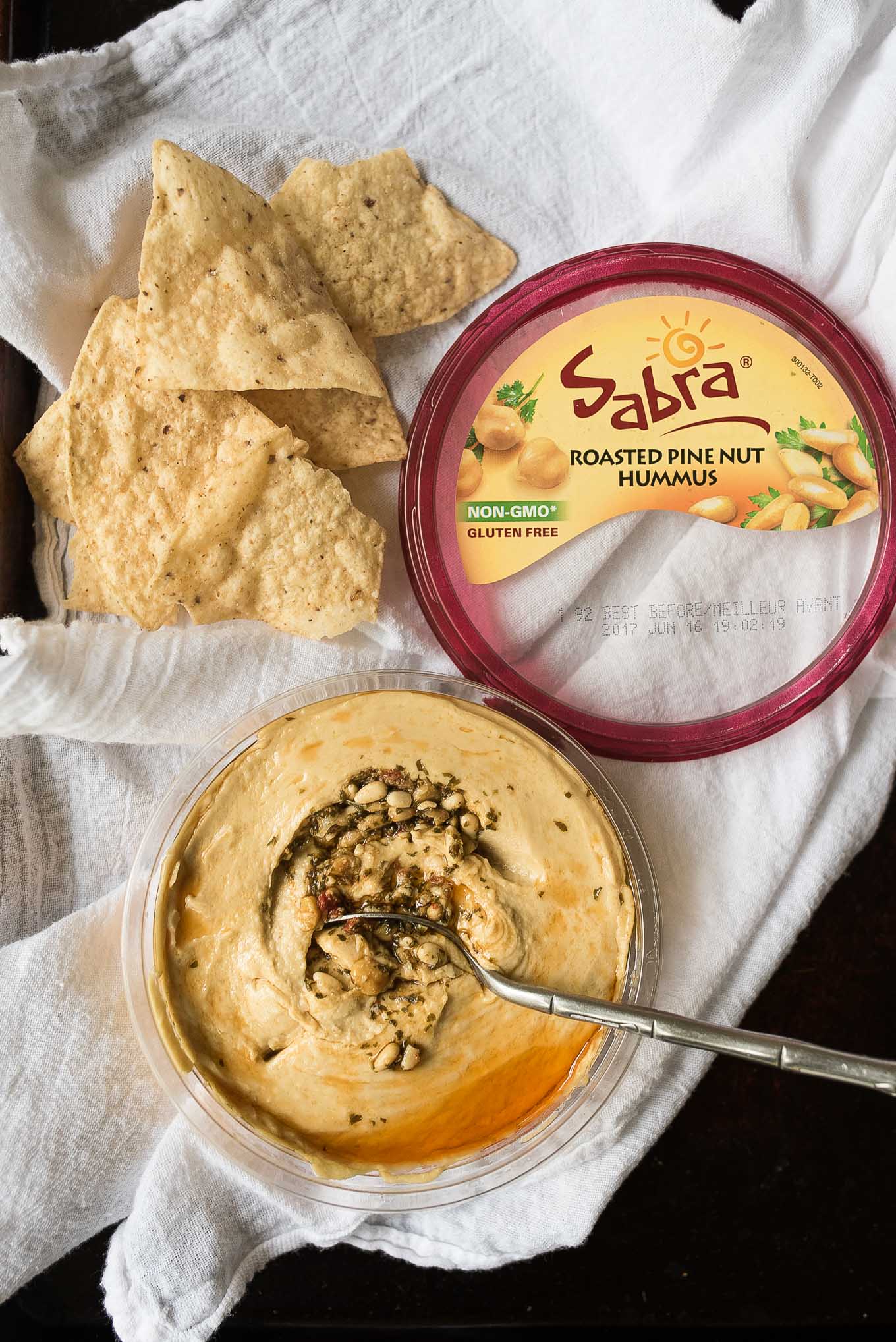 Tell me how you enjoy your hummus? Make sure to check out www.sabra.com for more recipe ideas and product information.
Looking for other snacks: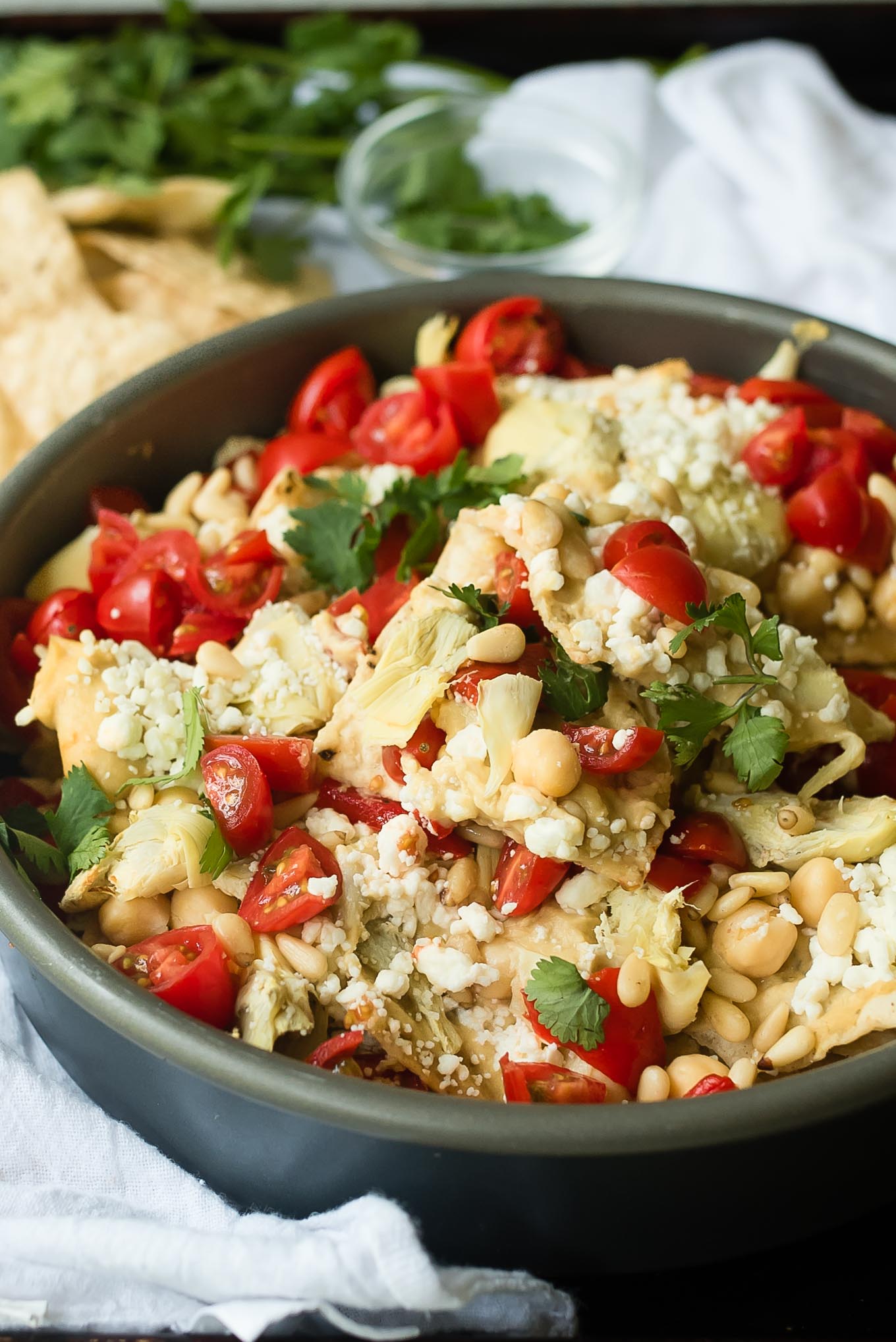 You can follow Sabra on Facebook, Instagram and Pinterest.

Mediterranean Nachos
Mediterranean Nachos are a delicious gluten free and vegetarian snack/appetizer loaded with hummus, veggies, feta and more- a fun spin on the classic Tex-Mex dish.
Author:
Melanie F. | Nutritious Eats
Recipe type:
Appetizer/Snack
Ingredients
½ bag of tortilla chips
½ of a 10 ounce container of Sabra Hummus- any flavor
½ of 14.5 ounce can (~3/4 cup) of garbanzo beans, rinsed, drained and patted dry
1 cup canned artichoke hearts, rinsed, drained and squeezed dry of the liquid
½ cup chopped roasted red peppers, patted dry from the jar
½ cup crumbled feta cheese
2½ Tablespoons pine nuts
½ cup chopped tomatoes
2 tablespoons fresh minced cilantro
Instructions
Preheat oven to 375 degrees. In a oven safe cookie sheet or baking pan, layer tortilla chips, dollop with hummus and spread slightly. Top with garbanzo beans, artichoke hearts, red peppers, feta cheese and pine nuts. Bake for ~5 minutes or until warm. Remove from oven and top with fresh tomatoes and cilantro. Enjoy!