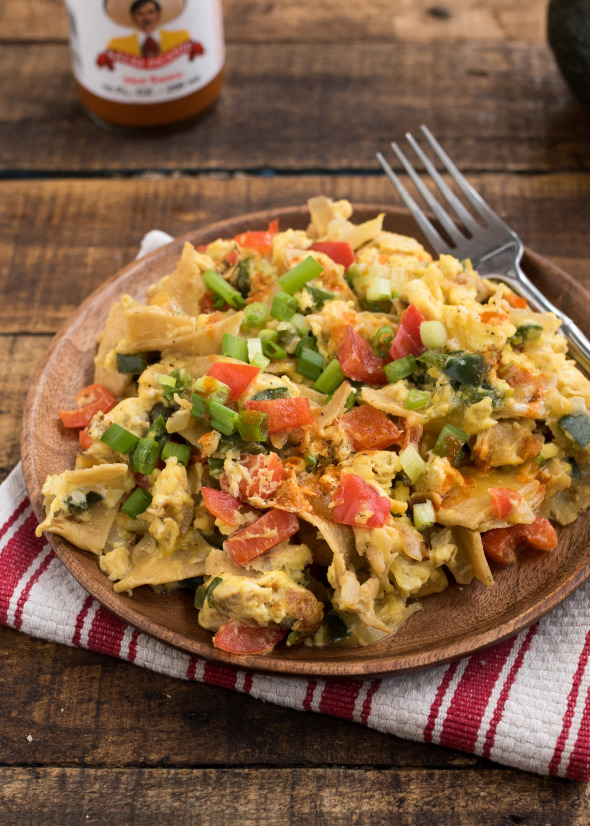 Fact- it's hard to make scrambled eggs look pretty in pictures.
I'm obviously craving all things Mexican these days. Ever since our Mexican food extravaganza on Christmas eve I can't get enough. I never really talked about our holidays, but they were wonderful. The hubs had off the whole two weeks from work and it was just our family here until the day after Christmas when my parents came to visit. We celebrated my girls' birthdays- baby girl turned ONE and my big girl turned six. It was official the fastest year ever.
We took a day trip to Seattle, we went to the movies (Wild for my me and my mom, Big Hero 6 for the kids). My mom, daughter and I got our annual birthday pedicures. It was a prefect and relaxing break.
But back to that Mexican food, since it was just my immediate family for Christmas I decided to skip the fancy dinners and just have a fun meal that I knew everyone would love. I made fajitas, queso, guacamole, rice and beans. It was enough food to last four days in everyone was so happy. And I was so happy I didn't try to slave over fancy food in the kitchen this year!
Then my mom brought tamales and the cravings have only continued…. so grab that margarita recipe I posted the other day and settle in for some migas.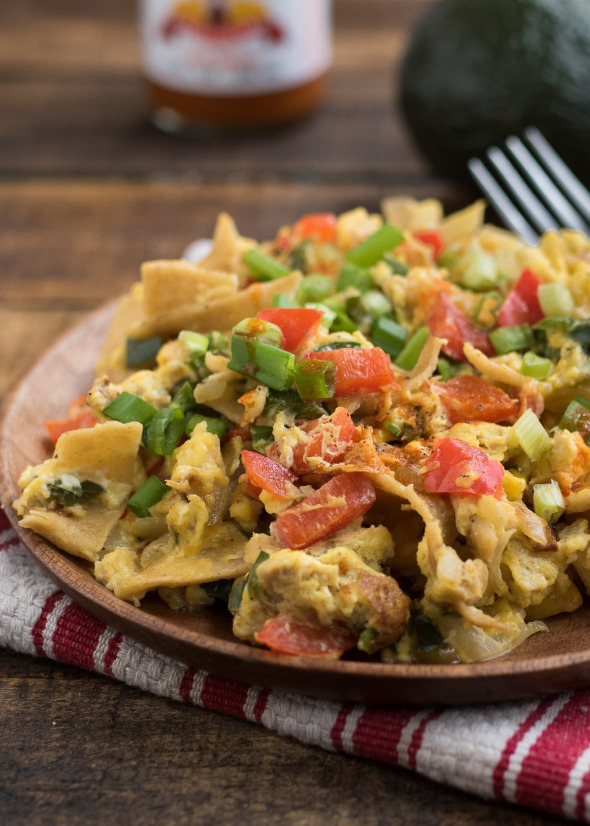 I buy the raw tortillas that need to be cooked on the skillet first (Tortilla Land is the brand I use)  so I did that step first making sure they were extra crispy. If you are using regular store-bought corn tortillas, I would crisp them up in some oil in a hot skillet, before adding them to the veggie mixture. It just gives the dish a little more texture.
I lightened this recipe a little by adding double the vegetables that you would typically find. So if you have one serving of this dish you will get 1 carb, 1 vegetable and 2 protein servings. A very well balanced meal for any time of the day!
This was so satisfying and delicious, the only thing that was missing was a cilantro because I ran out!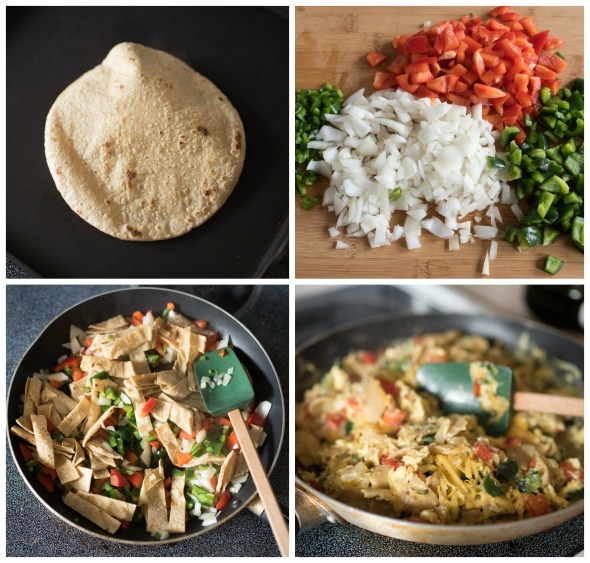 Texas food is our comfort food since we grew up in San Antonio and Austin and Mexican food is such a big part of the Texas culture. I can't wait for the day for us to move back….whenever that may be!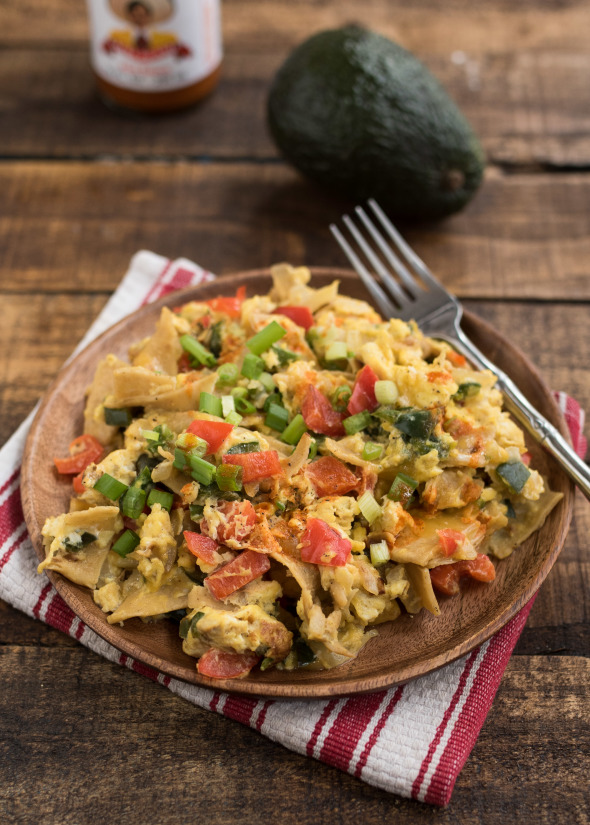 What is your comfort food?
Migas
lots of veggies, corn tortillas, eggs and cheese make up this Tex-Mex classic.
Author:
Melanie F. | Nutritious Eats
Ingredients
1 Tablespoon olive oil
1 cup chopped onion
1 cup diced poblano pepper (can sub green bell pepper)
1 cup chopped red bell pepper
1 jalapeño pepper, diced
4 corn tortillas, cut in half, then into stripes or squares (cooked until crisp if using raw tortillas)
7 extra-large eggs or 8 large, beaten with a splash of water or milk
1 cup of shredded cheddar cheese
3 sliced green onions
Salt and pepper
Hot sauce
Toppings (optional): avocado, sour cream, cilantro
Instructions
In a large non-stick skillet heat oil over medium heat, cook vegetables for ~8 minutes, reduce heat to medium-low add tortillas and cook for another 1-2 minutes or until vegetables are tender. Season with salt and pepper. Add eggs, slowly stir until almost cooked through, then add shredded cheese and stir until melted. Taste and season with additional salt and pepper if needed.
Transfer to serving plates and garnish with sliced green onions and hot sauce and optional toppings such as avocado, sour cream and cilantro.
Notes
you can find the raw corn tortillas in the refrigerated section of the grocery store. When cooking them on the skillet, follow the package instructions but let them get extra crisp before adding to the eggs. If using regular corn-tortillas, fry them in a little oil before cutting into strips.