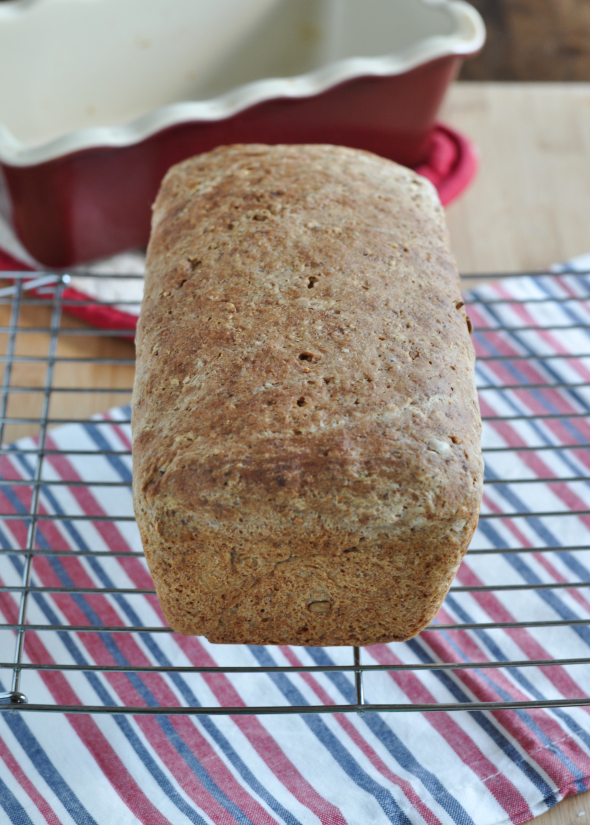 There is something about baking homemade bread that just makes you feel good.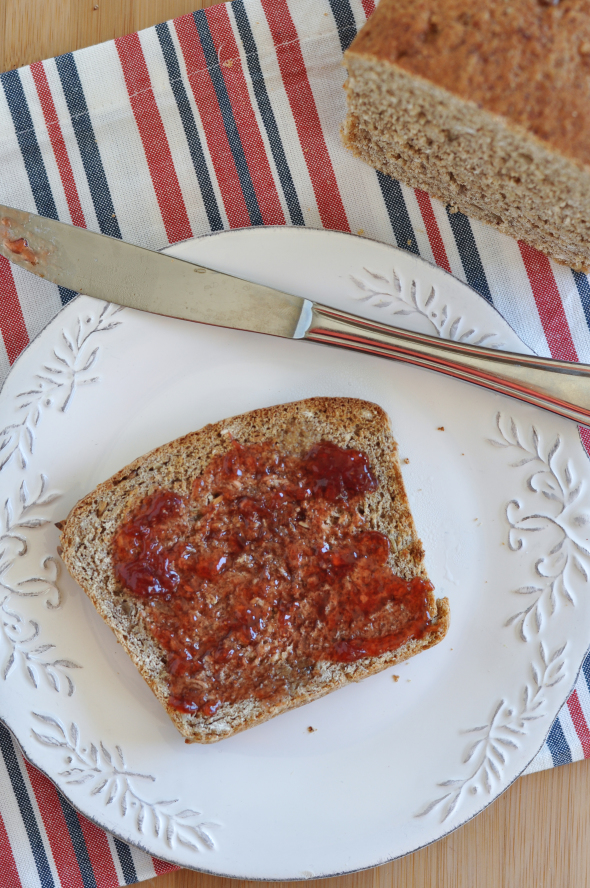 I have not been cooking too much because it's summer and I'd rather be outside enjoying the few months of perfect weather we get here in Washington, plus I usually get caught up watching the kids outside. So when I had  a slow enough day to make the bread dough and turn on the oven for an hour, I was very excited. I haven't made homemade bread in FOREVER and this multigrain bread loaf has been calling my name. The downside is I learned it isn't quite cool enough here (since we don't have AC in the house) to keep the oven on for that long. We paid the price in the evening, boy was it hot!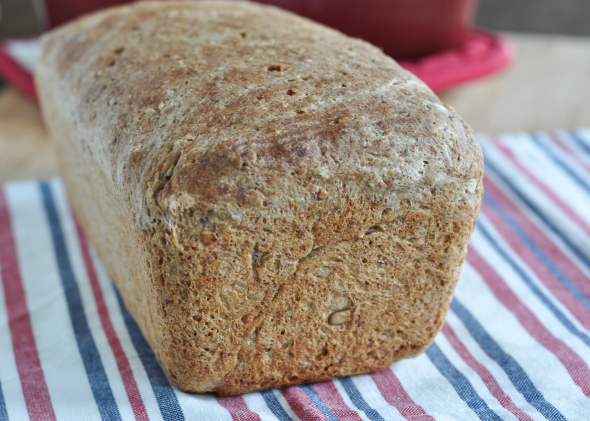 I wanted a bread that would go with dinner plus be good leftover for breakfast or lunches. I adapted a recipe from one of my baking cookbooks and it turned out great. Dense and hearty but that's what I would expect from a whole grain bread.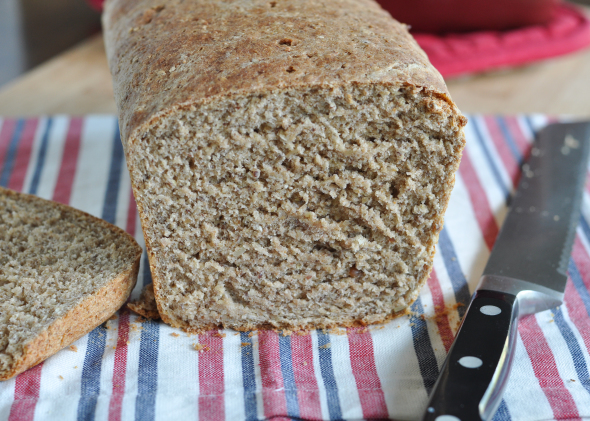 It was delicious fresh out of the oven dipped in olive oil and balsamic for dinner. Then the next day I toasted it with some preserves for breakfast which was so good. I am thinking it would be great thinly sliced for a panini sandwich also. I will definitely be making this again- not only was it good but easy to make. It's so nice to eat bread without all those preservatives. I truly wish I had the time to make homemade bread on a regular basis.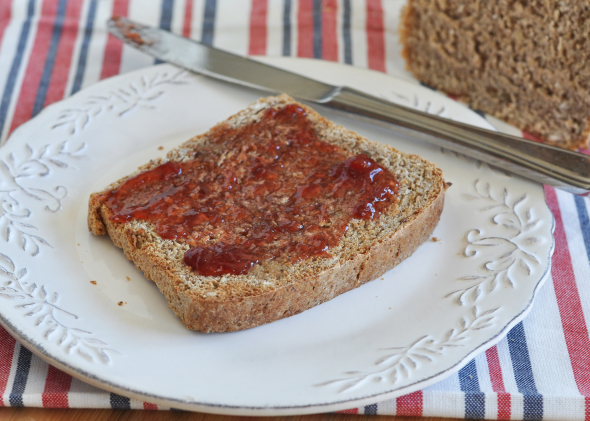 Perhaps that will be a new goal when the school year starts. It's fun to experiment with different combinations of flours and add-ins. I've never owned a bread machine but I imagine that would make things pretty easy! If you have any favorite (yeast) bread recipes I'd love for you to share them!
A few iphone shots of the "during" process
1. Forming the dough ball after it came out of the food processor
2. After dough rises once, you will punch it down and form it into a rectangle
3. Roll up tightly
4. Place in prepared pan
5. Let rise again before baking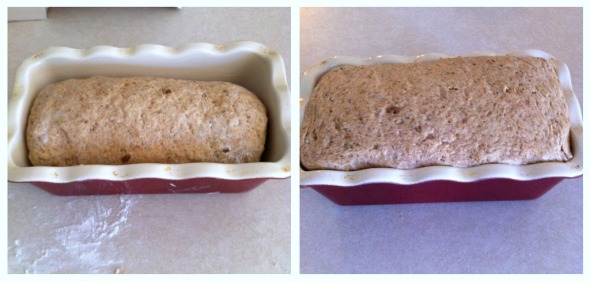 Oh and before I go I am excited to announce that I am a new ambassador for For Two Fitness, a great company that makes maternity workout clothes and prenatal activewear. My friend Madeline had on one of their shirts awhile ago and I couldn't resist ordering one for this pregnancy. I've worn it a few times and am in love with the shirt. I went back to their site to shop and noticed that they were accepting applications for ambassadors. I am excited they accepted me and I look forward to working with a brand I love. You can check them out HERE.
More about For Two Fitness soon!
Enjoy the bread recipe! Let me know if you make it.
INGREDIENTS:
1 1/2 cup warm water
1 envelope rapid-rise yeast (2 1/2 teaspoons)
2 cups whole wheat flour
1 1/4 cup unbleached all-purpose flour
2 teaspoons salt
1/2 cup wheat germ (can sub rye flakes)
1/2 cup old fashioned rolled oats
1/4 cup sunflower seeds
1/4 cup flaxseed meal (can sub whole flax seeds)
2 Tablespoons honey
2 Tablespoons vegetable oil
Nonstick cooking spray
DIRECTIONS:
Measure water into a glass measuring cup and sprinkle yeast on top. Let the mixture sit for 5 minutes or until yeast is bubbly.
Combine the flours, salt, wheat germ, oats, sunflower seeds and flaxseed meal into a food processor and pulse 3 to 4 times to combine. With the motor running pour the yeast mixture, honey and vegetable oil in through the feed tube. Process until the dough forms a smooth ball. To knead dump ball out onto a lightly floured counter/surface and knead by hand ~1 minute or until dough is smooth and not sticky. Add a sprinkle of flour if necessary. (You may also knead for 1 minute using the food processor instead but I like to work the dough by hand).
Coat the inside of a large mixing bowl with cooking spray or a little olive oil. Shape the dough into a rough ball and place it in the bowl. Cover the bowl with plastic wrap and let the dough stand in a warm, draft-free spot until the dough has doubled in size, 1 to 1 1/2 hours.
Coat the inside of a 9x5 loaf pan with cooking spray. Turn the dough onto a lightly floured work surface and gently press it into a rectangle measuring about 1 inch thick and 9 inches long. Tightly roll the rectangle into a 9-inch long cylinder and place it in the prepared pan, seam side down. Press the dough into the pan so that it touches the sides and reaches into the corners. Cover the pan with plastic wrap and let the dough rise in a warm, draft-free spot until doubled in size, 1 to 1 1/2 hours.
Preheat oven to 350 degrees. Remove plastic wrap for the loaf pan and palce the pan in the oven. Bake the bread until it is golden brown and firm, ~40 minutes. Remove the pan from the oven and turn the bread out onto a wire rack. Let it cool a little before slicing and serving. Bread can be wrapped in plastic wrap, then foil and frozen for up to 2 weeks.
Notes
Recipe adapted from Mom's Big Book of Baking
http://www.nutritiouseats.com/multigrain-bread-loaf/
Question: Do you make homemade bread? Do you have a Bread Maker?