What is it about Greek salad that I love so much? The salty olives, feta, crisp refreshing cucumbers? What ever it is, it's one of my favorites and I love that it's so easy to make at home. In fact, I like mine better than most of the ones I get at restaurants. Almost 6 years ago, my grandmother treated me, my husband, my brother and his wife to a cruise to Greece. The trip was amazing, not nearly long enough, but we were certainly enticed by the Medditeranean beauty. What's funny is that it was super hard to find gyros there, but we did get some great Greek salads. They were a little different than what you find here, more of a chopped salad with chunky pieces of cucumber, tomato, feta, bell pepper. If my recollection serves me right, they didn't use lettuce in the few we tried. Overall the flavor was the same- those classic flavors- tomatoes, cucumber, bell pepper, feta- all come together no matter how you dice 'em.
Greek salads make me appreciate my Greek background (my Grandmother is Greek) and are the perfect meal for a hot, summer night. I made these twice one week recently for a simple supper and served it with my Tortilla Land tortillas (toasted) and hummus. With a side of pita/tortilla and hummus, it's actually a surprisingly filling meal. I also like that it's a vegetarian meal, however it would be delicious with some grilled chicken fresh off the BBQ. My variation on the salad the last few times around: instead of using Greek olives I use the sweet cherry peppers and hot banana rings. I love the spicy tanginess even better than olives (but don't get me wrong, Greek olives are pretty tasty).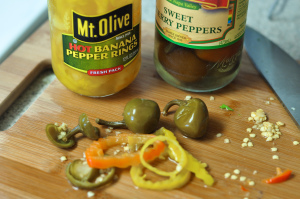 I have a secret- I didn't really measure my ingredients- it's a salad….feel free to use more or less of each ingredient listed. LOVE this meal.
Put this on your meal plan for next week!!
[print_this]
Greek Salad
Recipe from Nutritious Eats
INGREDIENTS:
4-5 cups romaine, chopped
1/3 cup grape tomatoes,
1/2 cucumber, sliced in half lengthwise and cut moon shapes
1/2 bell pepper (green, red or yellow), sliced
1/4 cup thinly sliced red onion
1/3 cup feta crumbles
Scant 1/4 cup sweet cherry peppers, de-seeded and sliced
Scant 1/4 cup hot banana pepper rings
Dried oregano, a few shakes
1/2 lemon
Red wine vinegar
Olive oil
Black pepper
DIRECTIONS:
1. Place your chopped romaine in a bowl and top with tomatoes, cucumbers, bell peppers, onion, feta and peppers. Squeeze lemon juice over salad, a couple turns of red wine vinegar, a couple turns of olive oil. Sprinkle with some coarse cracked black pepper and a few shakes of oregano. Serves 2.
[/print_this]