If I could only take one food item to a deserted island, I would take a jar of peanut butter. Or any nut butter for that matter. It's part of my daily diet so I was pumped to try a new-to-me organic nut butter.
About Nuttzo: NuttZo is a 100% organic 7 nut and seed butter that is gluten and soy free and contains no added sugars, oils nor preservatives. Available in 3 flavors: Original, Chocolate, and Peanut Free, each blend contains a unique mix of 7 different nuts blended with Omega-3 rich seeds, is high in protein and loaded with essential vitamins and minerals. NuttZo was launched by Danielle LiVolsi in 2009 and deemed one of her favorite super nutrient rich creations she developed while super-boosting her two sons' vitamins and minerals after adopting them from Ukrainian orphanages in 2002 and 2005. NuttZo donates 1% of gross sales to the non-profit organization, Project Left Behind, that funds programs in orphanages around the world.
I have never had a nut butter made with so many great ingredients. I got a jar of the Chocolate Seven Nut and Seed Butter and here is what's in it (all organic): peanuts, flax seeds, dark chocolate chips, hazelnuts, almonds, sunflower seeds, cashews, brazil nuts and sea salt. YUM!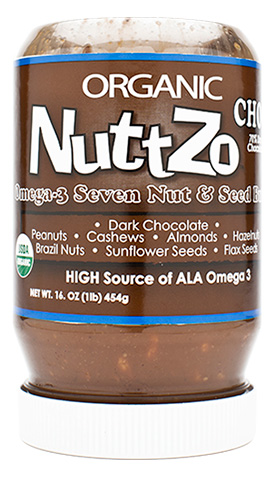 The chocolate is very, very mild. I have had much sweeter chocolate nut butters and this one maintains it's sugar at 2 grams per serving which is great. It does add a little depth of flavor in my opinion. My first reaction to tasting my chocolate chunky Nuttzo was that it was a little bitter. I immediately refrigerated it and once I tried it again I didn't notice the bitter taste. I have since become addicted. I kept meaning to take a picture of it right when I received it but spoon after spoon I realized it would probably be empty before I got around to it. Yup, I was right.
I also think it's wonderful that they offer a peanut free nut butter to accommodate those peanut-free folks.
For those people who avoid nuts or nut butters because of their high fat content, you are missing out on some great nutrition. Here is a wonderful summary taken from the Nuttzo website about the health benefits of nuts.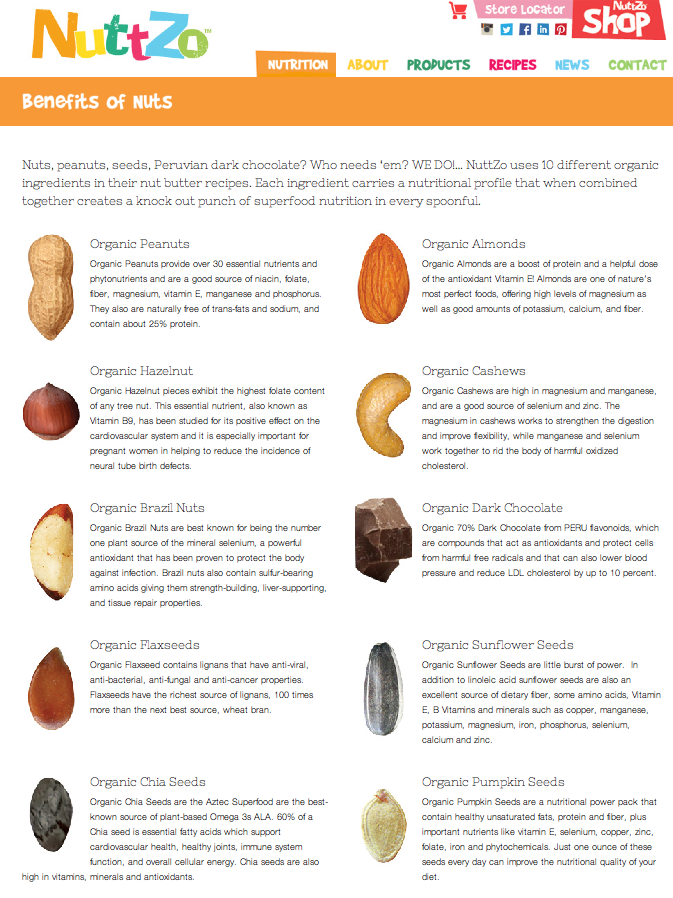 Did you know that organic flaxseeds have anti-fungal and anti-cancer properties? Or that Brazil nuts are the number one plant source of selenium, which helps protect the body from infection? Did you know that you receive over 50% of your daily ADA omega 3 by eating one spoonful of NuttZo? As you can see from this chart you are getting a multitude of health benefits in each spoonful of NuttZo.
I bake a little with nut butters but I mostly prefer it straight out of the jar, smeared on a banana, piece of toast, swirled into my oatmeal or topped on pancakes…like these banana chocolate chip pancakes I made the other day. I used Nuttzo in place of syrup and boy was it delicious. The warm pancakes melted the peanut butter a little and it was perfect.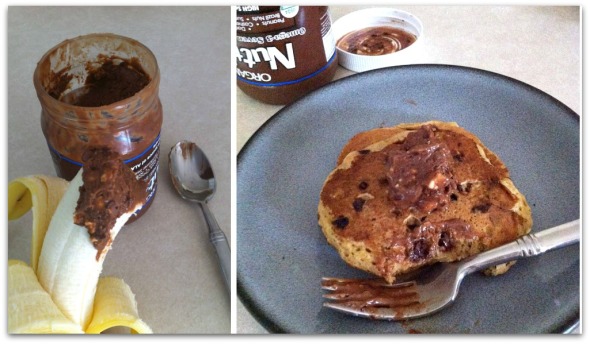 That my friends is why I'd take a jar of this to my deserted island. Incorporating these organic powerhouse nuts and seeds into your diet is important to me. Why is eating organic important to you?
What to try it for yourself? NuttZo can be purchased online at www.gonuttzo.com or at Whole Foods Stores across the US, as well as many local gourmet food retailers. Prices range from $12.99 – $19.99 (that's as low as $0.92 per serving!). Remember 100% of NuttZo ingredients are USDA Certified Organic, QAI Certified Organic and Kosher Certified. Pretty soon they making the switch to all-glass jars- yay for no plastic!
I can't wait to get my hands on a batch of regular creamy Nuttzo next.
I received a jar of Nuttzo free of charge in exchange for my honest opinions of the product. No other compensation was provided.