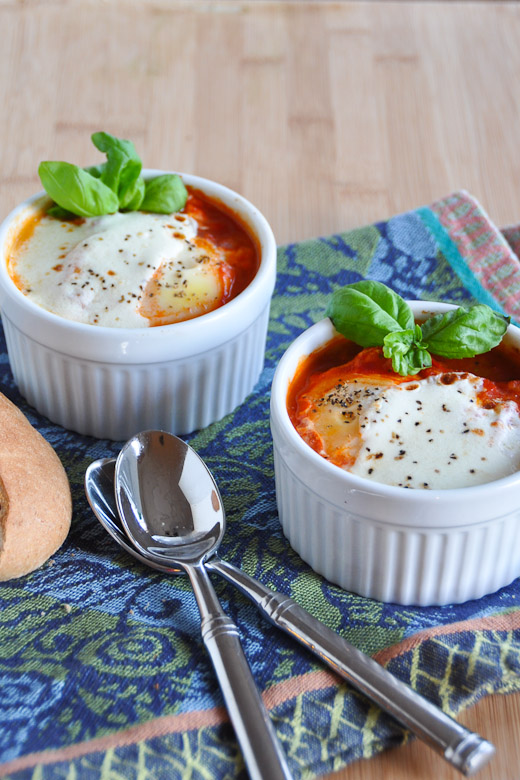 I am always on the look out for new ways to eat my eggs. This might look like a strange combo but it was delicious! I love eggs and yes there is some controversy about their health benefits. Depending on the source and your personal reaction to them, they might not be best for you. For me, they are one of my favorite breakfasts and even great for dinner (egg tacos, quiche, frittatas). Unfortunately we just found out my 14 month old baby boy is allergic to them so I have to be a bit more careful about what I prepare using eggs, but I am sure he will grow out of it as many children at that age do.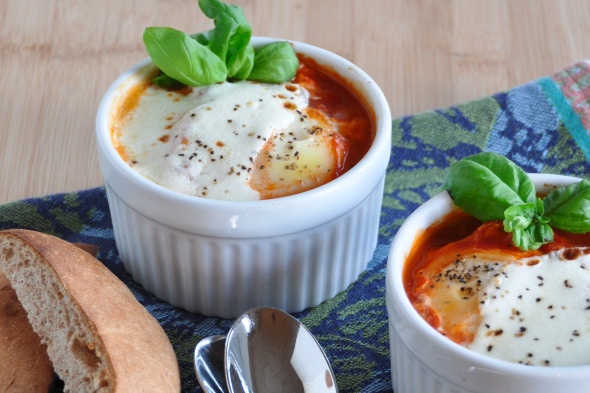 Eggs are a low cost, great source of highly digestible, high-quality protein. They provide 6-7 grams of protein and about 70 calories. Unlike prior teachings that people should avoid egg yolks for heart health, over the past 25 years hundreds of studies now support the fact that although egg yolks are high in cholesterol, they do not in fact affect your body's cholesterol level; they found saturated fat levels, among other things to influence this number. The studies support that people can eat 1-2 whole eggs a day without measurable change in their blood cholesterol level. With that being said, if you are trying to cut back in the overall fat in your diet, then go with egg whites (or 1 egg and a couple whites). I prefer a larger percentage of fat in my diet because as we all know the "low fat" diets from the past did not in fact improve our health, so I eat my yolks. 1) I hate wasting food 2) the yolk contains close to half of the protein and a lot of the vitamins and minerals.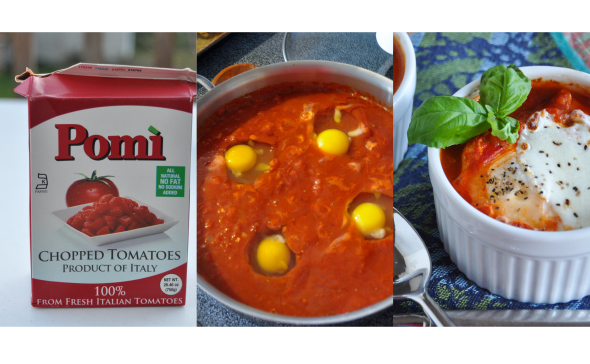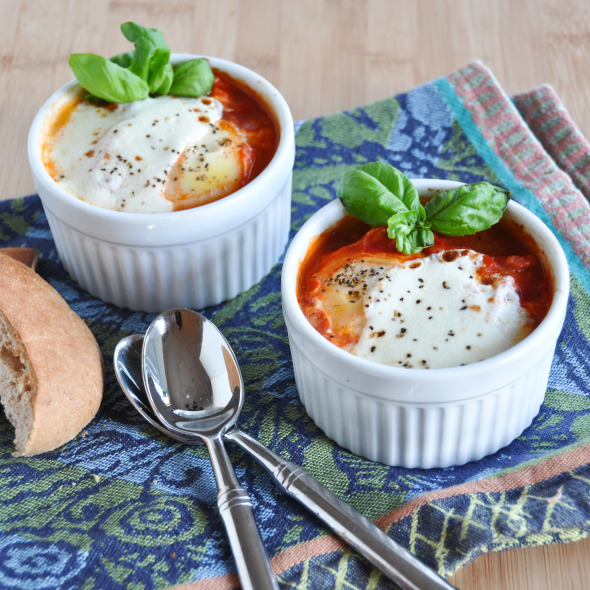 Speaking of yolks, they are high in choline which is a nutrient that is particularly important for brain function and reducing inflammation in the body. A lot of people are deficient in choline because our bodies don't make very much and not that many foods are high in choline. Another benefit of eggs is that they are high in lutein, the carotenoid known for reducing cataracts and other age-related macular degeneration. The egg yolks help your body absorb the highest amounts of lutein, for unknown reasons but likely related to the fat in the yolk. Eggs are also a good source of Vitamin E, Vitamin D and Omega 3s.
Now what kind of eggs to buy? That is the tricky part. So many of the eggs sold in the US come from caged hens which live in small, filthy spaces and aren't cared for properly. "Cage-free" and "free-range", other terms you might see on the label, means they raise the hens in bigger spaces than the battery-cages that most hens are raised but they are still kept indoors. While those conditions are an improvement it's not as good as the hens being raised out in grasslands, that have access to the outdoors. Research found that eggs raised on pasture are much more nutritious that eggs from caged-raised hens. So your best bet is to buy eggs from pastured eggs at a local farmers market or farm that raises the hens organically. If that is not an option, I'd recommend organic eggs which means the hens must be offered access to outside (whether they actually go outside is questionable).
Funny fact, eggs were one of the top 3 foods my body craved during my vegan experiment (rotisserie chicken and cheese were the other two).
I will end by saying, poached eggs in tomato sauce is a delicious meal. It is basically a perfectly poached egg in a bowl of delicious flavorful tomato sauce. The melted fresh mozzarella and chopped basil made it extra yummy. The hubs and I had it for dinner with a whole wheat bun from Rudy's bakery. Although it's not exactly something I'd crave first thing in the morning, it would make a great late breakfast/brunch item.
I also love that you can poach as many eggs as you want in the sauce, broil the whole pan with cheese or serve it in individual bowls. It was a fun and easy recipe in my opinion!
Of course there are many choices when it comes to canned tomatoes, but I prefer and LOVE the brand, Pomi tomatoes (pictured above). They have absolutely no preservatives, no high fructose corn syrup (which several of the canned ones do), no additives. The ingredient list is: TOMATOES. That's it- no salt, no citric acid, nothing but good ol' tomatoes.
If you like eggs and tomato sauce, well then you will love this!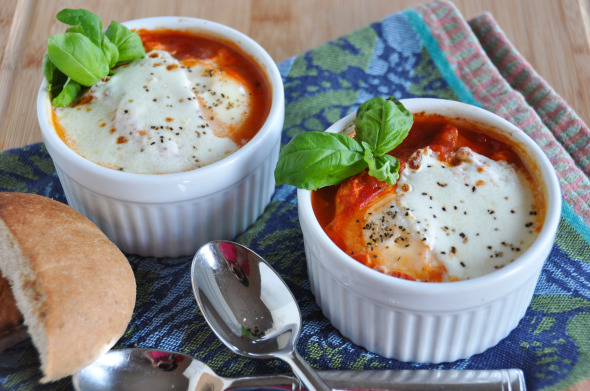 Poached Eggs in Tomato Sauce
Ingredients
1 cup red bell pepper, finely diced
½ small onion, finely diced
½ teaspoon red pepper flakes
¼ cup minced garlic
1½ Tablespoons olive oil
1 can/box (28 ounce) crushed tomatoes
1 can/box (28 ounce) diced tomatoes in juice
½ teaspoon dried oregano
1 teaspoon sugar
salt & pepper to taste
6 eggs
4 oz. fresh mozzarella, sliced
chopped fresh basil for garnish
Instructions
Saute onion, bell pepper, garlic and red pepper flakes in oil in a large saute pan over medium-high heat until soft, 4 to 5 minutes.
Add crushed tomatoes, diced tomatoes, dried oregano and sugar, bring to a boil, reduce heat to low and simmer 10 minutes. Season to taste with salt and black pepper. Gently crack eggs on top of sauce, cover and poach until whites are set but yolks are set but yolks are still soft, about 6 minutes. Preheat broiler with oven rack 6-8 inches from element.
Divide eggs and sauce among 6 serving dishes (or just leave in oven-proof skillet), top with cheese, transfer to the oven on a baking sheet and broil until cheese is golden, about 3 minutes. Sprinkle with additional black pepper and fresh basil; serve immediately.
Notes
Note: depending on what tomatoes you use, the sodium content will vary so adjust the added salt accordingly. I use no added salt tomatoes so I added a couple pinches of salt. If you use canned tomatoes (which are higher in sodium) you might not need to add any.

This recipe makes a large amount of sauce. Even though I used a heaping ladle of sauce under my egg, there was still plenty leftover which I saved for pasta. You could easily make half the amount of sauce if you prefer.


Recipe modified from Cuisine at Home, April 2012
You have 4 more days to sign up for my DietBet! Who has some weight to lose? See this post for an explanation if you missed it. And if you sign up make sure to invite your friends to join!
Question: have you ever combined eggs with tomato sauce?