I used to be a bargain sunglass shopper. I'd buy several inexpensive pairs because I always thought I'd lose or ruin a nice pair of designer shades. What I found though is that I took terrible care of all my other glasses because they were "cheap" and I ended up going through so many pairs each year.
About 3 years ago my husband and I splurged on our first pair of designer glasses and we both still wear them, although mine are finally so scratched up that it was time for a new pair. When I was given the opportunity to try out a new pair of sunglasses from the Sunglasses Shop, I jumped at the chance. I was sent the Oakley Radar Edge to review and I couldn't be more pleased with them.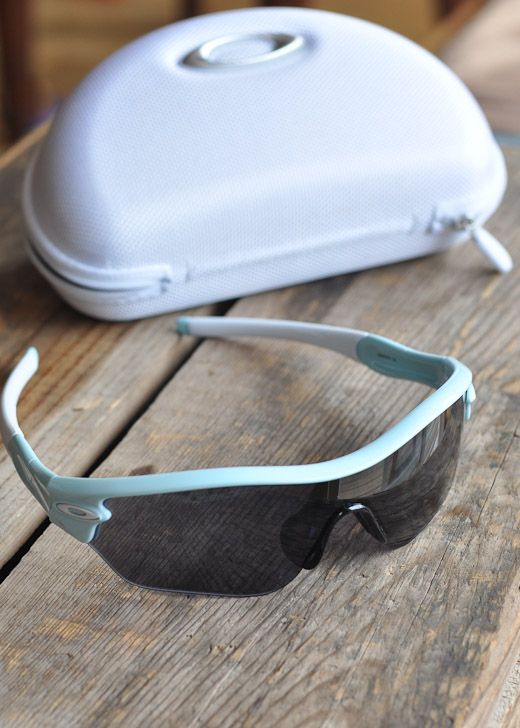 In terms of just looks,I think they are gorgeous. I normally wear all black shades or if I am feeling daring, maybe all brown. I was a little hesitant to get ones with a splash of color but decided this freshwater color would be somewhat subtle.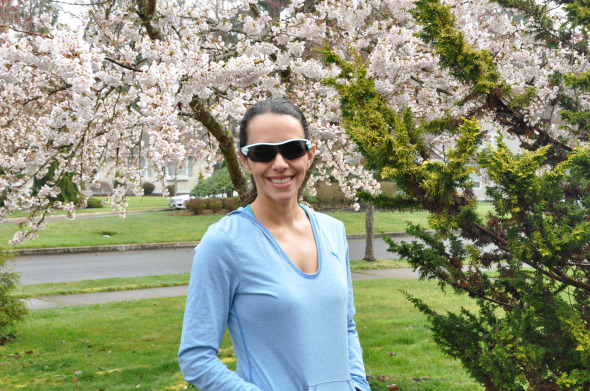 I really wanted some glasses for running and they have a great selection of running sunglasses over at the Sunglasses Shop. I was a little worried about finding the right match without trying them on, but the sales rep was fantastic to work with. She asked me about my preference of style of shade which I narrowed down by visiting their site and looking at the general categories of styles (square, round, cat eyes, aviator, etc.). I also searched based on my face shape which helped me to narrow down the best fit. The Sunglasses Shop have a great variety of designer brands. I love that you can search by brand, by sport, by frame style, face shape, etc. It makes finding the right pair so much easier.
Once I saw the Oakley sunglasses I knew they'd be the right match for what I was looking for. I've been training for a half marathon and even though we have a lot of cloudy rainy days here in Washington we do get sunshine believe it or not! I also like wearing glasses in the rain while I run to keep the water from dripping in my eyes so I will be wearing these year round. I took them out for a test run in the beautiful spring weather we've been having.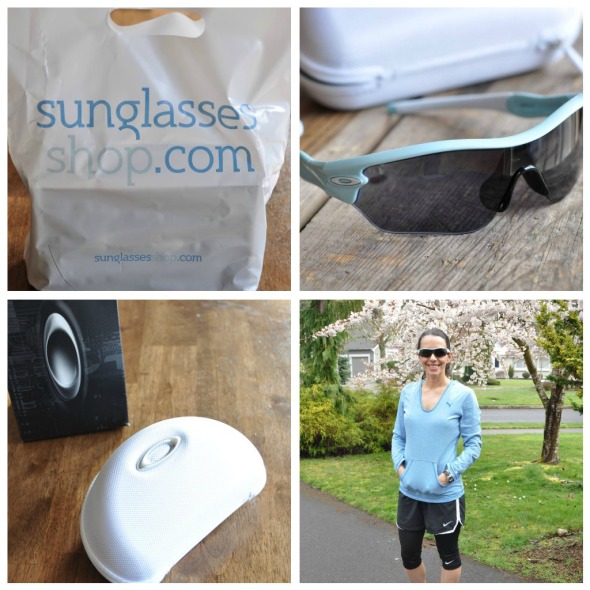 They are very comfortable, fitted and the nosepiece helped keep the glasses in place. This style wraps around my face more than any I've ever had which I liked because my peripheral vision wasn't obstructed by the frame. The best part is they are so lightweight that I felt as if I wasn't wearing sunglasses! Oakley sunglasses are quite stylish and popular and based on the quality I know they will last me a long time. The lenses offer UV protection and when they eventually get all scratched up I can purchase replacement ones while not wasting the frame! I should also note that they come in this nice hard carrying case which would be great for travel (and good to keep them protected from the little munchkins running around my house).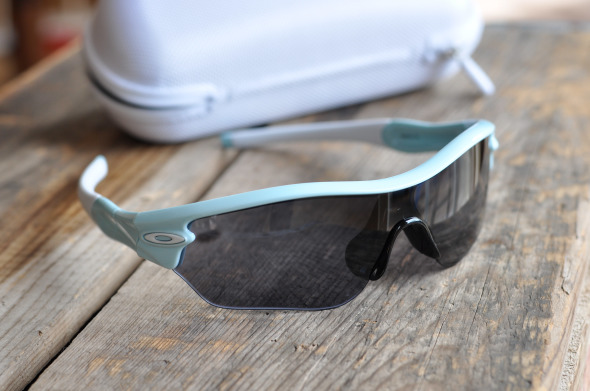 Add these to my fitness closet post from earlier this week. They are awesome!
The Sunglasses Shop has a couple of contests going on right now- the Oakley Garage Rock competition, for chance to win a pair of Garage Rock sunglasses, and the other promo they have going on is if you buy a pair of Oakleys before April 8th you have a chance to win a VIP rally experience.
Question: Do you go for cheap or designer glasses? Have you ever tried Oakley brand?
Disclaimer: I received this pair of Oakley sunglasses as a gift to review from the Sunglasses Shop. No other compensation was provided. As always, all opinions are 100% my own.