I am a slightly paranoid person. I know it and I am learning to deal with it. I usually don't like to make it known publicly when my husband is out of town. Most people share lots of personal data on their blogs but I try not to. It's not that I don't trust you dear readers. I just don't trust the crazy people of the world….and in case you've missed the news over the last month, we've got a lot of crazy in this world we live in!
Anyway what I've been keeping from you is that my husband has been out of town for 4 weeks to Alabama and Korea and was due back in another week. Typically 5 weeks alone with 3 young kids would be challenging enough, but then add the fact that we don't have ANY friends here yet, are on summer break and don't have a routine yet….OH MY I have been quietly struggling. I can't verbalize how long this separation felt and I know as a military family we are going to face a deployment in the next year and I will have to deal with what I just experienced times NINE. 9 months without him. I don't think I will ever get used to it, but at least I can guarantee we will have friends and a support system in place by then!
I have been counting the days until school starts which can't come fast enough. I can't say I was totally alone though as my sweet mom came over from Texas to help out for a bit. That was huge, but somehow the time still dragged on and I slept poorly the entire month of August.
Then today as I started to work on my meal plan for the week (which was going to be pretty pathetic because I'm oh so tired) I get a phone call. It's my husband. He says he needs me to get a document out of his truck so I head outside with the phone in my hand. I open the garage and THERE HE IS standing right in front of me. I haven't had a surprise like that in a LONG time. I was shocked. My very immediate reaction was that it was a neighbor coming up to the garage and then I saw it was MY HUSBAND who I thought was in KOREA for 6 more days. Crazy I tell ya. I brought him in and exclaimed to the kids "you're not going to believe what I found outside" and once Daddy walked in they came running and actually had teary eyes of joy (they are 5 and 3). It was so special.
I am going to hold off on posting a recipe but am going to go spend time with my sweet family (actually as I write this my husband is racked out. I am not sure when or if he will wake today!). It was easier to quickly upload these iphone pics rather than finish a recipe post.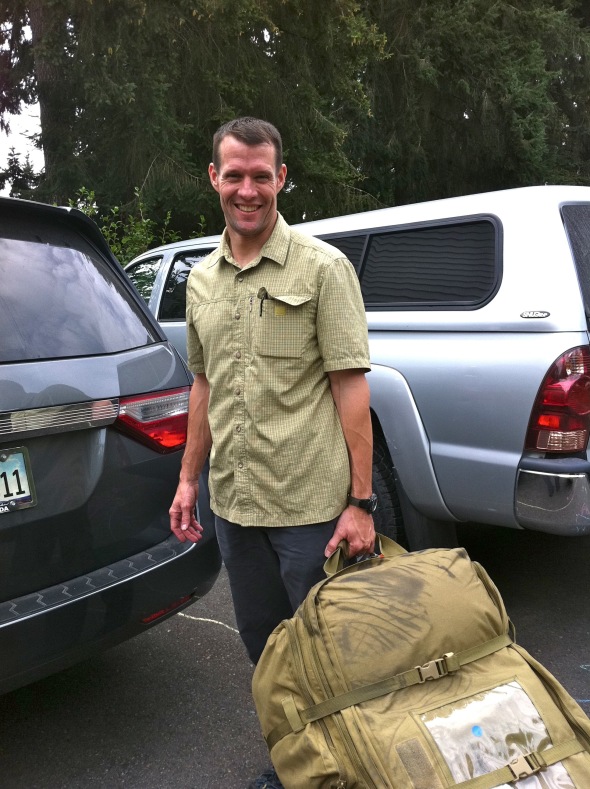 and within an hour I look outside to find these guys snuggling in the front yard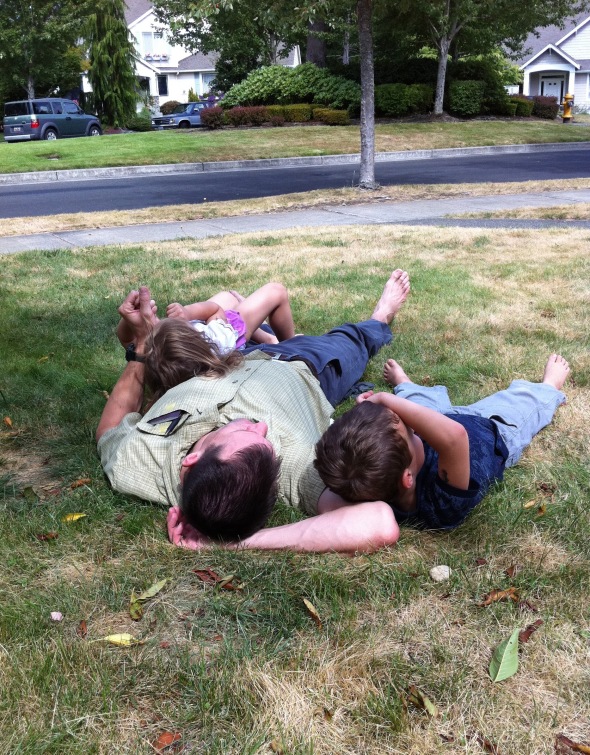 I love this pic. It was not posed at all and they didn't even see me until after I took it. How cute! (not pictured baby R who was napping)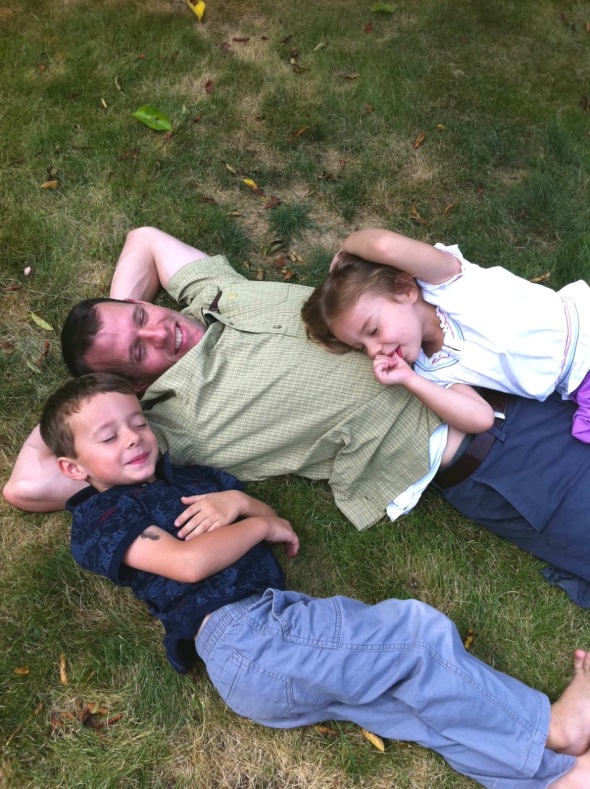 Excuse the disaster behind them but I haven't gotten to the cleaning yet!!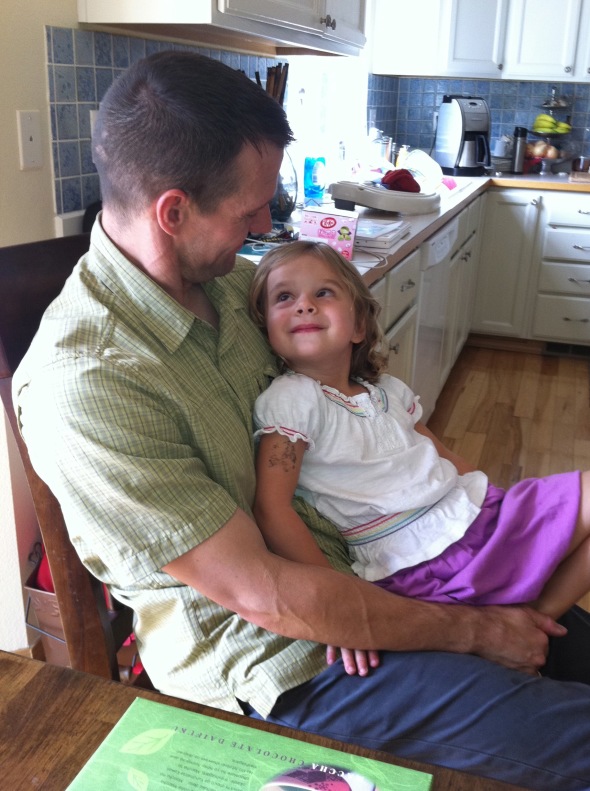 Our treats from the work trip: Japanese chocolate, other candy that I haven't opened and GREEN Kit Kats which are surprisingly good! Yes they are green! I can't pinpoint what they taste like- kind of like white chocolate with some other yummy flavor. Anybody Japanese folks out there reading know what the flavor is?
UPDATE: In plain ENGLISH on the top of the box it says it's sakura (cherry blossom) flavor mixed with green tea. Oops, how did I miss that? I kind of guessed green tea at first but it's pretty subtle…and no cherry blossom flavor did not cross my mind.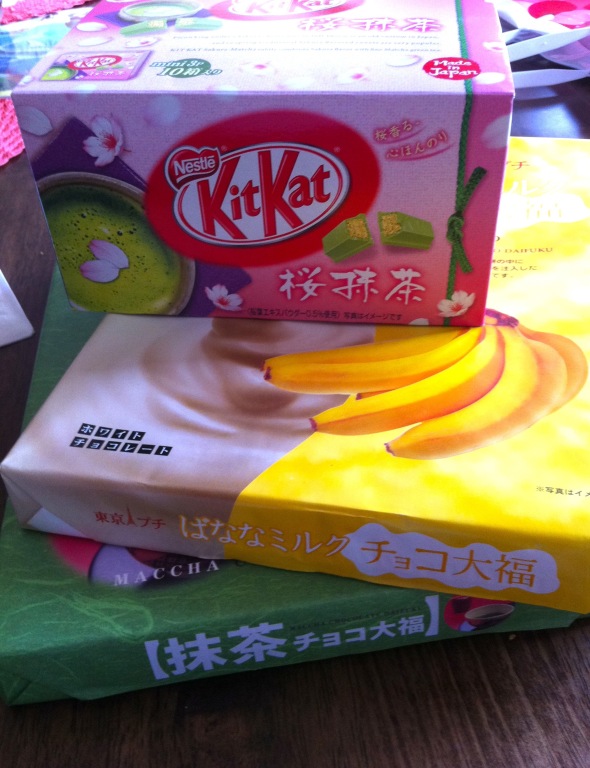 So meal planning will be very tentative. I might actually make another shopping trip apart from the super fast one I did with all 3 kids after church today. I also want to clean out the freezer and we actually have some good leftovers in there!
Meal Planning
Sunday
Tofu Scramble and Avocado (Tacos), Mixed Greens, Beets & Feta
Monday
Spaghetti and Meat sauce (some sort of veggie on the side)
Tuesday
Turkey Burgers, Butternut Squash Fries, Salad
Wednesday 
Garlic Shrimp, Orzo, Sauteed Sesame Kale
Thursday
 Back to School! Loaded Baked Potato Skins (going to make these pretty healthy), Veggie Tray & Hummus
Friday 
Out at our favorite pizza place!
Saturday
Celebrate the end of summer with a cookout! I am thinking veggie kebobs and maybe some steak for the kids/hubby. I'd love to do a fruit dessert on the grill too
That's all I got friends. Make sure to print off my September challenge if you plan on joining me! I think it will be fun and fairy painless.

Questions: How do you handle being alone? What are you meal planning for this week? Have you ever seen green Kit Kats?!