This super simple One Pan Chicken and Vegetables is perfect for those wanting clean eating recipes with minimal effort. Paleo and low carb too!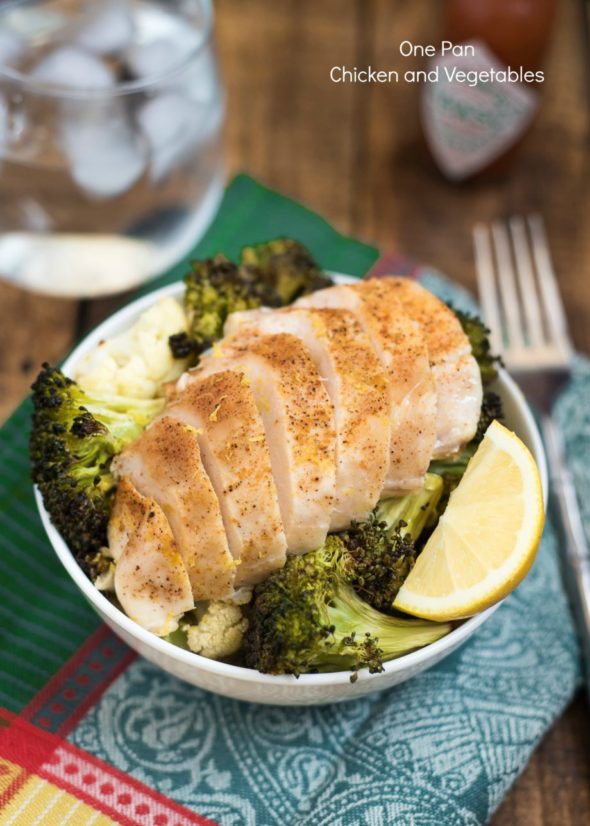 It's Recipe Redux day and the theme is:
7-Ingredient (Or Less) Recipes
"It's Income Tax Season, so our brains could use some easy arithmetic; as in seven-ingredient-or-less recipes. Show us the healthy, no-brainer dish you fix for breakfast, lunch or dinner."
I have to admit I love seeing a recipe with a short ingredient list. And what I am sharing today is more of a method.
This is the kind of thing I make for dinner when I don't want to cook. Also when I have some leftovers, but not enough to satisfy everyone. I would describe this as clean eating recipe that is great for those who don't want a recipe, but want to just have something healthy to eat. So yeah, it's a no-recipe recipe.
Maybe you've just gotten home from work, but would rather take a shower and do other things around the house than cook. Well just throw some veggies, like broccoli and cauliflower, on a sheet pan add a couple chicken breasts in the middle. Season with salt, pepper, olive oil, garlic, what ever spices you like and lots of fresh lemon juice and throw it in the oven to cook while you go check your email.
It's not the prettiest or most creative dish, but I just wanted to show you this simple method for the one pan chicken and vegetables. You can change up the seasoning or vegetables to your liking. I added lots of lemon juice and zest which makes the chicken surprisingly juicy. When in doubt, add more lemon juice!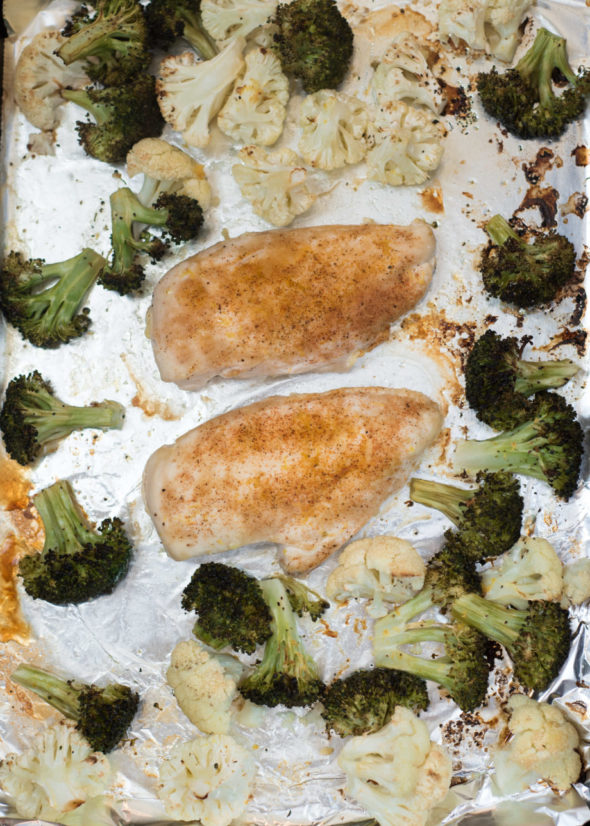 I used cajun seasoning which is kind of cheating because it's a blend of different spices, but it does contain sodium so I try not to overdo it. The veggies I just use salt, pepper, olive oil and lemon juice.
Once you've got it in your bowl you can always add extra add-ins like salsa or avocado. You can also top this over your favorite grain.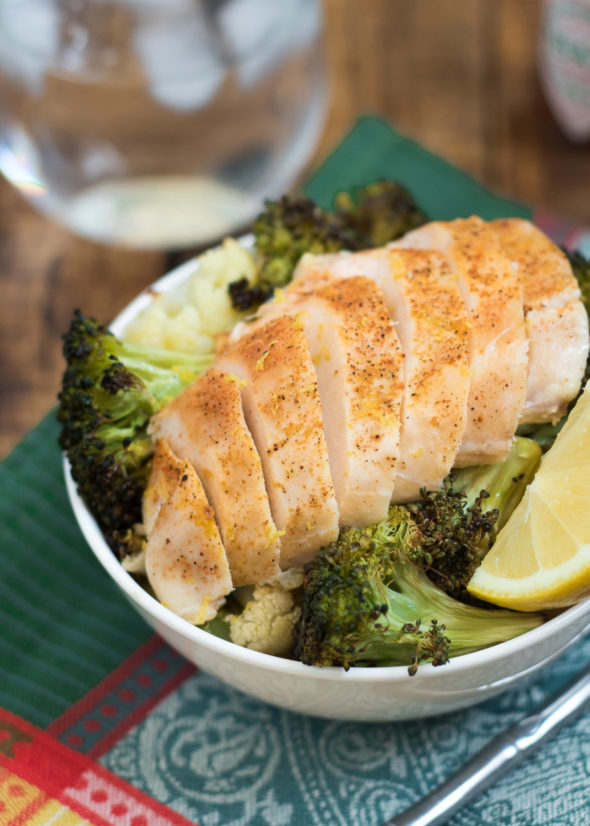 This might not be my top recipe to make for company, but it's easy healthy and EASY! And just to clarify, this probably wouldn't satisfy me for dinner, lunch yes. So I would pair this with any leftover grain I am trying to use up, half of a potato or a nice salad.
One Pan Cajun Spiced Lemon Chicken and Vegetables
Author:
Melanie F. | Nutritious Eats
Ingredients
2 chicken breasts (~ 1½ inch thickness)
~6-8 cups broccoli and cauliflower florets (one head of broccoli and ¼ of a cauliflower)
2 lemons, divided, plus the zest of one
½ to ¾ teaspoon Tony's Cajun seasoning
salt to taste
pepper to taste
~2 to 2½ tablespoons olive oil
Instructions
Preheat oven to 400 degrees. Line a baking sheet with foil. Drizzle foil with ½ tablespoon of olive oil. Add broccoli and cauliflower florets, add chicken in the middle. Drizzle vegetables and chicken with additional 1½ tablespoons of olive oil. Sprinkle chicken with ½ to ¾ teaspoon of cajun seasoning. Season vegetables with salt and pepper. Zest an entire lemon all over chicken and vegetables. Squeeze the juice from one lemon over the chicken and vegetables. Bake for 30 minutes or until chicken is cooked through to 165 degrees.
Squeeze the juice of a second lemon all over the chicken and vegetables again. Serve!