One Pan Roasted Sausage and Vegetables with Marinara and Goat Cheese is low calorie, gluten free and the answer to your dinner dilemma since it only takes a few minutes to prepare and the frees up time while it bakes in the oven.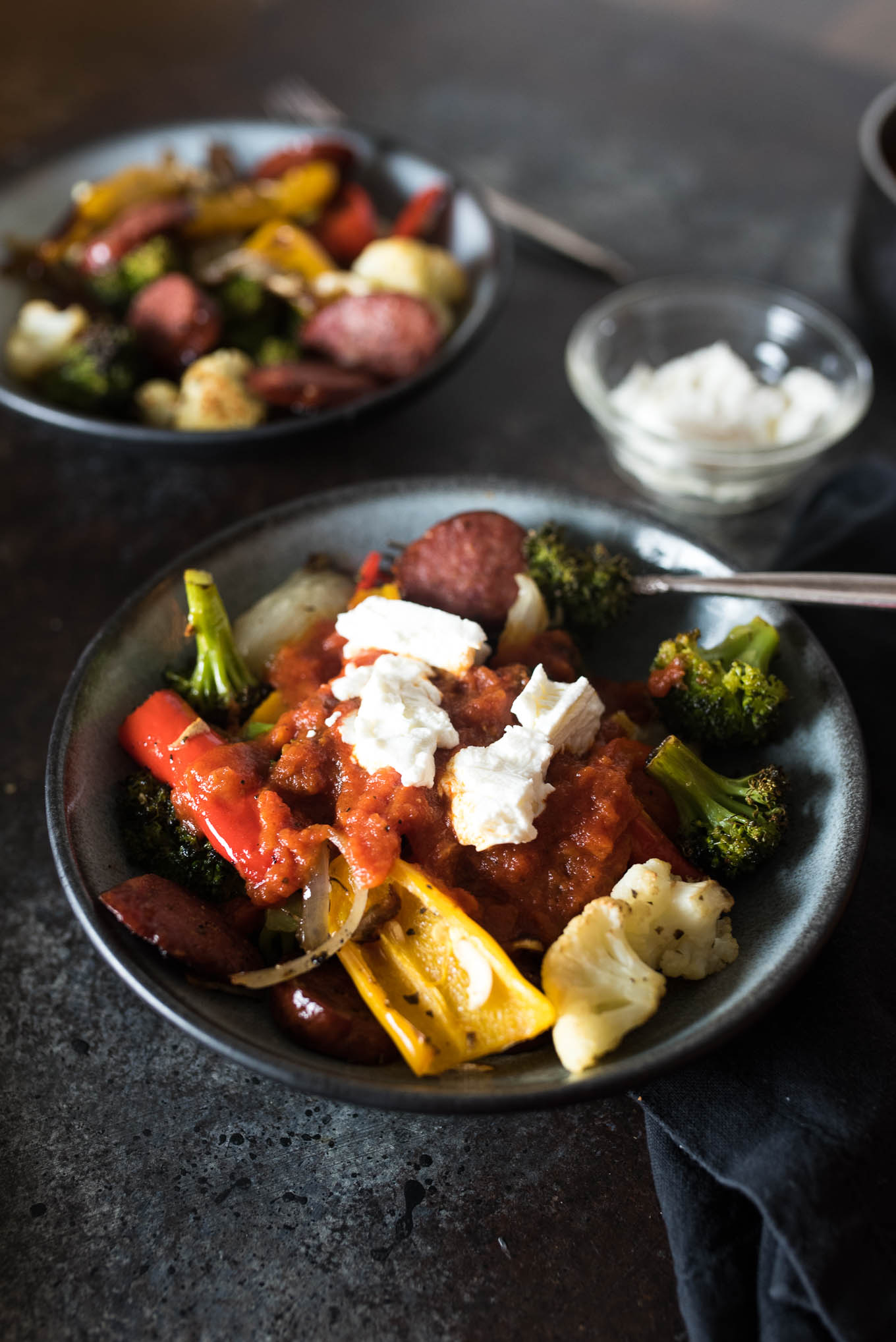 One Pan Roasted Sausage and Vegetables with Marinara and Goat Cheese is your answer to those nights where you have no energy to stand in the kitchen cooking. Do you have 10 minutes to prepare dinner? This takes no time to throw together and then the oven does the rest in about 25 minutes. I really can't get enough of quick fix meals like this and hot marinara and melty goat cheese is the icing on top.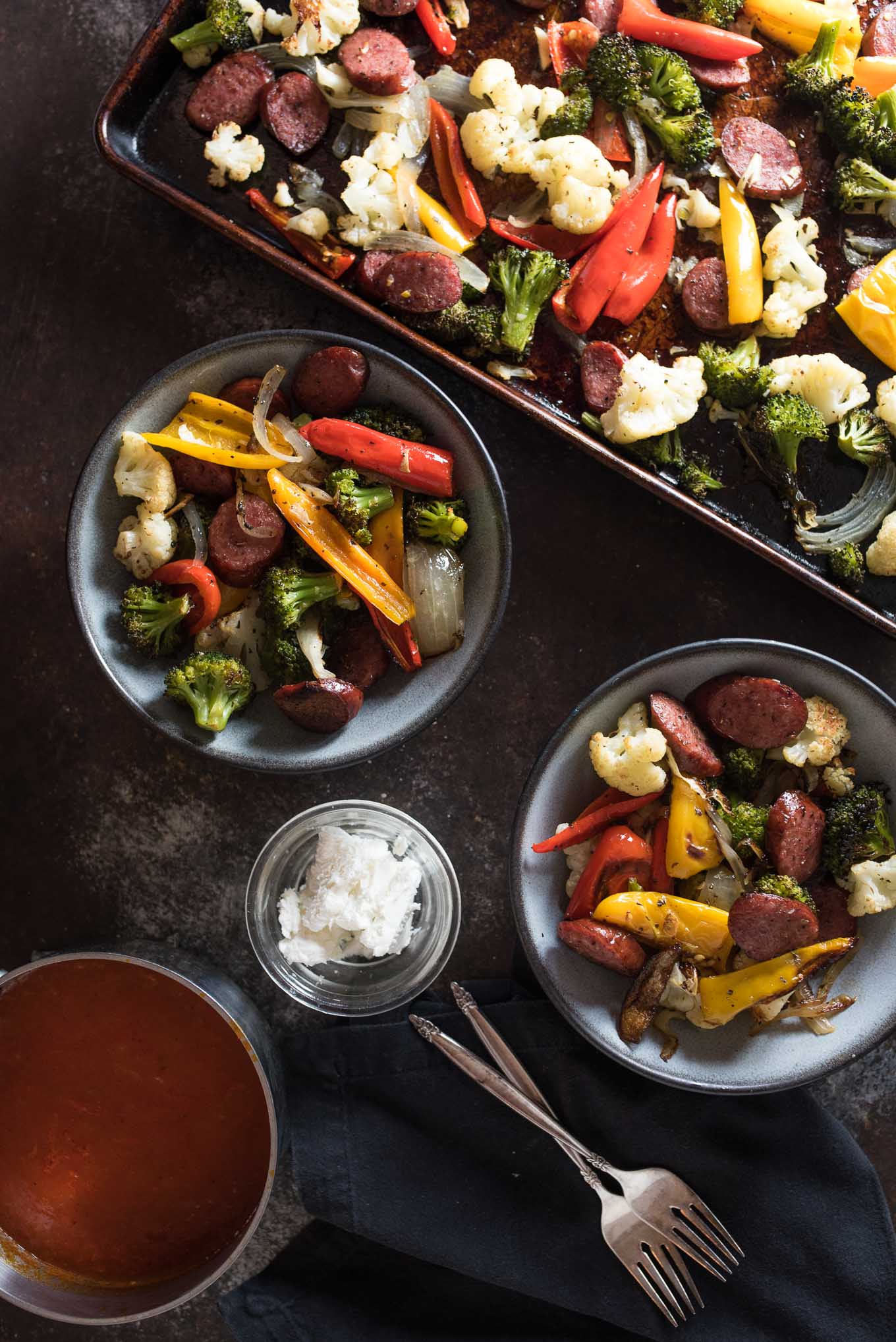 I am struggling with not having enough time in the day as I am sure you all can relate. After our last move 3 months ago, I feel like we have more to do than ever. I keep thinking when the third kiddo starts school next year I might have some extra time.
I did however make my very first recipe video…which is what all the cool food bloggers are doing these days. It is a learning curve, but I am happy with the way it turned out. Go check it out in this Peanut Butter Oatmeal Bars post.
But back to this One Pan Roasted Sausage and Vegetables- you can combine any vegetables you like although these are some of my favorites- high fiber cruciferous veggies like broccoli and cauliflower really fill your belly. Use whatever sausage you prefer, but for tips on chose a lower saturated fat one, look for a chicken or venison blend.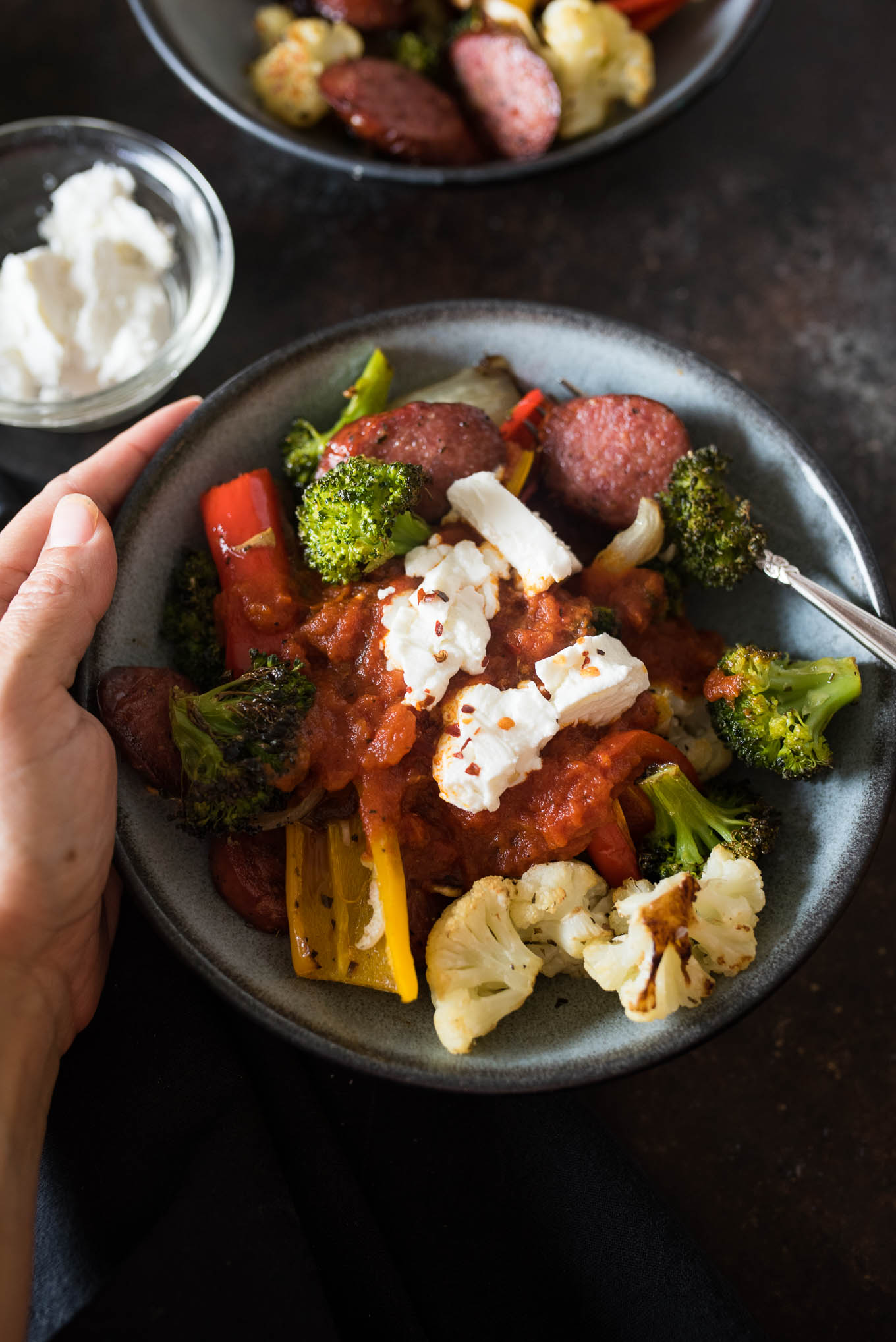 A couple tips on getting a nice crust on those roasted vegetables: do not use foil! I know it helps with cleanup, however it doesn't allow the food to get a nice brown crust, but rather creates more moisture. Also, use high temps- over 400 degrees is best and do not crowd the pan. I use two baking sheets to make sure this doesn't happen.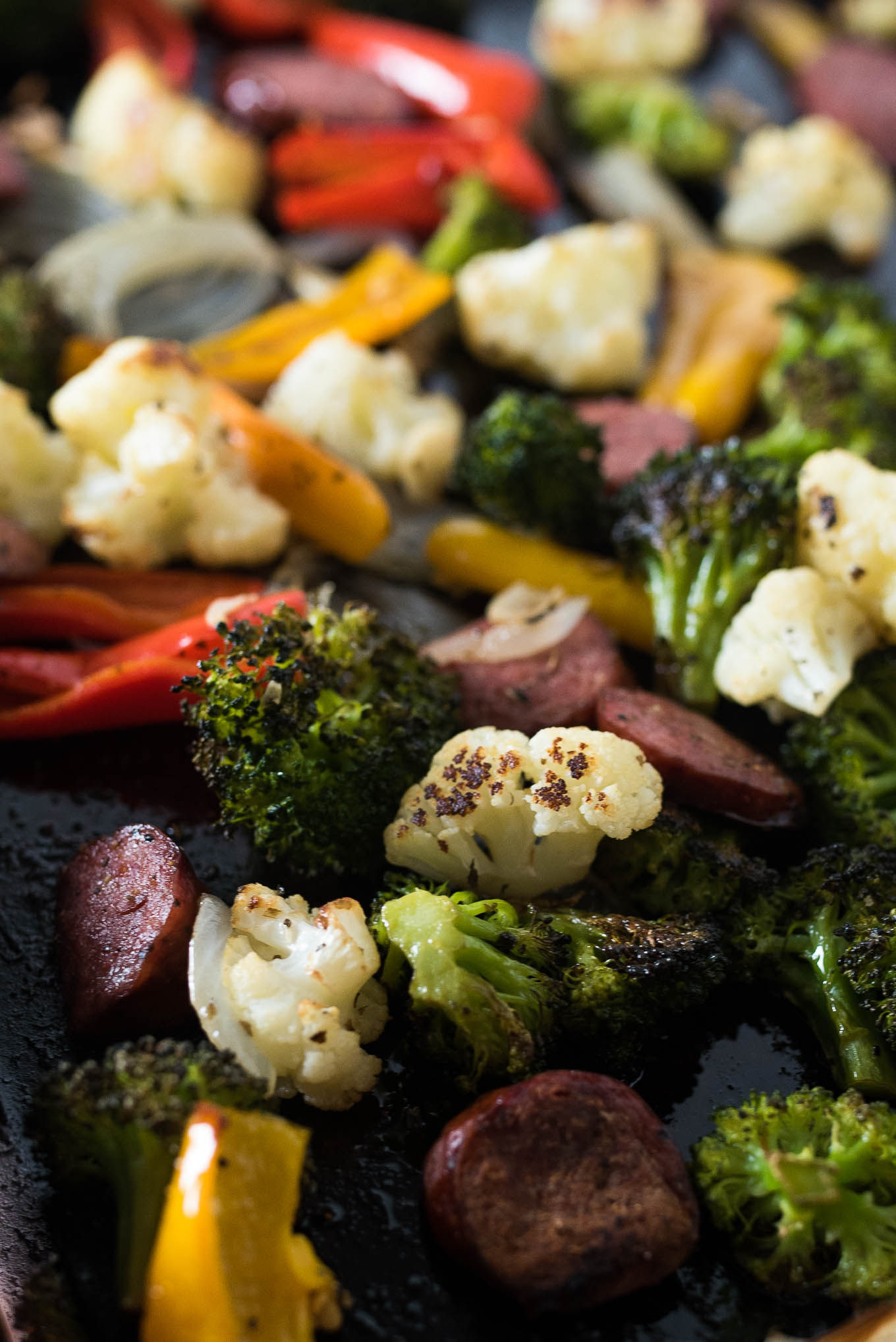 Looking for other quick fix meals?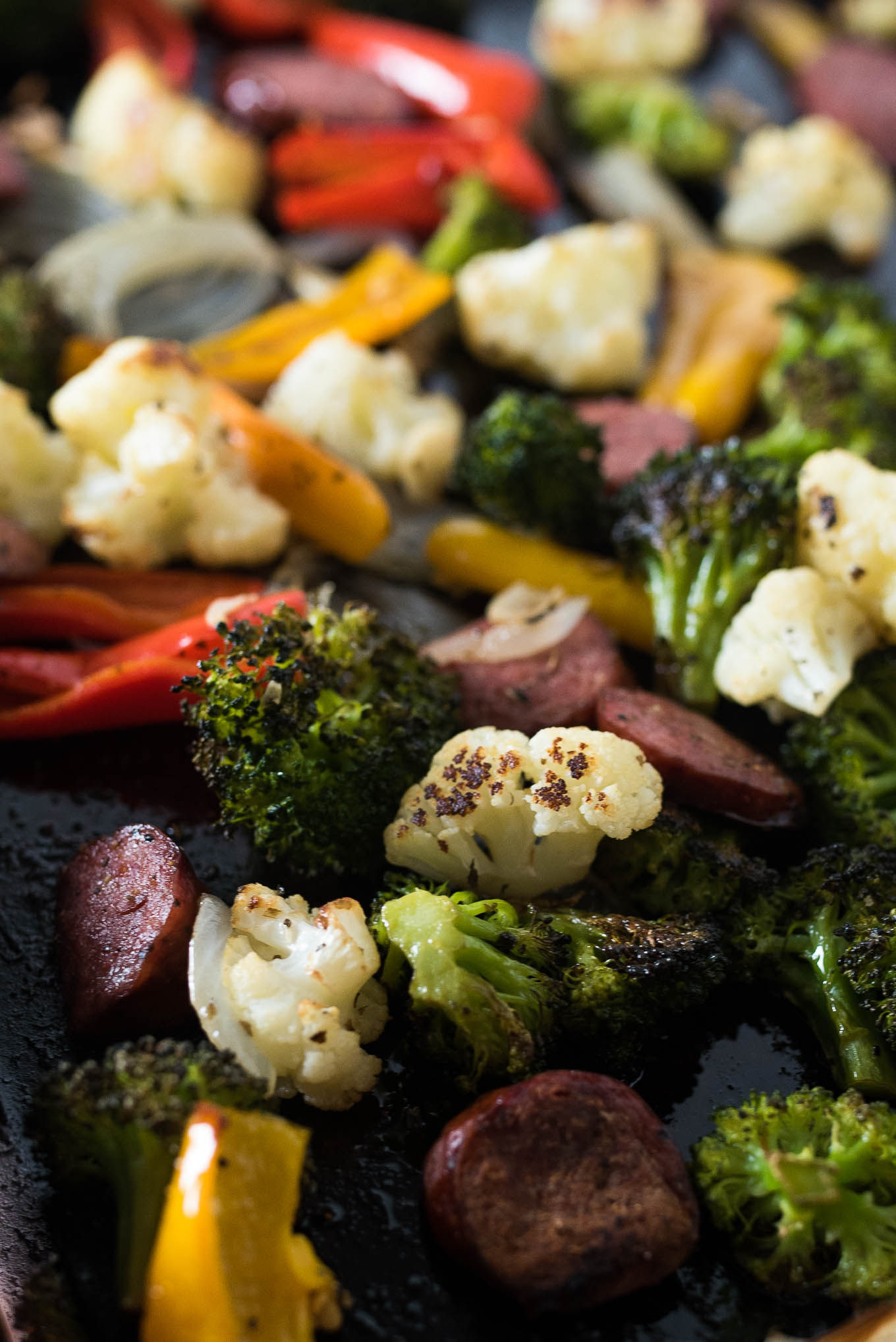 Hope you enjoy!
Helpful Tools Used in Making This Dish and Related Links:
Baking Sheets – You must own at least a few of these as they are the best tool for a variety of cooking methods. This is a nice double pack with the same size baking sheet.
Tomato Sauce– if you are not making it from scratch, this Victoria brand Marinara Sauce is the best I've tasted. It is perfection and will really make those Italian dishes stand out.
Slippers– on my feet of course…these Ugg slippers are my most favorite slippers ever. I am on my second pair and they are a must for standing in the kitchen cooking!
Let me know if you try it!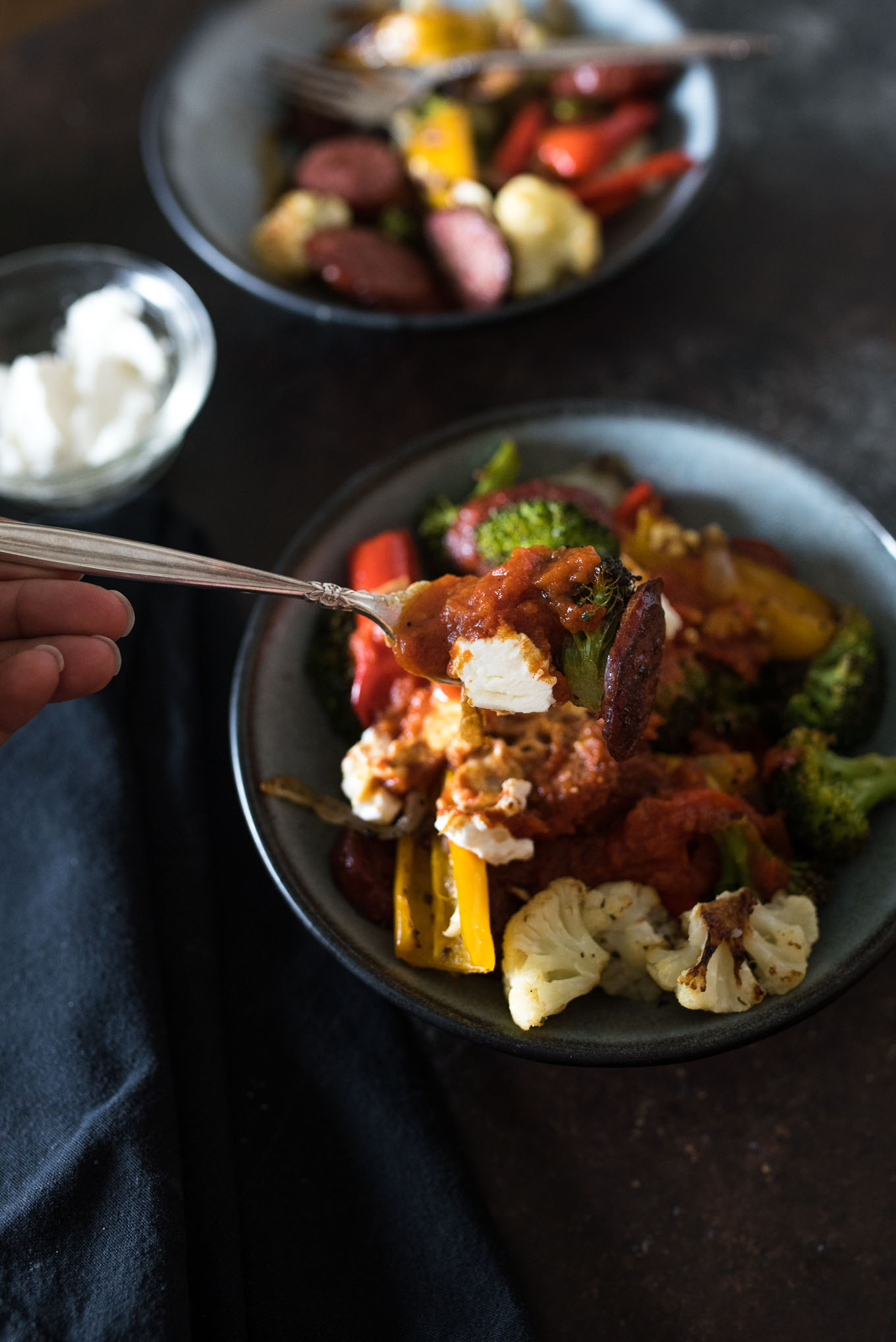 One Pan Roasted Sausage and Vegetables
Author:
Melanie F. | Nutritious Eats
Ingredients
12 ounce to 1 lb sausage link, cut into slices (can use chicken, beef, pork, venison)
4 cups cauliflower florets
12 ounce or 6 cup broccoli florets
4 cup sliced bell peppers
1 onion, sliced in half then sliced
6 cloves of garlic, divided
1 teaspoon dried basil, divided
4 tablespoons olive oil, divided
pinch of salt and pepper (about ¼ teaspoon per tray)
Best quality marinara (as much as you need, about 1½ to 2 cups)
4 ounce goat cheese
Instructions
Preheat oven to 425 degrees while you prepare the trays. Divide mixture amongst two trays (or one if you are not using as many vegetables). Drizzle each tray with 2 tablespoons of olive oil, sprinkle with ½ teaspoon dried basil and a pinch of salt and pepper. Roast for 15 minutes. Add sliced garlic, stir with a spatula and continue roasting for an additional 10 minutes.

This post contains affiliate links.