One Pot Creamy Vegetable Spaghetti is a gluten free, veggie packed meal that is all cooked in the same pan!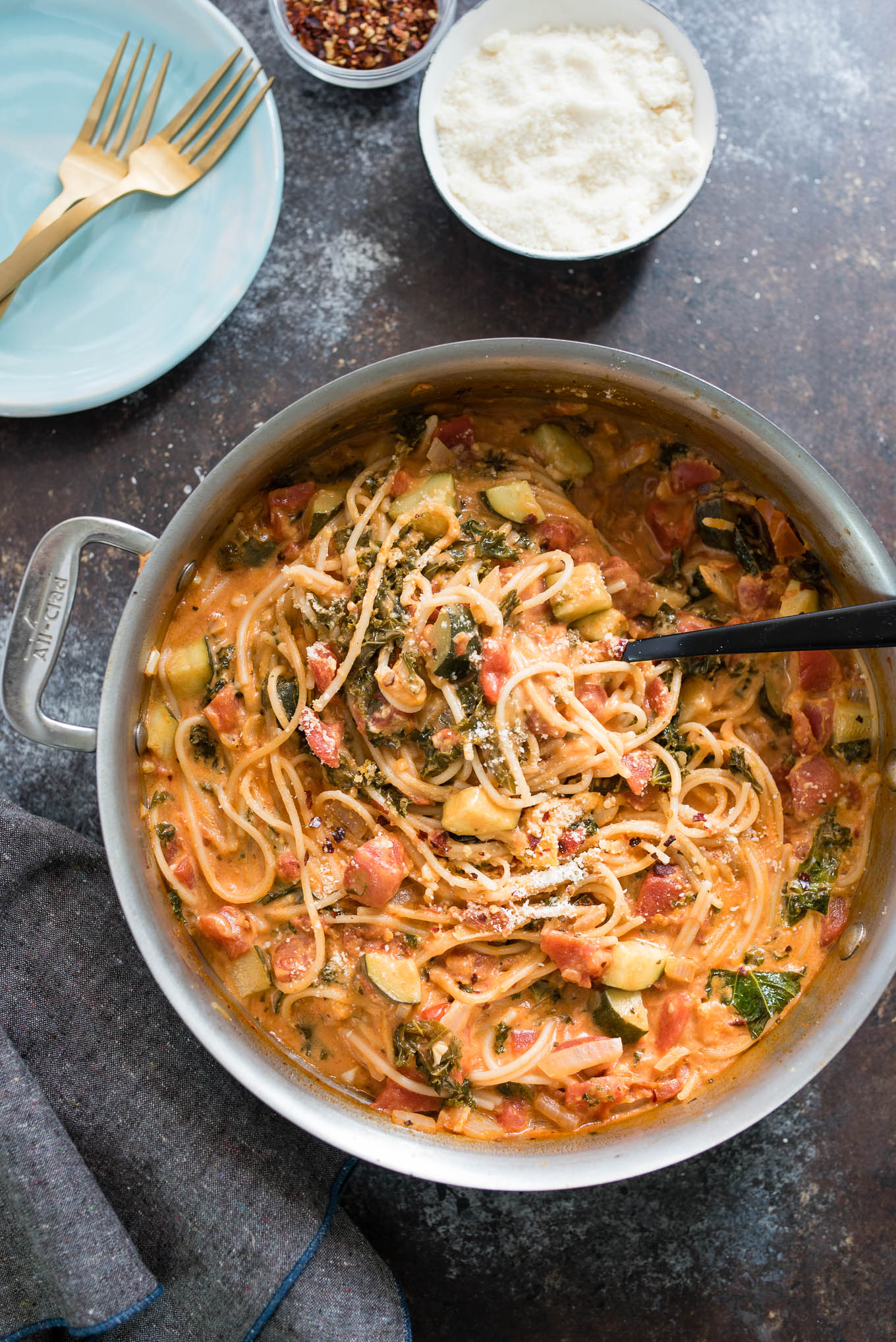 This post is sponsored by NOW Foods, however all opinions are my own. Thank you for supporting the brands that support Nutritious Eats.
One Pot Creamy Vegetable Spaghetti is the perfect weeknight meal because it's comfort food, easy to make AND there is only one pot to wash! Instead of working on your sauce and boiling the pasta separately, you just cook that pasta right there in the sauce which adds more flavor to the pasta too.
The touch of creaminess comes from a little cream and parmesan cheese. A little goes a long way!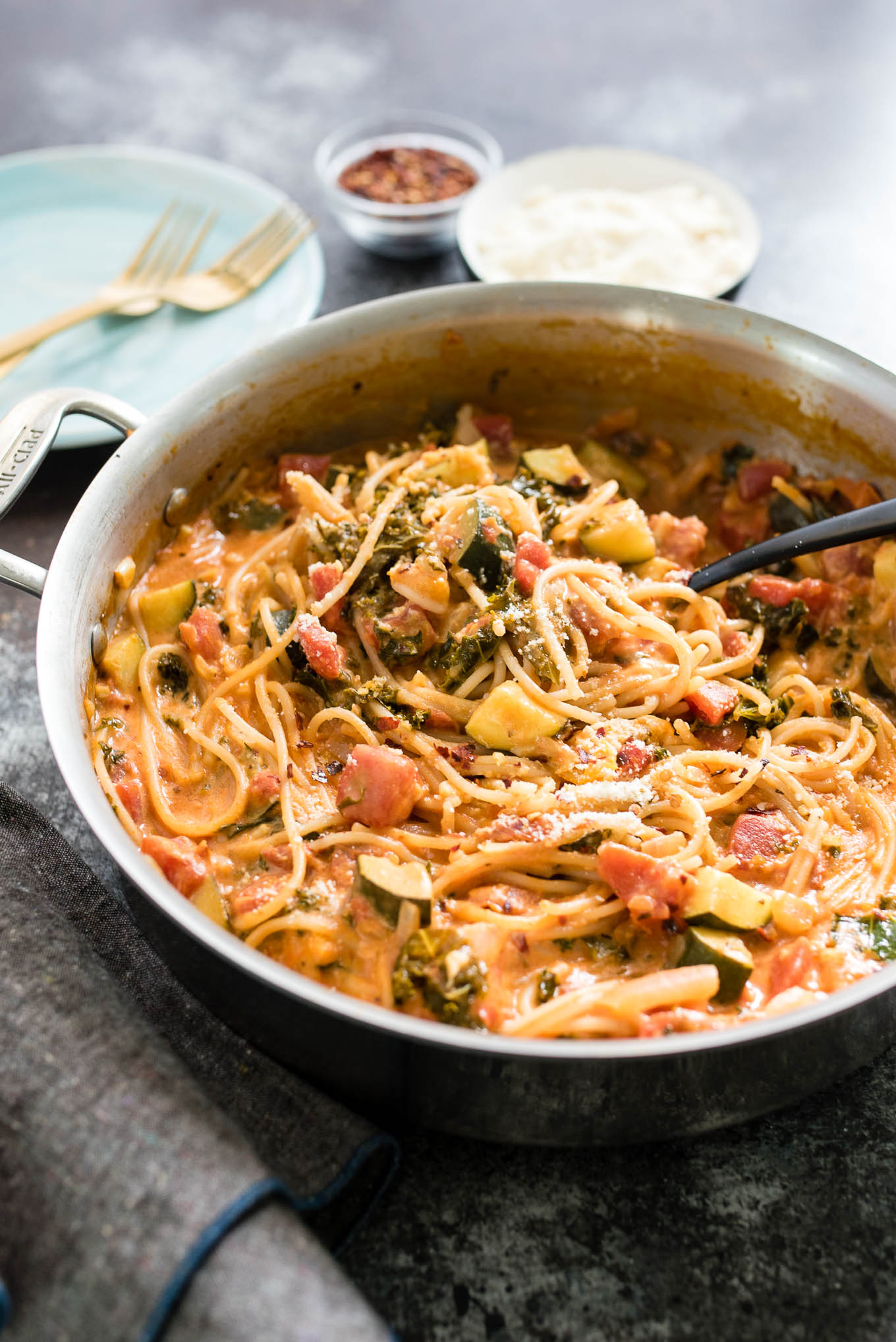 NOW Foods makes some of the best tasting gluten free pastas. I used the organic quinoa rice spaghetti which is fantastic and just happens to be dairy, corn, soy, egg egg free as well. If you are new to gluten free living and not sure about how you'll go without pasta, you are in luck because their gluten free pasta blends taste just like regular pasta!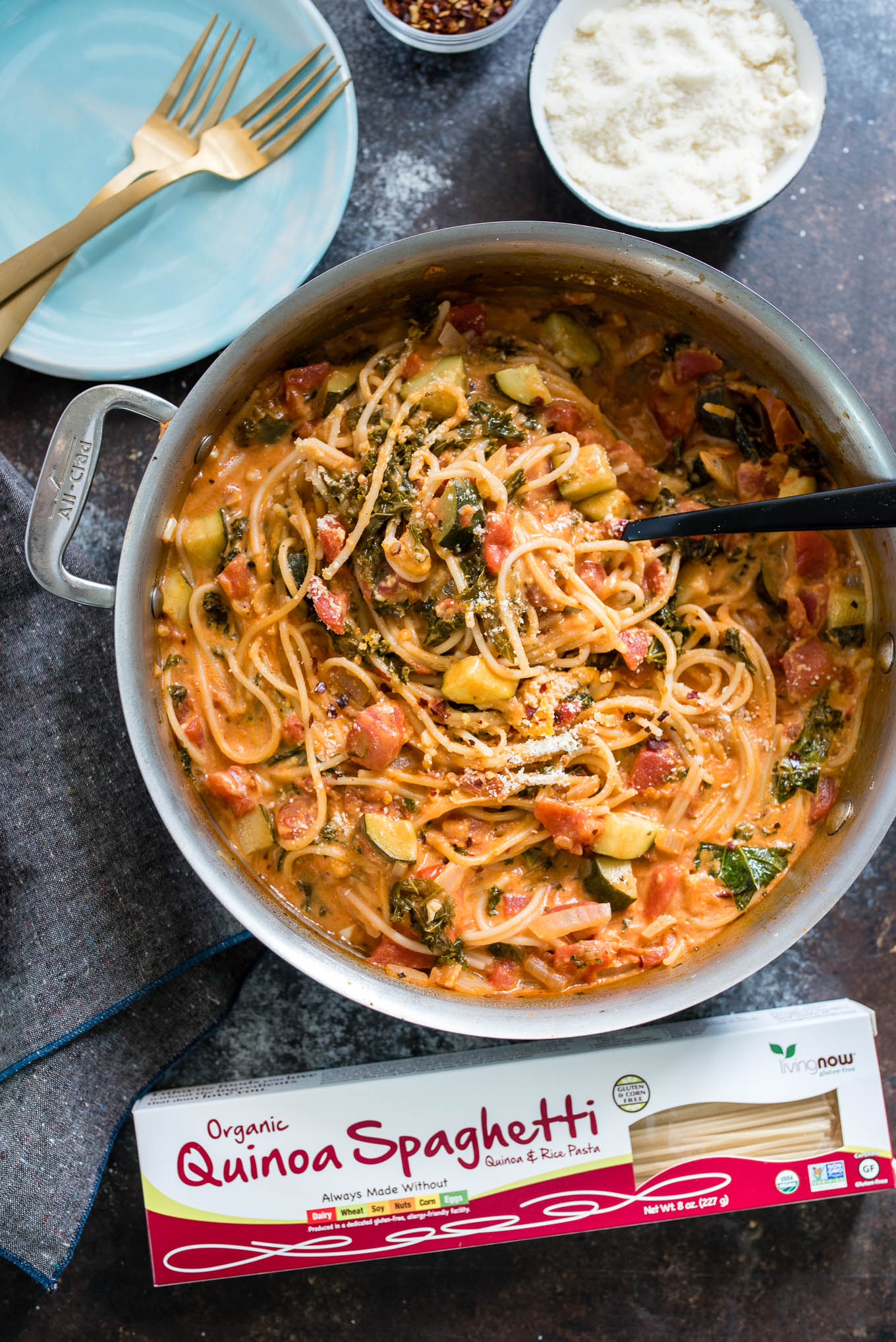 Did you know NOW Foods has a variety of products from essential oils to supplements, natural food products and more? I LOVE everything I have ever used from their company. I also appreciate that they strive to provide the highest quality products at the most affordable prices. How do I know? Because I've seen the behind the scenes of their company with my own eyes! Remember this post?
I have since then tried A LOT of their stuff- like their carrier and essential oils (all fabulous) which you can read about here, their sweeteners like maple and agave which I use in items like these cookies,  their quinoa and other cooking oils. It's all amazing stuff, trust me!
Back to the recipe though, it's really an easy one. I load the pot with a lot of vegetables, sauté them for a bit, and then add some tomato sauce, veggie broth and more. Breaking the spaghetti in half, before adding it to the pan, (I do that while it's still in the bag to keep it tidy) makes it more manageable.
A few pinches of red pepper flakes gives it just the right flavor profile, but if you don't want it to be too spicy for kids then just add your red pepper into your bowl. It's a must in my opinion!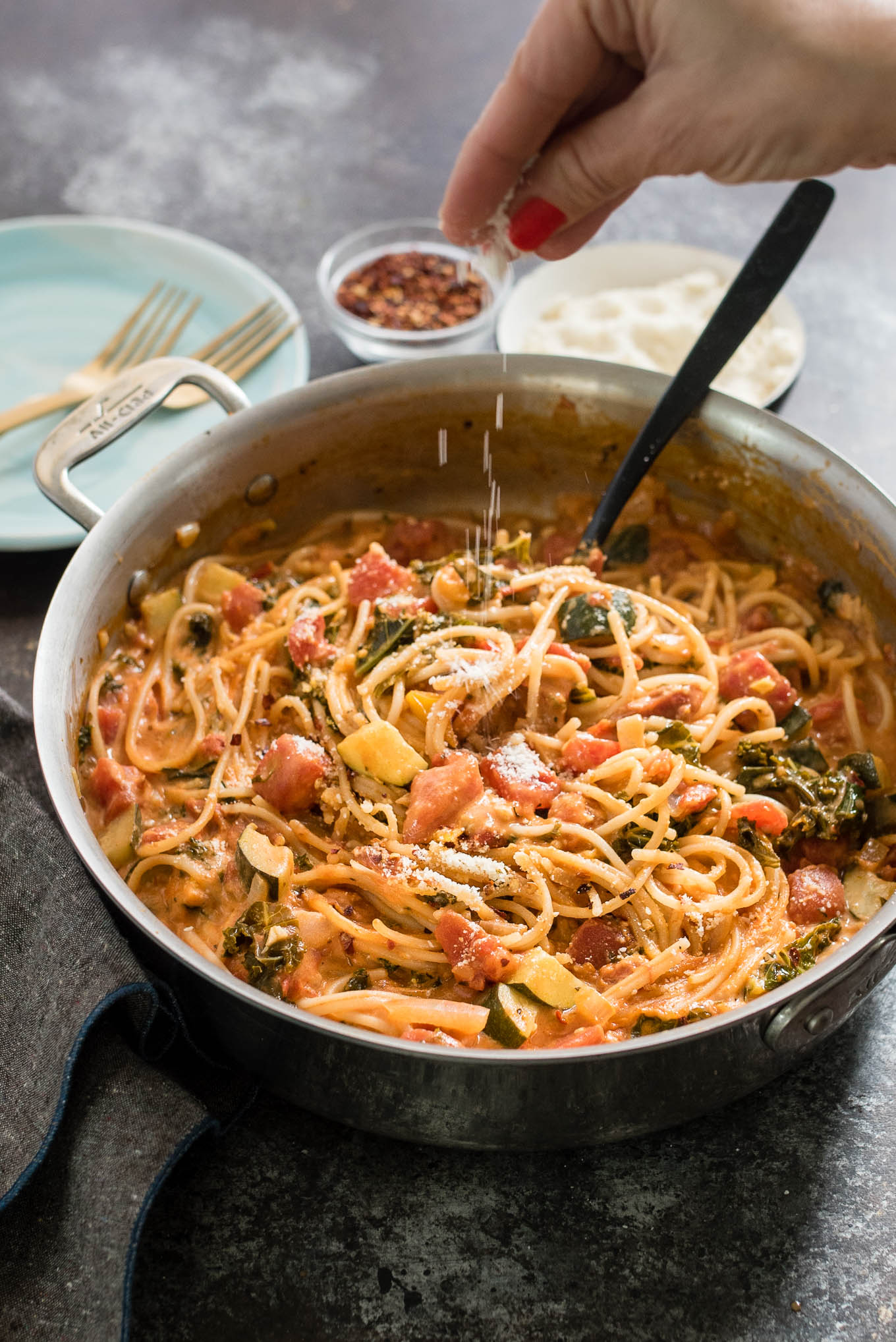 The parmesan cheese melts into the sauce giving it extra flavor. Hope you get your hands on some NOW Foods awesome pasta blends and make this soon!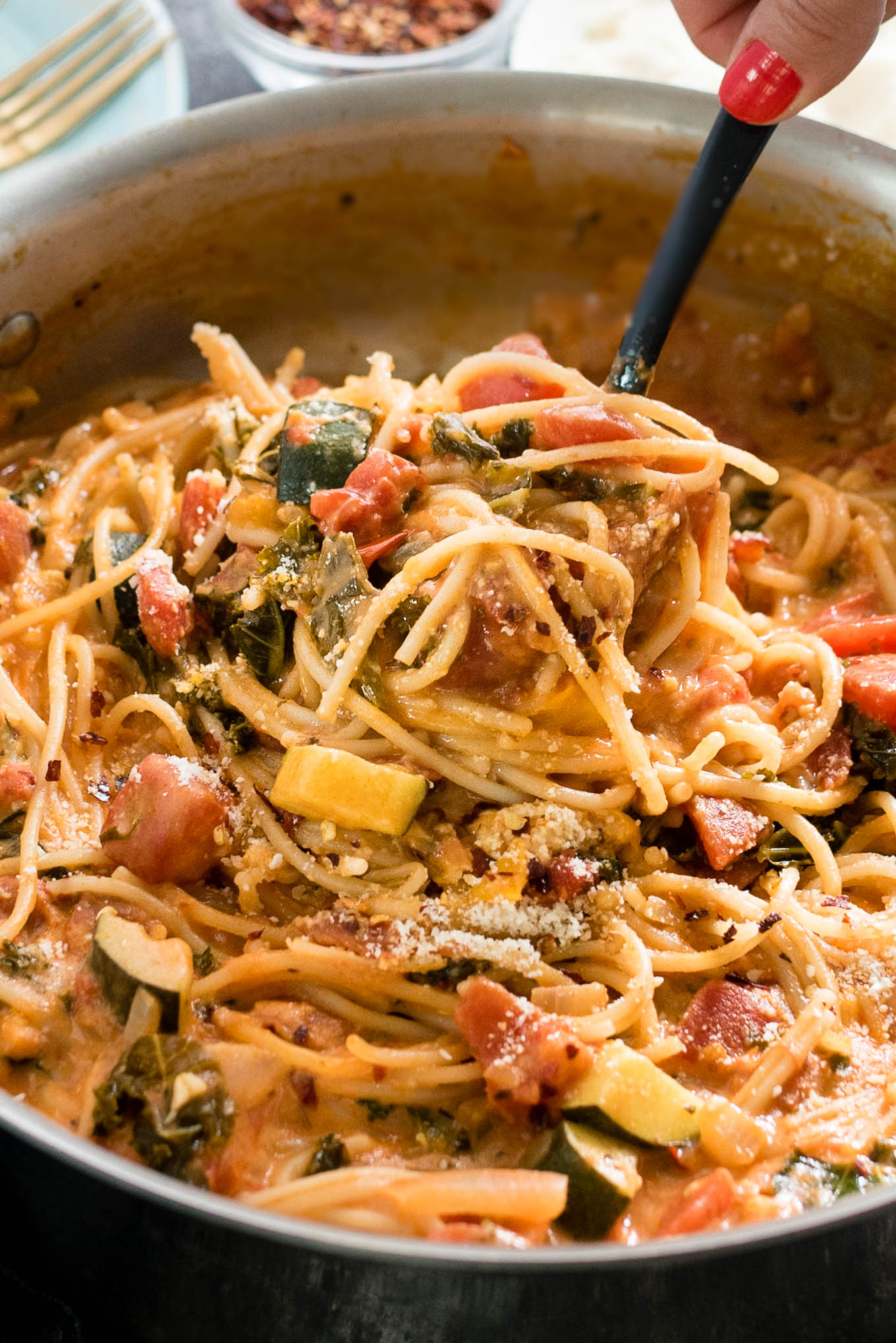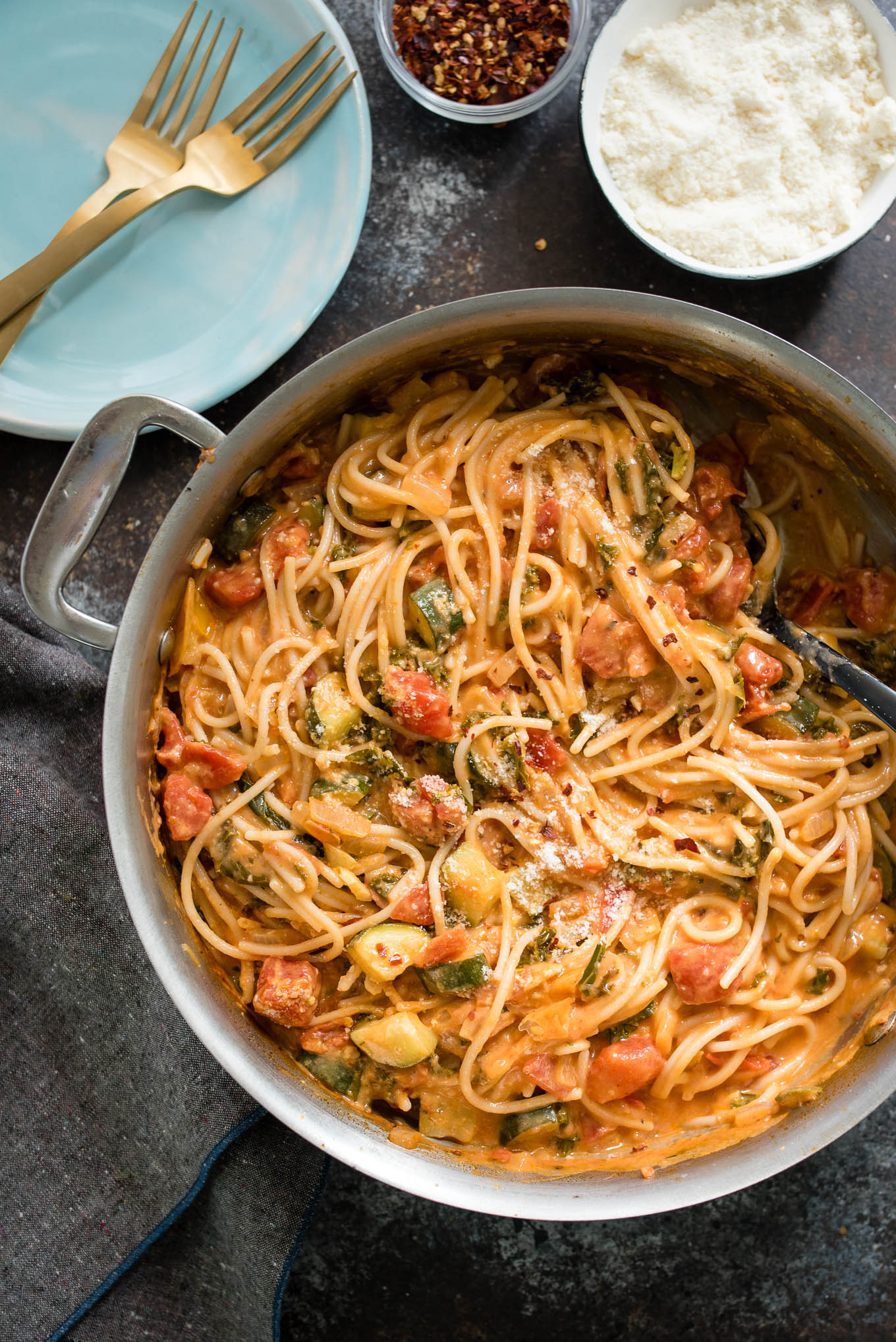 To buy NOW Food's gluten free pasta or other great products go to www.nowfoods.com. And follow NOW Foods on Facebook, Instagram and Twitter.

Creamy Veggie One-Pot Spaghetti
One Pot Creamy Vegetable Spaghetti is a gluten free, veggie packed meal that is all cooked in the same pan!
Author:
Melanie F. | Nutritious Eats
Ingredients
1 tablespoon olive oil
½ tablespoon butter
1 cup diced onion
~1½-2 cups diced zucchini (1 zucchini)
3 cloves garlic, minced
1 cup cherry tomatoes, halved
2 cup chopped kale
1 (14.5 ounce) can diced tomatoes with basil and garlic
1 cup marinara sauce
¼ teaspoon salt
¼ teaspoon black pepper
¼ teaspoon red pepper flakes (2-3 pinches)
2¼ cup vegetable stock or broth
8 ounces NOW Foods gluten free spaghetti (broken in half)
¼ cup whipping cream
¼ cup parmesan cheese
Instructions
Over medium high heat, add 1 tablespoon oil and ½ tablespoon butter and cook onion for 2 minutes, add zucchini and garlic and saute ~2 minutes longer.
Next, add fresh tomatoes, canned tomatoes, kale, marinara, salt, pepper, red pepper flakes and stir to combine. Turn to high heat and stir in vegetable broth, when bubbles start to form on the edges add the broken spaghetti. Gently stir the best you can (some of the pasta might not be covered at this point). Cover with lid and reduce heat to a low simmer for 10 minutes, stirring once or twice.
After 10 minutes, pasta might still be a little firm. Turn heat off and let pot sit on the hot stove top for 5 minutes. Stir again and check for doneness.
Stir in ¼ cup of cream and parmesan cheese, add more red pepper flakes if desired and enjoy!
Serve with additional parmesan cheese and red pepper flakes.
Notes
If you are serving kids you might want to omit or decrease the amount of red pepper flakes used and stir it directly into the adult bowls.