Hi friends! Today I want to talk about environmentally friendly ways to pack a lunch.  I always keep foil, saran wrap and plastic baggies on hand, but we rarely use them for our lunches because there are so many great reusable options.
For the month of August my three oldest are all attending my daughter's year round Montessori school. They offer such a great curriculum and fun summer camps so everyone is super excited. The sweet owner of the school even offered my two year old (who will be 3 in November) a chance to attend for the month of August as well, his first time. I have been thinking about starting him 1 or 2 days a week during the school year so this will be a good trail period.
Friday was their first day back after summer break and upon packing their lunches, plus my husbands, I realized I don't have enough lunch supplies for everyone. I made it a priority to order more this weekend which got me thinking about this post and wondering about everyone's favorite products.
So let's get going….
Of course there is good basic ol' tupperware which I do use, but I find I need something a little more flexible when I am trying to fit a lot of food items into a lunch sack.
I have been using reusable lunch bags forever, all different brands, but I love trying out new ones. I will cover all the ones I own plus new ones I've recently ordered.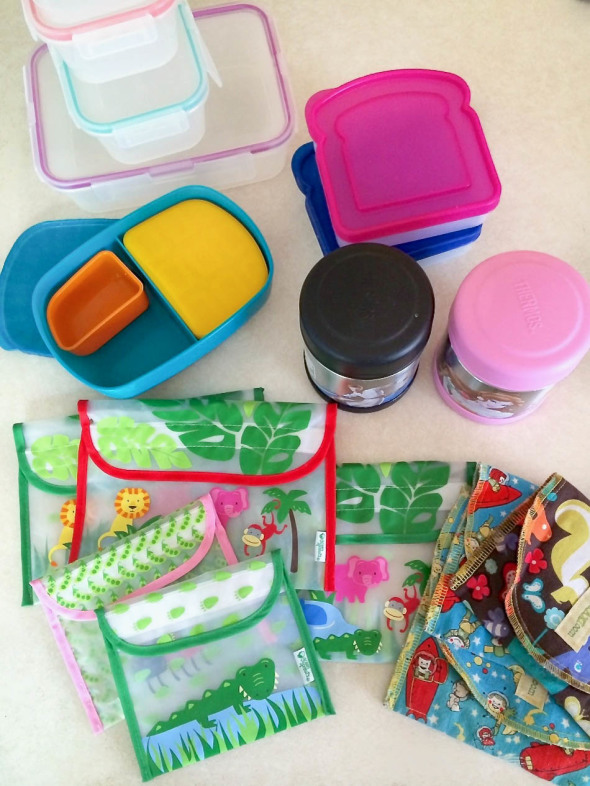 LunchSkins Reusable Sandwich and Snack Bags Set – 3 Pack – Orange Crab, Navy Shark, Green Stripes

This is the first brand I ever tried and they worked pretty well, but after some time had a bit of a smell and discoloration to them. We did get a lot of use out of them though! I did like the nice velcro seal and that they can be washed in the dishwasher.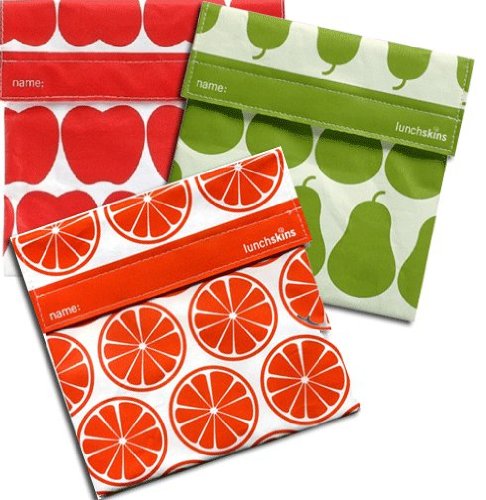 Set of 3 Wrap N Mat Reusable Sandwich Wrap Placemat in One Place Lunch Snack Eco
I originally found these at One Step Ahead- the couple we've had we've had for years and they are still in great condition. I just ordered a 3-pack from Amazon because it was a better price. These are definitely a favorite of mine for packing sandwiches, wraps, tacos, etc. Plus I love that they double as a mat to eat your food on. A must have for us!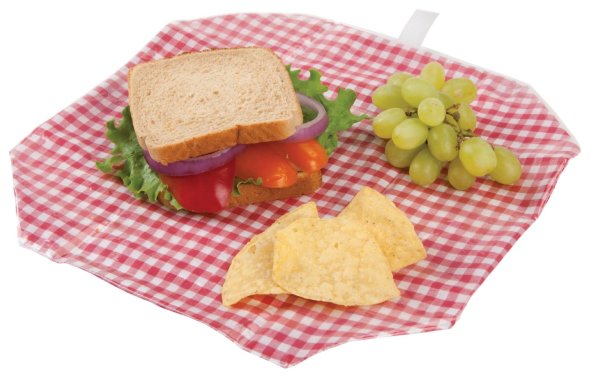 green sprouts Safari Sandwich and Snack Bag, Pink Elephant, 2 Count
I bought a bunch of these a few months ago and I am really liking them so far. Easy to clean and no leftover smell.  I also like that they are see-through. Negative is they are not machine or dish washable. So far it hasn't been a problem.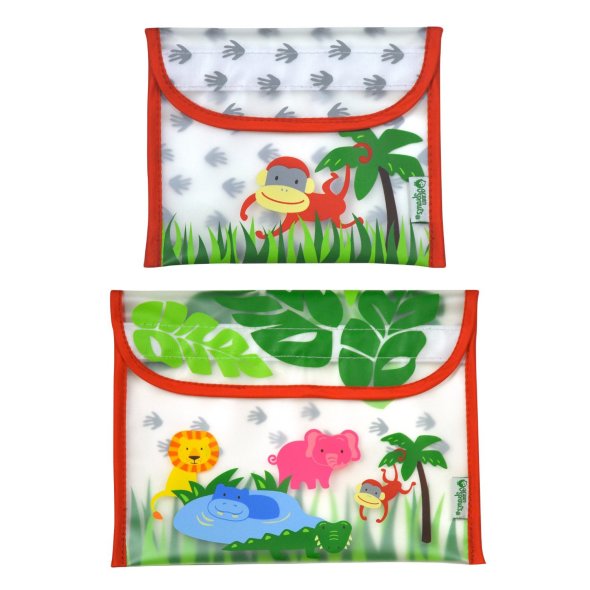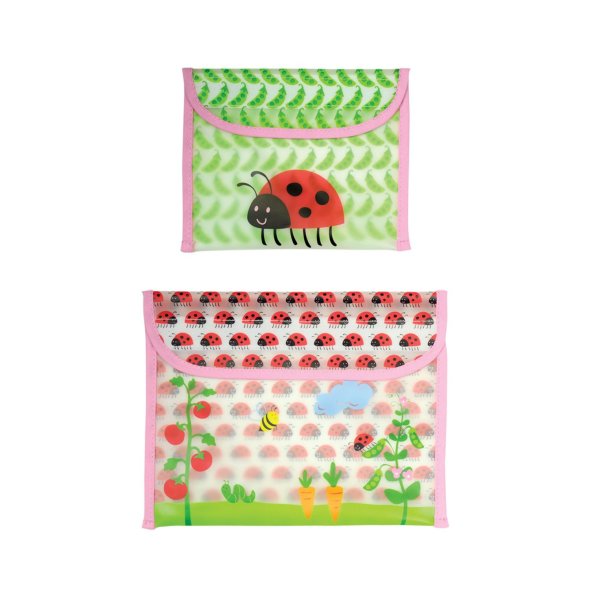 SnackTAXI Far Out Floral Snack Sack
So many adorable prints, but the fabric used is probably my least favorite out of all the reusable snack bags we use. Advantage is they're machine washable!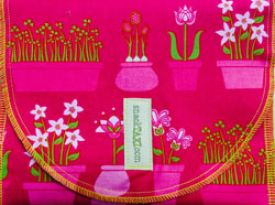 Sassy On the Go Feeding Set, Pink/Purple

We have had this one for years and I finally got around to order 2 more sets. This runs a little on the small side but perfect for my age kids (2, 5 and 7) and fits perfect in our lunch bags. For $10-12 bucks you can't beat it. You can use it with the small containers set inside the big container (like little dividers) or you can use the containers on the side for extra storage.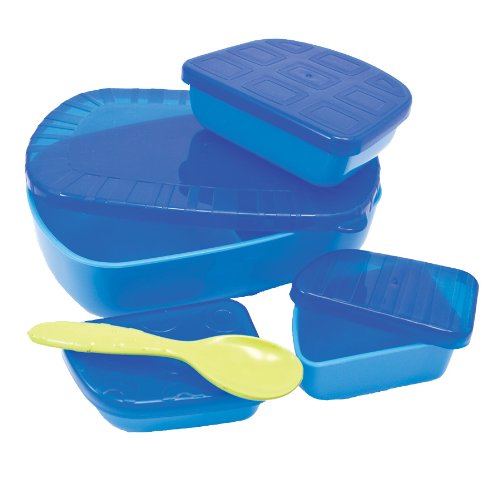 I don't own this but I've always liked the looks of it.  The big concern for me is we already have Pottery barn lunch bags we like and this stainless steel kit would not fit in our bags. Another draw back for me is there is no option for storing extra food items if something doesn't fit in one of the compartments.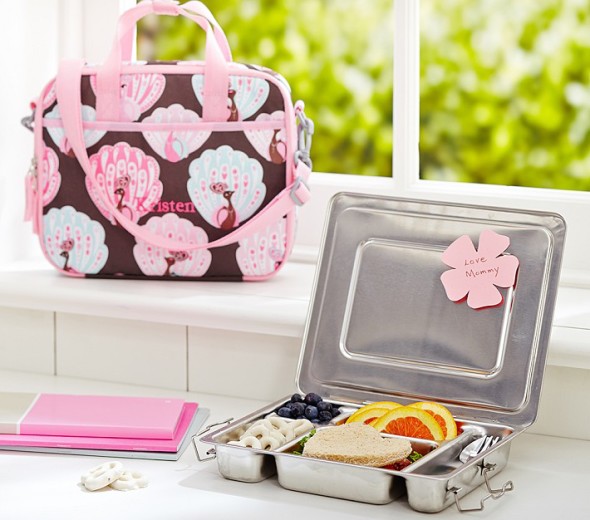 Bumkins Reusable Sandwich and Snack Bag, Crocs, Large
I just ordered these so I can't review them yet, but they are made from the same material as the Bumkins 3 Pack Waterproof SuperBib

which I have used with all of my kids- 7 years and counting!  I like that these have a zipper and are machine washable.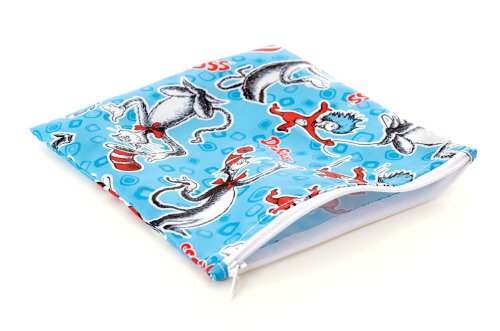 Thermos FOOGO Stainless Steel Food Jar, Blue, 10 Ounce
I love these for soup, pasta, scrambled eggs, etc. We also love the thermos cups- they are the best at keeping the kid's drinks icy cold.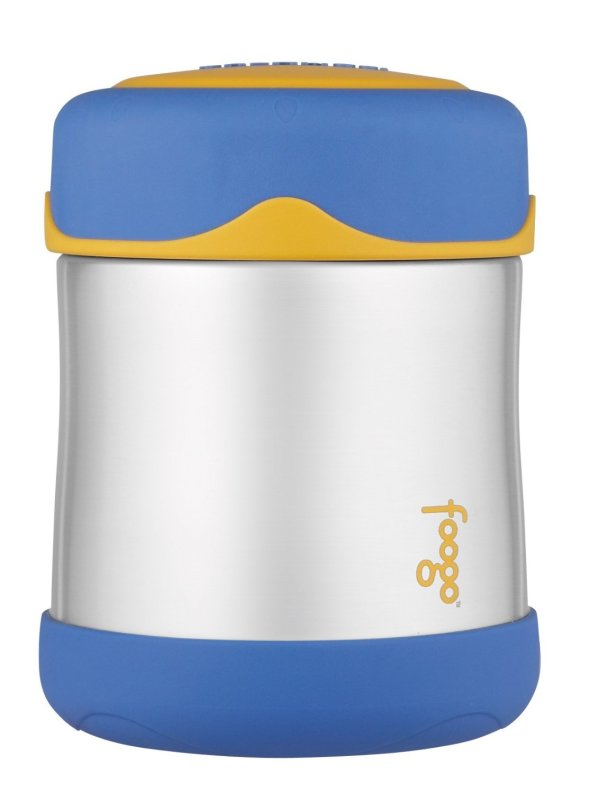 Now these are not just for kids….ask my husband! He has no problem packing these fun bags in his lunch.
So tell me what do you use to pack your lunch? Any favorite products?