This Paresan and Pecan Crusted Oven Fried Chicken will totally satisfy a craving for fried comfort food.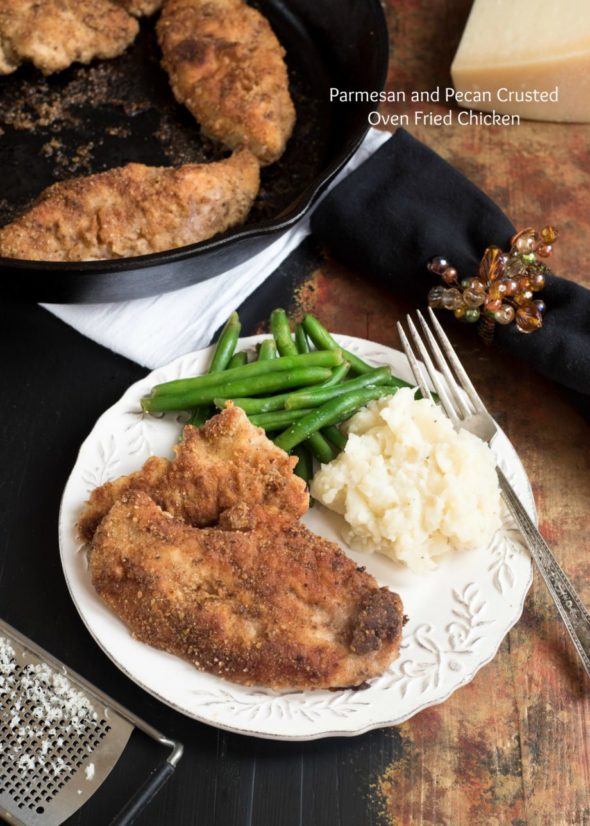 Well I guess now that soccer season is over for us (and it was a great undefeated one for my 9 year old I will have to say) it's time for me to get back to cooking more. Activities 3 times a week left me preparing more grab and go options like wraps, tacos, etc. and now we are home during dinner time! Let's see how long this schedule lasts.
Nothing makes me happier than a good piece of fried chicken. But it's only something I have once in a blue moon so when I have a hankering I make oven baked fried chicken (or I get my mom to). These chicken breasts have a similar taste but don't require dealing with a whole chicken and since there are no bones, the cooking time is much quicker! As in 15-20 minute cooking time quick!
You'll just set up your dipping and dredging stations (of course you'll mix together the flour and ground pecan/cornmeal mixture, I just wanted to show you what it looks like), and then go from stove-top to oven while you finish preparing your sides.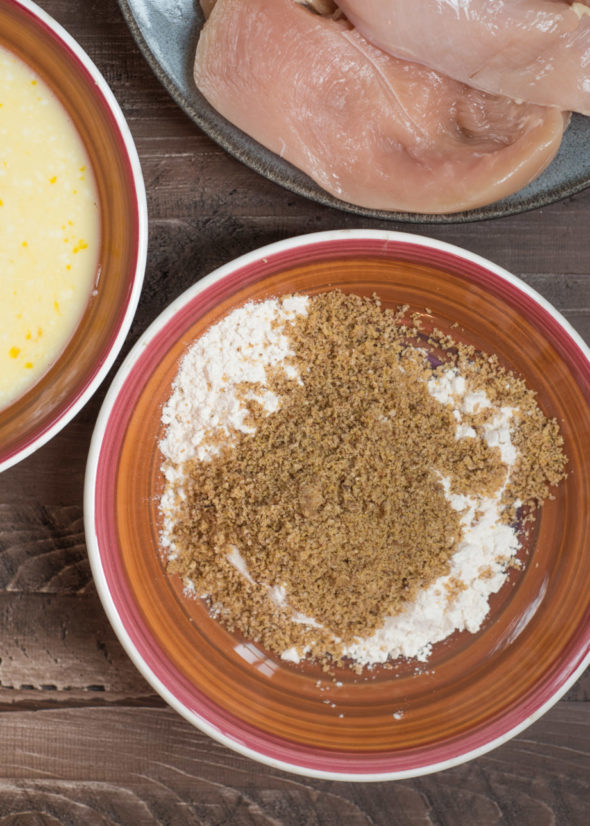 This, you guys….is so good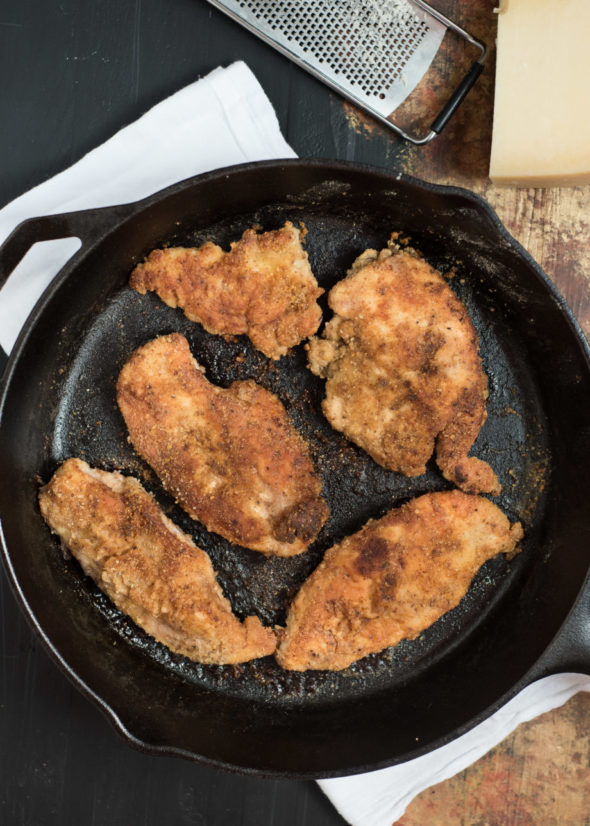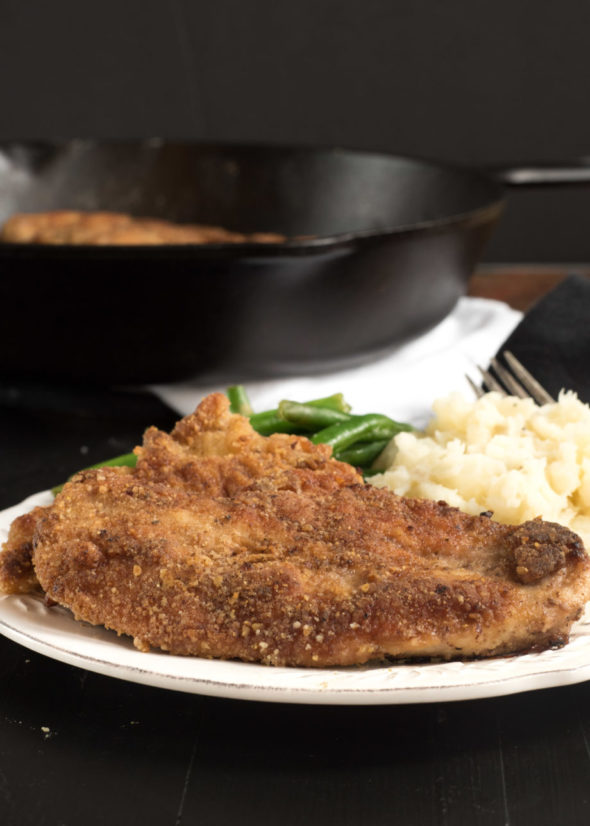 I found the original recipe at Cooking Light but had to change it up to work for me. Since I never have pine nuts on hand, I subbed pecans and omitted the rosemary as I knew my kids wouldn't be as fond if it that way.
I paired it with some cauliflower potato smashers for a spin on a comforting classic. And the leftovers are great eaten cold. This will be in the meal plan rotation often.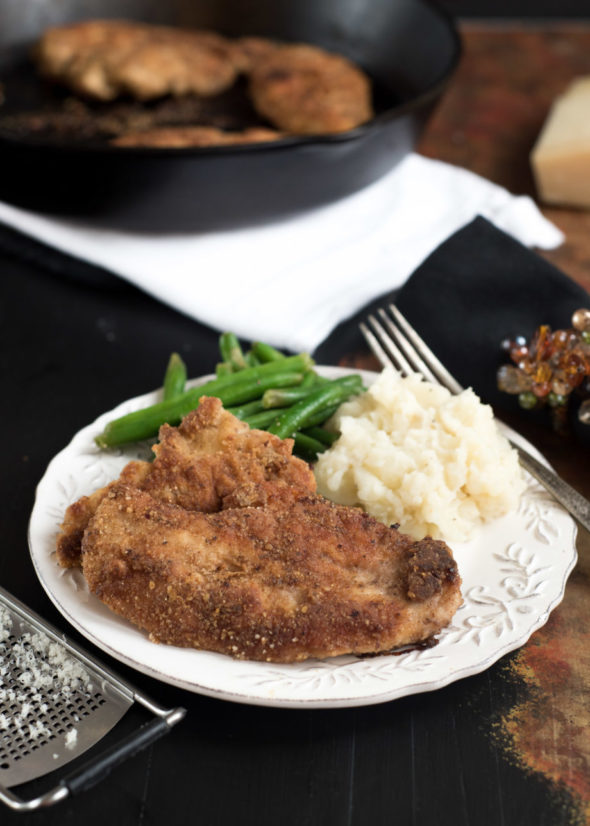 A  big hit in our house!
Baked Fried Chicken
Author:
Melanie F. | Nutritious Eats
Ingredients
2-3 chicken breasts, butterflied (i.e. sliced in half crosswise)
1 egg
½ cup buttermilk (or if you don't have any, sub ½ cup of milk + 1 tablespoon of lemon juice and let it sit for a few minutes)
3 heaping tablespoons pecans
1 tablespoon cornmeal
½ teaspoon onion powder
½ cup flour
¼ cup parmesan cheese
½ teaspoon baking soda
½ teaspoon salt
½ teaspoon pepper
2 to 4 tablespoons of oil
Instructions
Preheat oven to 425 degrees.
In a small food processor add pecans, cornmeal and onion powder. Process until nuts are finely ground. Transfer mixture to a shallow bowl or plate, add flour, parmesan cheese and baking soda. Combine well.
In another shallow bowl combine egg and buttermilk.
Dip chicken one at a time in egg mixture, then place on a large plate. Season the breasts with salt and pepper, then dip in breadcrumb mixture, making sure they are evenly covered.
Depending on if you are using 2 or 3 chicken breasts (which will be 4-6 pieces once they are cut) heat 1 or 2 skillets to medium high heat. Add ~2 tablespoons of oil in each skillet or enough to cover the skillet in a thin layer. Place breaded chicken breasts in skillet(s) and brown for ~4-5 minutes. Check underside for a nice brown color. Flip the chicken and place skillet(s) in the oven for an additional 10-15 minutes.
Notes
You will have enough egg mixture and breading for 2 or 3 chicken breasts (even more) so the recipe will not need to be altered.
Except that one skillet typically will not hold 6 pieces of chicken (once cut) so if you go with the 3 breasts you will likely need 2 skillets. Do not crowd the pan or else the chicken won't get a chance to get nice and crisp.