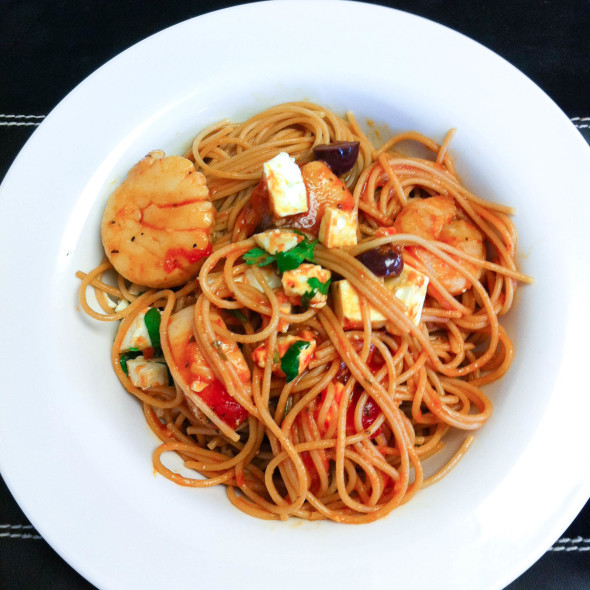 So I had shrimp scampi with linguini on the menu last week and it turns out I was out of white wine! This rarely happens and I didn't have time to drag all the kids out to get some SO I changed the pasta to this puttanesca style with the seafood which was in my freezer and needed to be used up before the move. It was so easy to throw together and very tasty. I'd make it again for sure.
Please excuse the crappy iphone photos. I didn't have time or light to photograph properly.
So I just sauteed the seafood which I love because it only takes 4-5 minutes. Then I threw in everything else to simmer while the pasta cooked. You know angel hair cooks in no time so this was a very quick prep dinner!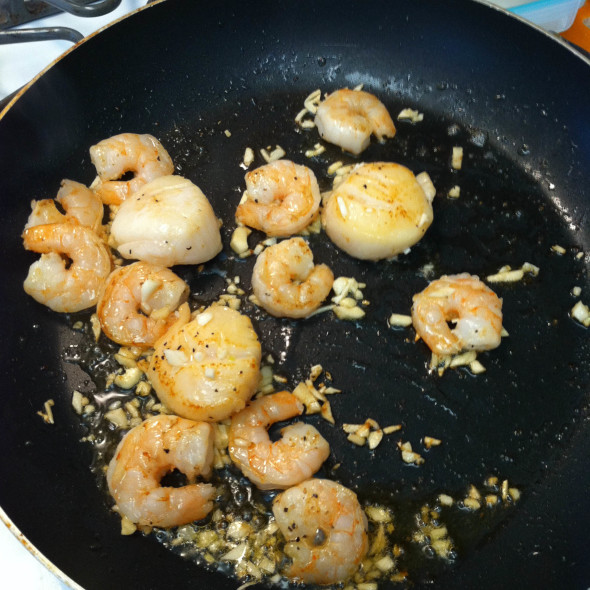 At this point, I could've just put this in a bowl and eaten with a spoon. Mmmm. I used Muir Glen Organic pasta sauce in the Cabernet Marinara flavor. I donn't like that many jarred sauces out there, but highly recommend this one.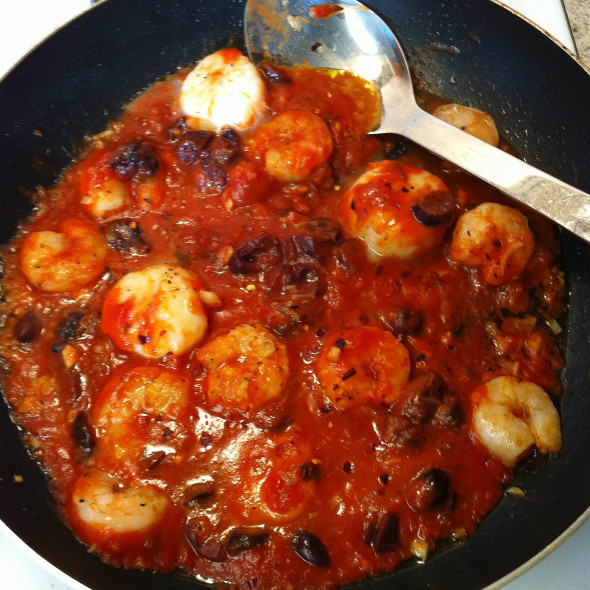 For those of you paying attention, that is actually cilantro in the photo. I didn't have parsley and needed some sort of fresh herb so cilantro is all I had. It wasn't bad, but wrote the recipe with parsley because that's what it really needed.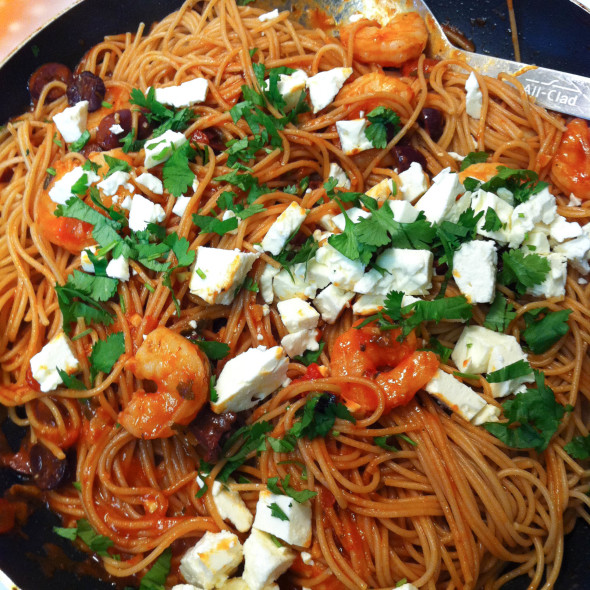 We are in route to Washington so I won't be posting my meal plan, but I'd love to hear yours! P.S. Since I'm on the road and automatically posting this, please excuse any typos, errors, etc. as I won't be able to fix them immediately! Thank you!
Pasta Puttanesca
Ingredients
¾ lb whole wheat angel hair pasta
2 Tablespoons olive oil
3 cloves garlic, minced
red pepper flakes, a few shakes (~1/8 teaspoon)
¾ lb shrimp & scallops (I used about ½ lb shrimp and only a few scallops- use any combo you like)
2 cups marinara sauce (I just eyeballed this based on what was left in the jar- feel free to use more or less depending on how much sauce you like)
⅓ cup starchy pasta water
handful of kalamata olives, pitted and chopped (~1/3 cup)
1 lemon juiced
lemon zest
1 cup feta cheese crumbles
¼ cup fresh Italian parsley
salt and pepper
Instructions
Bring a large pot of water to boil and cook pasta according to package directions. Meanwhile heat a large skillet to medium-high heat. Season shrimp and scallops with salt and pepper. Add olive oil to skillet, add scallops and shrimp and cook for 2 minutes, then flip all seafood, add minced garlic and red pepper flakes and cook another 2 minutes on other side or until opaque.
Add marinara sauce, ⅓ cup of pasta water, lemon juice, lemon zest, kalamata olives and turn to low. Simmer sauce until pasta is done.
Add cooked pasta to sauce, toss in feta cheese and chopped parsley. Serve immediately.
Question: What are you planning to make this week? Send me some new recipes while I am the road!