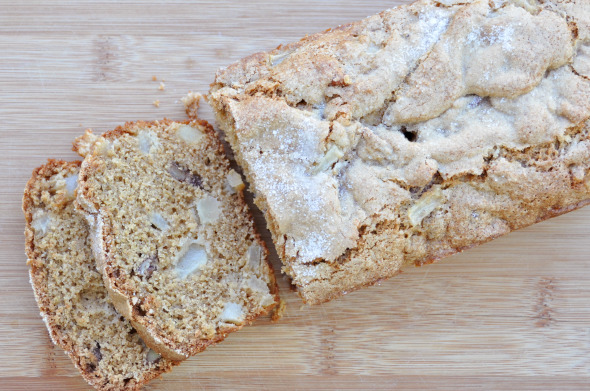 I will admit I prefer apples over pears during the autumn and winter seasons but last year after I exhausted all ideas for the use of apples and had made more than enough banana bread, pumpkin bread and cranberry bread, I was ready to branch out. I made this pear bread right after the end of pear season so had to wait a year before I could share it with you! Quick breads are about the easiest things to make and make you feel very accomplished. So I seem to think.
I also love bread recipes that yield two loaves. One for now, freeze one for later…or if you have big eaters in your house like me, you will go through both loaves in no time. Use whatever pear is ripe and looks good to you.
Look at all those pear chunks!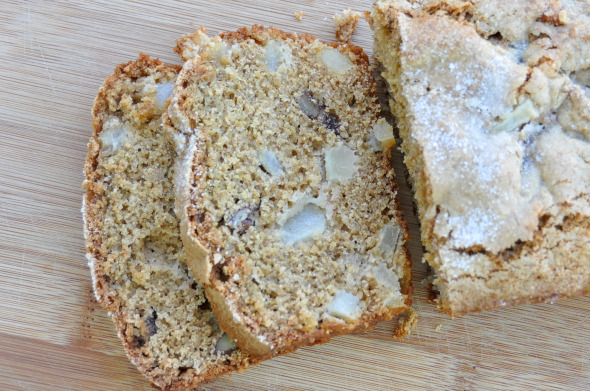 I really prefer making bread at home because you can control the amount of fat and sugar used…and this is a good time to tell you that I am not a fan of low-fat baking; I just think it usually leaves you unsatisfied and craving more calories, however I do not believe you need 2 sticks of butter in a recipe to make it good. Most of the baked goods from your bakery are LOADED with fat and sugar. It's not necessary for a muffin to leave a grease stain on your napkin. That's all I am saying. This recipe has 1/2 cup of oil and remember it yields two loaves. It also uses a good amount of pears to make the bread moist.
If you haven't gotten into your fall baking yet, here is a good place to start!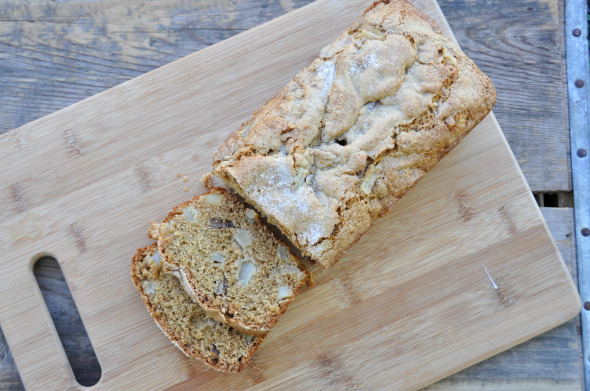 Pear Bread
Ingredients
3 cups whole wheat pastry flour
1 teaspoon baking powder
1 teaspoon baking soda
1 teaspoon cinnamon
1 teaspoon nutmeg
½ teaspoon ginger
1½ teaspoon salt
zest of 1 lemon
1½ cups chopped, peeled fresh pears
1 cup chopped walnuts
½ cup vegetable oil
½ cup of pear sauce (mash up ripe pears in their juice to make this)
3 eggs
2 cup sugar
2 teaspoons vanilla extract
A few Tablespoons of sugar for topping bread
Instructions
Preheat oven to 325. Spray two 9"x5" loaf pans with cooking spray. Set aside. In a medium size bowl, mix together dry ingredients: whole wheat pastry flour, baking powder, baking soda, cinnamon, nutmeg, ginger, salt and lemon zest.
In another large mixing bowl, using a handheld mixer beat sugar and eggs on low until incorporated. Stir in vegetable oil, pear sauce and vanilla extract.
Gently fold dry ingredients into wet ingredients and mix on low until incorporated. Fold in the chopped pears and walnuts.
Divide batter among two prepared loaf pans. Sprinkle the tops with sugar- 1 to 2 Tablespoons per loaf.
Place pans in oven and bake for 1 hour or until a toothpick comes out clean. I always check mine 10 minutes before to prevent over-baking. Depending on heat of your oven they loaves might need up to 70 minutes.
Allow loaves to cool on a baking rack until cool enough to remove from pans, about 15 minutes or so. Continue to cool on baking rack until fully cooled. Cover with plastic wrap and/or foil (both if you intend to freeze them). Enjoy!
Notes
Apple sauce can be substituted for pear sauce if needed
QUESTION: What is your favorite fall fruit? Do you bake with pears?
Don't want to miss a post? Make sure to sign up to receive emails from Nutritious Eats. I love hearing from you! Please leave a comment, ask a question or just say hi. And if you've enjoyed this post, please pin, share, tweet or stumble away so that others can enjoy eating healthy with us! Thanks for reading!