The following post is sponsored by FitFluential LLC on behalf of Polar.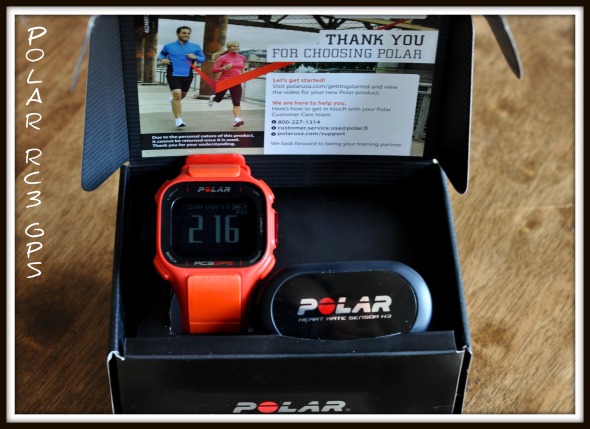 I have had a Polar heart rate monitor on my wish list for over a year so when I was given the opportunity to review the new Polar RC3 GPS, I was SO excited. It also happens to offer more than the one I wanted so I was especially grateful. It is a running and multisport watch with integrated GPS that has extensive heart rate based training features called Smart Coaching. It provides speed and distance data as well as route information.

So here are the basics:
What's in the box?
Watch
Heart rate sensor and strap
USB cable
User manual
First thing first, setting up the RC3 GPS. I was a little hesitant before attempting to set up because normally I am SO bad with directions and electronics, but even I figured this out with the super simple instructions. I started by charging the battery, then entered my proper settings (i.e. date, height, weight, sex, etc.) so that it would give me the most accurate readings. It only took a couple minutes for my watch to catch a GPS satellite site but I don't live near any tall buildings which can cause it to take a little longer. Everything else has been a breeze, thank God! I didn't even need to ask my husband for help!
The Sport Profile feature helps you start your training session with ease. The training computer provides five sport profiles; one for running, two for cycling and two for other sports.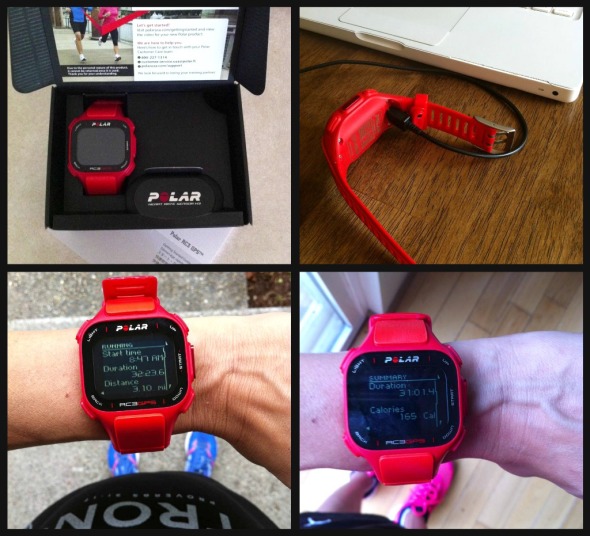 Some of the awesome features and benefits of the Polar RC3 GPS
Slim Integrated GPS: RC3 GPS is all you need for tracking your speed, distance and route. The slim and lightweight training computer has a built-in GPS and rechargeable battery.
Back to starting point: This feature guides your way back to the starting point of your trip.
Training Benefit: This feature helps you better understand the benefits of your training by giving instant, textual feedback on your performance.
Web Training Diary: Share your route and distance with others at polarpersonaltrainer.com.
Running Index: Monitor the efficiency of your run with this feature. Running index is calculated automatically after every run, based on heart rate and speed data.
Sport Profile: Start your training session with ease: the training computer provides five sport profiles; one for running, two for cycling and two for other sports.
Polar Sport Zones: To help you train at the right intensity, lock you target sport zone for a training session. When your heart rate goes below or above the target sport zone, the RC3 GPS gives a visual and audible alarm.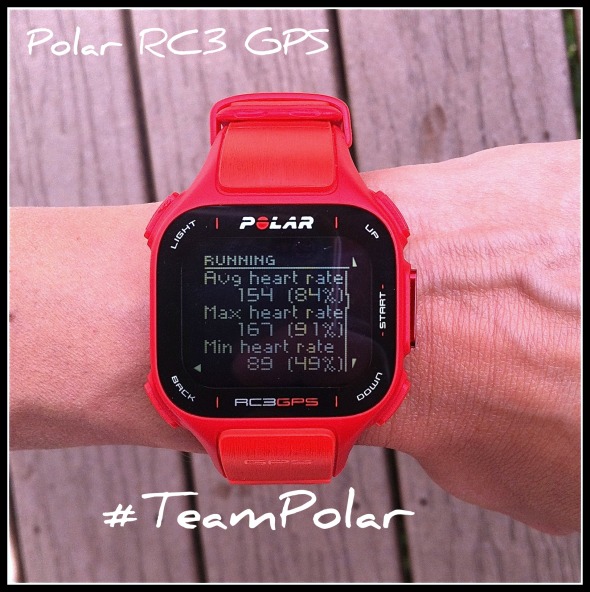 Since I am almost 20 weeks pregnant I am not running as much as normal. I've just never been a good pregnant runner mainly because of the discomfort of the baby on my bladder. I did manage to run 3 miles and a few shorter 2 mile runs using my new watch. I also used it for a few cross fit sessions. I have to say it totally motivated me. I loved watching my progress, my distance, my calorie burn. Plus I was pleasantly surprised that the heart rate strap didn't bother me at all. The watch allows you to view your results in several different modes and most of the time I was interested in my heart rate, pace and/or distance and calorie expenditure.
If you want to train more seriously and improve your running you can even purchase an additional stride sensor (or cadence sensor if cycling) and attach it onto your shoe to get the most precise running speed/pace, distance, as well as your Running Index and cadence to measure your performance (or cycling speed, distance and cadence if using the cycling feature). I was quite pleased with the feedback provided without that tool. I know my usual running pace and what the Polar RC3 GPS was reporting seemed to be very accurate to me.
For a deeper analysis of your training, you can transfer your training data to the polarpersonaltrainer.com web service using the USB cable and WebSync software. The site will act as your online training diary and interactive training community that keeps you motivated. With the polarpersonaltrainer.com web service you can:
see your training route
share your training result as your status update in a social network
challenge your friends to virtual sports competitions
get more detailed information on your training feedback
store your training files and follow up your progress
follow your training load and recovery in the training diary
create and download the Polar Endurance training programs onto to your training computer and utilize them in your training and create your own training targets
Some other bits of information, some might wonder about the battery life. Well I found on the manual that the battery gives you 12 hours in continuous use with the GPS on and up to 1700 training hours with the GPS off. Sounds good to me! Also if the size is a question to you, please note I have a very small wrist and am of petite size and although the face of the watch is big, I still think it looks great and fits nice on me.
So in a nutshell, I am in love with this watch. I would recommend it to anyone looking for a heart rate monitor, a great training tool, a great motivator or just a cool looking sports watch. I can't wait to get back to my half marathon training using this watch after the baby comes! If you have any questions, feel free to ask!
If you'd like to buy this great running GPS click here and use code: "fitfluential" during checkout for a 25% discount! This discount is valid only on the RC3 GPS and will expire on 8/31/13.
Question: Do you train/workout with a heart rate monitor?