Quick and Easy Vegetable Soup with Pesto will nourish you from the inside out and will use up all those last bits of vegetables reducing waste in your kitchen.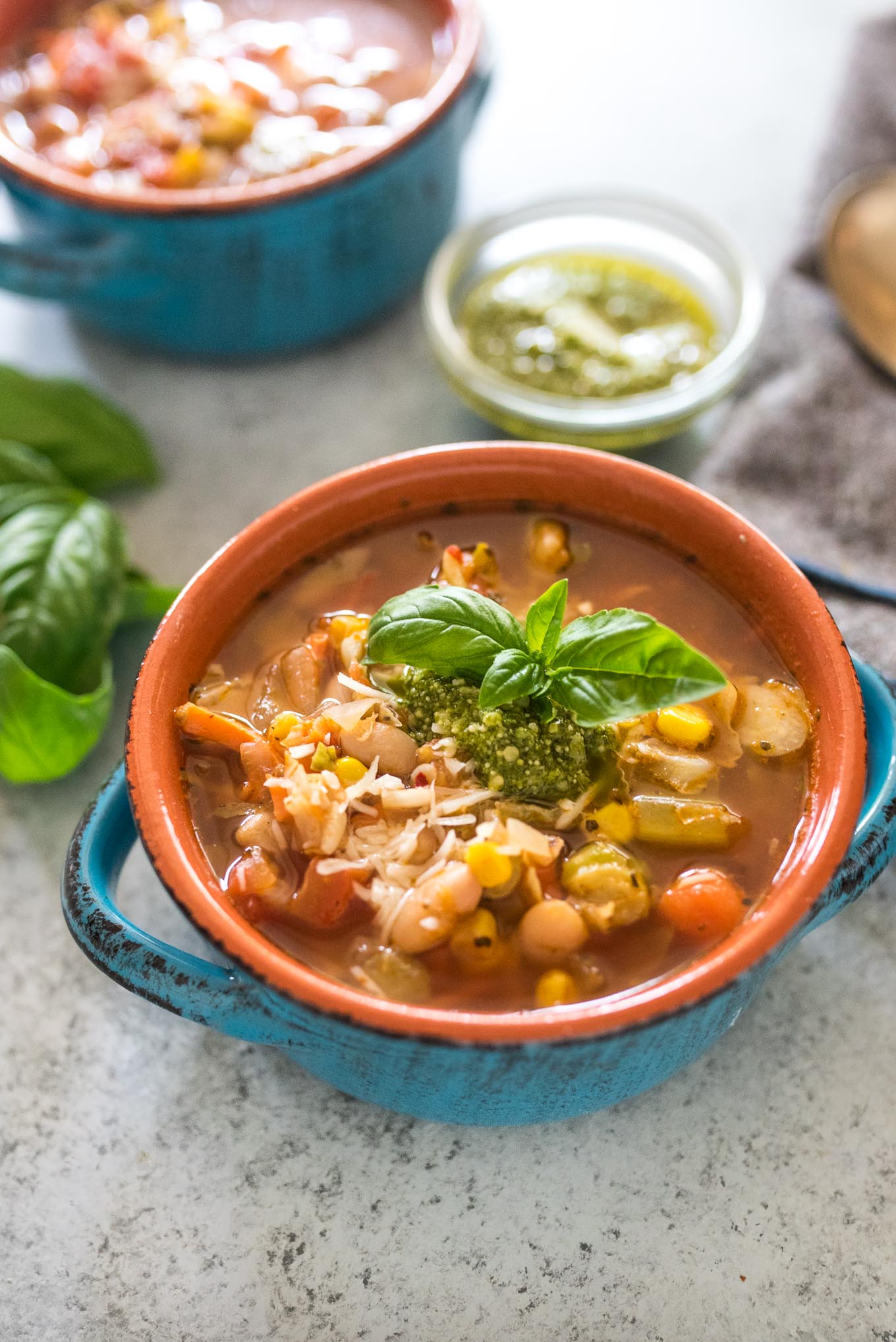 Quick and Easy Vegetable Soup is my go-to soup when I don't want those veggies to go to waste. You can be flexible here and add whatever you need to use up! It's Recipe Redux day and here is our theme:
"In honor of Earth Day on April 22, we're challenging ReDux members to show how they reduce food waste. Whatever you would normally toss, use it up. Share tips for reducing food waste in meal planning, prep or using up scraps."
Thankfully with a family of 6 full of people with good appetites, we don't have a lot of food waste. However, I'm human and it has happened before. It's so disappointing when you realize you've forgotten about that salad mix or haven't gotten around to cooking those fresh chicken breasts that should've been used by now.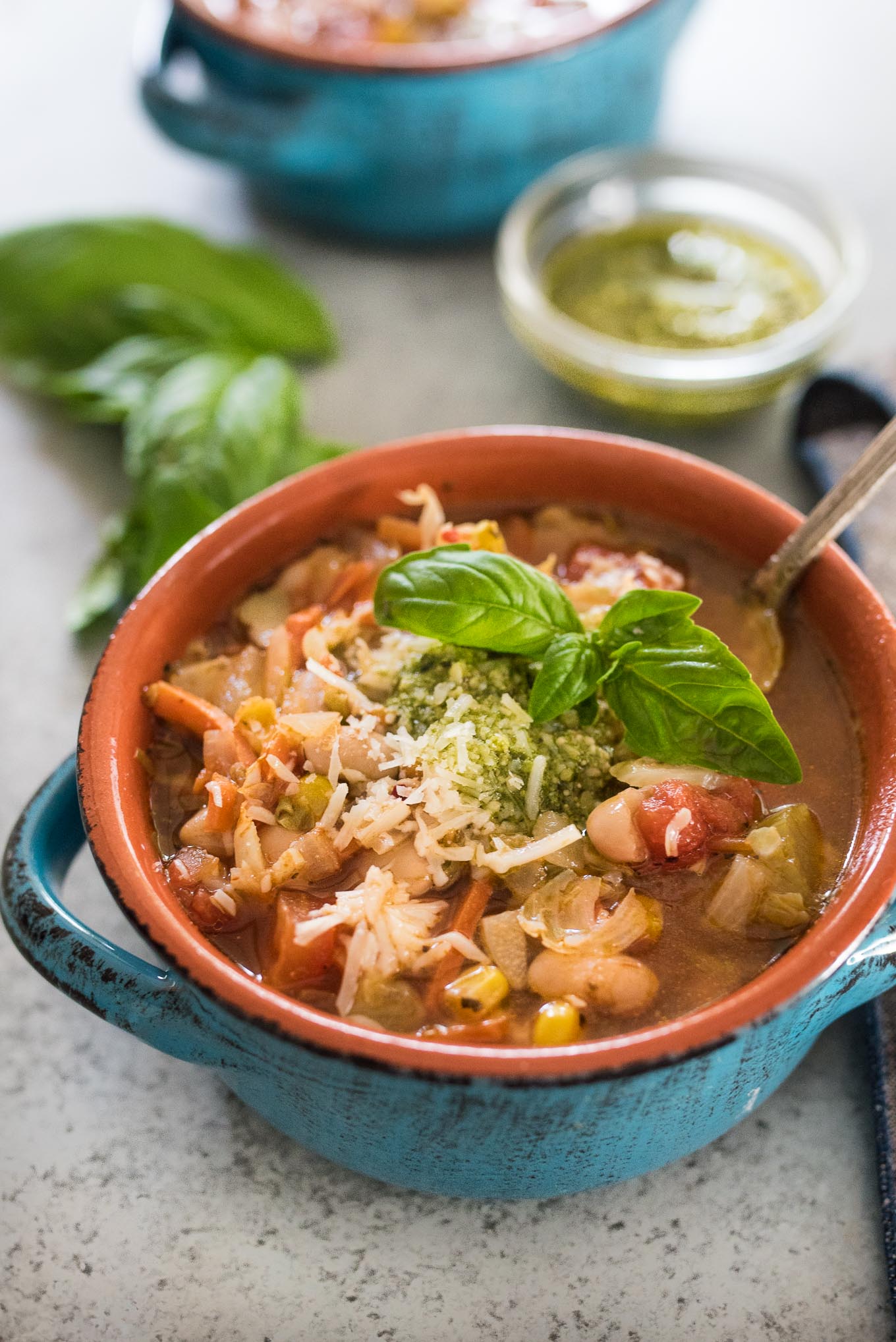 I keep a tight watch on my food and grocery shop often, but if you are finding yourself with a lot of food waste, here are some tips to help. When you go to the grocery store (most people go weekly) do a quick run through of what you have stocked in the fridge. This will not only help you meal plan, but will allow you to check expirations dates and or the status of your produce each week as a minimum. If I know I something is borderline on crossing the expiration, then I just toss it in the freezer.
Especially when I find berries or the bananas starting to brown, or spinach starting to wilt, they immediately go into the freezer for smoothies. Leftover vegetables end up going into a soup or salad which is why I am sharing this recipe. I literally took all the last bits of vegetables, along with some pantry staples like broth, canned tomatoes and beans and made this super nutritious soup. A dollop of pesto, parmesan cheese and fresh basil finish it off for a tasty and healthy, low calorie meal. You can freeze some of it or use it for meal prep.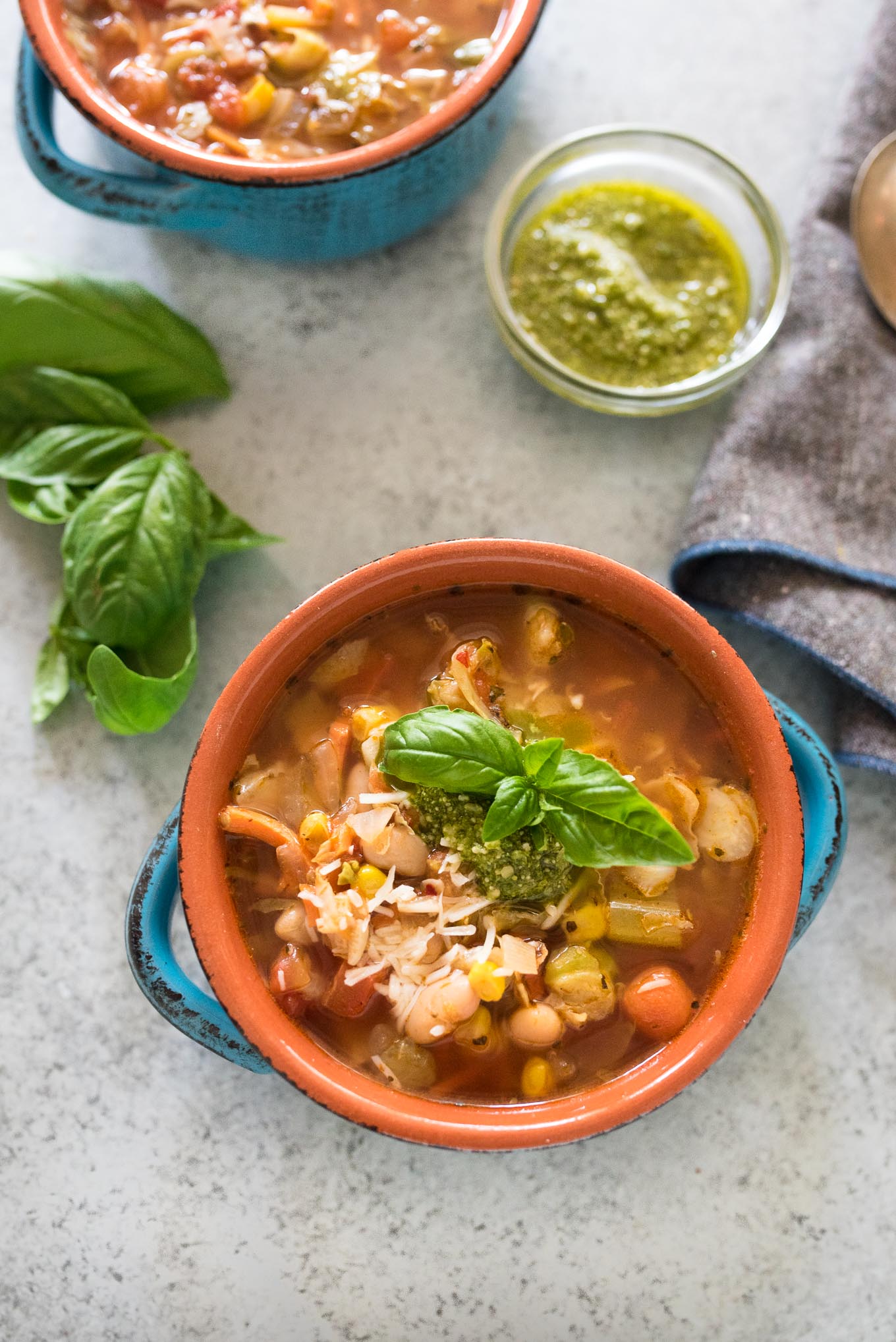 Other tips for reducing food waste:
Meal plan- this will prevent you from overbuying, therefore reducing your chance of wasting food.
When in doubt, freeze it. If you don't think you will get to cooking a particular item that is time sensitive, such as seafood or poultry, just freeze and use it when you have meal planned a little better.
Pack your lunches- this helps tremendously if you are putting good money into your grocery shopping, you are going to need to use it!
Use the leftover bits of vegetables or chicken bones for a stock.
Use your resources- search the web or your cookbooks for a recipe using the remaining amounts of the ingredient you need to use up. There is not a better way to reduce waste, then to actually cook the food and eat it!
Share food with a neighbor or coworkers. Hopefully this will help things get eaten instead of tossed out.
Feed it to the animals (if appropriate) or use it as a compost.
Looking for other soup recipes?
Helpful Tools Used In Making This Recipe and Related Links:
Large Soup Pot– is a necessity when making soup! You need something large enough so that you don't risk overflowing liquids.
Soup Ladle– a good solid stainless steel one is the way to go and a must-have when scooping out the right liquid to solid ratio.
How do you prevent food waste?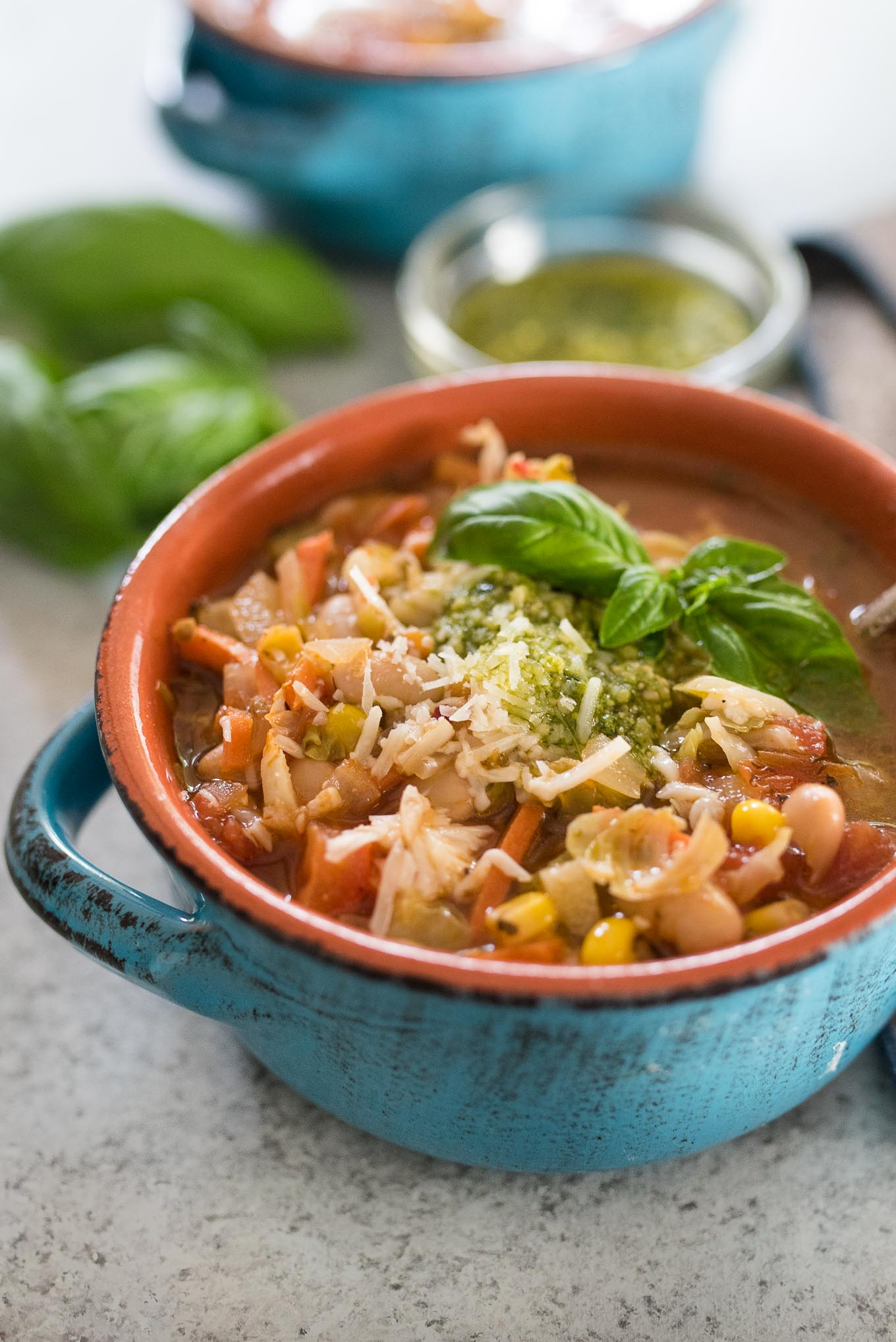 Quick and Easy Vegetable Soup
Quick and Easy Vegetable Soup with Pesto will nourish you from the inside out and will use up all those last bits of vegetables reducing waste in your kitchen. Gluten free, low calorie and easy to make dairy free!
Author:
Melanie F. | Nutritious Eats
Ingredients
1½ tablespoon olive oil
1 onion, diced
1¾ cup chopped carrots
½ cup chopped celery (2 pieces)
2 garlic cloves minced
10 ounce bag shaved brussels sprouts (can substitute zucchini, green beans, cauliflower, cabbage)
2 cup diced fresh tomato
1 cup frozen corn
½ teaspoon red pepper flakes
14 ounce can fire roasted tomatoes
8 ounce can tomato sauce
1 can northern white beans, drained
½ teaspoon salt
½ teaspoon pepper
4 cup organic chicken broth (sub vegetable broth if vegetarian)
1 cup water (use more as needed)
For topping:
Prepared pesto
Grated parmesan cheese
fresh basil
Instructions
In a large soup pot, heat olive oil. Add onion, carrot, celery and sauté for a few minutes.
Then add garlic, brussels, diced tomato, red pepper flakes, dried basil and oregano, salt and pepper and cook until tender (about 10 minutes total).
Next add corn, fire roasted tomatoes, tomato sauce, beans and stir to combine. Add a container of chicken broth and water and bring to a boil. Reduce heat to simmer for about 5 to 10 minutes. Ladle into bowls, top with a teaspoon of pesto, some parmesan cheese and fresh chopped basil.