Ahh, Halloween is over and two of my children's birthdays have come and gone and now I can focus on family visiting for Thanksgiving and our trip to San Diego! Plus I can hopefully crank out lots of recipes between now and Christmas- such a busy time of year!
In the military typically when you move to a new assignment you are assigned a sponsor, someone who assists you in becoming familiar with your new post and all the in-processing you have to do. For whatever reasons, we have never had one take care of us but we were so excited to be able to sponsor another family who recently moved here from Germany. We had them over for dinner last night after they have spent 1 month in a hotel (with a baby and two dogs, bless their hearts). We had a lovely dinner and great time getting to know each other.
I always struggle with what to cook for people I don't know. Challenging wouldn't you agree? Once I got clearance that there were no diet restrictions or dislikes it definitely made my job easier. I wanted to start by sharing this simple appetizer that I like to make for company or parties: a wedge of cheese (I prefer Brie or this Boursin Garlic and Chives- it is fabulous) with crackers and roasted vegetables with herbs. I adore cheese but think it's nice to pair it with something low in saturated fat like vegetables. When I am hosting a larger group, I would add a bowl of olives and hummus. I prefer to make very simple appetizers for dinner parties so that I can focus my attention on the main meal. There are exceptions though such as bigger celebrations or Holidays. I love this combo because I can make the roasted veggies early- they are great eaten at room temperature but you could easily reheat them before your guests arrive. I have posted this recipe before but here is the link to make the roasted broccoli and carrots and marinated olives.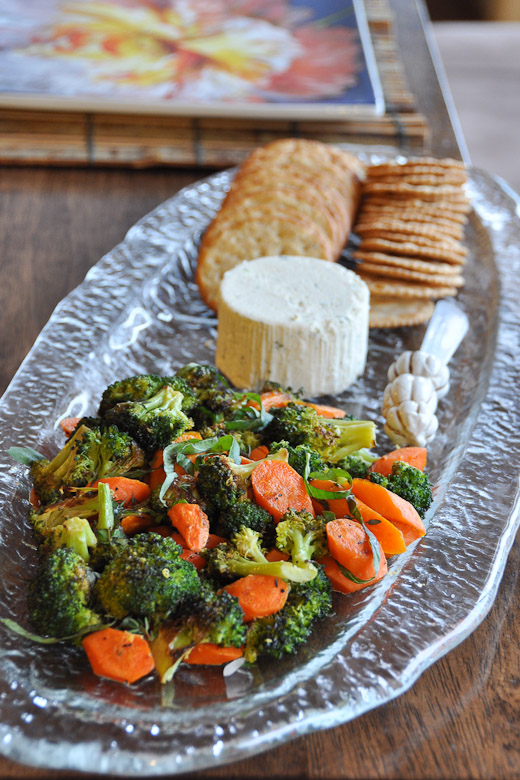 Have you gotten a chance to save anything to your recipe box? ZipList emailed last week to say there were some reported issue with recipes being saved to the box (I believe it was a delay in the recipes showing up) but they assured that everything has been fixed. If you had any problems last week please check it out again today. Play around with saving a recipe, make a quick shopping list and see what grocery deals are in your area. I think it's a great tool to get organized for the week….and like I said you can save any recipe you find on the web that have the ZipList powered "save recipe" function. Here is a list of the partners that have teamed up with ZipList in case you are looking for more websites and blogs that have recipes you can save to your recipe box.
Here is meal planning for this week. Lots of vegetarian goodness for us!
Sunday 
Leftovers- Lamb Chops, Penne Pasta with Vodka Sauce, Salad and Roasted Veggies
Monday
Black Bean & Sweet Potato Burritos
Tuesday
Spaghetti Squash with Tomatoes, Olives and Feta 
Wednesday
Hearty Vegetable Soup, Crusty Bread
Thursday
Leftovers
Friday
Pizza Friday- this time out to our favorite Pizzeria 
Saturday
Appetizers- Cilantro-Jalapeno Hummus Quesadillas, Veggies, Chips & Dip 
Let's chat: What are you meal planning this week? What is your favorite appetizer to serve company?