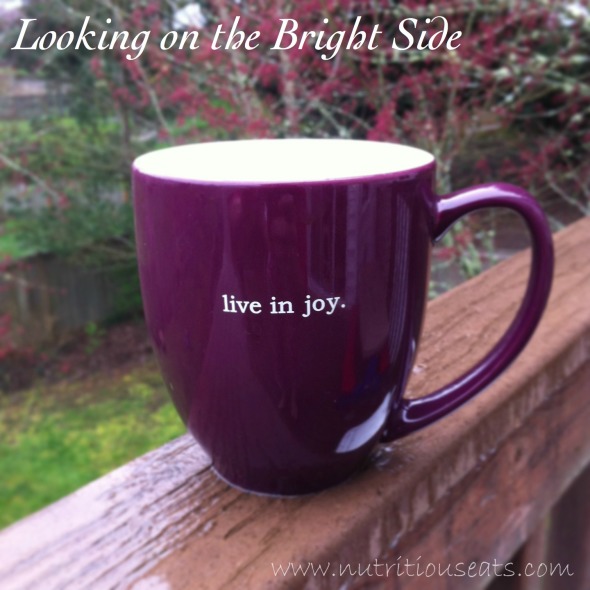 This week I am looking on the bright side….
Part 1: When Training Doesn't Go As Planned
I was going to run a half marathon last weekend. I found out about it not too long ago and didn't mention it because I wanted to be certain I was ready. Two and a half weeks ago I worked myself up to 11 miles and felt great. I was happy with my pace and my endurance during long runs. I felt ready. Until right after that long run when my right foot started hurting. At first the pain was all over the bottom of my foot, then it remained around the ball of my foot. I rested for a few days then continued to do some light runs (3-5 miles) and during those runs it felt pretty normal but I didn't want to push it. As soon as I stopped running I could feel the pain again. It hurt to walk, it hurt when I moved it. Not good.
I immediately knew I wouldn't be running the half marathon Easter weekend. The pain came and went but mostly it hurt to walk. I finally went to see the Doctor and she is pretty certain I sprained one one of the ligaments in my foot but Xrays are pending to make sure there isn't a tiny fracture. I am supposed to rest for 10-12 days and be on daily Ibuprofin/ice treatment. Boy it's going to be a challenge to stop running for that long when I have been running so much.
I am still surprised that it even happened as I was so careful to increase my weekly mileage slowly. I think my shoes might have contributed to the injury. They were a new pair, a new brand for me and they were a half size bigger than my usual (although they didn't feel too big). I know the wrong fitting shoe can play a huge role in injuries so that is one thing I plan on correcting once I start running again.
I was super bummed at first. Training had been going so well. Plus, I was worried it will hurt again when I do resume my long runs. Although I am still a little nervous that I will have to start over with my training, I have come to accept this injury as part of life and really it could be so much worse.
Part 2: When You Have to Deal With Unexpected Expenses
This week I also had to deal with a parking lot accident that I was in last week. Luckily it was just a fender bender and the estimated damage to my bumper isn't too terrible so I am trying to see the bright side that even if I have to pay 50% it could be a lot worse. I am still waiting to see what my insurance will say.
Part 3: When You Aren't As Productive As You Planned
We are ending spring break over here. You should see the list of things I intended on accomplishing. Recipe testing, spring cleaning, organizing, activities with the kids, etc. I thought I'd have all this extra time since we had no where to be but instead the kids and I have been doing nothing and tearing up the house doing so! It's been fun and I wouldn't change a thing.
Though these little life nuisances can bring you down, I am not going to let them.
How to Focus on the Bright Side
1. Put Things in Perspective
You can simply compare your life to others that have it worse than you (and there is always someone worse off). Have your health? A roof over your head? Food to put in your mouth? I'd say we have it pretty good.
2. Hang out with Positive People
Nothing can bring you down more than negative people. You know the ones- they complain about everything, they can't find the bright side of anything, life always sucks. Yeah, don't hang out with those people. Just like optimism is contagious, so is pessimism.
3. Make Lists of All the Positive Things in Your Life
Remind yourself of what is going well, be grateful. Did you accomplish a small task at home, did you do a good job at work, did your kids come home smiling today? There is always something positive going on…some people just have to search a little harder for it.
4. Accept Imperfection
The sooner you realize that not everything is going to be perfect in your life, a weight will be lifted. Everyone has different standards of what they think is perfect but I am pretty sure we all have some ideals to let go of and you know what? It makes for a much less stressful life.
5. Don't Put Blame on Others
It makes you a stronger person to realize that someone else isn't to blame for the problems in your life. Things happen, bad things happen, sometimes they are caused by others, sometimes they aren't. Either way, it doesn't make your problems go away when you put the blame on others.
6. Laugh
Nothing makes you feel better than a good laugh. Rent a funny movie, call your best friend to help you laugh at the situation…let those feel good endorphins flow!
The Serenity Prayer
God, grant me the serenity to accept the things I cannot change,
The courage to change the things I can,
And wisdom to know the difference.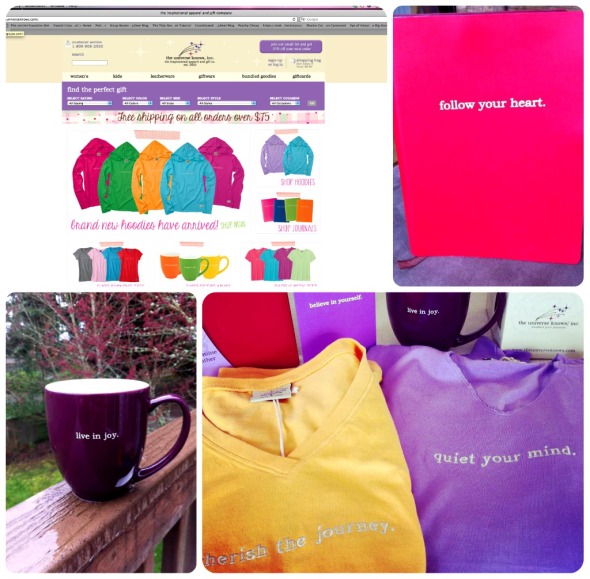 These inspirational messages (in the form of care package) from The Universe Knows came at the perfect time this week to really lift my mood. There is so much to be thankful for. I have a healthy, happy family and there's no point worrying about what I can't change.
live in joy.
follow your heart.
believe in yourself.
cherish the journey.
quiet your mind.
I will be back with recipes next week. Have a great weekend friends (P.S. Don't forget to enter my Bestowed Box giveaway).
Question: how do you deal with life stressors or injuries? Have you had anything bad happen to you lately?
Disclaimer: I received product from The Universe Knows via my partnership with FitFluential, but this post was not compensated. I really do have a injured foot and a damaged car and these inspirational quotes really did lift up my mood. They fit in perfectly with what I wanted to talk about.