The following post is sponsored by FitFluential LLC on behalf of Sizzlefish.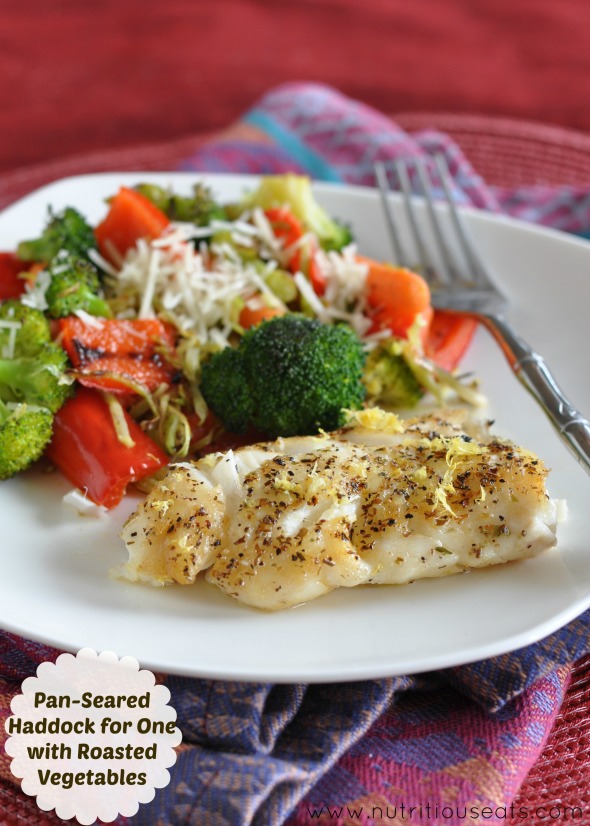 I always keep my freezer stocked with fish so I was excited when I got the chance to try some pure, untreated Premium Quality fish from a company called Sizzlefish. They sent me their Omega 3 sampler with Haddock, Atlantic Cod, Atlantic Salmon, Sablefish, Rainbow Trout and Catfish. The fish, all individually wrapped and pre-portioned for just the right size at each meal, was frozen at the peak of freshness, packaged on dry ice and delivered straight to my door. What a dream- dinner for weeks!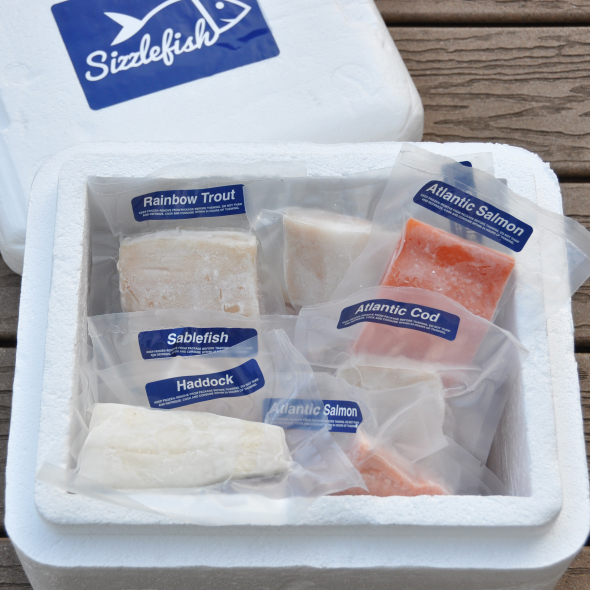 My intention was not to review the fish if it wasn't all wild caught so I made an inquiry via their website to find out more. The owner responded personally to my inquiry and informed me that most of their fish is wild-caught, although the Atlantic salmon, rainbow trout, and catfish are farmed species.
We got into a lengthy, and very interesting, discussion about their practices and I just had to share with all of you. I typically avoid farm-raised fish and didn't know much about which, if any, farm-raised fish were ok to eat so I was upfront with him about this.  I learned quite a bit from the owner Rob and realized I was in the dark a little re some farm-raised fish. He grew up  around wild-caught commercial fishing in the Atlantic and the Chesapeake Bay before attending grad school and later taking over a catfish farm in North Carolina where he grew the business and became the exclusive catfish provider to Whole Foods.
He saw catfish as a healthy, tasty way to help supply seafood and take pressure off over-fished resources. Since I assumed all farm-raised fish were raised in terrible conditions, I asked him about this and he informed me that wasn't the case. In his case, they use no antibiotics, no farm chemicals or pesticides and are in fact envirnmentally-friendly. He made a very good point in that half of the world's seafood is farmed, and if they stopped this trend, humans would "fish to the last fish" due to demand.
Rob assured me they are not alone in their production practices. "For example, Whole Foods carries a complete line of farmed species, and all of those suppliers have committed to a set of production standards which you can find on their website". I asked how we, as consumers, could know which farm-raised fish were in fact treated well. Here is a piece of advice he gave me:
"The big-box discount chains have the lowest-end products, and Whole Foods and the top-end/natural retailers have the best-produced fish. The differences between these two groups is getting bigger, too, as our middle class shrinks.
Just as all farmed fish is not equal, neither is wild-caught. A large volume of Alaskan catch is frozen-onboard in carcass form, shipped to Asia for processing & packaging, then returned to the US. In these products there is often water added during processing to make a lower-price-point product. Often when you see nicely-packaged salmon in big-box discount stores, this is what's inside (so read the contents carefully)."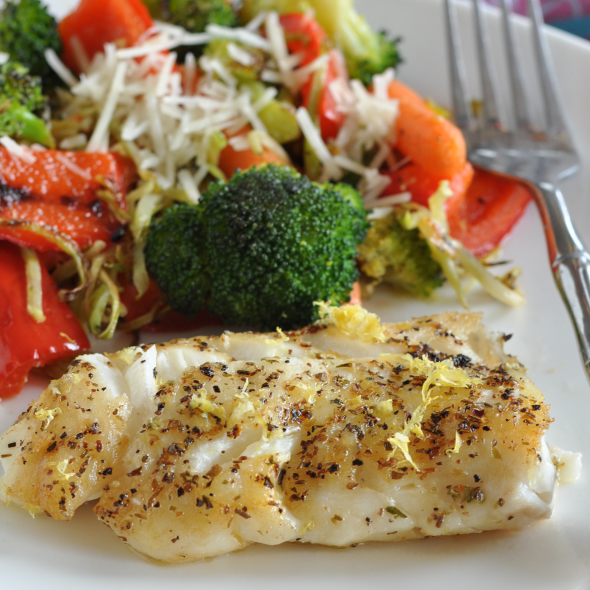 The fish I sampled is definitely quality fish and I love the handy packaging of the individually wrapped pieces, pre-portioned (4 ounce) pieces. Fish has a great nutritional profile and is part of the components of proper fueling- it's high in protein, high in Omega 3 fatty acids, low in calories. It can be prepared a ton of different ways just by changing the spices, marinades and/or cooking methods- i.e. grilling, baking, sauteing, smoking, etc.
The Omega 3s from fish are the best quality and great in quantity so it's almost like taking a supplement every time you eat a portion…and it's way tastier than a pill! Did you know that Omega 3s can enhance your physical performance? Or that they can improve our heart health, eye health, improve our brain function, increase longevity and more?!   Rob, the owner of Sizzlefish, told me his mission with Sizzlefish is: to offer direct to fitness-seekers the benefits of omega 3 fats in the form of healthy, pure, delicious fish servings.
I think he has done that! If you don't have any quality grocery stores near you and want to take the guess-work out of where your fish comes from, consider ordering from Sizzlefish. Sizzlefish makes it easy, by offering both variety packs as well as individual species portions, for you to eat and enjoy a variety of fish and get the USDA recommendation of a minimum of 2 servings of fish per week. If you are on the fence regarding the farmed-species, they sell a "Wild Ocean Blend" variety of fish.  You can go on their site, click on their Products page to find out more about the type of fish they sell and where it comes from.
Today I am sharing a quick pan-seared haddock recipe (feel free to change up the seasoning to whatever you like); it's a delicious flakey and tender fish. This simple, healthy lunch came together in less than 20 minutes and if I were eating it for dinner I might just add some roasted potatoes.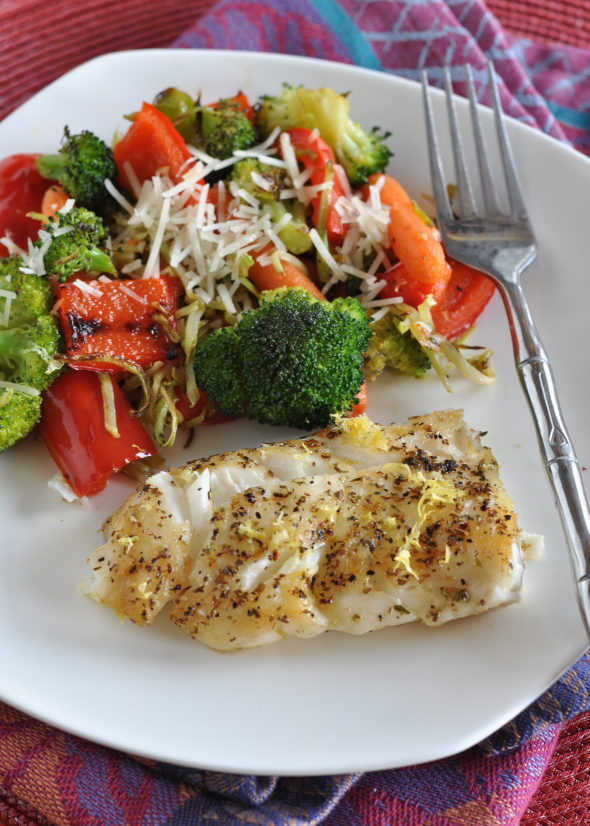 You know the saying, you learn something new everyday! Although I am not going to stop buying wild fish, I will certainly be more open to certain types depending on where I find it now that I know it isn't all created equal. I appreciate so much the time Rob spent enlightening me.
To learn more about Sizzlefish you can follow them on:
Simple Pan-Seared Haddock for One with Roasted Vegetables
Ingredients
1 (4-ounce) portion of haddock or cod fish
Greek seasoning
Salt
Pepper
Lemon zest
Lemon juice
Splash of vegetable broth (optional)
1 teaspoon olive oil
For the Roasted Vegetables:
1 (12-ounce) bag of prepared vegetables (I used broccoli, carrots, cabbage & red bell pepper)
Salt
Pepper
1 Tablespoon olive oil
1 garlic clove minced
2 teaspoons lemon zest
1 wedge lemon
1-2 Tablespoons Parmigiano Reggiano
Instructions
Season individual fish with salt and pepper. Sprinkle on desired amount of greek seasoning. In a small skillet, heat 1 teaspoon olive oil on medium heat. Place fish in pan skin side up and cook for 4-5 minutes. Flip and cook and additional 4-5 minutes. Add a splash of vegetable broth to pan if you have it. Remove fish from pan, sprinkle it with some lemon zest and a little fresh lemon juice.
For the roasted vegetables, preheat oven to 400 degrees. Add 12 ounce bag of vegetables to pan. Drizzle with 1 tablespoon olive oil, season with salt and pepper. Roast for 15-20 minutes, half way through add minced garlic. Remove vegetables from oven, add lemon zest and squeeze fresh lemon juice and toss to combine. Sprinkle with shredded Parmigiano Reggiano cheese (optional).
Question: Do you eat fish on a regular basis? What's your favorite? Do you buy wild or farm raised fish or both?