You will definitely want this super simple, juicy and flavorful baked chicken in the slow cooker as part of your weekly rotation!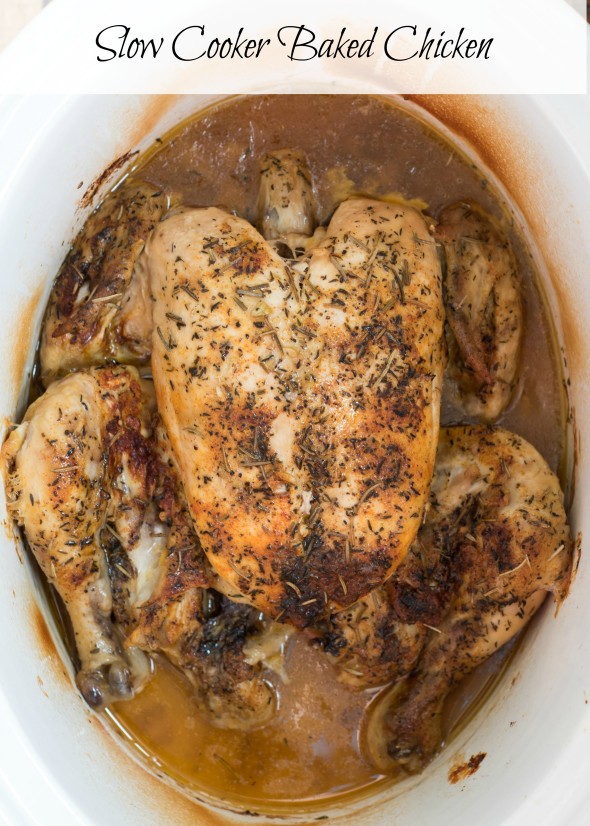 Hi friends, Hope you all enjoyed the holidays!
I didn't expect to take off blogging as long I did, but my little ones needed me. We started off with a fun couple of days after the kids had off school. We were all in the Christmas spirit, checking things off the "to do" list- we baked and decorated cookies, made gingerbread houses, finished our Christmas shopping….then we had a scare the Monday of Christmas week and it all went down hill. Our 4 year old woke up with a very restrictive croupy cough. He has a history of reactive airway/asthma and we weren't sure what was going on because it came out of nowhere and was different than his other episodes. He just could't catch his breath and he started to freak out, clearly not making the situation any better. Anyway long story short, we administered his first ever Epi Pen which worked wonders. I am so thankful I had one on hand!
We had called 911, first time doing that! , but by the time the ambulance arrived he was doing a lot better due meds kicking in, but we still needed to get him checked out so off to the ER he went with Daddy. Thankfully he just needed a steroid as was good to go and back home by 2am. Poor little thing.
Then 2 days later he was feeling worse so we took him in for an appointment and they said he has bronchopneumonia. Thankfully we were able to start him on a steroid and antibiotic, but he still wasn't himself on Christmas because he was sick and extra clingy. So much so that I wasn't able to cook for Xmas Eve or Christmas! That was also a first, no special holiday food whatsoever. I found some stuff in the freezer to reheat, but honestly we didn't care too much. Life goes on. Also daddy had to work Christmas Eve so that was different.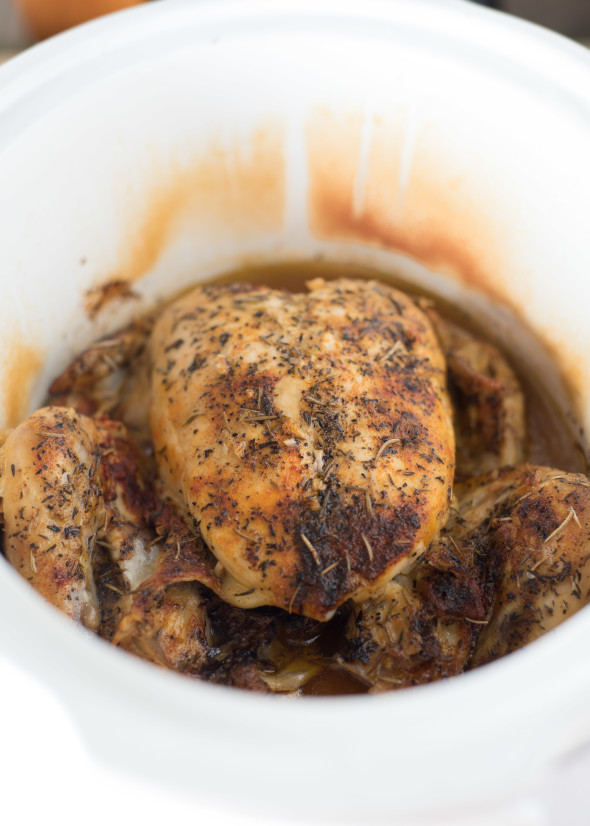 Our plan was to head to San Antonio on the 26th so we could celebrate my girls' birthdays so our focus was just to make sure the kids were well enough to do that and thankfully that took some distraction off all the drama going on. Of course baby girl got a nasty cough and an ear infection and spent her 2nd birthday with a trip to the Doctor. Needless to say, the last two weeks left me a little drained so I took full advantage of not working. Thankfully the kids still think Christmas was the best ever.
None of that has to do with the recipe I am sharing today, but I was thrilled to revisit this slow cooker chicken that I hadn't made in ages. If you haven't cooked a whole chicken before, this is the way to go. Super juicy and couldn't be any easier. You can literally put any seasoning you want on it and it should turn out great. We used rotisserie style chicken for all sorts of things- salads, tacos, soups, etc. so when you get bored with eating it "plain" you can transform the leftovers into a new meal.
And after lots of red meat over the past month, this chicken was a welcome dish. I wish I was able to snap some styled shots of the chicken, but imperfection will have to do!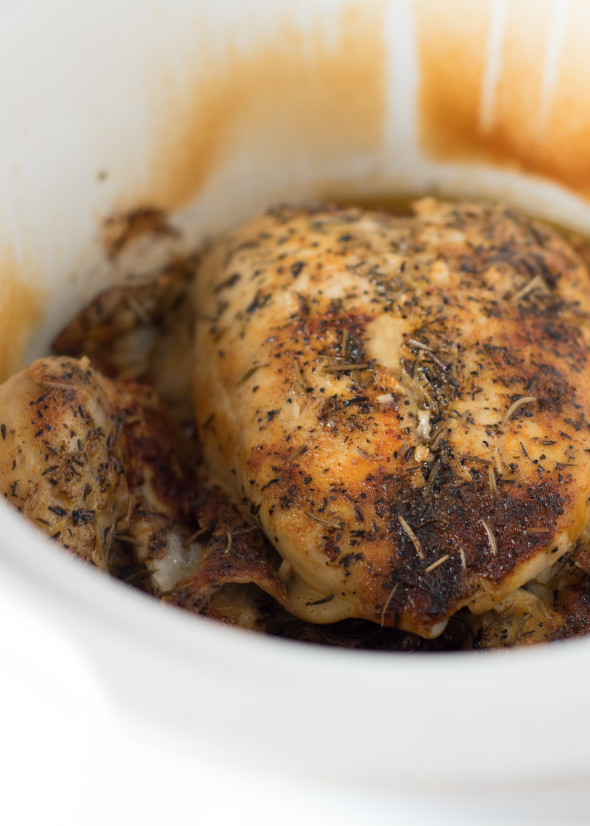 It's good to be back guys. Cheers to an amazing new year!

Recipe Redux for Tuesday
Author:
Melanie F. | Nutritious Eats
Ingredients
4-5 pound chicken, skin removed
2 Tablespoons olive oil
2 garlic cloves, minced
1 teaspoon lemon pepper
½ teaspoon salt
¼ teaspoon pepper
¼ teaspoon dried thyme
¼ teaspoon dried rosemary
½ teaspoon garlic powder
½ teaspoon paprika
Instructions
Mixes spices- lemon pepper through paprika in a small bowl and set aside. Wash chicken and pat dry. Using a knife, remove skin from the breast. Drizzle olive oil over it, then sprinkle chicken with minced garlic and spice mixture. Place lid on the crock pot and cook on high for 4 hours or low for 7-8. Let cool and remove chicken to slice or shred.