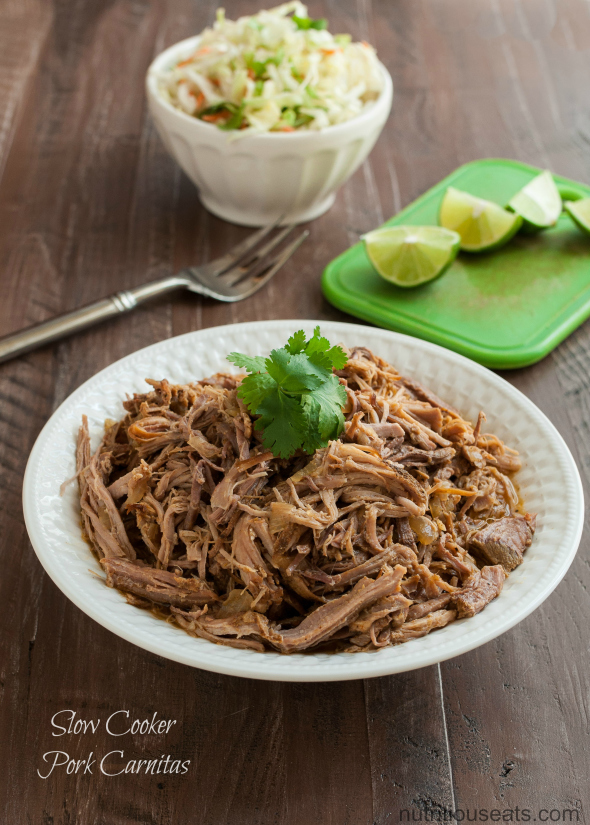 It's been a crazy week friends. Between the immense need for a serious house cleaning, plus the start of soccer twice a week for the older two, and the start of ballet for my daughter, I had to take a few days off from blogging. I seriously can't get over how quickly this week has flown by. I am also contributing over at the FitFluential blog so you can find me there from time to time. You can check out my latest post here.
Can we just talk about Mexican food for a minute? I get that we all have different tastes…obviously. We all like different things, but some flavors are just too good and I simply don't get how one could NOT like them.
Like Mexican food for example. I mean, I've lived in Texas for close to ~25 years give or take. I don't live there now, but there is quite an obsession that us Texans have with Mexican food…it's just some of the tastiest food out there. I really think this little carnitas taco could change your mind if you are one of the ones who "isn't into Mexican food".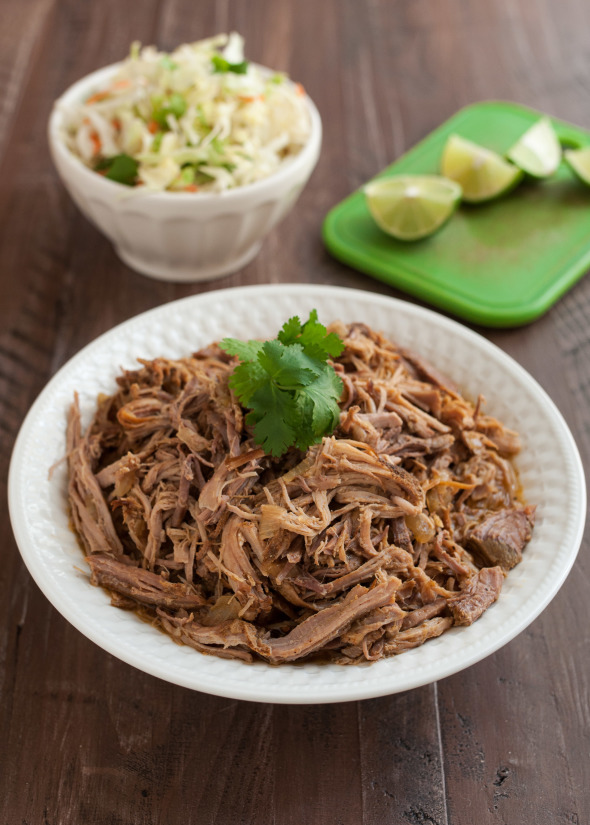 I don't cook with a lot of red meat, but I do love me some pork carnitas. This is delicious stuff you guys and if you aren't into tacos for some reason, then you can do whatever you want with this meat….make burrito bowels, eat it with salad, eat it plain. Whatever. It's so good.
You'll do a quick sear on the stove top and then into the slow cooker it goes……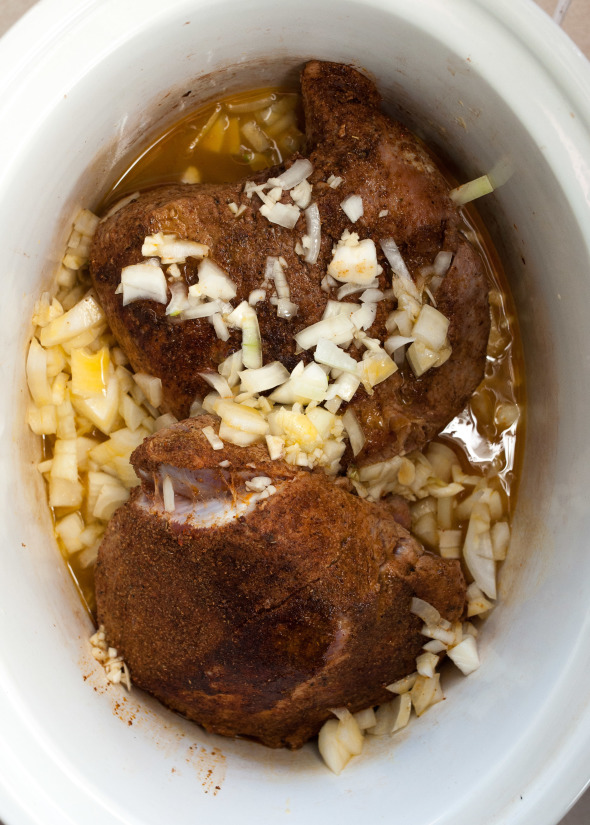 You will know it's ready when a single fork (or two if you want it to be even easier) will shred the pork with ease. You're looking for fall-apart tender.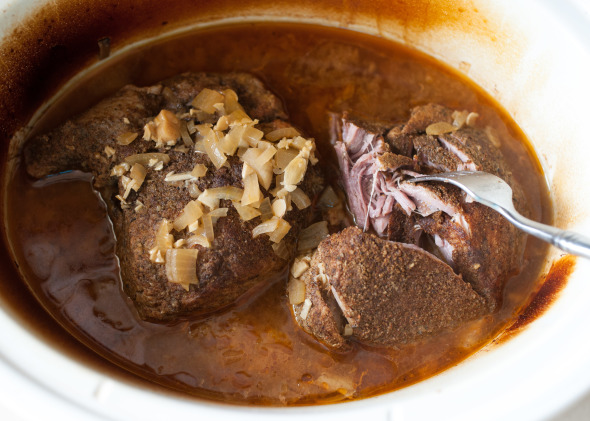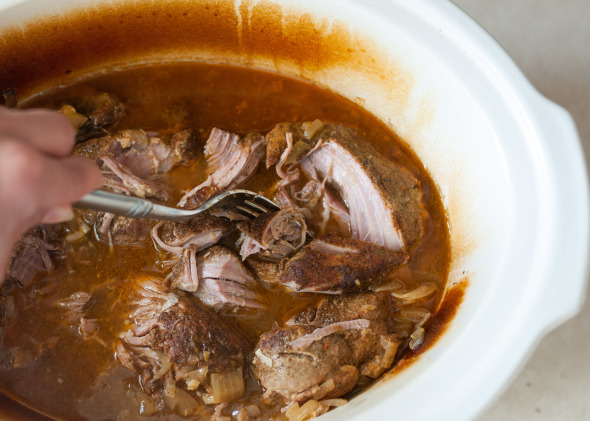 That was easy! All ready to go.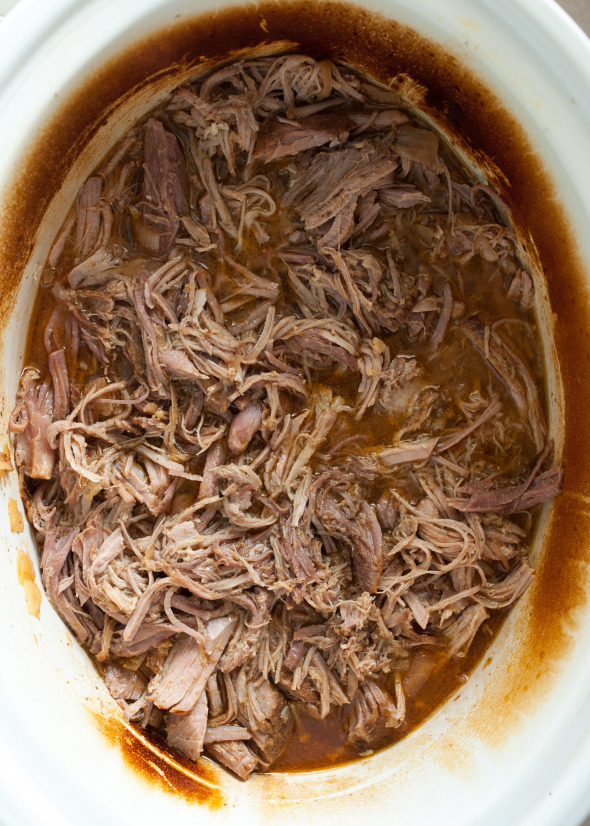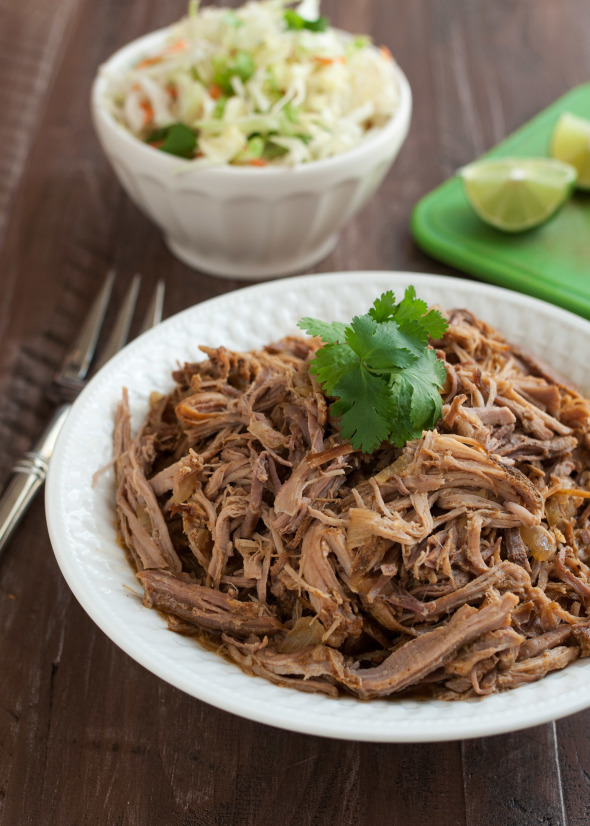 I used my trusty Tortilla Land raw corn tortillas and threw them on the griddle for a "fresh" tortilla experience. See if you can find these in your area because they put the regular corn tortillas to shame. Keep in mind this is no longer Paleo if you eat it with tortillas.
My standard taco has lots of layers (all optional of course)- beans, the carnitas, a little shredded cheddar, shredded cabbage, chopped cilantro, a squeeze of lime juice, guacamole if I have it and hot sauce, a must. So so good folks.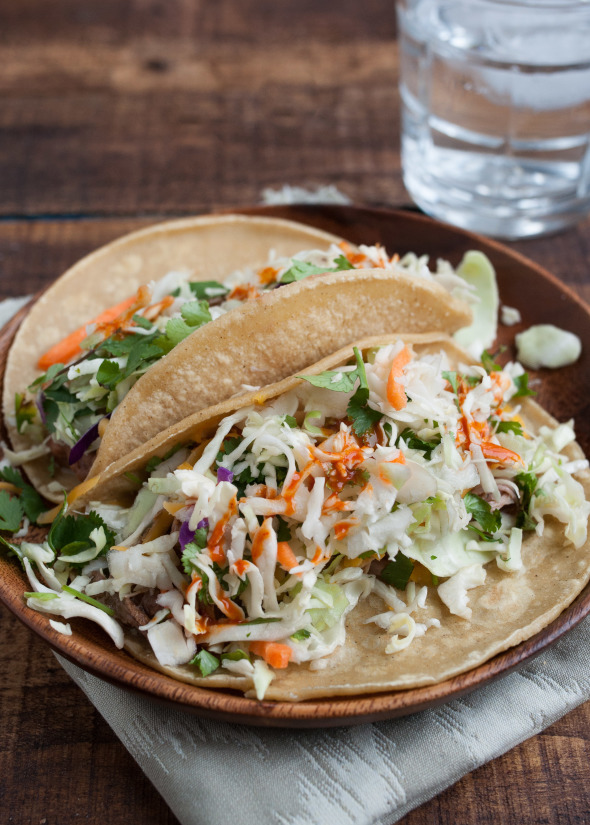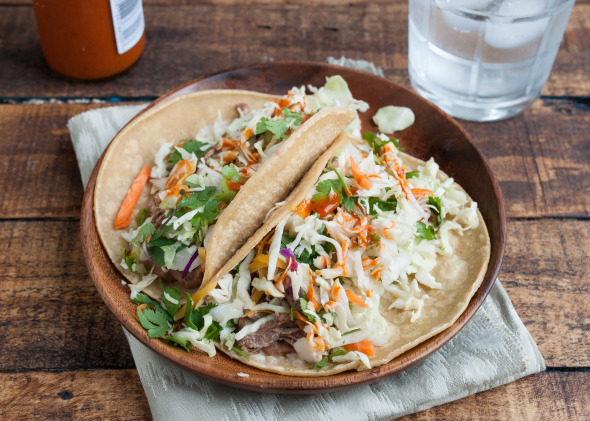 Carnitas
delicious and easy pork carnitas come out perfectly using the slow cooker.
Author:
Melanie F. | Nutritious Eats
Ingredients
2 Tablespoons olive oil
3-4 lb boneless pork shoulder (also called pork butt), trimmed of fat
2 teaspoons cumin
1 teaspoon coriander
½ teaspoon oregano
½ teaspoon black pepper
1 teaspoon salt
¼ cup orange juice
2 Tablespoons fresh lime juice
1 cup vegetable broth
3 cloves garlic, minced
1 small onion, diced
Instructions
Combine spices (cumin through salt) in a small bowl, then rub mixture all over the pork. In a large pot or dutch oven, heat olive oil over medium heat. Add pork and sear for about 6 minutes total, a few minutes on each side. Transfer pork to the slow cooker. Add orange juice, lime juice, vegetable broth, chopped onion and garlic. Cover with the lid. Cook on high for 4 hours or on low for 7-8 hours.
Remove lid and using 2 forks, shred pork (should be fall apart tender). If you like the crispy bits of meat then put some on a foil lined cookie sheet and broil for a couple minutes or until you get some crispy bites. Make sure to spoon the juices over the meat before serving.
For tacos:
Fill corn tortillas with (optional) refried beans, pork, shredded cheese. top with shredded cabbage, lime juice, guacamole or avocado and hot sauce.