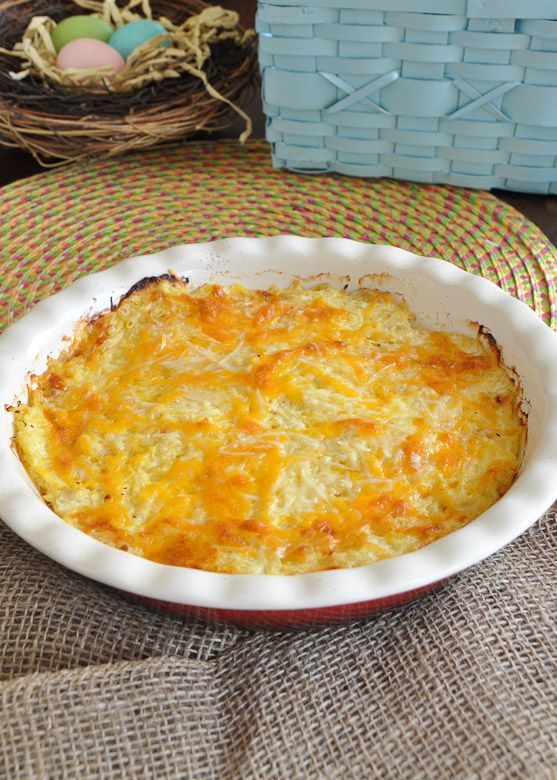 Who doesn't love that cheesy creamy hash brown casserole that usually makes an appearance around the holidays?  If you are trying to avoid potatoes, this is a great substitute…Spaghetti Squash Au Gratin.
It's lower in fat, calories and carbs. What more could you ask for? Oh and it tastes good too!
I used plain Greek yogurt in place of the sour cream which adds about triple the amount of protein and subbed spaghetti squash for the hash browns. There is a recipe similar floating around Pinterest, but the one I saw used sour cream and hardly any cheese. If calories weren't a concern I'd probably use even more, but this is supposed to be a healthy substitute for your typical potato au gratin dish.
I used a sharp cheddar and parmigiano reggiano (the good stuff) but I think Gruyere would be soooo good. This dish would go great with any protein- lamb, ham, grilled chicken, fish, beef or would make an excellent addition to a vegetarian plate. I can see myself making this often since it would go well with so many things!
If you are looking for a great, healthy Holiday side dish that's easy too, look no further.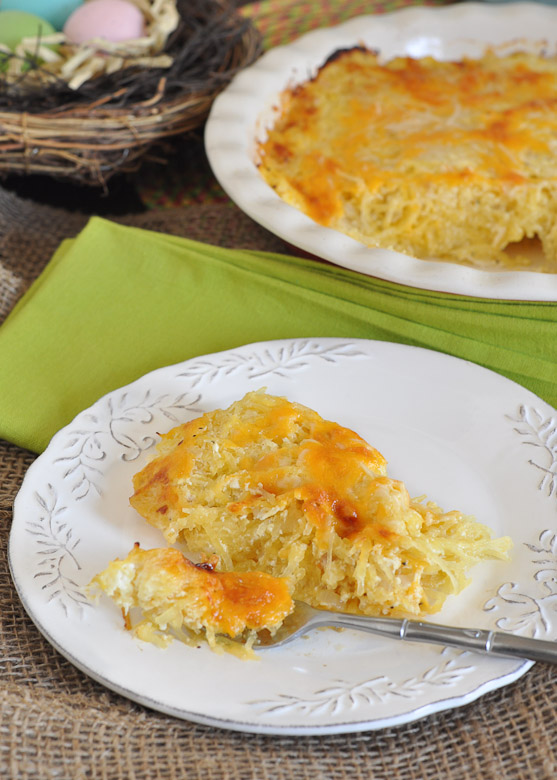 Spaghetti Squash Au Gratin
Ingredients
1 small spaghetti squash (~2 pounds), cut in half lengthwise, seeds and membrane scooped out
2 teaspoons olive oil or butter
½ cup diced sweet onion
2 garlic cloves, minced
¼ teaspoon red pepper flakes (optional)
salt and pepper
1 cup plain Greek yogurt (can sub sour cream)
½ heaping cup freshly grated sharp cheddar cheese
¼ cup Parmigiano Reggiano
Instructions
Two options for cooking the squash 1) place cut side up in a microwave safe baking dish, add ¼ cup water to the dish, loosely covered with plastic wrap and microwave for 12-15 minutes or until tender OR 2) place squash cut side down on a foil lined cookie sheet and bake for 30-45 minutes or until tender.
While squash is cooking, heat a nonstick skillet on medium heat, add 2 teaspoons olive oil or butter, onions, garlic and red pepper flakes; saute for ~4 minutes or until lightly browned. Remove from heat.
Once squash is cool enough to handle, scoop out flesh into a large bowl. Add sauteed onion mixture; season well with salt and pepper, a few good pinches of each (remember you are seasoning a whole squash and some onions). Stir in Greek yogurt, half of both cheeses and stir gently to combine.
Pour mixture into a greased 2 quart baking dish. Sprinkle the top with remaining cheeses. Bake at 400 degrees for 25-30 minutes or until lightly browned.
Notes
Adjust ingredients depending on the size of your squash. You could substitute all cheddar, gruyere, asiago or any other cheese you like. Also note that sour cream might lend a slightly creamier texture but you are adding triple the amount of protein by using Greek yogurt.
Question: has anyone figured out their Easter menu yet?