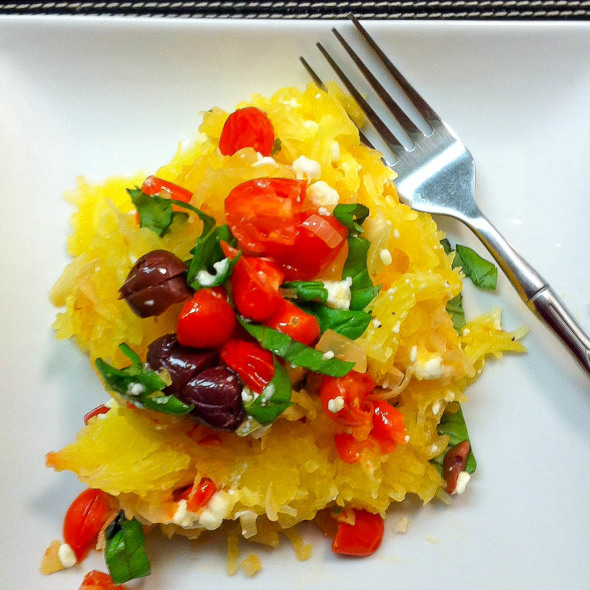 I often like something I've made for dinner, but haven't the time to photograph it properly to include it on the blog. Well here is to being far less-than perfect. I snapped these images with my iphone and they are just going to have to do!
I've been buying a lot of squash lately and I'll be honest I don't usually have it as a staple in my house. Mostly because it's big. I know that sounds totally lazy but sometimes it's just inconvenient. Since eating vegan, the bulk of my diet is produce and I am buying less of everything else. It seems to be working- I am trying new things and dropping a few lbs.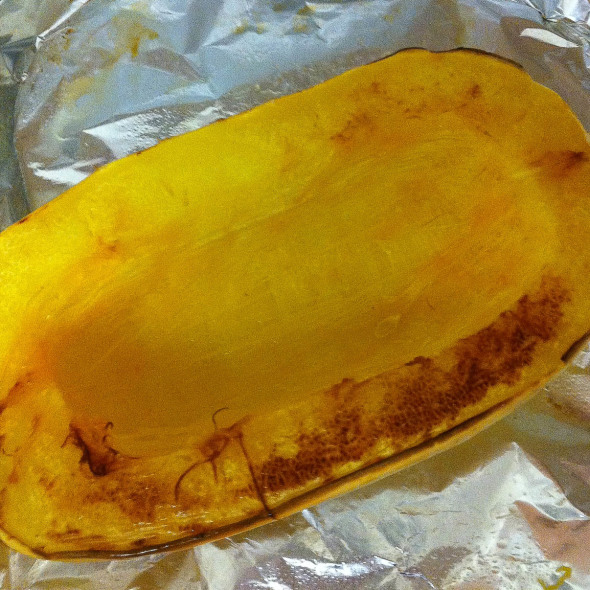 Everyone knows the ol' spaghetti squash as spaghetti recipe, but have you ever done it? It was a fun, easy dinner that I really enjoyed. Here is what I did. Roasted the squash per the directions on the sticker that was on the squash- easy! Then I made this spaghetti sauce of olive oil, garlic, red pepper flakes, fresh tomatoes, kalamata olives, feta cheese and basil. I realize feta cheese isn't vegan and it was my first deliberate choice to add it to the dish. I just couldn't picture it without and I've been following this vegan plan for 3 weeks pretty close to perfect. So back to the dish- as the squash was cooling off, I made the sauce. Then I scooped out the flesh of the squash and instantly  had stringy squash strands that look like spaghetti. My husband even asked if I shredded it.
For those of you looking to cut back on your carbs, increase your vegetables or just looking for a fun veggie side dish, try this! I was completely satisfied eating this as my main entree along with a salad and bread/olive oil. My husband had a little chicken to go along with his. Lots of wonderful nutrition in this dish!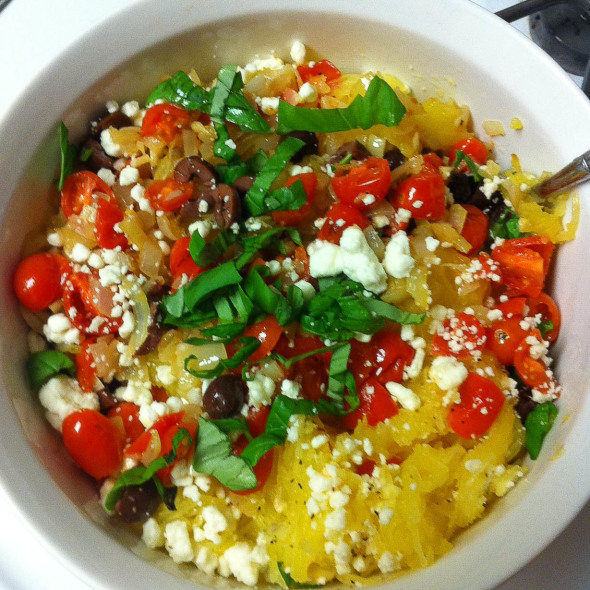 Spaghetti Squash with Tomatoes, Olives and Feta
Ingredients
1 spaghetti squash, halved lengthwise and seeded
2 Tablespoons olive oil
1 small onion, diced
2 garlic cloves, minced
1½ cups diced tomatoes
¼ cup chopped kalamata olives
¾ cup crumbled feta cheese
¼ chopped fresh basil leaves
Salt & pepper
Red pepper flakes (optional)
Instructions
Preheat oven to 375 degrees. Line a cookie sheet with foil and spray lightly with cooking spray. Cut squash in half lengthwise and place cut side down on prepared cookie sheet. Bake for 45 minutes or until knife can be inserted with only a little resistance. Remove from oven.
Prepare sauce by placing a skillet on medium heat. Add olive oil, onions and saute for about 3-4 minutes, add garlic, a couple of shakes of red pepper (if desired) and continue to cook for additional 2 minutes until onions are softened. Add tomatoes and cook just until warm, ~ another minute. Turn heat to low, add olives and stir.
When squash is cool enough to handle, use a large spoon to scoop flesh into a serving bowl. Season lightly with salt and pepper. Add the warm vegetables, feta cheese, basil and stir lightly to combine. Serve immediately.

Pin It