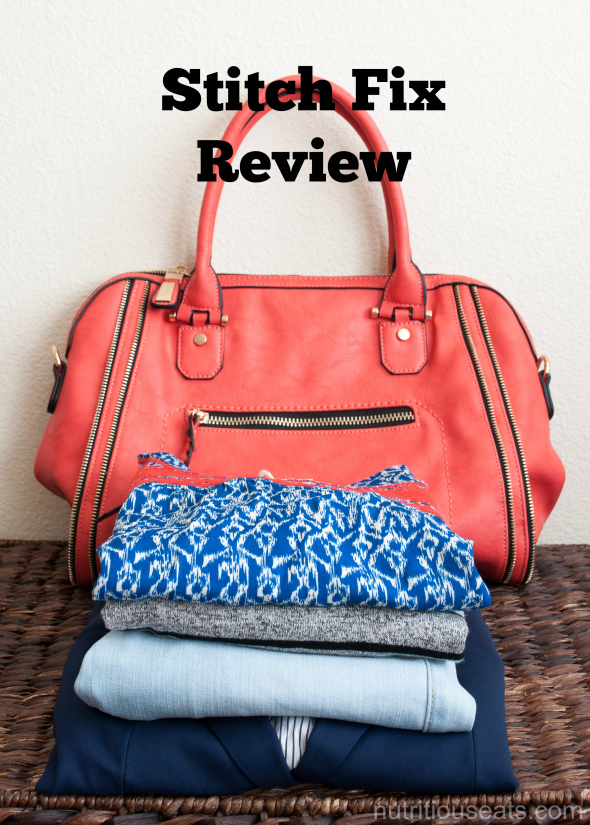 Hey there, it's time for another Stitch Fix reveal and review. After having a few disappointing boxes, last month was a great box. You can see that review here. I was eager to see what this month's box brought.
I loved this fix as well. I made a few requests and was thrilled that they were fulfilled. I asked for a blazer, a pair of light wash denim and a specific top (which I don't normally do).
Here is what I got….
Pink Martini Cyra Blazer
I asked for a casual blazer and just love this one. I did have to size up because the one they sent was a bit too snug in my shoulders. Stitch Fix's amazing customer service got back to me within hours of emailing and had another blazer out the next day for exchange. I was much happier with the feel of the replacement. How cute are the sleeves when rolled? The lining which is hard to see from this photo is striped and really cute.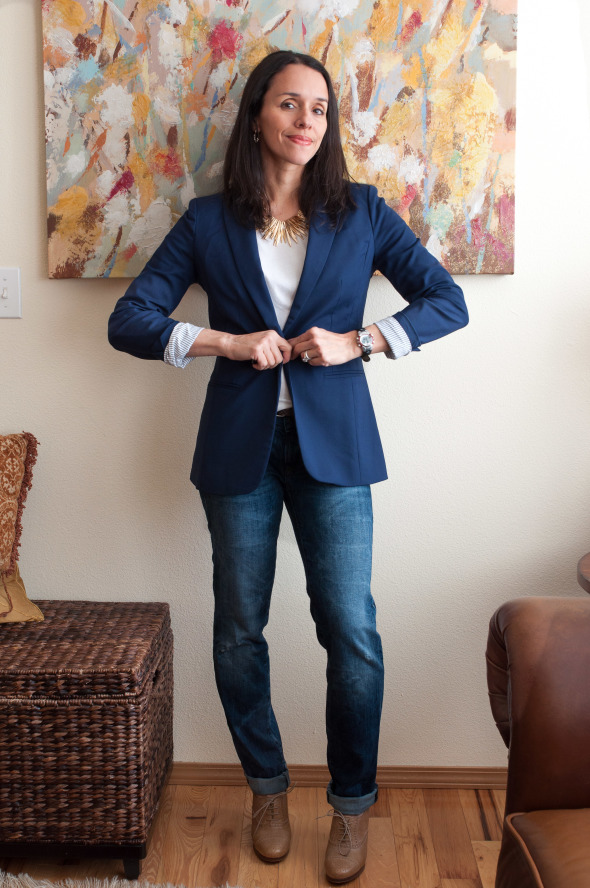 Status: Kept
Elena Embroidery Detail Top
I actually pinned this blouse and was so happy to see it in my fix. I love the colors and boho feel. Perfect to wear with jeans or with pants/shirts to church. It's longer in the back which I love. Sorry I didn't model that!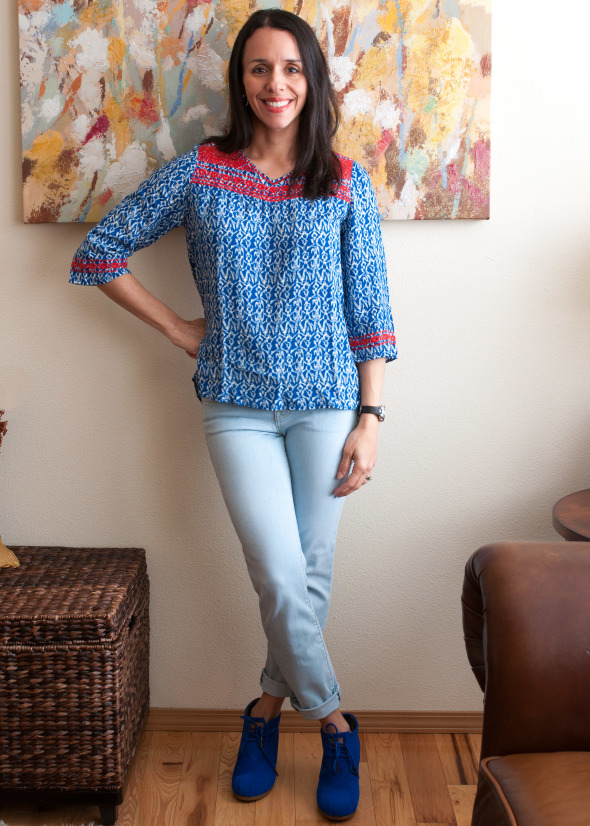 Status: Kept
Cayden Skinny Jean (above)
I requested a light wash jean so I was happy when I saw these, although out of the box I didn't think they would fit right. Once I tried them, I was shocked at how comfortable they were. The softest denim I've ever seen! I am typically not a big fan of capri length and since I am short I had to roll them so they actually looked like capris..otherwise they just looked like really short jeans (I am 5'3″ for reference). I thought they would be good for Spring and Summer though.
Status: Kept
Corinna Striped Dolman Top
I think everyone who has tried Stitch Fix has received (and loved) this shirt. I got it in this color almost a year ago and I wear it all the time. So I have been requested another one in a different color for the last 6 months. Finally I got it! Yay. It's the ultimate "throw-on" top that is super comfortable and stylish. I don't think this top looks particularly great with this color of denim but I didn't have time to find other pants as I was on a time crunch. It would look great with blank skinny jeans or pants.
And the lighting in this picture kind of stinks so the color doesn't look great on me, but in person I think it's fine. After seeing this photo though I think wedges look a lot better than flats with these jeans.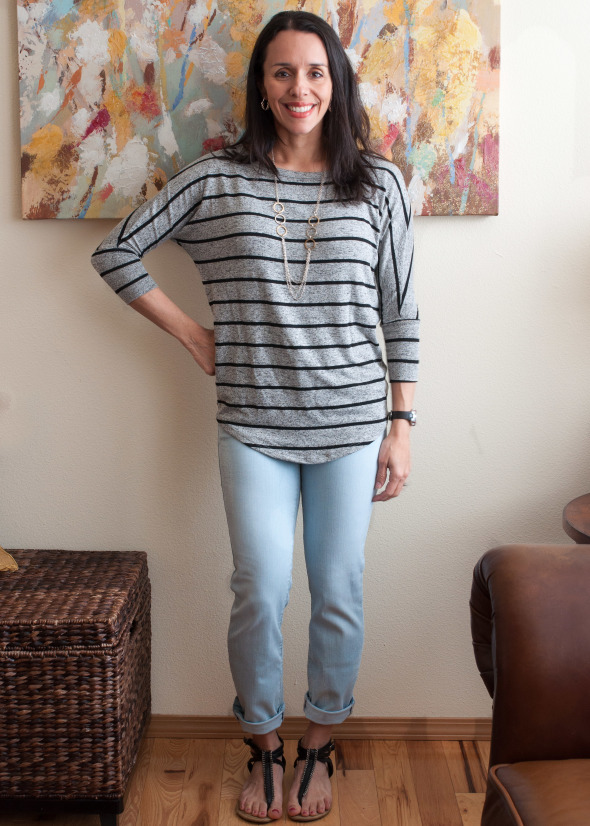 Status: Kept
Urban Expressions Elisha Zipper Accent Structured Satchel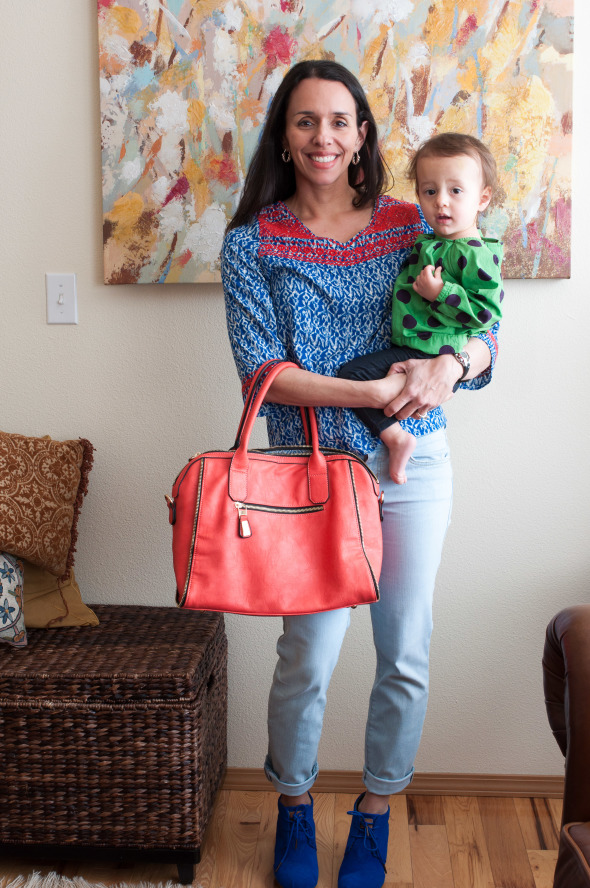 Baby girl just woke up from her nap during the photo shoot and she was not happy about me trying to set her down. So about the purse, I had the turquoise one pinned and was actually pleasantly surprised to see it in coral. I not only love this color but think it goes great with this fix in particular. I don't change my purse very often, but I plan to now because I own a few Stitch Fix bags. I think their vegan leather is of great quality and a good price (this one was $58 before the discount). The color is so fun for spring! It also comes with a shoulder strap which is a great hands free option. Just FYI, I am a not a big person so all bags look oversized on me.
And there is a lot of color going on in that picture due to my crazy blue suede shoes and baby E's green outfit. For a better styled look, I would change to a more neutral shoe so that the colors aren't competing.
Status: Kept
Sooooo…that is another 5/5 box!
For my next box I requested dresses and spring color tops. We shall see when it arrives next month.
If you are on the fence about trying Stitch Fix, you can save $10 by using the code "TRYSTITCHFIXNOW". I heard this code is good through the month of March! Hope it still works!
If you use my referral link I will get a $25 credit so I'd love you forever (you get the same credit when you share your code with your friends).
Have you been happy with your fixes? Tell me what you've gotten!