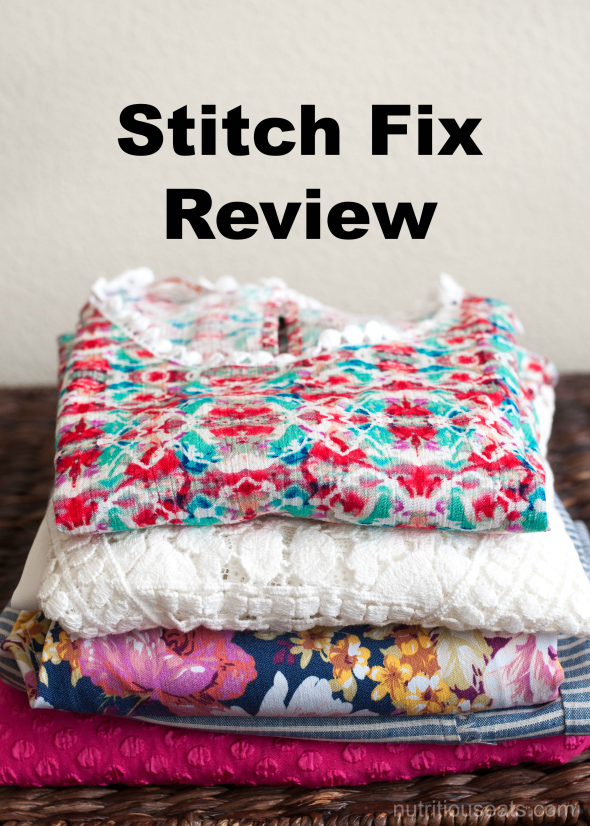 Hey guys, I'm taking a break from food to share another Stitch Fix Review- number #16! This was a great fix for me, not because I loved every item, because the pieces I decided to keep are super special pieces (for me). Let's get to it and if you don't know about Stitch Fix you can read more on my other posts and sign up here!
Stitch Fix day is still my favorite of the month. I have recently tried ordering more clothes on my own, but inevitably I end up returning everything! The pain of printing off return shipping labels then taking them to my UPS store while awaiting the credit back to my account it hardly worth it for me.
I love that Stitch Fix doesn't charge you until you decide you want to keep the item. You get to try on the clothes in your own home and return what you don't want in an pre-paid shipping bag. And typically my stuff is light enough that I can put it in the drive-through mail box. Those are just some of the reasons why I love Stitch Fix but I clearly love the clothes too.
Here is what I got this time…..unfortunately I was busy during this fix so had to snap some iPhone photos of the stuff that I returned and wasn't able to model everything.
Margaret M Emer Floral Print Cropped Straight Leg Pant
So I asked for a pair of the beloved Emers in a subtle print (no seriously everyone that gets this brand of pants LOVES them). I basically laughed out loud when I saw this pattern. So much floral! But then I posted to Facebook and the ladies went wild. I dreamt about them and paired them with a few different looks and realized they would be a fun addition to my closet. Soooooo outside of my comfort zone, but that is one of the perks of Stitch Fix. Trying new looks!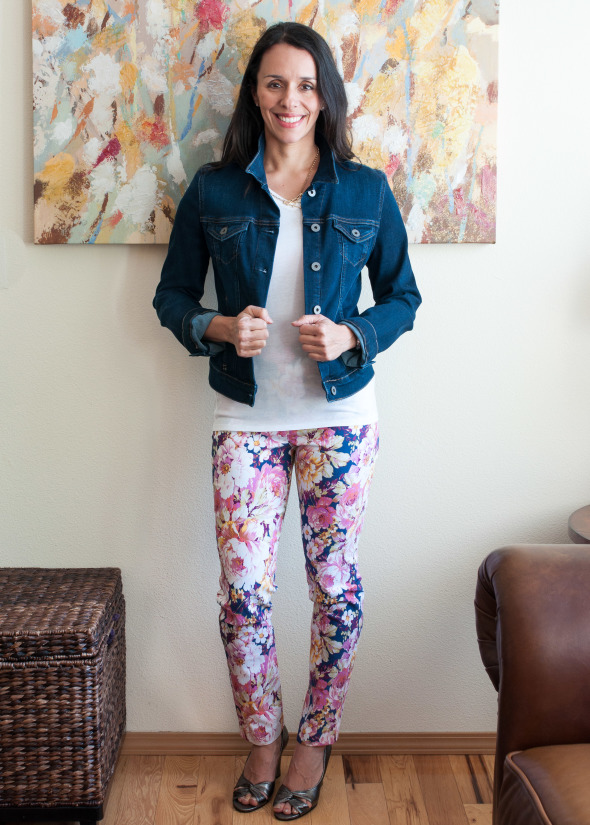 Here is another look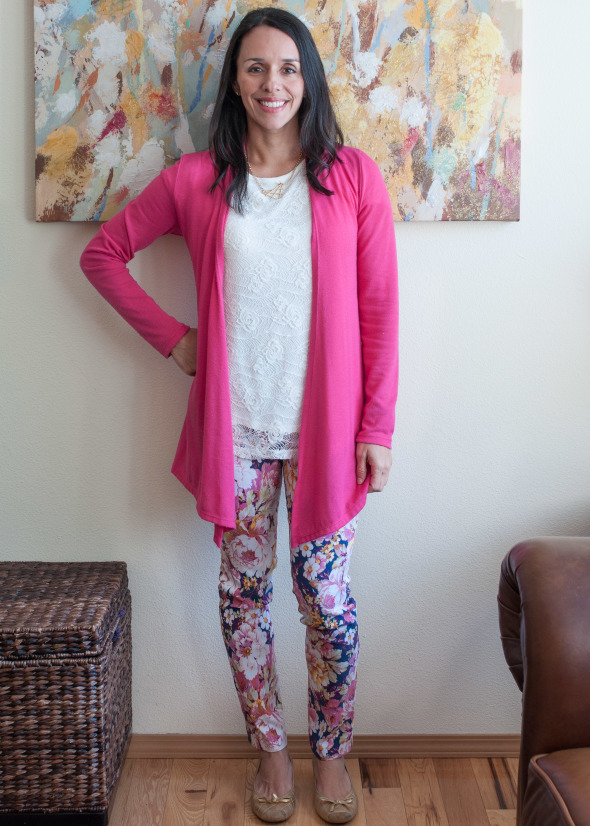 Status: Kept
Skies are Blue Enna Short   
Cute detailing on the sides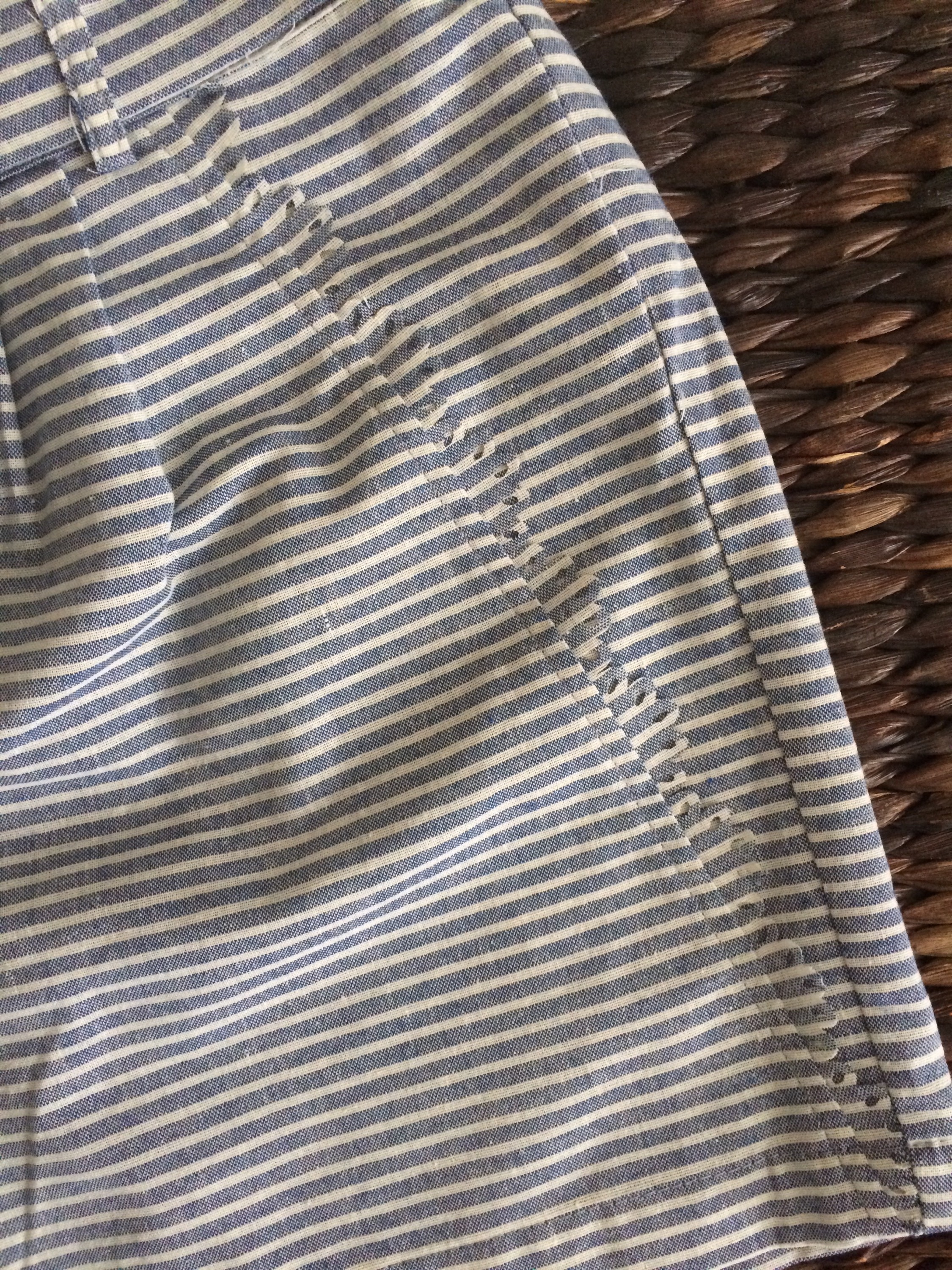 I couldn't even try to style these because they were huge. These were a size small that I'd say they fit more like a medium and I would've needed an extra small. It's hard to say if I would've liked them better. Over all the tie-front, slip on style didn't do much for me.
Status: Returned
Renee C Tucker Crochet Trim Top
I absolutely loved this print, but the fit was weird. The little crochet pieces made the underarms pucker out. I couldn't get past it. But the print…. so pretty!
Status: Returned
Brixon Ivy Alessandria Crochet Bib Lace Top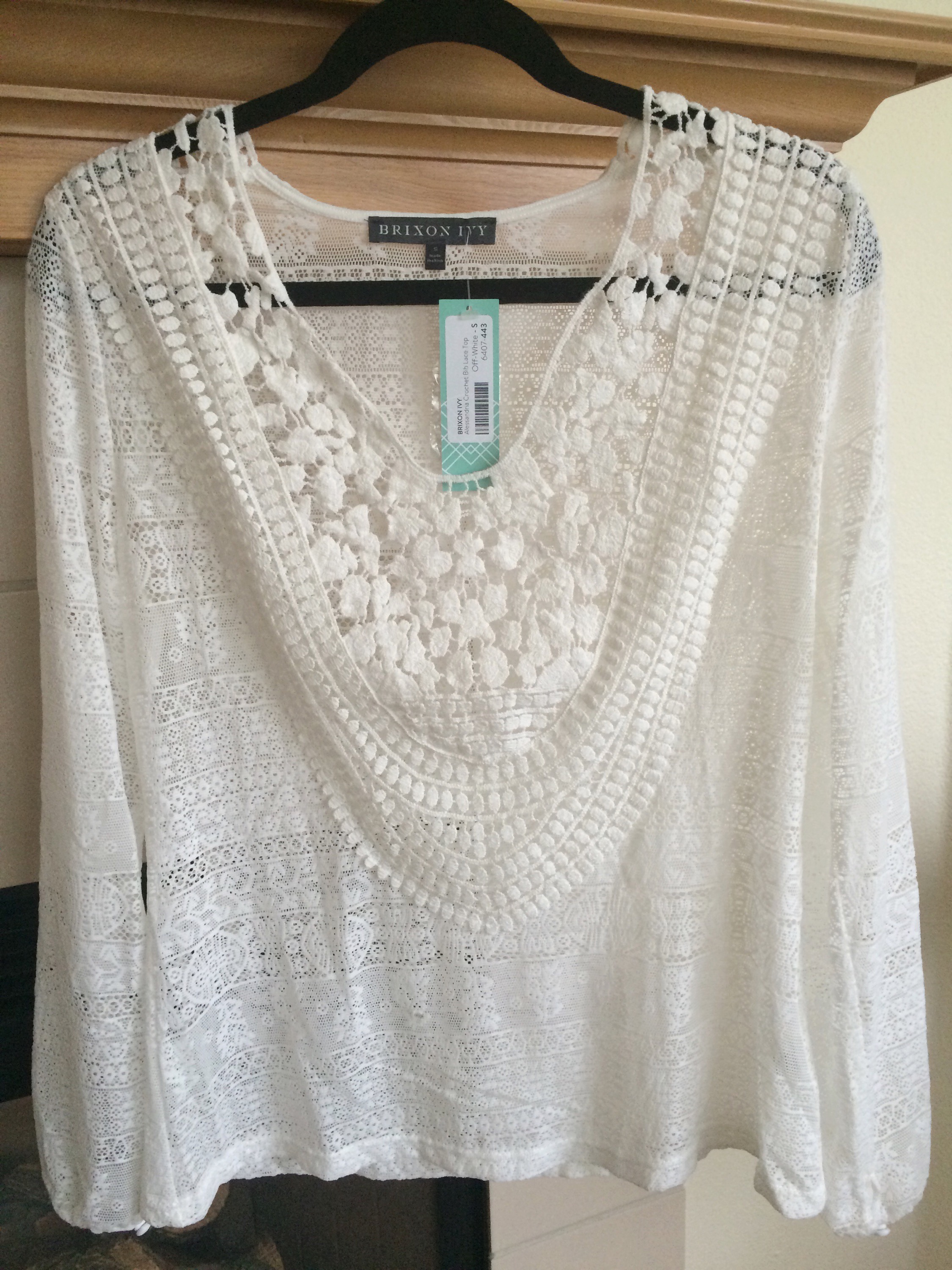 I liked this. But just not enough to want to keep it. I have other cream color tops that are short sleeve and I will probably get more wear out of those since we will be moving to hot Louisiana. This came with a cami, albeit a cheaply made one.
Status: Returned
Kensie Felcity Dress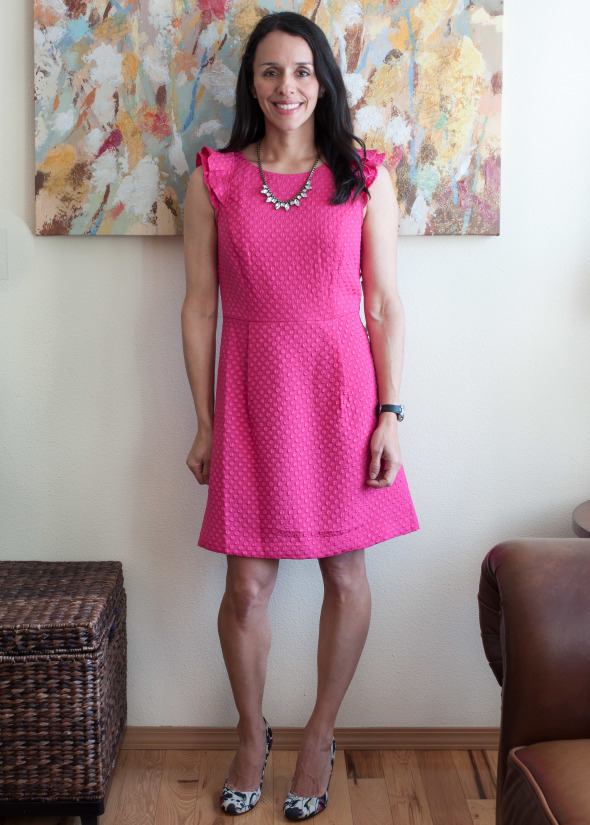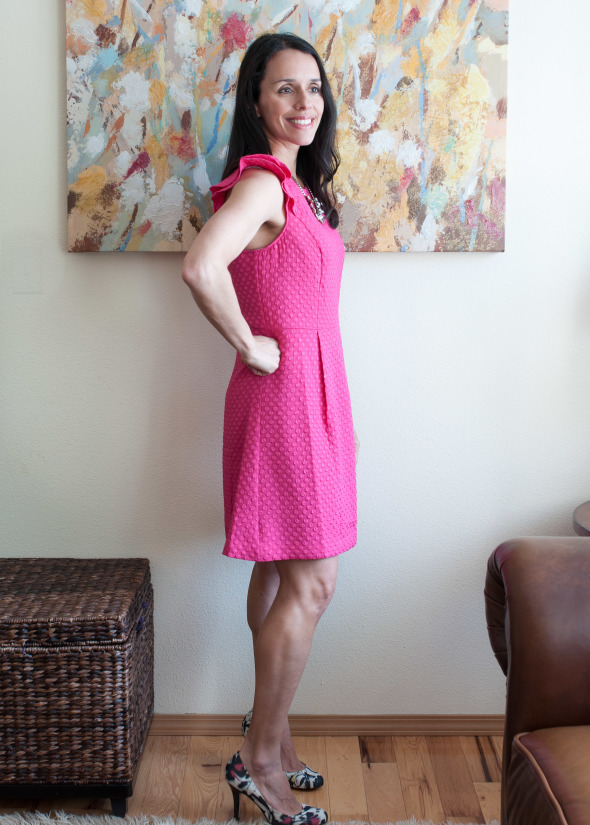 This is more of a special occasion dress, but I think It can be easily dressed down for a dinner date or casual party. I love the flutter sleeve and the fun texture of the fabric. I also love that it's machine washable! I can't remember the last time I bought a dress prior to Stitch Fix! I probably wouldn't have chosen the hot pink color, but thought it was fun and a little daring (for me).
Now the issue….I was sent an extra-small (not the one in the picture) and thought it was a hair too tight. It zipped fine and was pretty comfortable, but I tried it on again and again and especially after I ate dinner I felt like I didn't have much breathing room. So I had them exchange it for the small (which is pictured) and now I feel like an extra small fit me better! Grrr.
The small is fine, but I can pinch some fabric on the sides and the front and the skirt part is a teeny tiny too big. What are your thoughts? I'm considering asking for the extra small again and if I ever get it, sell this one. Or I can try to shrink this one a little but I read polyester is hard to shrink. I'm totally torn now. I guess bottom line is they might not ever have an extra small for me!
I don't think it looks too too big, it just feels a little loose in comparison to the first one they sent.
Thoughts?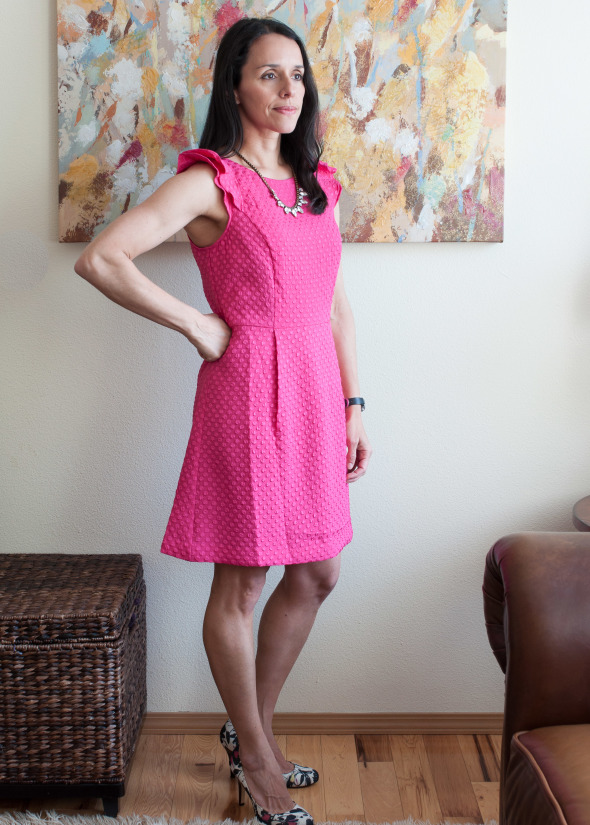 Tried to make it more casual but this makes me loo like I have no waist. Oh well, I still think it's cute.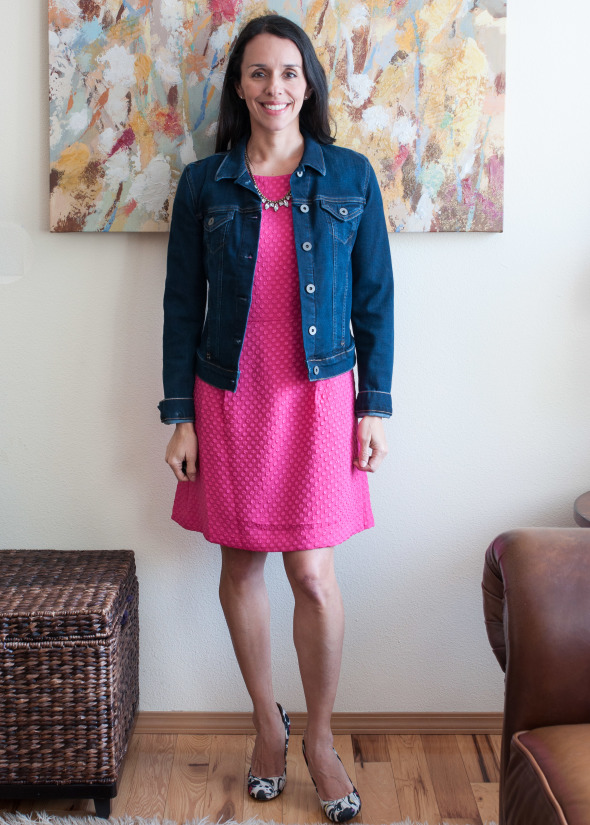 Status: Kept 
So what have you been loving lately from your Stitch Fix boxes? I still can't believe I own those wild pants!
Disclaimer: this is not a sponsored post. Referral links are included which means I get a $25 credit if you sign up using my link (same amount you get when you refer your friends). 
Want to to see more Stitch Fix posts?