It's time for another Stitch Fix review! I also slowly squeezing back into my pre-pregancy clothes and am so happy to be wearing things other than sweats or yoga pants! I have donated a lot from my closet so I am having fun replacing items piece by piece.
A recap from my first Stitch Fix box, I LOVED my very first box and kept all 5 items. How did I do this time?
If you have no idea what Stitch Fix is, read here. Otherwise I will jump right into what I got! Please excuse my appearance but I just got home from the gym, jumped in the shower and threw my hair up. I'm kind of wishing I at least put on some lip gloss but I was in a hurry!
The most exciting part is opening the box!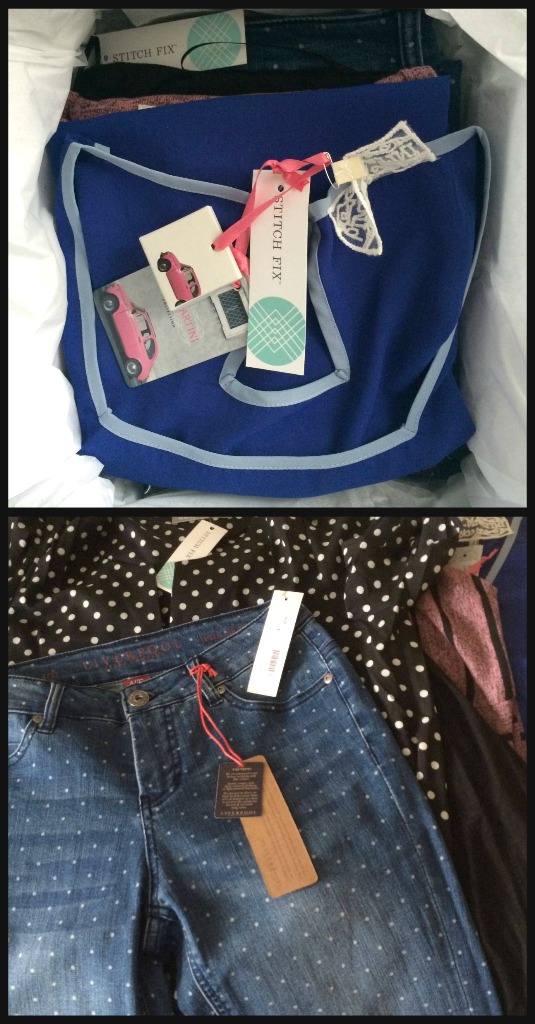 1. Rebecca Front Pocket Tank
We'll start with what was on the top in the box-  the sleeveless Front Pocket Tank. I think the color is pretty and I like the detail on the back but overall nothing special on me. It kind of reminds me of hospital scrubs and the fit is a bit too boxy for my liking.
2. Jojo Polka Dot Capri Jeans
The Polka Dot Capri Jeans are in between a capri and a short which for this 5'3" frame doesn't look so hot. I rolled them up but still not loving them.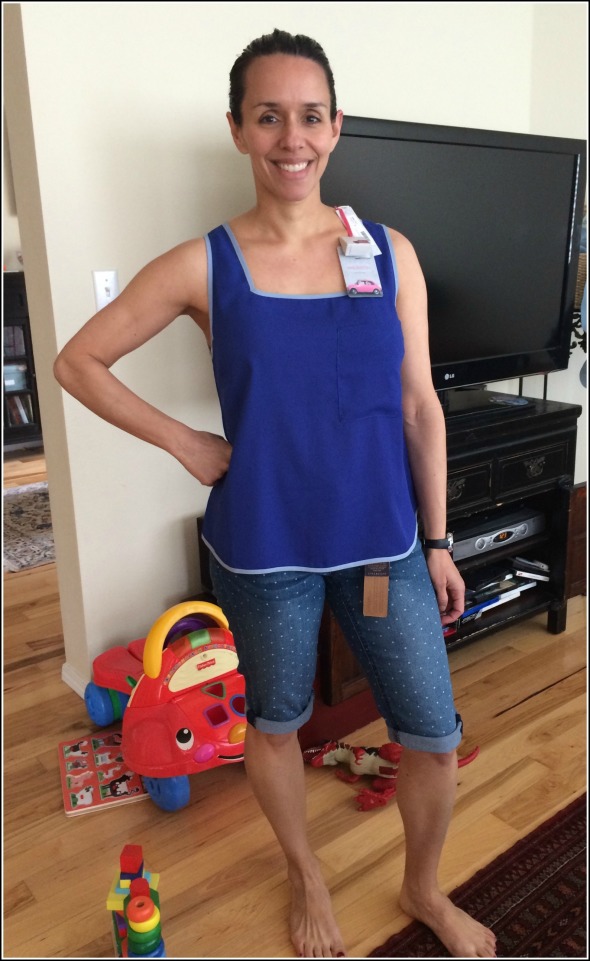 Status: Returned & Returned
3. Kieraly Dot Print Short Sleeve Blouse
I really liked the polka dot short sleeve blouse but when I tried it on, it looked a little too business-like for me. Even though it could easily be dressed down, I just pictured it as something I'd wear to the office. If money weren't an object I would've kept it.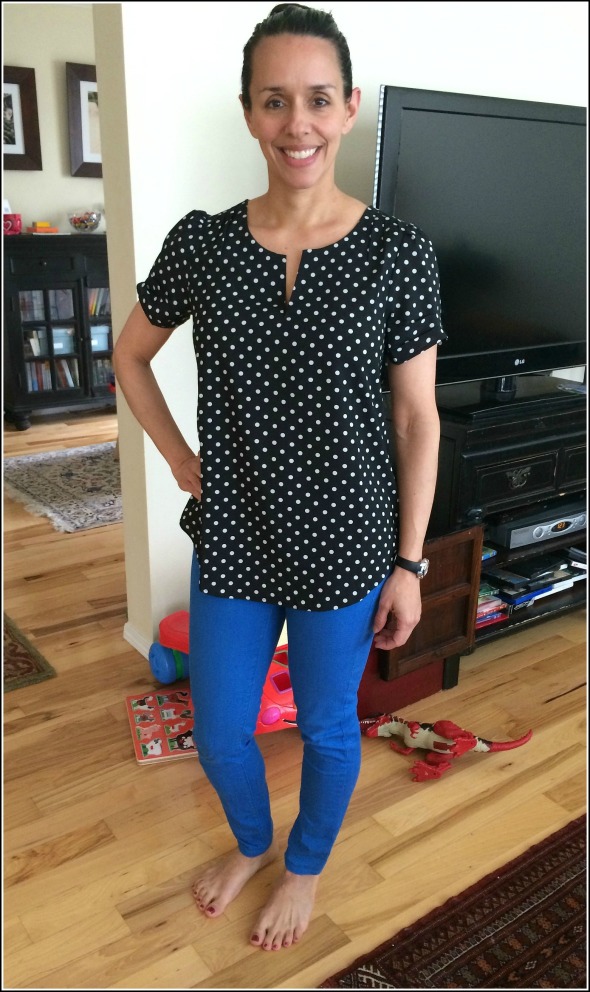 Status: Returned
4. Martina Slub Knit Open Cardigan 
I loved this black cardigan- so soft and flowy, but I already have 2 similar black cardigans so couldn't justify another especially since we are in Spring, rapidly approaching summer.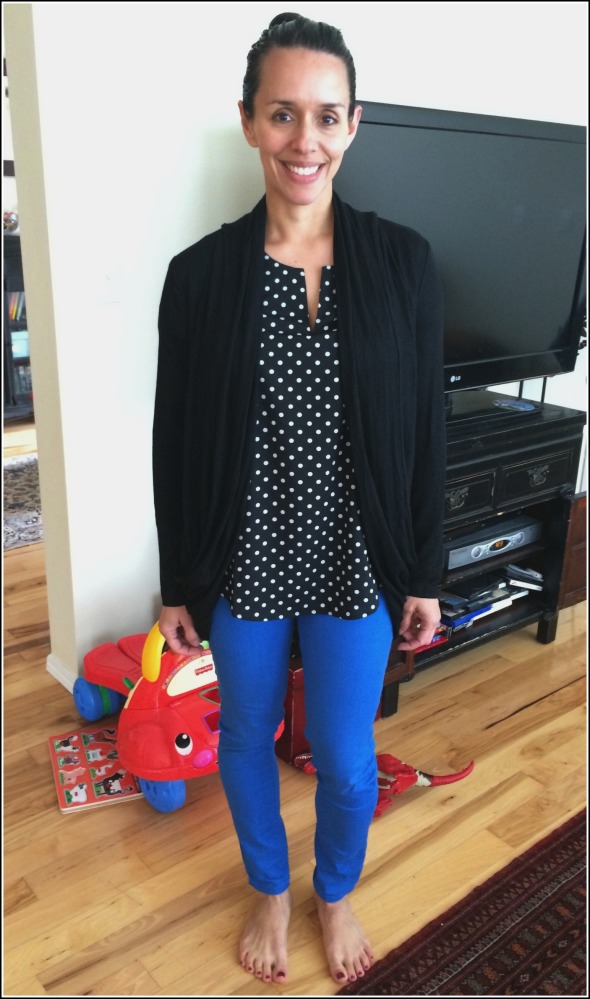 Status: Returned
5. Corinna Striped Dolman Top
My last piece, this striped dolman top was super comfortable and cute. Perfect with jeans or a pencil skirt. I realize the picture of this shirt isn't all that flattering. The way it is gathered in this particular photo makes it look like I have a big pooch but it's super cute on (in person). My mom and friend who witnessed the fashion show both agreed.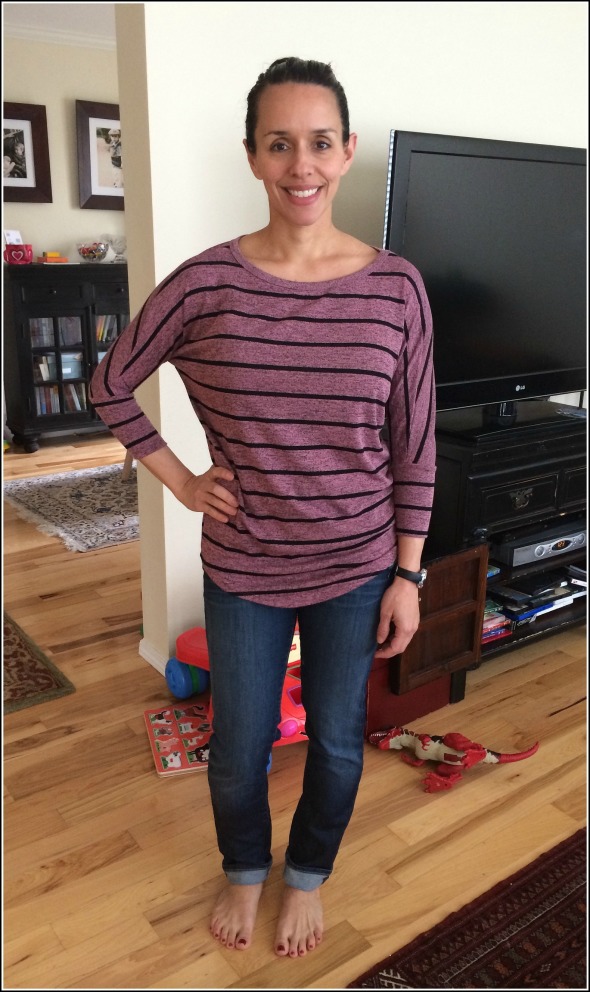 Status: Kept
Ok next time I do a fashion show of my clothes for the word to see, I will try to put on shoes, accessories and make-up!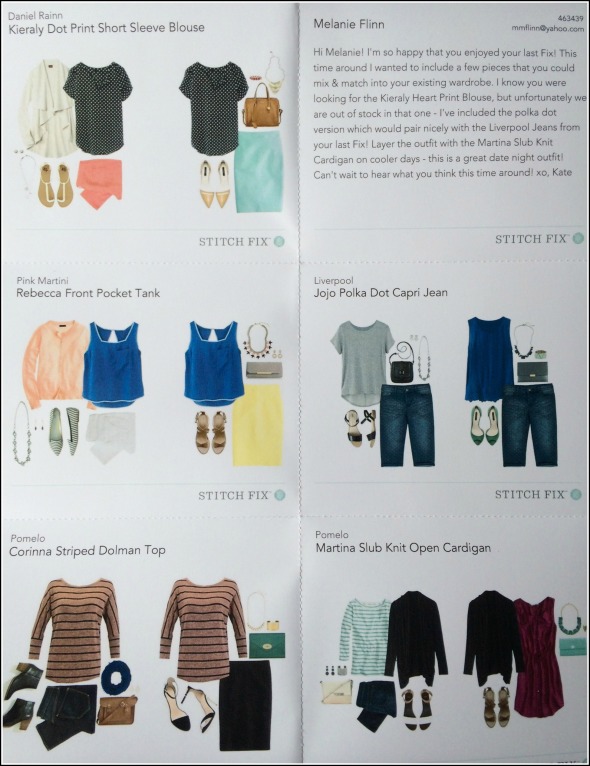 So I kept one out of five items, which suited me just fine because that fits our budget better than wanting to keep all 5 items! I already got my next "fix" scheduled and can't wait. It is such a fun service! If you're new to Stitch Fix and want to give it a try, feel free to use my referral link  and I will get a $25 credit. Awesome referral program if you ask me!
Do you think I made the right choice? What do you think of the pieces they sent?
Disclaimer: This is not a sponsored post. I simply love the service and think it's fun to share what was sent.