Hi friends! As you read this I will be on my way to the Aloha state for our family vacation. Yup, we are headed to Hawaii! Words can't express how ready and in need of a vacation I am…although traveling with 4 small children may or may not be considered a vacation. We are sure to have some fun!
So I thought I'd do a fun Stitch Fix post. I am still in love with this service and also love seeing what other people get in their fixes. For those of you who haven't heard of Stitch Fix , here is my first post about them and my second review. Since my last post, I have gotten two more fixes and realized I never posted pictures of my third box. Now I have just gotten my 4th box so might as well combine them!
So let's get started! Here what was in the 3rd box: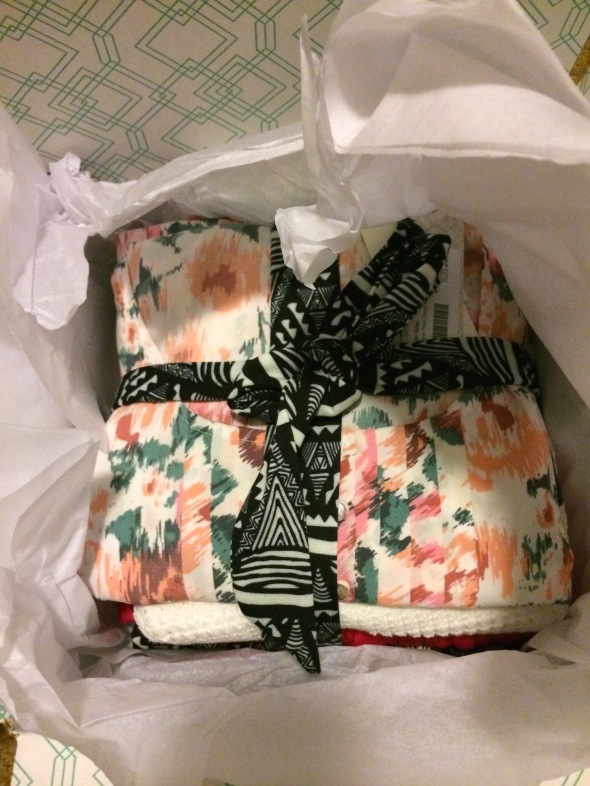 1. Francesca Contrast Trim Button-Up Knit Shirt
This was cute in the box, but was very unflattering on. It was too bad because the material was sooooo soft. I would've kept it just to wear to bed, but otherwise…no, no, no.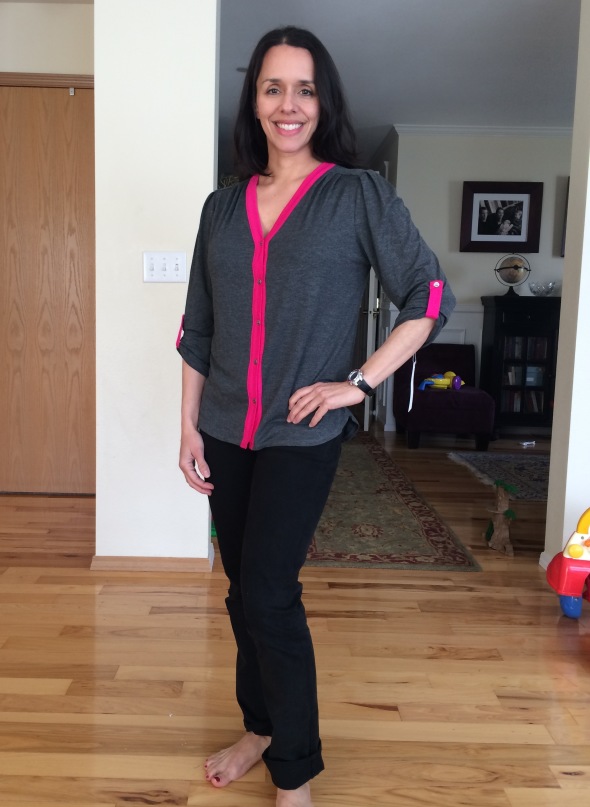 Status:Returned
2. Charlotte Airy Knit Drape Front Cardigan
As they know by now, I am a sucker for cardigans. This one is perfect for the summer. Super light weight and white!
3. Carlita Jersey Maxi Dress
I requested nursing friendly dresses. I love wearing dresses but with breastfeeding every few hours I'd basically have to take off a dress unless it was a v-neck or wrap, etc. This one met my expectations and the color is fun for the summer- perfect piece to take on our Hawaiian vacation. It's sleeveless by the way, but I forgot to take a pic without the cardigan.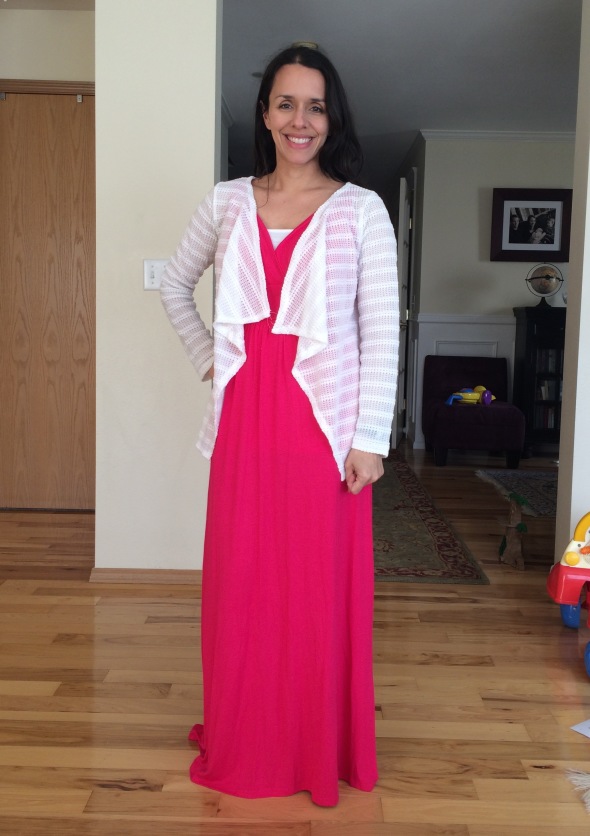 Status: Kept and Kept
4. Jasmine Pleat Detail Floral Print Blouse
When I first saw this in the box, I thought "oh I'm keeping it" but it just didn't look good on me. I kept trying it on because I loved it when I was looking at it, but didn't like it as soon as I saw it on me. Don't mind my black jeans. I wasn't trying to style the shirt with them, I just happened to be wearing them so they definitely don't help the situation.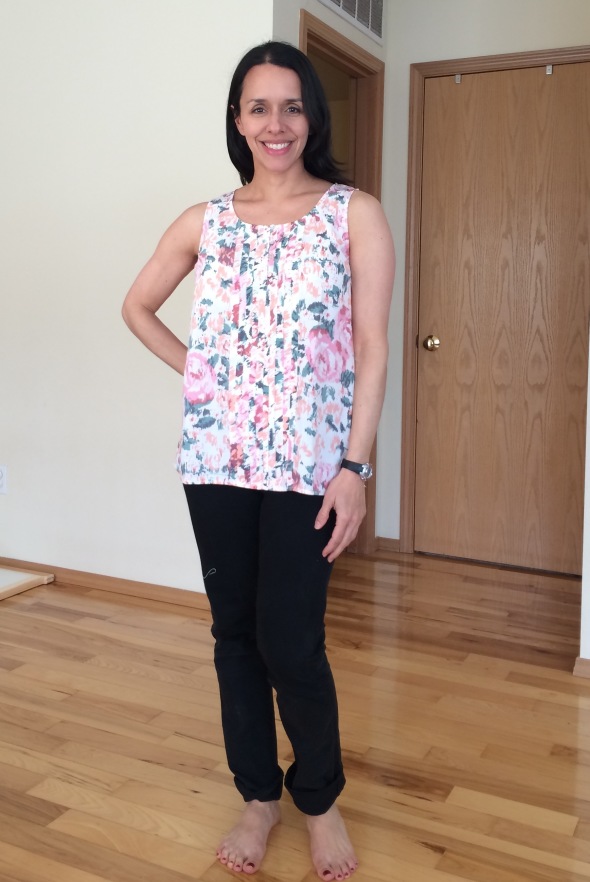 Status: Returned
5. Yola Abstract Print Faux Wrap Dress
Another breastfeeding friendly dress which I thought was really cute and would've been perfect for things like church or school meetings, etc. What you can't see is that there is a lot of extra fabric in the shoulders and from the side was just too big because they accidentally sent me a medium instead of a small (it was marked wrong). When I contacted them, they said they had no more smalls in stock. No biggie.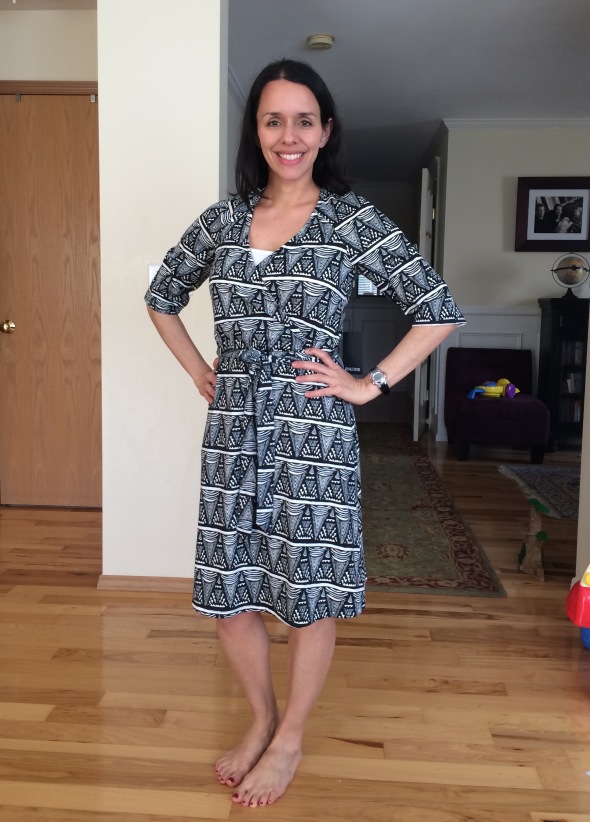 Status: Returned
So from box 3 I kept 2 out of the 5 items.
Stitch Fix Box #4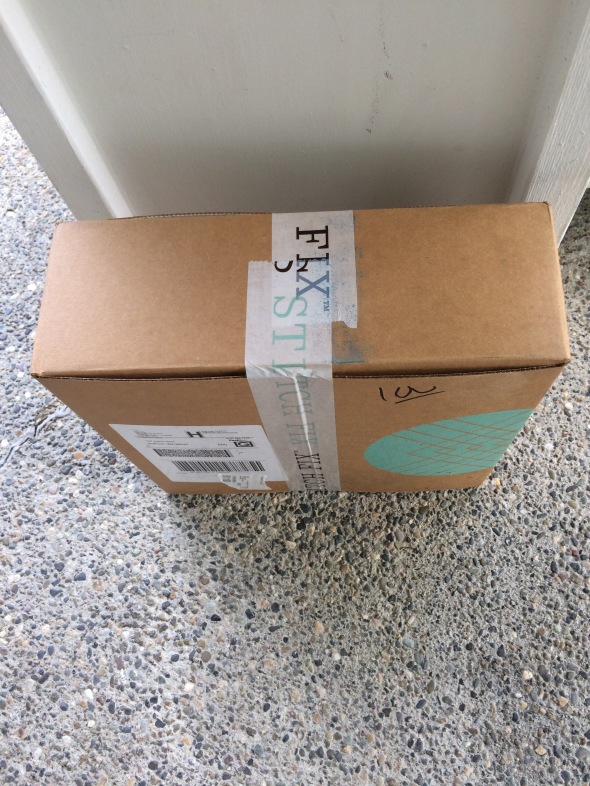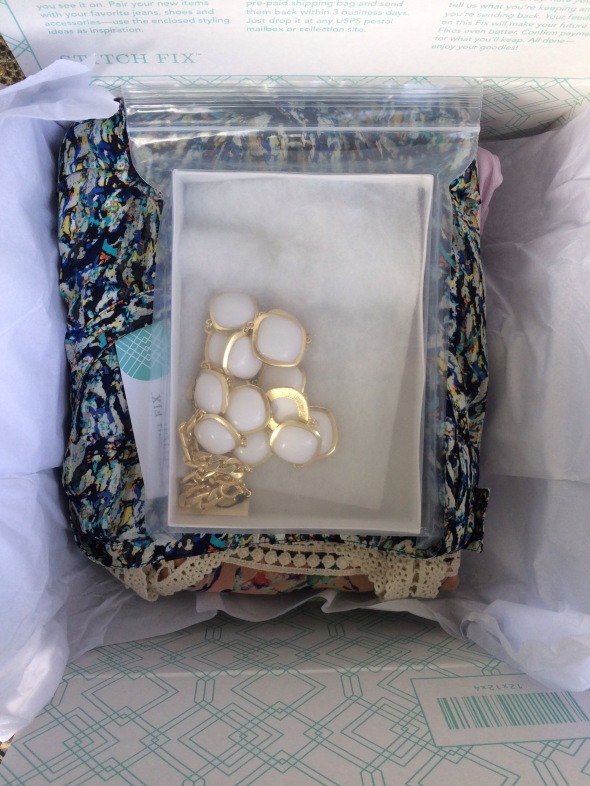 1. Carolynn Colored Cuffed Denim Short
I requested shorts and had no idea what kind they would send. I liked the light violet colored cuffed shorts because they paired nicely with what they sent as well as any basic t-shirt in my closet.
Please ignore the disaster in my room but I was in the process of cleaning up.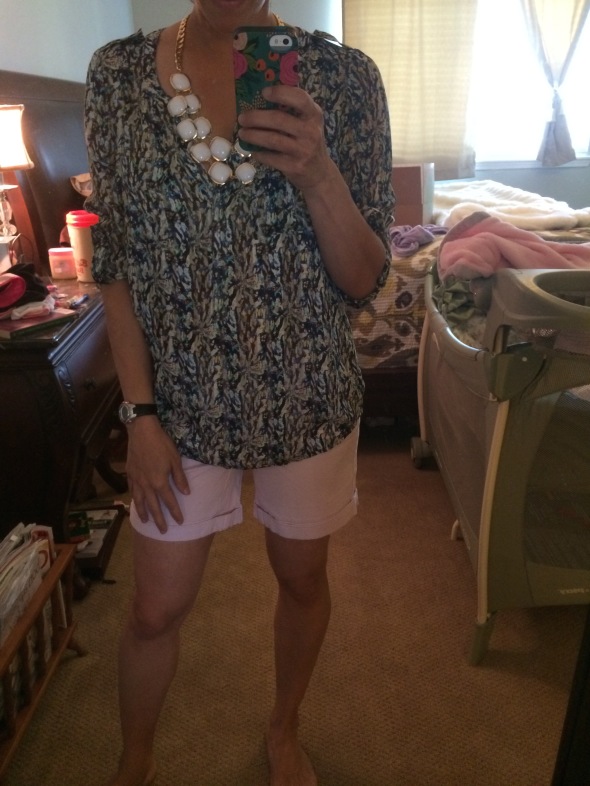 Status: Kept
2. Alicia Abstract Print Pocket Fron Tab-Sleeve Blouse
I adore this print. It is so beautiful in person. It is a lovely lightweight material, almost sheer but not quite. Love it with the necklace they sent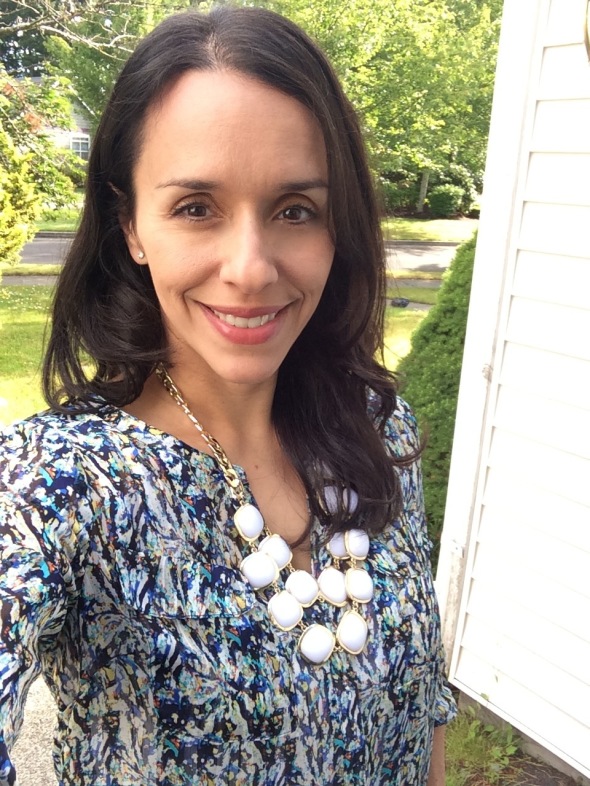 Status: Kept
3. Helena Layered Stone Bib Necklace
I don't usually wear chunky necklaces like this simply because I forget to accessorize! I love this with the blouse they sent.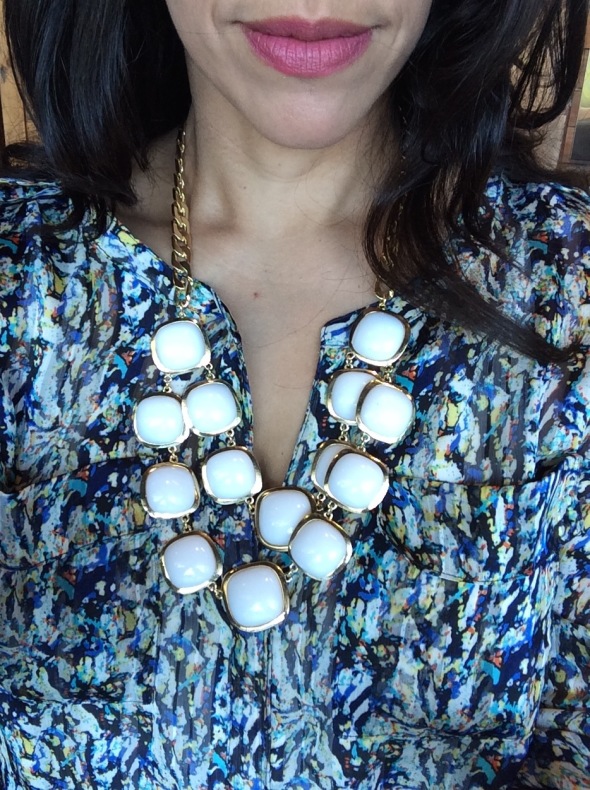 3. Rosco Floral Print Crochet Detail Tank
Absolutely love this tank. I requested something in lace or something floral and they combined my request to provide this lovely top. It will look perfect under a cardigan and slacks or dressed down with jean shorts.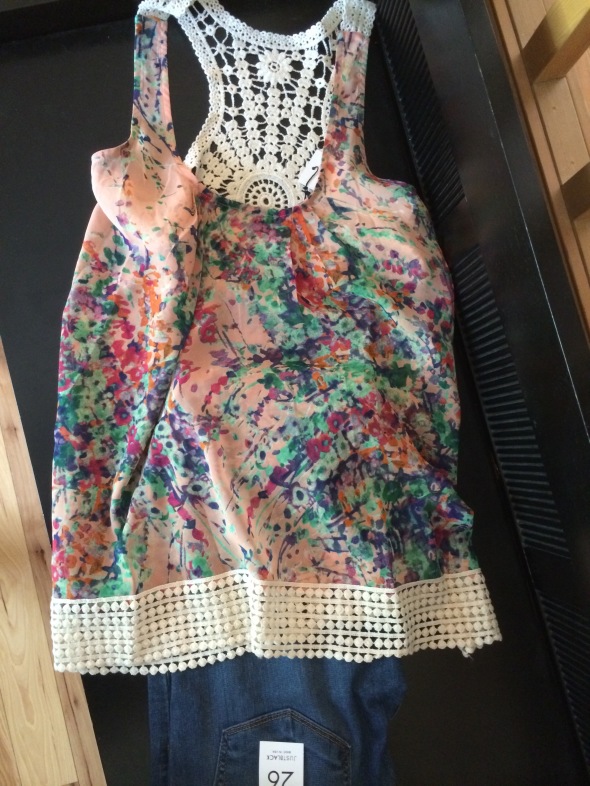 Status: Kept
4. Adora Ankle Length Skinny Jeans
I wear jeans a lot here in Washington because with the exception of a few weeks in the summer, the temperatures are pretty mild here. I requested a light denim jean and absolutely love the way these fit. I actually had a lighter denim in mind, but these were still worth keeping. Sorry no photo because I got distracted packing!
Status: Kept
This box was a no brainer. Keep all and get the discount. I also had a gift certificate that I applied to this order! Yay for new clothes! Ok friends, I have no idea what my blogging schedule will be like on vacation, but please follow me on Instagram (nutritiousats) if you want to see what I am doing and eating in Hawaii!!!
Questions: Have you tried Stitch Fix?  Do you prefer shopping in person or having someone style you?