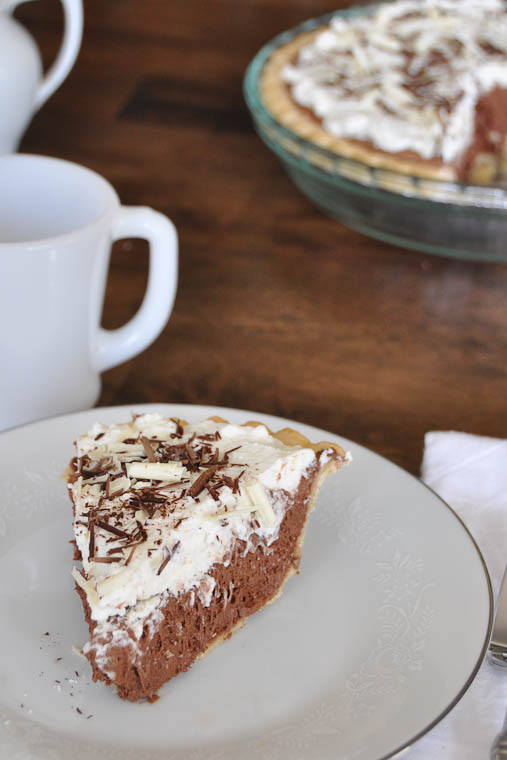 If you've read my about page you'd know that although I am a big fan of healthy eating, sometimes I like to splurge on things I wouldn't necessarily label as "nutritious" and since the name of my blog is Nutritious Eats I have to preface things by saying this pie is not one of those "nutritious eats". It's a chocolate pie. It's homemade so that's a plus, but at the end of the day it's still a rich, caloric chocolate pie. I LOVED every bite I took, however this is one of those recipes that is falling into my splurge worthy category.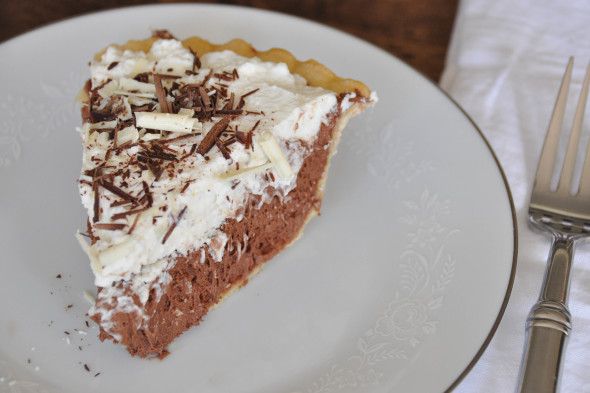 So far this summer has been off to a slow start- overcast and in the 60s basically sums up June. However July has been splendid so far. Clear blue skies, crisp air, temperatures in the 70s to 80s. I can see why people speak so fondly of Washington in the summer. We have been outside as much as possible- bike rides, trail walks, splash parks, swimming and lots of outdoor play.
When I think of summer I think of all those fun outdoor activities and I think of cold, sweet treats. Of course popsicles, ice cream and fruit desserts bring back fond memories, but there is something about cold (no-bake) pies in the summer. I have have vivid recollections of eating frozen strawberry yogurt pie as a kid or chocolate pudding pie in the summer. Cool, creamy, rich and refreshing are the qualities I lookfor in a good cold dessert. This one fits the bill.
I don't encourage my kids to eat sugar, I limit their juice consumption, but I don't have a problem with them sharing a delicious homemade dessert with me on occasion. After all of our long days outside it's so nice to be rewarded with an irresistible rich dessert like this chocolate silk pie.
Enjoy!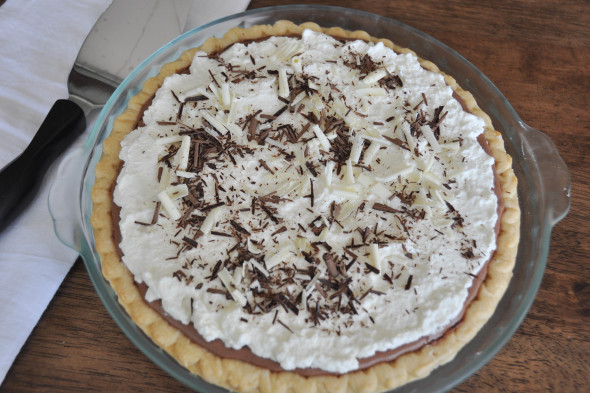 Creamy rich deliciousness.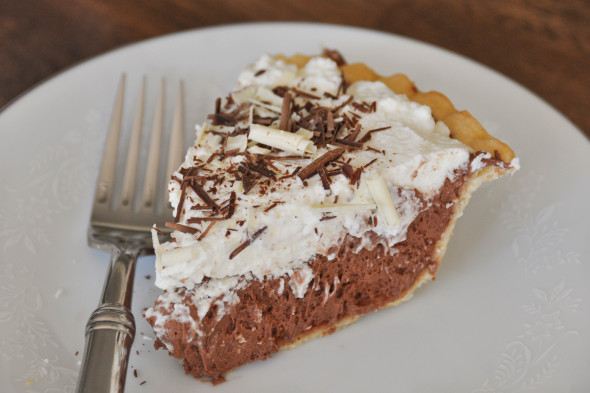 I am skipping an official meal planning because I haven't had time to think about it. We had some delicious Copper River salmon last night which I seasoned with lemon pepper and Greek seasoning plus some lemon juice. It was delicious….but more because the actual fish is amazing not so much because I did anything fancy to it. Have you had it? It's Alaska's premier wild salmon and apparently it's only available for a short time. It is ridiculously good and we stocked up at Costco because I am afraid we've seen the last of it. Anyway, other ideas for this week are Mediterranean night- maybe falafel and pita with Greek salad, a salad night and a new vegan recipe which I've yet to pick out. Have you meal planned yet? What are you making?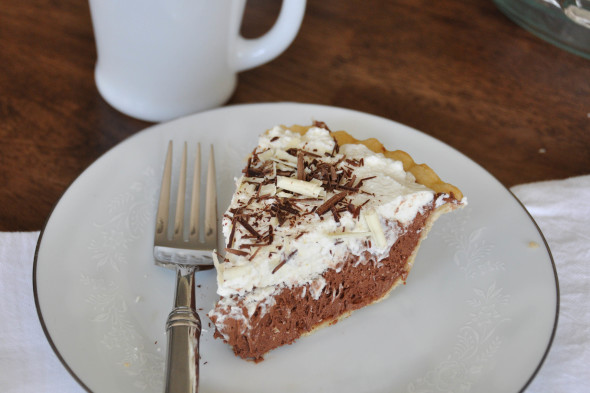 Chocolate Silk Pie
Ingredients
1 unbaked pastry shell (9 inches)
1 jar (7 ounces) marshmallow creme
1 cup (6 ounces) semisweet chocolate chips
¼ cup butter, cubed
2 ounces unsweetened chocoalte
2 Tablespoons strong brewed coffee
1 cup heavy whipping cream, whipped
Topping:
1 cup heavy whipping cream
2 Tablespoons confectioners' sugar
Chocolate curls, optional
Instructions
Line pastry shell with double thickness of heavy-duty foil. Bake at 450 degrees for 10 minutes. Remove foil, bake 5 minutes longer. Cool on a wire rack.
Meanwhile, combine the marshmallow cream, chocolate chips, butter, unsweetened chocolate and coffee in a heavy duty saucepan. Cook and stir over low heat until chocolate is melted and mixture is smooth. Cool. Fold in whipped cream, pour into crust.
For topping, in a large bowl beat whipping cream until it begins to thicken. Add confectioners' sugar and beat until stiff peaks form. Spread over filling. Refrigerate for at least 3 hours before serving. Garnish with chocolate curls if desired.
Notes
Recipe from Taste of Home