Sweet Potato Oat Blender Pancakes are made right in your blender and full of whole foods, nutritious ingredients.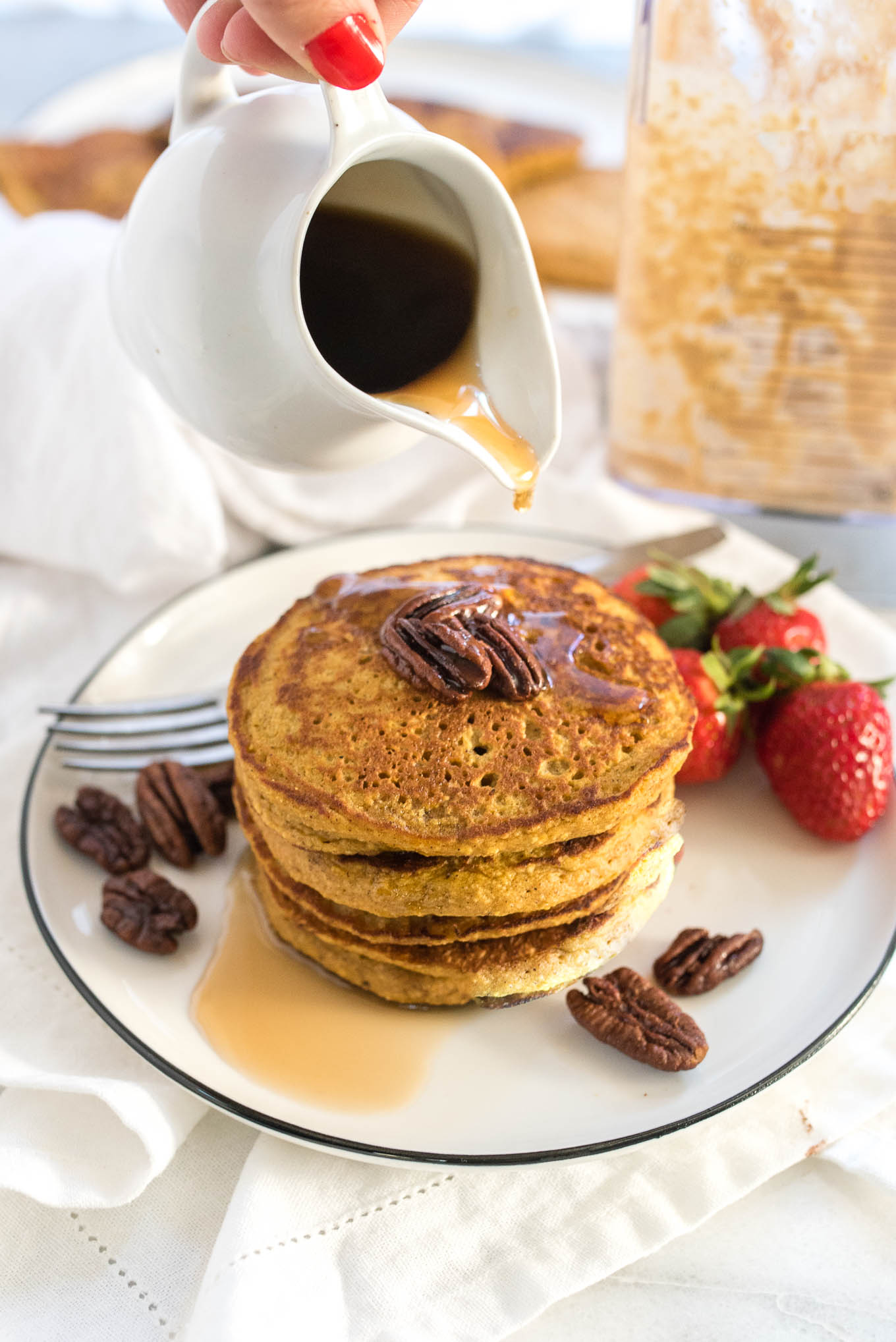 Oat Blender Pancakes are nutritious dense, made exclusive with oat flour that you can blend right up in your blender. You can sub pumpkin or even banana for the sweet potato- all great and healthy choices!
As we enter the New Year, I couldn't be more excited for the next chapter of my life- called settling in! Yes, house renovations are slowing down. There is still plenty to do, but it's becoming a little more manageable.
As for New Year's resolutions. I am not making any this year, however I do want to continue to read at least one new book a month (more like one a week, but setting the goals low) with an added goal of cataloging my reading with titles and brief summaries or thoughts on the books. I have discovered my library's "online hold" button so now I can just make a list of books for them to put on the shelf for me as they get turned in. Love that convenience!
I must admit with being so busy with life, my homemade breakfasts have become nonexistent. Cereal anyone? It's hard when you already feel like lunch and dinner dishes take over the kitchen, but this is a one blender show AND you can make ahead and reheat for school breakfasts or even freeze.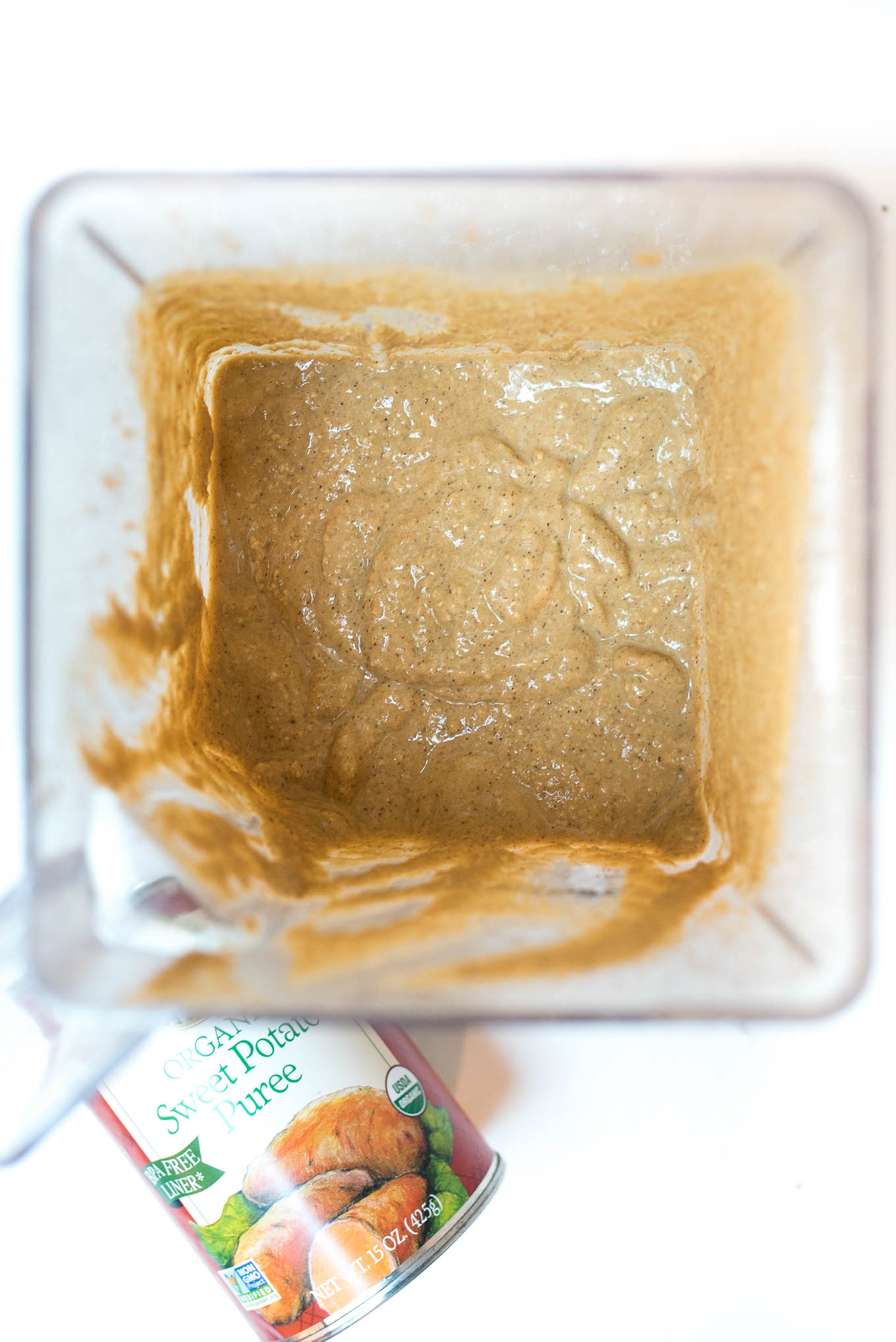 I love oat flour and always have a plethora of oats, so this recipe uses exclusively oat flour. As a result, these pancakes have a chewier denser texture. I enjoy that they are a more nutritious pancake than a simple white flour buttermilk pancake, so feel better about eating these throughout the week.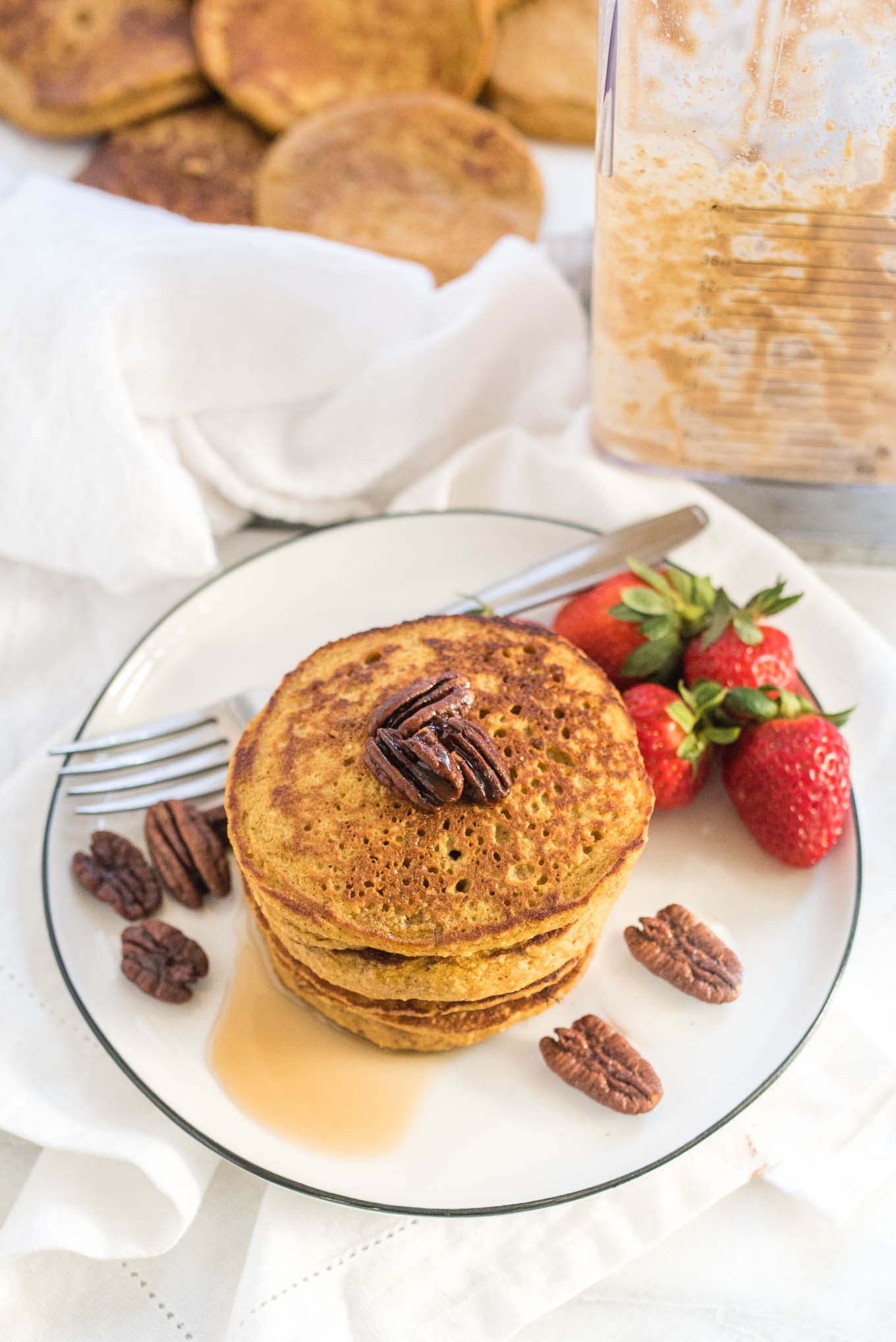 If you have any Christmas money and want a fabulous blender, I just love my Blendtec. It's super powerful and easy to clean and it comes with an extra smaller jar that is great for making nut butters, smoothies for one or dressings.
So back to this recipe, I recently discovered canned sweet potato as it was not something I ever bought before. I actually found some organic ones on clearance at World Market when I was shopping for my half bathroom renovation decor.
So for the sweet potatoes, you could use leftover mashed sweet potato or even canned pumpkin if you can't find canned sweet potato. I love that it boosts the nutritional value of these pancakes and they still have that cozy and yummy fall flavor with nutmeg, cinnamon and ginger.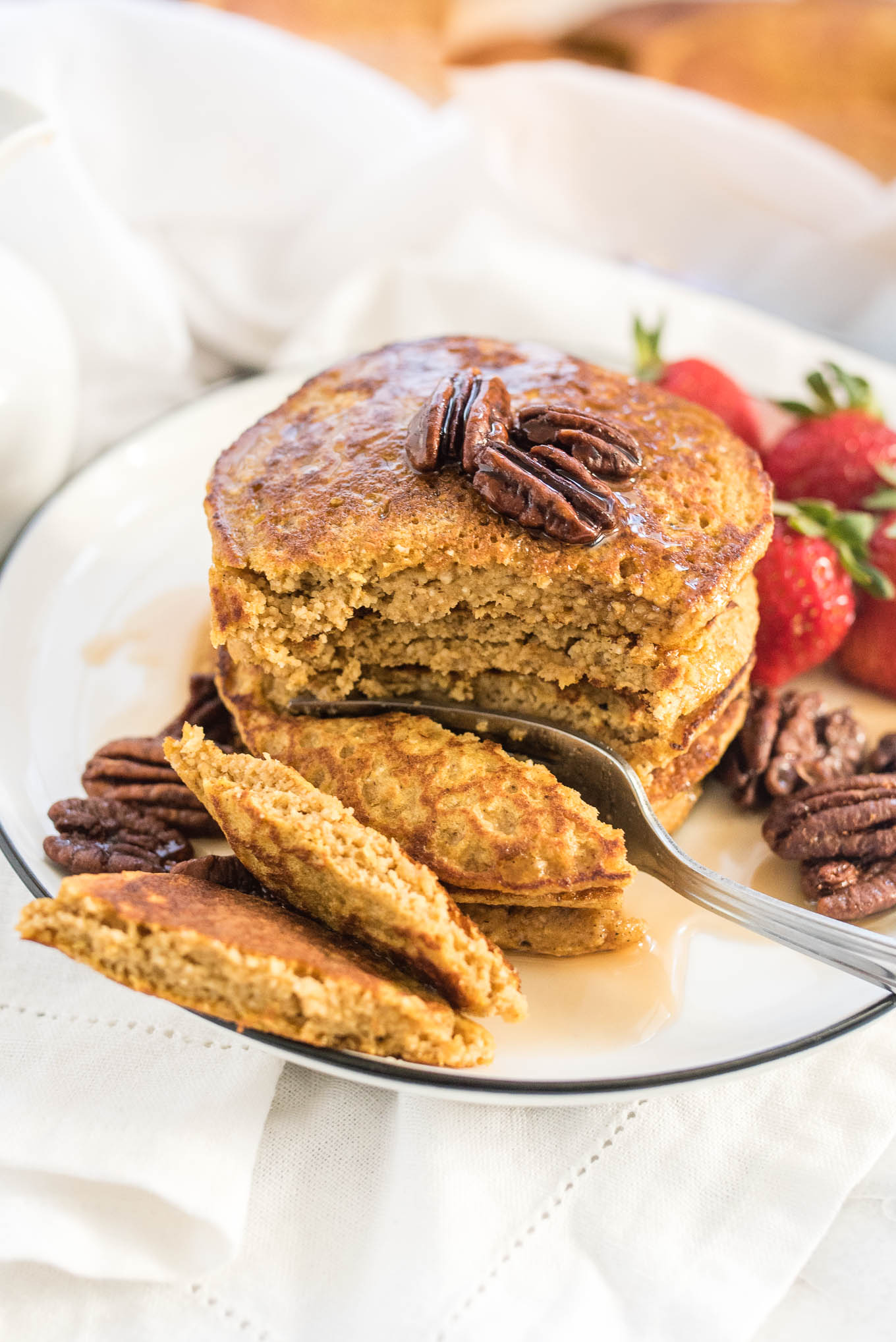 I have been terrible about eating real breakfast lately and it's often an afterthought when I notice I am becoming irritable. I am going to try to go back to preparing a breakfast in the morning while I feel the kids that way I can be done with it and not let hunger hit be at the WRONG time.
I am eager to get this blog back to regular posting, in addition I am teaching two undergrad nutrition courses online so it'll be a busy semester. I'd love to hear from you though- any New Year's resolutions?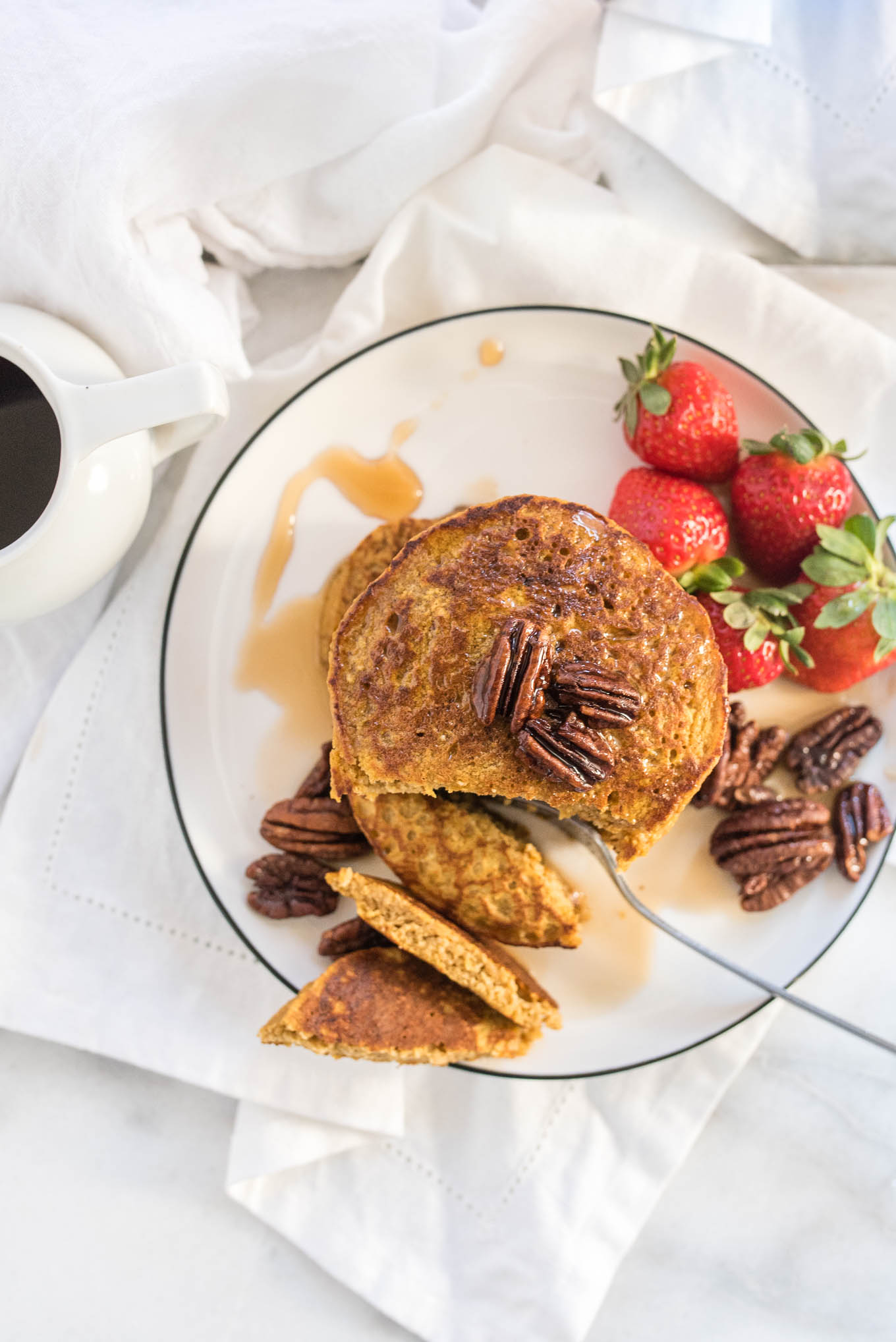 Looking for more pancake recipes? Try……
Tools used in making this recipe:
My Blendtec blender has been used to make everything from smoothies, nut butters, hot coffee drinks and even soup. It's super powerful and I love it!
A silicone spatula like this is great for scraping down the sides and a good set of measuring cups are needed, but that's about it!
(those are affiliate links, by the way. I make a tiny commission if someone purchases something with my link)
Sweet Potato Oatmeal Blender Pancakes
Sweet Potato Oat Blender Pancakes are made right in your blender and full of whole foods, nutritious ingredients.
Author:
Melanie F. | Nutritious Eats
Ingredients
2 cup rolled oats, gluten free certified if needed
1 teaspoon cinnamon
½ teaspoon ground ginger
¼ teaspoon nutmeg
2 teaspoons baking powder
pinch of salt
1 to 1¼ cup non-dairy milk
¾ cup pureed sweet potato (can sub pumpkin)
1 egg
2 tablespoons neutral flavored oil
2 tablespoons maple syrup
1 teaspoon vanilla extract
Instructions
Add rolled oats to blender and process until ground, about 20 sections. Add additional dry ingredients and pulse a few times. Add all wet ingredients and blend on low spend until combined. Scrape down sides and corners with a spoon until all the flour is incorporated. Let mixture sit for about 5 minutes to thicken.
Preheat a griddle to medium heat. Add a little butter or oil before cooking. Using ¼ cup measuring scoop, pour pancake batter onto hot grill. If batter is too thick, add a little more milk to the blender.
Flip after edges are cooked and little bubbles have formed. Cook on additional side for another 30-45 seconds or until cooked through.
div style="display: none;"