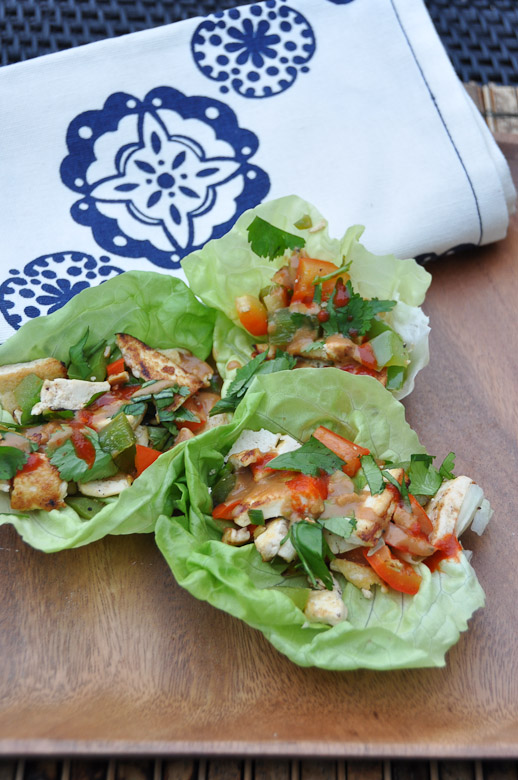 A couple days after I posted my last post  about the weight loss challenge I am hosting, DietBet was featured on the Today show! What great timing! If you need to lose some weight, don't forget to join! The game starts in 8 days so if you need that extra push and motivation to start losing weight, don't hesitate! It will be fun!
I just started cooking with tofu last year when I experimented eating vegan, otherwise it was never something I'd consider buying. Why would you buy and cook tofu when there are so many other flavorful foods I thought?!  Although I still could live without it (just being honest here), it has found a place in my life. Never thought that would happen! I definitely crave protein when I am eating a more vegetarian diet and tofu dishes really help to satisfy my hunger.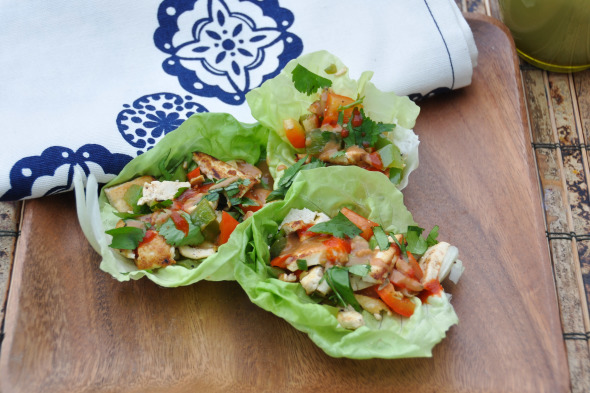 The is never a shortage of peanut butter in our house so I decided to make a peanut sauce to drizzle over the lettuce wraps. Since I didn't have extra time to marinate the tofu I knew it would need something in the end to give it more flavor. In case you've never tried plain tofu, it is totally bland! On the positive side it is totally bland! Yes, that is a positive in my opinion. That means it is a high protein source that depending on how you marinate it or how you serve it, it will take on different flavors. It certainly won't overwhelm the dish on it's own, but it has a purpose.
I love wrapping things in lettuce and although I tried this same mixture in a tortilla, I actually prefer the lettuce. You get to taste more of the filling and peanut sauce. You could also serve this filling and peanut sauce over rice noodles, brown rice or eat as is (just warm up the tofu and sauce a little if you are taking for lunch leftovers). If you are looking for healthy, light but flavorful vegan dishes, this is a good one to try. Sriracha on top really completes this dish. Haven't tried it yet? You must! It is a spicy asian condiment and can be found in the asian food section of most grocery stores. It's kind of addicting.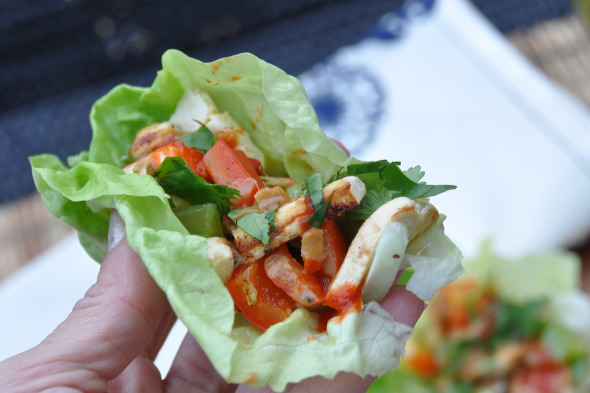 Sitting down for meal planning I can honestly say I am so ready for this week. School starts back up- the kids are both super excited. Between our San Diego vacation and Christmas break the kids have had a nice LONG break. My daughter starts a new pre-school and I am ready to get back to the daily routine. It's been lovely having the hubs home for the past 2 weeks and it's one of the best Christmas breaks I can remember. Despite not getting out a lot, we have passed time at home playing new games, watching movies, playing with Christmas toys, organizing our things, etc.
Meal planning typically only takes me about 20 minutes. I take a look at what we have in the fridge/freezer and I usually flip through a couple cookbooks or magazines to get the ideas flowing. Think about adding this to your New Year's goals if you feel unorganized when it comes to food shopping and cooking dinner. It helps tremendously even if you don't follow it 100%! Here is what I am planning for the week:
Sunday
Chicken Tortilla Soup with all the Fixings
Monday
Chicken & Sausage with White Beans (got pushed from last week)
Tuesday
 Caprese Pasta Salad with Avocado
Wednesday
Leftovers
Thursday
Salad Bar  (will use fresh veggies, items from my pantry (beans, canned tuna) & leftover pasta salad)
Friday
Margherita Pizza, Green Salad
Have a GREAT week everyone!!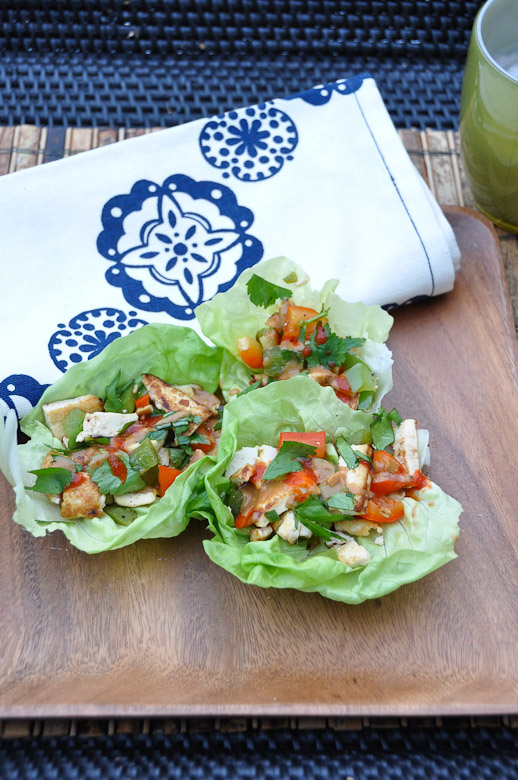 Tofu Lettuce Wraps with Peanut Sauce
Ingredients
1 lb extra-firm tofu
2 teaspoon minced garlic, divided (half for peanut sauce)
2 teaspoons minced fresh ginger, divided (half for peanut sauce)
½ red bell pepper, diced
½ green bell pepper, diced
¼ cup chopped green onions
salt & pepper
1 teaspoon olive oil
1 teaspoon sesame oil
Whole clean lettuce leaves (Butter, Boston or Bibb)
For the peanut sauce
¼ cup water
¼ smooth peanut butter
2 Tablespoons light soy sauce
1 teaspoon ginger
1 teaspoon garlic
2 Tablespoons lime juice
Additional toppings: chopped cilantro and Sriracha sauce
Instructions
Remove tofu from package, slice into rectangular slices about ¼ inch thick. Cover slices with paper towels or clean dish towel and top with additional cutting board and some heavy cans. Allow to sit for 10-15 minutes. Press down firmly a few times to make sure tofu is being pressed well. Remove cutting board and towels and slice each rectangle into 3-4 stripes lengthwise and again crosswise, creating a ½ inch by ¼ inch square.
Heat 1 teaspoon olive oil and 1 teaspoon sesame oil in a large nonstick skillet on medium-high heat, add chopped tofu and stir fry for 5 minutes or until lightly browned. Stir in 1 teaspoon minced garlic, 1 teaspoon minced ginger, diced bell peppers and saute for 3 more minutes. Add green onions and continue cooking 1 more minute. Season with salt and pepper to taste. Remove from heat.
Meanwhile for peanut sauce, in a small saucepan whisk together water through lime juice on low heat until smooth. Set aside.
3. Spoon tofu mixture into lettuce leaves. Drizzle with peanut sauce and top with chopped cilantro and Sriracha sauce.
 Question: Do you like tofu? What's your favorite way to eat it? What's on your meal plan this week?
Don't forget to sign up for DietBet HERE (previous post explains more details).