I really can't believe it's October, one of my favorite months! My son was born this month and he'll be turning four in a couple weeks, plus Halloween is such a fun Holiday. My son basically forced me to commit to a costume (and I am the girl who never dresses up) so I decided on the tradition witch. Anyhow, In the spirit of the autumn season (ok, well maybe it's "fall" everywhere else but in Hawaii it is still in the 70-80s) and because I'm dreaming of cooler temps, I decided to make a nice pot of chili. Let me remind you that I am in 70-80 degree weather and have no AC and I made chili.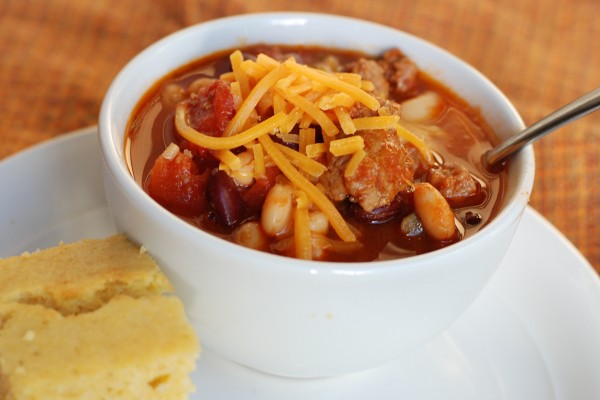 See how desperate I am? I even ordered a Gingerbread spice latte the other day from Starbucks (in the middle of the afternoon heat) just because it reminds me of when I lived in Boston. We've lived here a little over a year now and I really miss the cooler temps. Not that Texas was a "chilly" place to live but at least there was some variety in the weather.
This chili is so yummy and perfect to make ahead because everyone knows chili tastes better the next day. You can change up the protein- last time I made it I used 1 lb Italian turkey sausage and 1/2 lb ground sirloin (because the kids requested hamburgers that night and I had extra meat), but I included my favorite combo in the printable recipe below . This makes a huge batch so bring a friend dinner (that's what I did), make it for Halloween night or freeze some of it. Whatever the case, you can't go wrong making the full amount. Whip up some cornbread to go on the side and you can have dinner ready well before dinnertime. I LOVE make-ahead meals. Enjoy!
Turkey Chili
Recipe from Nutritious Eats
INGREDIENTS:
1 Tablespoon extra virgin olive oil
1 lb ground lean turkey
1/2 lb Italian turkey sausage
6 cloves garlic, minced
1 small onion, diced
1 zucchini, diced
1/2 jalapeno pepper, diced
1 Tablespoon cumin
1 teaspoon oregano
2 Tablespoons chili powder
2 Tablespoons brown sugar
3 Tablespoons tomato paste
2 bay leaves
1/4 teaspoon salt
1/4 teaspoon pepper
1 (28 oz) can whole tomatoes, in their juices
1 (14.5 oz) can basil, garlic, oregano diced tomatoes, in their juices
6 oz beer (I used fat tire because that is what we had!). Could also sub merlot or other red wine
1 (15 oz) can kidney beans, rinsed and drained
1 (15 oz) Great Northern beans (or canalenni), rinsed and drained
toppings (optional): shredded cheese, sour cream and/or avocado
DIRECTIONS:
1. Heat large Dutch oven over medium high heat. Drizzle olive oil into pan and add your ground turkey and sausage (remove from casings first). Stir with a wooden spoon to crumble. Add garlic and the next 3 ingredients (through jalapeno). Continue to stir and break up meat with spoon. Cook about 7-8 minutes until meat is browned.
2. Drain a little of the excess juice off and return to stove top. Add all the spices (cumin through bay leaves), stir. Add tomatoes, beer and beans to the pot. With your wooden spoon, break up the whole tomatoes until they are in chunks. Bring to a boil.
3. Cover and reduced heat to simmer. Simmer for 1 hour, stirring occasionally.
4. Uncover and simmer for additional 30 minutes. Remove bay leaves. Serve with desired toppings.