This chili packs a ton of flavor and makes a great make-ahead meal. Bonus: only one pot to clean!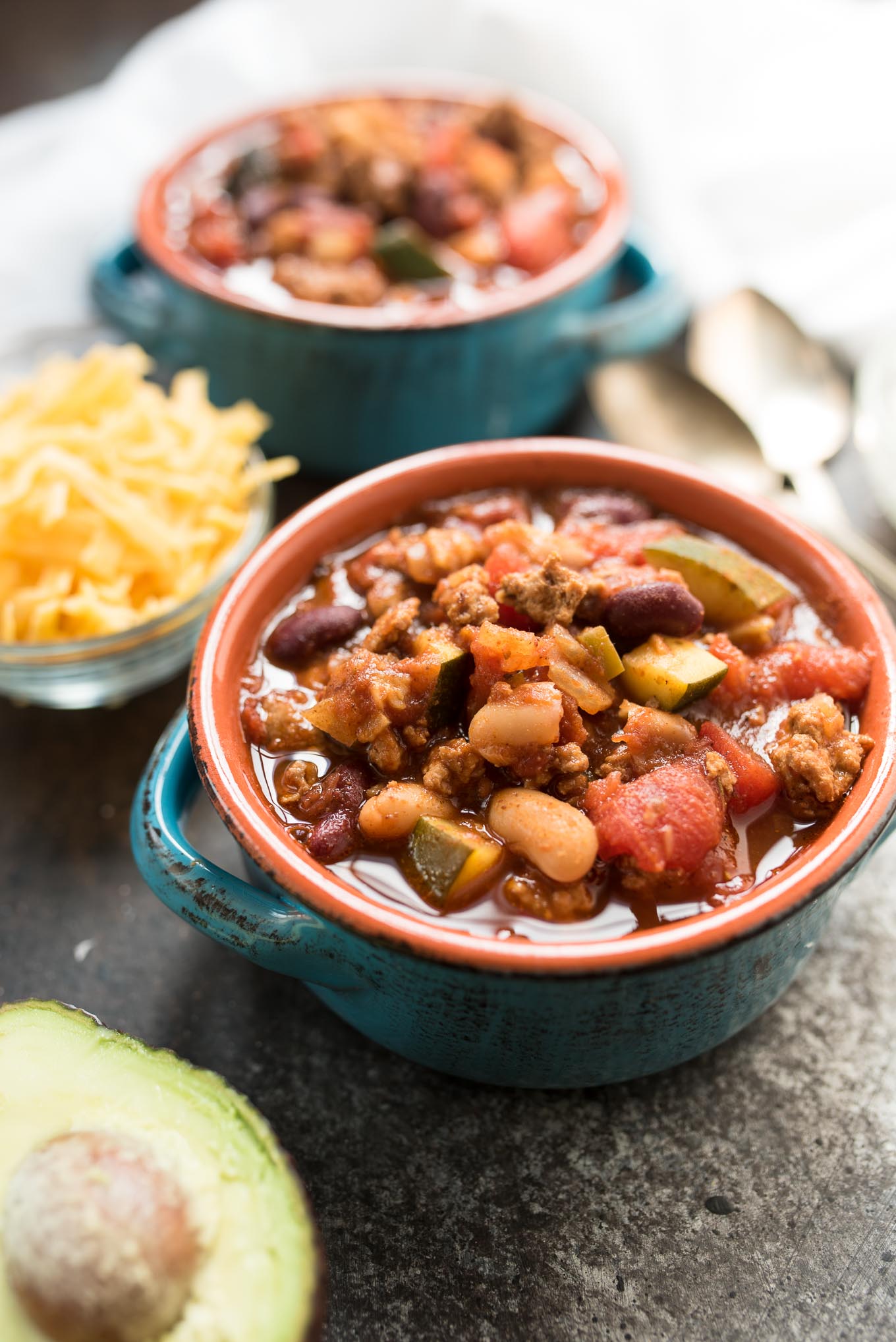 This post was originally posted October 1, 2010. Updates have been made. 
There are a handful ore recipes every cook should know how to make and chili is one of them.
Chili is the ultimate comfort food. Not only is it easy to make, but everyone can appreciate a ONE pot dish. Seriously, it doesn't get much better….you get to chop and throw all ingredients in the same vessel and in the end of a few hours or simmering on the stove, all you have is one pot to worry about. That's a dream right there.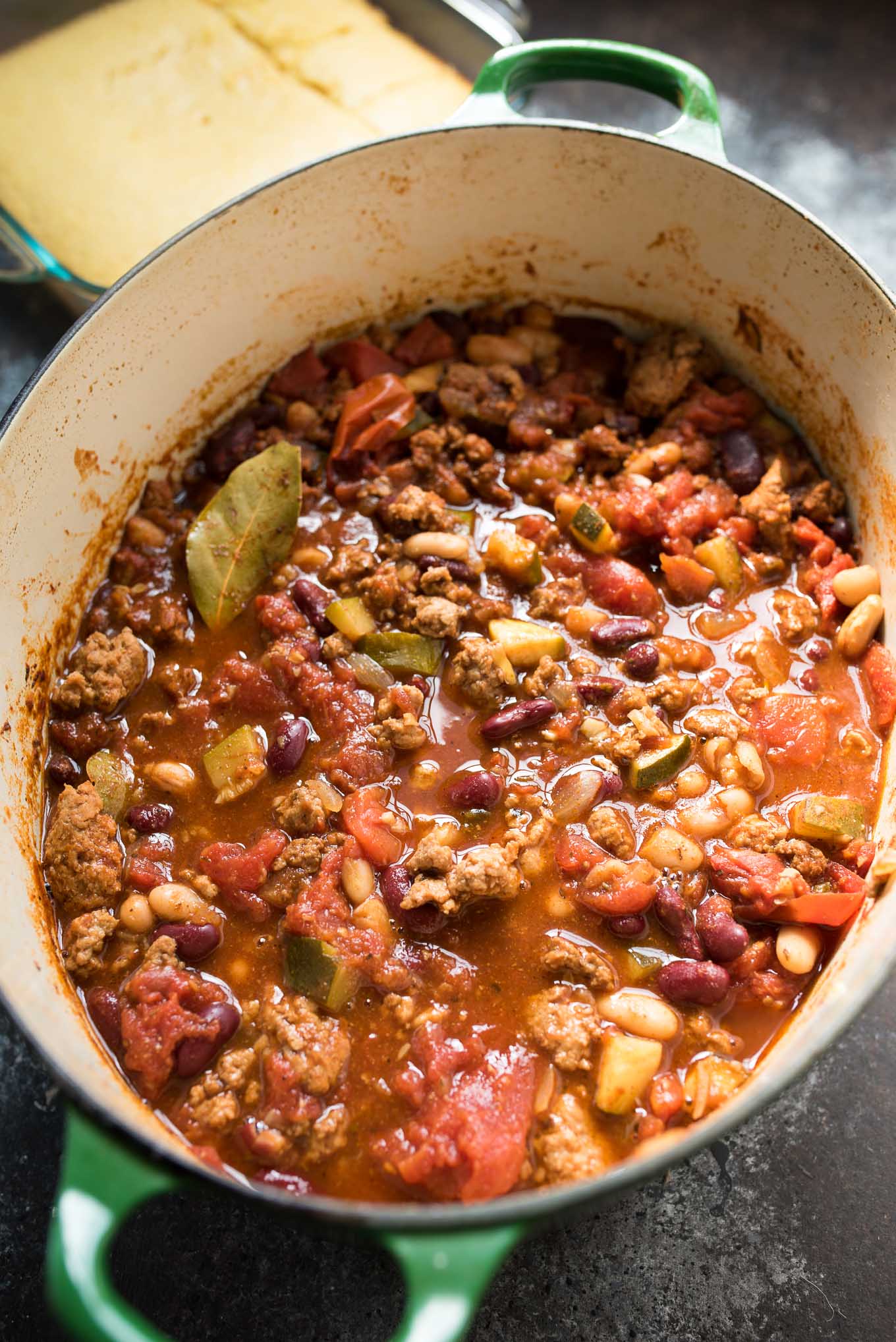 Since I don't make it often, it reminds me of the Holidays because I always make this particular chili recipe on Halloween. It's a little a little tradition I started a few years ago.
What you need to know about this chili- it's turkey based and no one will ever know it. Honestly it is so meaty and flavorful, beef eaters will be shocked. Trust me.
This Turkey Chili is a great make-ahead meal. It needs to simmer for almost 2 hours AND chili only gets better each day so if you need to make it for a party, you can cool it down, store it in the refrigerator and reheat the next day.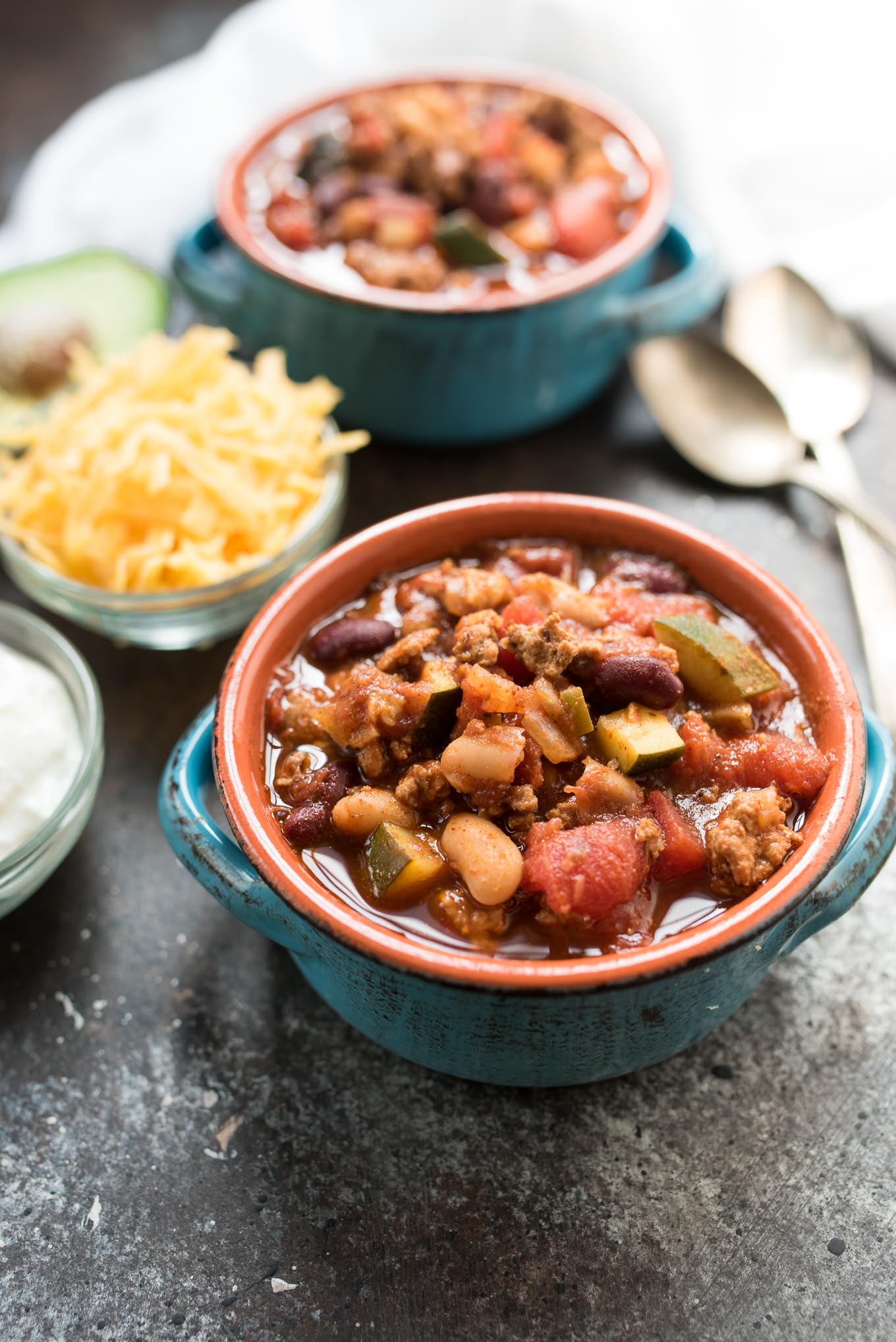 Now there are two camps for chili makers- no beans or with beans. To me, chili without beans is just meat sauce. Beans are inexpensive, nutritious, high in fiber and add extra protein. They help stretch the meat out to serve more people. Why would you not want them in chili?
This one has white beans + red beans.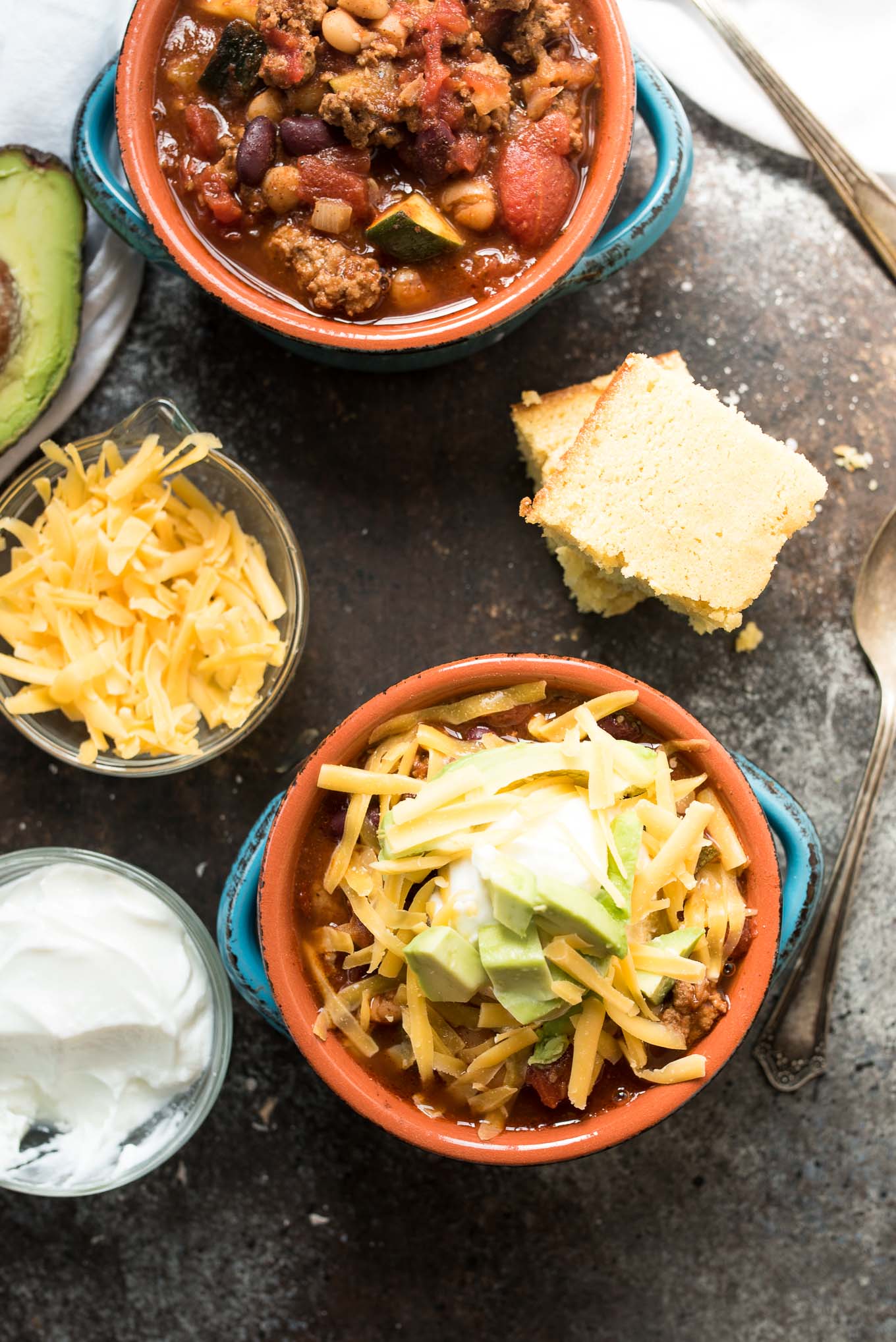 This turkey chili recipe makes a big batch as you can see, so bring a friend dinner or freeze half of it if you don't have a large family.
Whip up some cornbread to go on the side, get all your fixings ready and you are all set. Aren't one pot, make-ahead meals the best?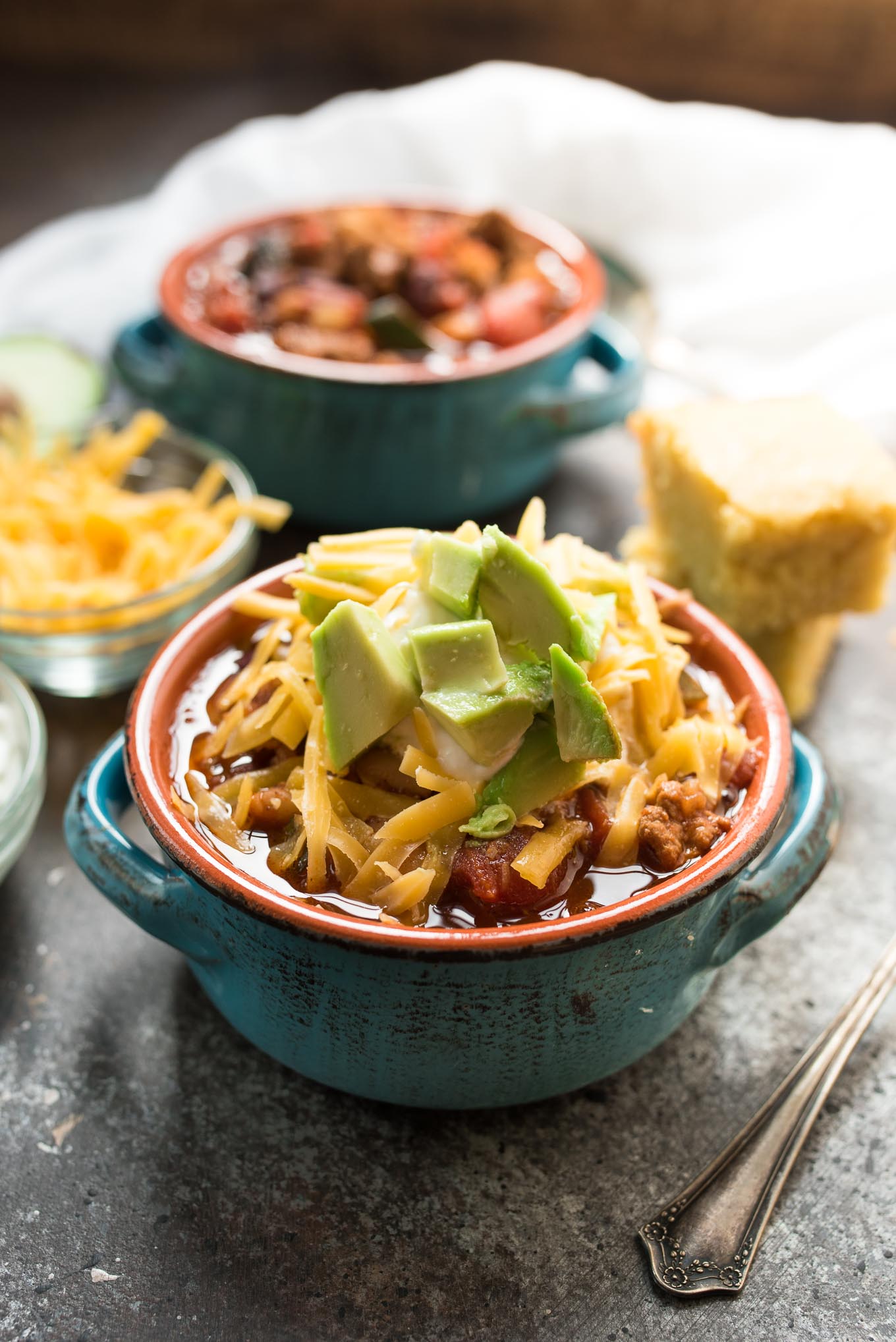 Look here, the one and only original photo from many, many years ago!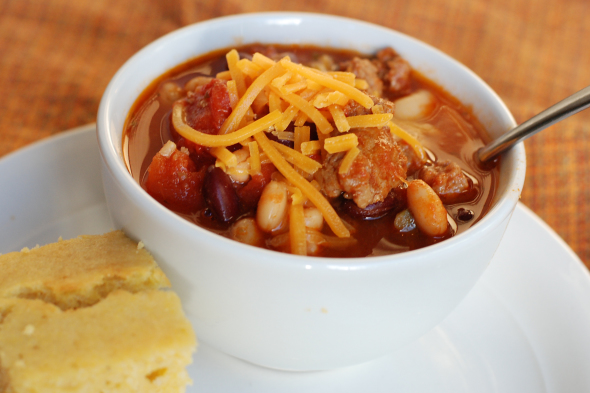 Turkey Chili
the best chili you will have, packed with veggies, lean turkey, beans and more! You will not miss the beef, I promise!
Author:
Melanie F. | Nutritious Eats
Ingredients
1 Tablespoon extra virgin olive oil
1 lb ground lean turkey
½ lb Italian turkey sausage
6 cloves garlic, minced
1 small onion, diced
1 zucchini, diced
½ jalapeno pepper, diced
1 Tablespoon cumin
1 teaspoon oregano
2 Tablespoons chili powder
2 Tablespoons brown sugar
3 Tablespoons tomato paste
2 bay leaves
¼ teaspoon salt
¼ teaspoon pepper
1 (28 oz) can whole tomatoes, in their juices
1 (14.5 oz) can basil, garlic, oregano diced tomatoes, in their juices
6 oz beer (I used Fat Tire because that is what we had). Could also sub merlot or other red wine
1 (15 oz) can kidney beans, rinsed and drained
1 (15 oz) Great Northern beans (or Cannellini), rinsed and drained
Toppings: shredded cheese, sour cream, avocado and/or pickled jalapeños
Instructions
Heat large Dutch oven over medium high heat. Drizzle olive oil into pan and add your ground turkey and sausage (remove from casings first). Stir with a wooden spoon to crumble. Add garlic and the next 3 ingredients (through jalapeno). Continue to stir and break up meat with spoon. Cook about 7-8 minutes until meat is browned.
Drain a little of the excess juice off and return to stove top. Add all the spices (cumin through bay leaves), stir. Add tomatoes, beer and beans to the pot. With your wooden spoon, break up the whole tomatoes until they are in chunks. Bring to a boil.
Cover and reduced heat to simmer. Simmer for 1 hour, stirring occasionally.
Uncover and simmer for additional 30 minutes. Remove bay leaves. Serve with desired toppings.
Notes
Pickled jalapeños add a nice contrast to the chili. I highly recommend adding them to the adult servings.