Turkey Summer Rolls with Cilantro Peanut Dipping Sauce are like a salad meets juicy grilled strips of turkey rolled up into one fresh and healthy roll.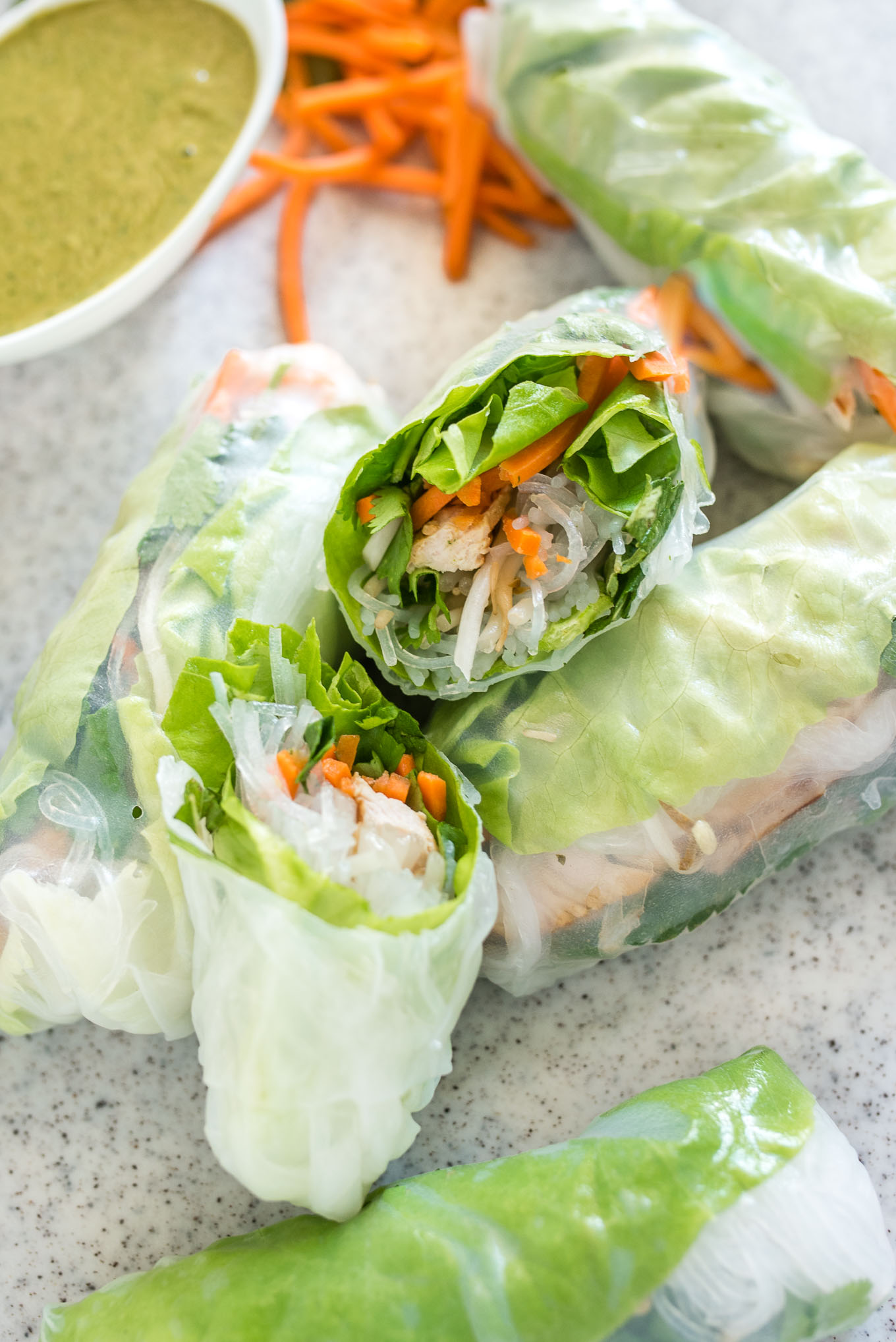 I teamed up with the National Turkey Federation and the Healthy Aperture Blogger Network to bring you this recipe. I was compensated for my time, however all opinions are my own. 
It's summer and that means a couple things- grilling and fresh food! I combined the two to make these fresh and tasty summer rolls.
Did you know June is Turkey Lovers' Month ® , the perfect time to talk turkey, a great lean protein that comes in a variety of cuts? I love that it acts as the perfect canvas for different seasoning and flavors.
Think beyond the Thanksgiving roast turkey or lunch meat- there is so much more to the turkey! Turkey cutlets for example are so tender that I could cut them with a fork. I had to resist picking on this delicious meat so that I would have enough for my recipe.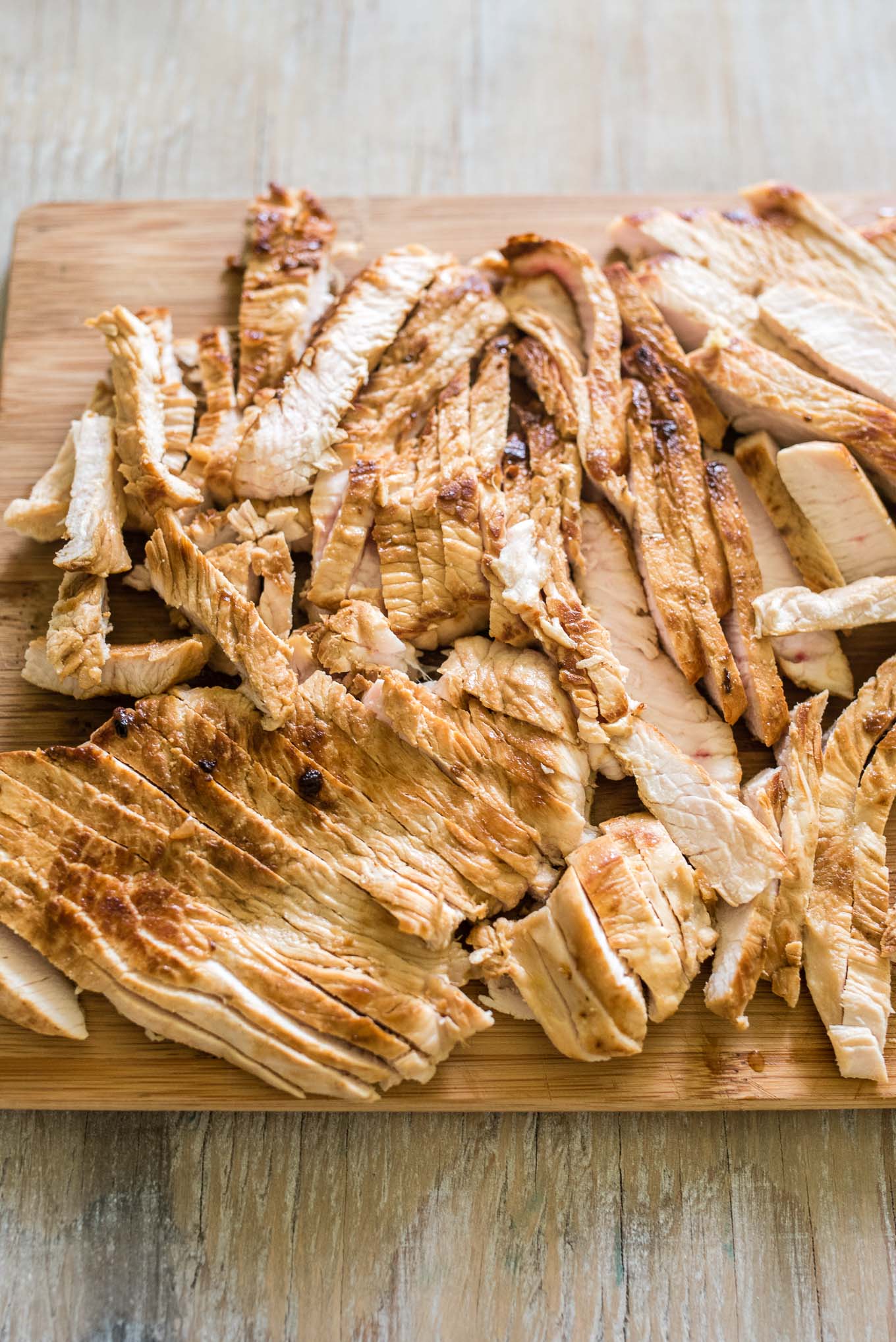 So why choose turkey? In addition to the great flavor, it's a lean protein that is naturally low in fat and high in nutrients like iron, zinc and potassium. It's also affordable and convenient to find, making it simple to fit into your meal plan.
Since it's so hot in Texas I am constantly thinking of ways to enjoy light, fresh meals for dinner. Summer rolls are one of my favorite things. I HAVE to order them from any Thai restaurant I go to and I prefer them over the fried ones any day, as long as they come with a delicious dipping sauce.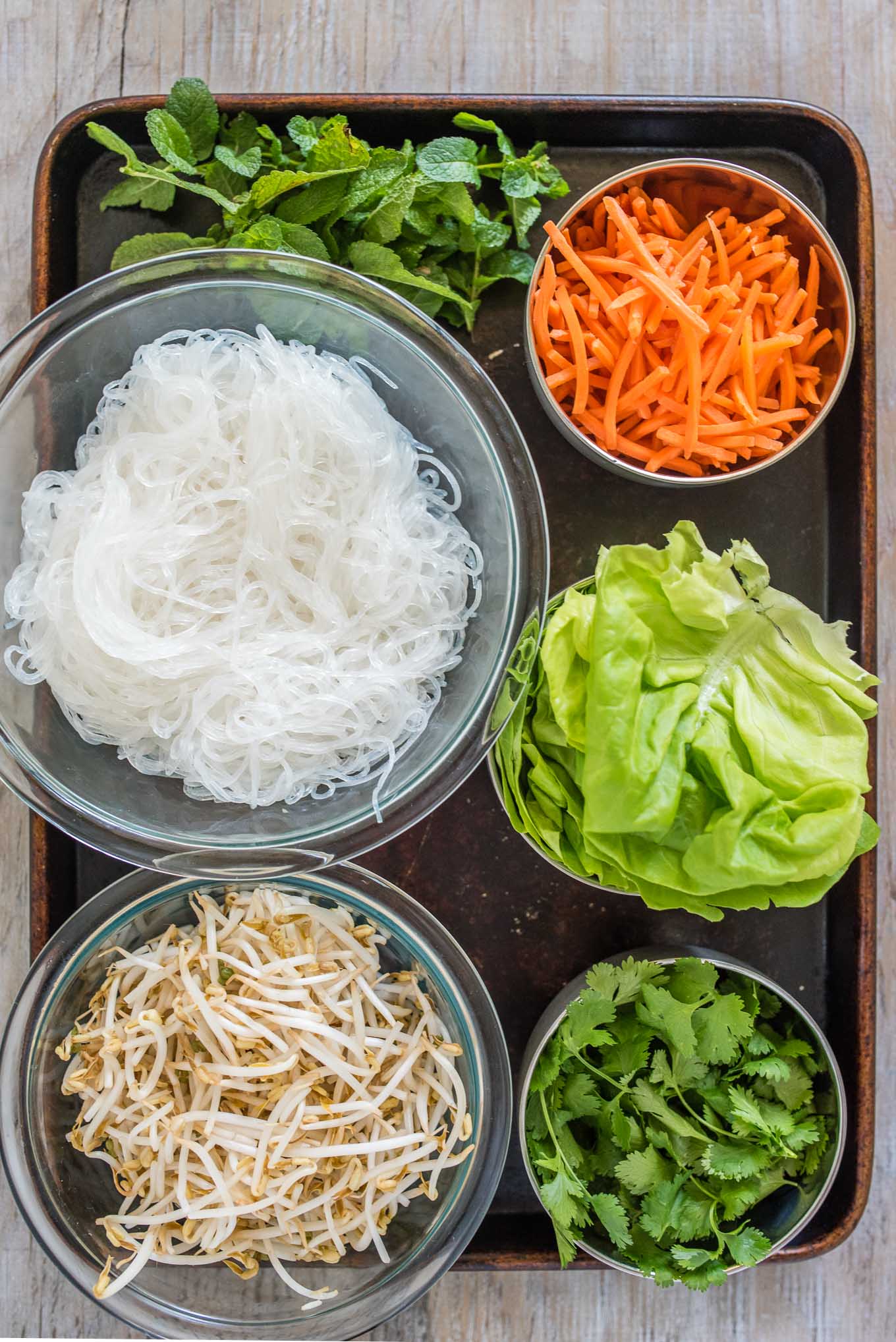 There are a variety of types of summer rolls- some all veggies, some with shrimp, but I knew these grilled turkey strips would be a great addition to keep me feeling full longer. Thank you protein!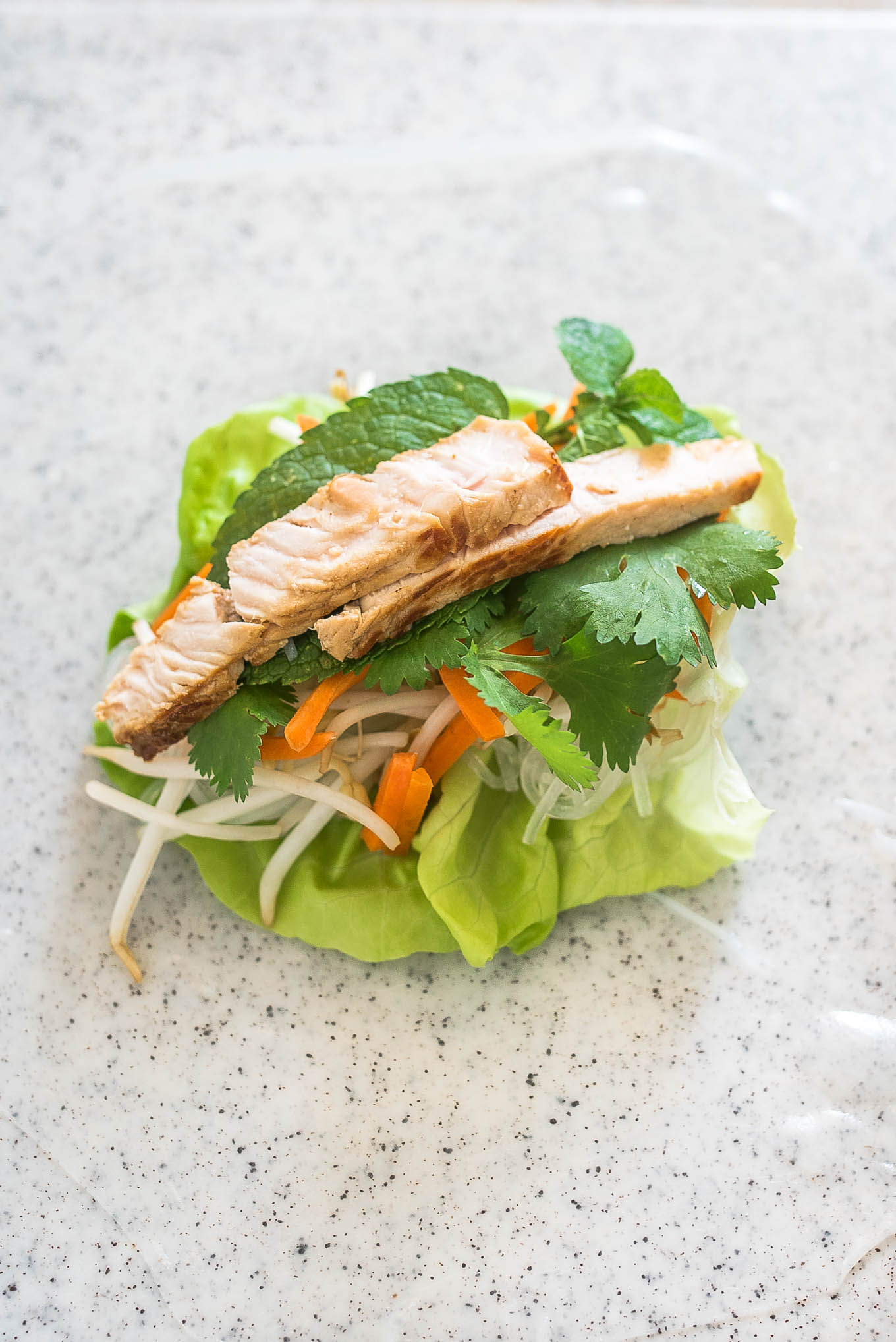 Since there are several ingredients that go into the perfect summer roll, you don't want to stuff them too full of any particular ingredient or you won't be able to roll them.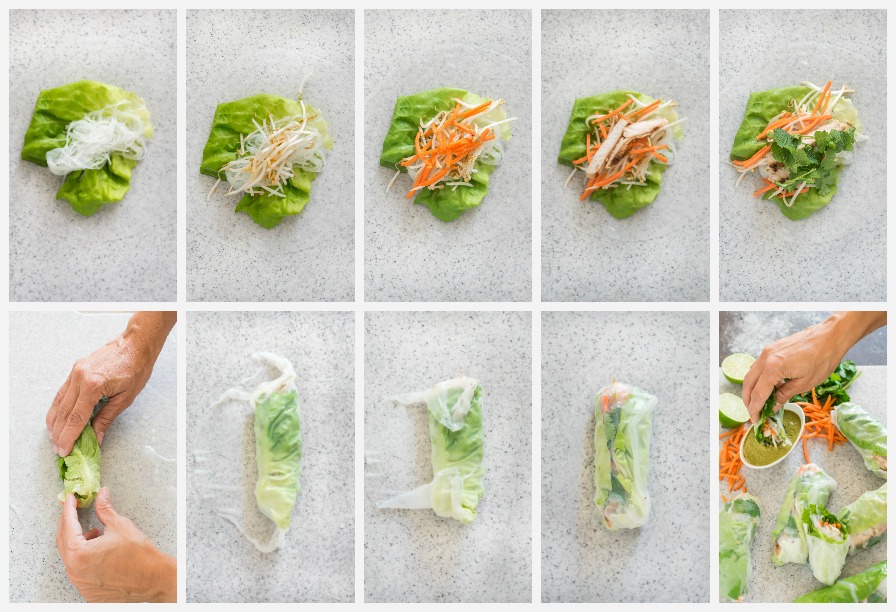 The turkey recipe will allow you to have leftovers which can be turned into sandwiches, salad or enjoyed plain with a grain or veggie. Or you can use it all for rolls and make as many as possible (that would be my vote!).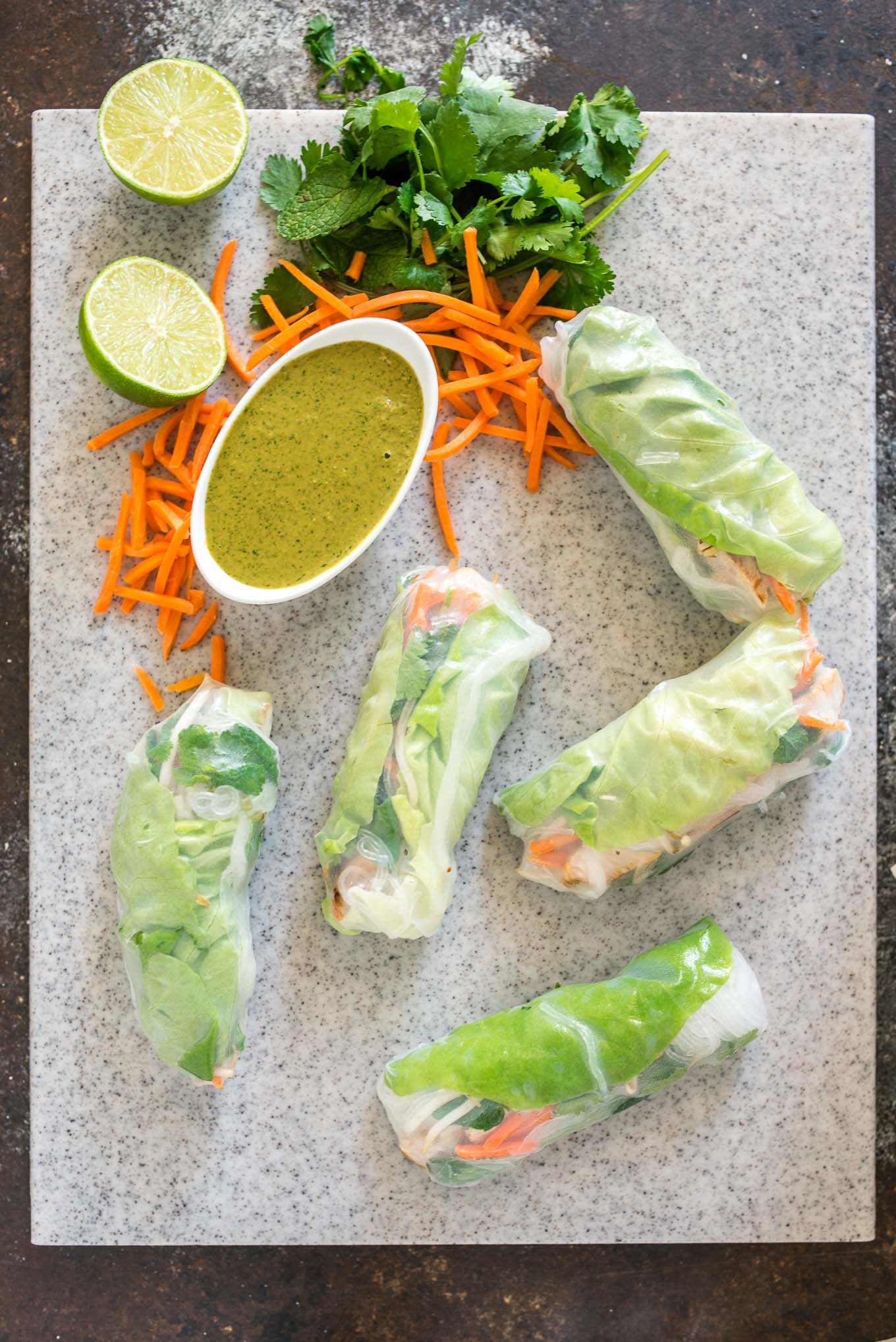 For more inspiration and recipes using turkey, check out ServeTurkey.org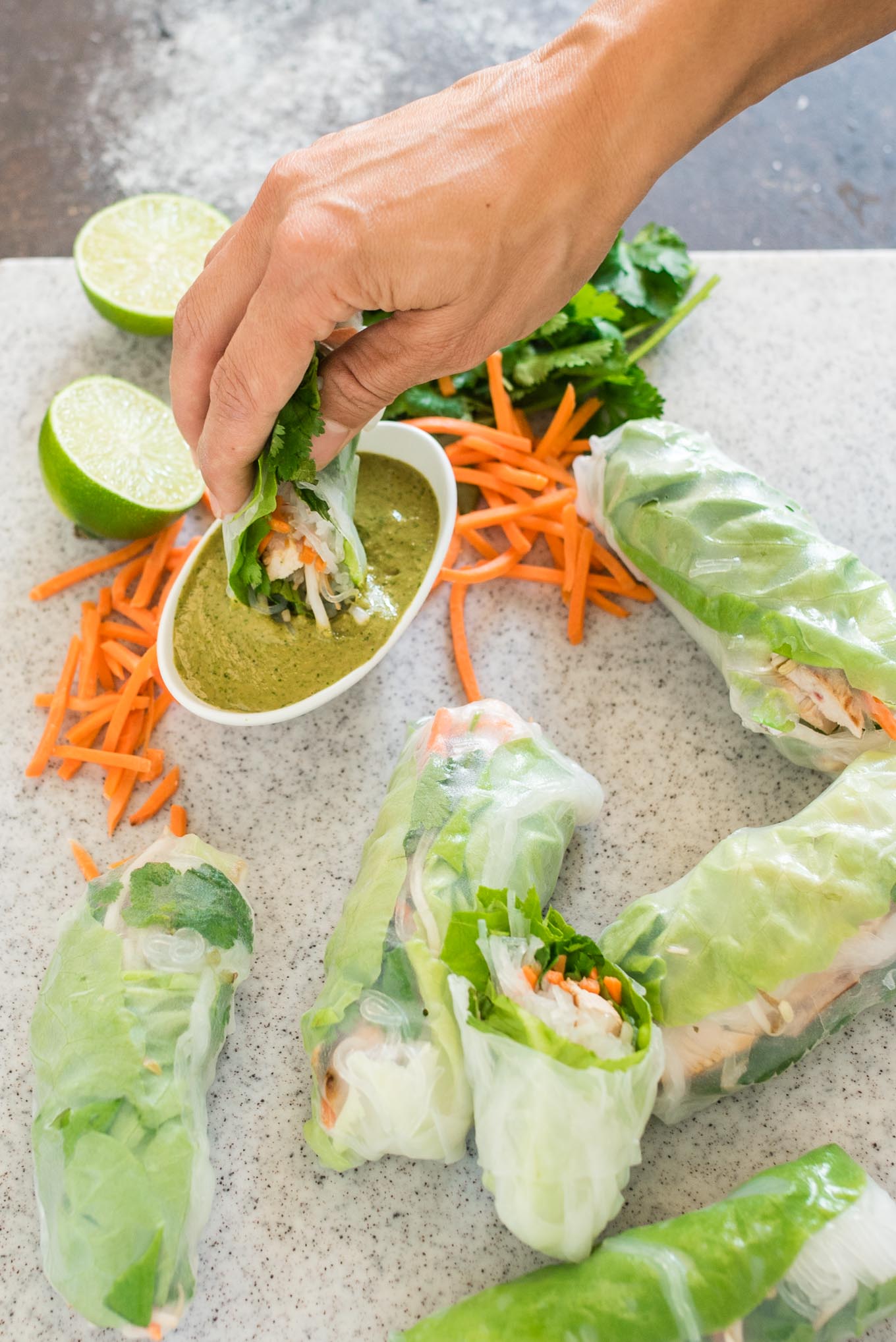 Follow the National Turkey Federation on Twitter and Facebook!

Turkey Summer Rolls With Cilantro Peanut Dipping Sauce
Author:
Melanie F. | Nutritious Eats
Ingredients
For the turkey marinade:
1 lb turkey cutlets
1 tablespoon soy sauce
1 tablespoon olive or avocado oil
1 garlic clove minced
½ teaspoon of grated fresh ginger
Juice of one lime
For the Cilantro Peanut Dipping Sauce:
1¼ cup packed cilantro leaves (about 1 small bunch)
¼ cup natural peanut butter
1 tablespoon soy sauce
2 teaspoons Chili garlic paste
1 clove garlic, minced
3 tablespoons lime juice
1½ teaspoons agave (can sub maple syrup)
For the Summer Rolls:
16 Rice paper wrappers
16 small bibb lettuce pieces (or 8 large ones halved)
4 ounce package bean threads
2 cups bean sprouts
2 cups shredded carrots
1½ cup fresh cilantro leaves (some stems are fine)
1 bunch of fresh mint (1-2 leaves per roll)
Instructions
Marinate turkey cutlets in marinade for at least 30 minutes. Heat grill to medium heat, cook turkey until done (165 degrees), approximately 8-10 minutes, flipping once. As an alternative, in a large skillet heat 1½ teaspoons oil. Add a single layer of turkey breast cutlets (don't crowd the pan), cook for ~8 minutes or until cooked through, flipping once. Repeat if needed. When cooled, cut into thin strips.
To make dipping sauce: blend all ingredients in a blender until smooth. Adjust seasoning as needed (you might need more lime juice or agave). Refrigerate until ready to use. Sauce can be made a day or two in advance.
For summer rolls: Prepare bean threads by pouring hot water over them for ~10 minutes or until softened. Drain well and transfer to a bowl. Prepare all other ingredients in bowls for easy assembly. For rice paper wrappers, dip in a pie plate of warm water until softened (this takes about 30 seconds). Transfer paper to a cutting board.
In a lettuce cup, add a little bit of the bean threads, the bean sprouts, a tablespoon of shredded carrots, a few slices of turkey, fresh cilantro and fresh mint. Roll up lettuce wrap and place on the softened rice paper wrapper.
Fold the bottom half of the rice wrapper up, then fold in the sides, the continue to roll as tightly and carefully as possible. Place on a plate, cover with a damp towel and continue to assemble rolls until you are out of ingredients.