I mentioned in a previous post that I am a newly appointed For Two Fitness® Ambassador. I purchased one of their tanks a couple months ago after hearing great things about them. As soon as the bump was big enough to fill it out a little, I started wearing it to the gym. I literally get several compliments every time I wear it because it is just so cute. It also happens to be super comfortable and I love the way it fits. You might think the form fitting tops might not be as flattering but after wearing it I realized I prefer the baby bump to be obvious especially at the gym when I am more apt to feel self conscious.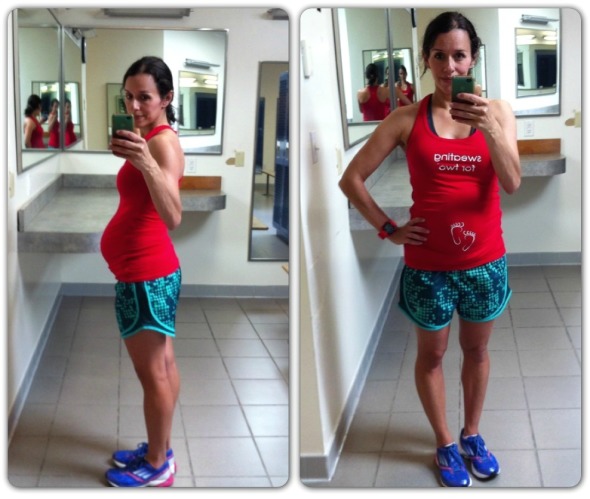 Sporting my tank at 19 weeks
After I tried my new tank top, I went back to the For Two Fitness® website to see what else I might "need" and decided to apply to be an ambassador. I am excited to be working with them over the next month!
A little about the company: For Two Fitness® is the premier maternity fitness apparel brand, proudly made in the USA and available worldwide. They are committed to celebrate and support moms who are dedicated to healthy, fit, pregnancies. They believe your apparel should flatter your bump, enhance your confidence, and inspire your joy. Their clothes easily cross over for daily wear and lounging comfort. 
I was thrilled when they said they'd send me a complete outfit to review (even though I already knew what I thought about their apparel) so I chose a t-shirt and some pants. I figured my days of wearing tank tops outside here in Washington are limited, although I can always wear them to the gym, so I thought the extra coverage of the t-shirt would not only be great for exercise but running errands as well. The material is super soft just like the tank top, breathable and moisture-wicking. I sweat way more when I am carrying around extra baby weight yet I remained dry wearing these tops. Love that!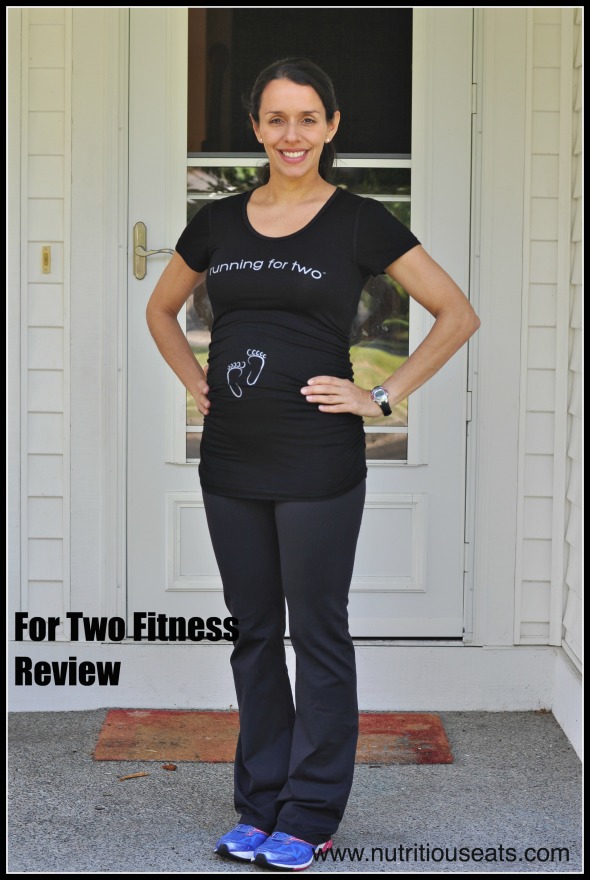 When it's fall in Washington there is just that chill to the air and I always crave warm cozy pants so I that is why I wanted to try these Ultimate Maternity Micro-Plush Fitness Pants. This bootcut pant is great for any exercise as well as a casual day of running errands. It has a super soft and cozy ultra-soft brushed Supplex® interior which is going to be perfect for the cool fall and winter weather here. At 31.5 inch inseam I figured I would have to get them tailored (I am a 5'3″ shorty) but the stretchy fabric allowed me to pull them up enough to where they sit comfortably on my hips but don't drag on the ground. The 3-way belly panel (fold-over mid rise, full belly panel, and under-belly) gives you fully customizable support and accommodates every woman's preference. I am going to get A LOT of use out of these.
Running for two at 22 weeks in comfort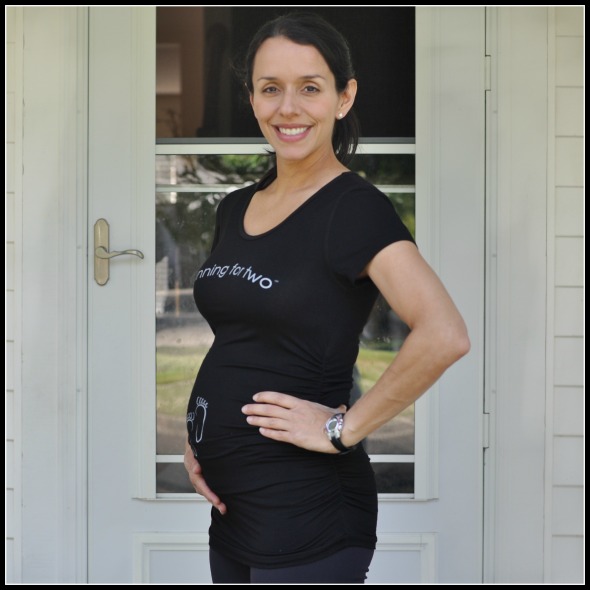 As you can see I have a pretty short torso, so these tops are probably longer on me than most women, however they have the perfect side-runching so I can easily adjust it to fit shorter or pull it down to cover my growing belly. The slogans are fun and are perfect for any active mom-to-be: Running For Two, Cycling for Two, Yoga for Two, Dancing for Two and more.
Now all I need is one more top to round out my collection before my pregnancy ends. I swear these clothes make you motivated to work out and they feel so good on. I am already sad at the thought of not being pregnant to wear these awesome clothes, but I am pretty sure the pants are fitted enough for me to be able to wear them post-partum too.
You can order For Two Fitness® apparel online or at select locations (see website for a list of retailers). Click HERE to shop for their awesome stuff!
Disclaimer: as mentioned above, as a For Two Fitness® Ambassador I was sent the outfit pictured below free of charge. I purchased the tank top with my own money because I love their stuff.