Greetings from San Antonio! Just stopping in for a quick visit. Vacation is off to a great start. We went to Fredericksburg, Texas for a few days to visit my in-laws and every time I go there I am reminded at how much I love that town. It's a small town yet there is a lot to do- adorable shops, museums, wineries, etc. Of course I didn't take any pictures of the town but we mostly had fun family time. If you are ever in the San Antonio/Austin area you should definitely go!
Now that I am back at my parents house we are letting the kids lead the way and set the agenda. So far we have crossed off Sea World, the movies and lots of swimming off the list. I will have to say I might be most excited about all tge mexican food I will be eating. There are dozens of our favorite Mexican restaurants here so it's time to get serious.
Of course with Mexican food, comes the need for exercise. For me, I like to exercise on vacation but I don't like to spend a lot of time doing it. So it's best to either incoporate it into your day- i.e. hiking, swimming, etc. or just keep it short and simple. 20-30 minutes for a sweat session is perfect for me on vacation. It's doable, it doesn't take away from all the fun things we have planned and you can find no-equipment workouts so that you can do it anywhere! Backyard, garage, inside the house, hotel room, wherever!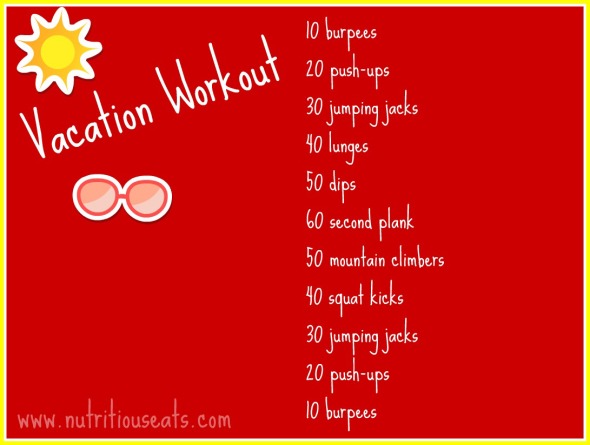 I love workouts like these that you can add to by warming up with a short run or whatever you like. Or if you feel like you want more, just do it twice! So that's it, just wanted to share another workout to add to your Pinterest collection. I have a no-equipment workout board that I refer to all the time and I am always adding new ones.
Hope you are having a nice summer. If you want to see what we are up to on vacation make sure to follow me on instagram!
Question: Do you exercise on vacation? Do you go for the regular time or an abbreviated session?