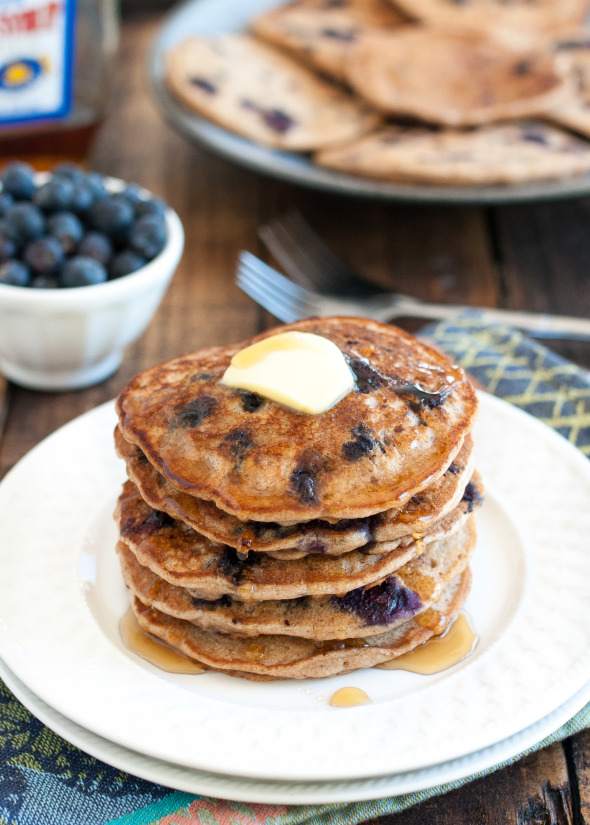 Whether you are vegan, cooking for friends and family who are vegan or just run out of eggs and cow's milk, this is a fantastic pancake recipe. You can hardly tell the difference from "regular pancakes" and these have become one of my favorites. The cinnamon really comes through which I just loved. It's been a while since I've made these, but I was happy to use up some more pantry ingredients before our move and thought it was the perfect time to start republishing some of my old posts.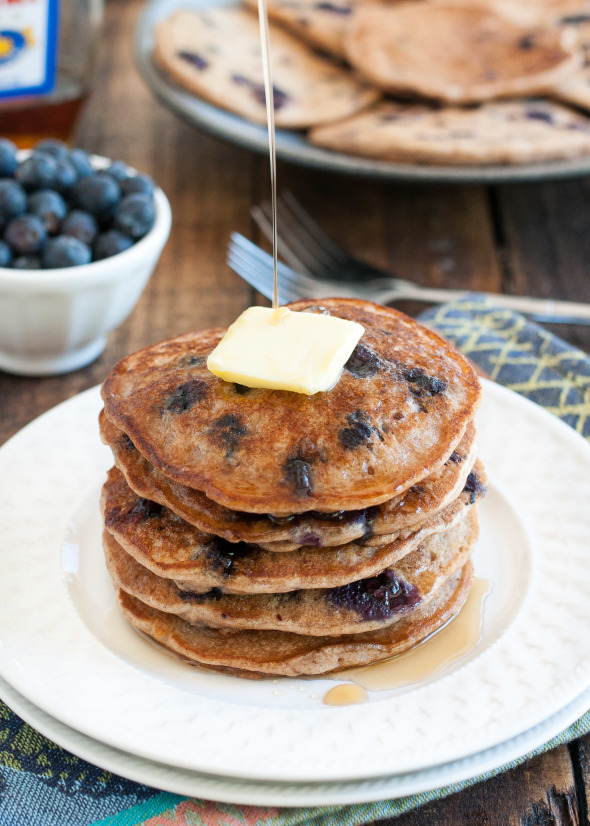 I had the pleasure of trying fresh Oregon blueberries, the first of the season, at the Our Table Cooperative farm during my trip to Portland last weekend. Did you see my instagram post? If you're not following me, please do! It was so fun to pick the blueberries fresh off the vine.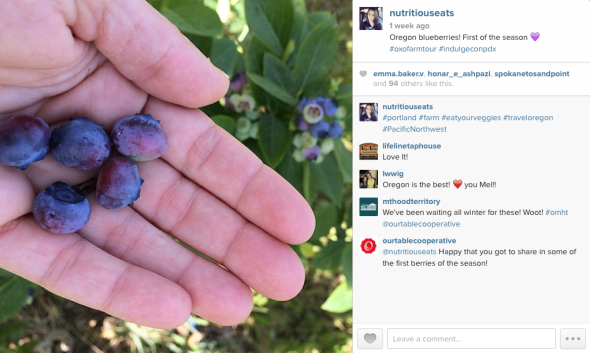 Blueberries are one of my kid's favorite fruits, and one of our favorite pancake add-ins, and I love the convenience of no chopping or peeling. Wash and they are ready to go! Plus they are packed with antioxidants and vitamin C and are a good source of fiber.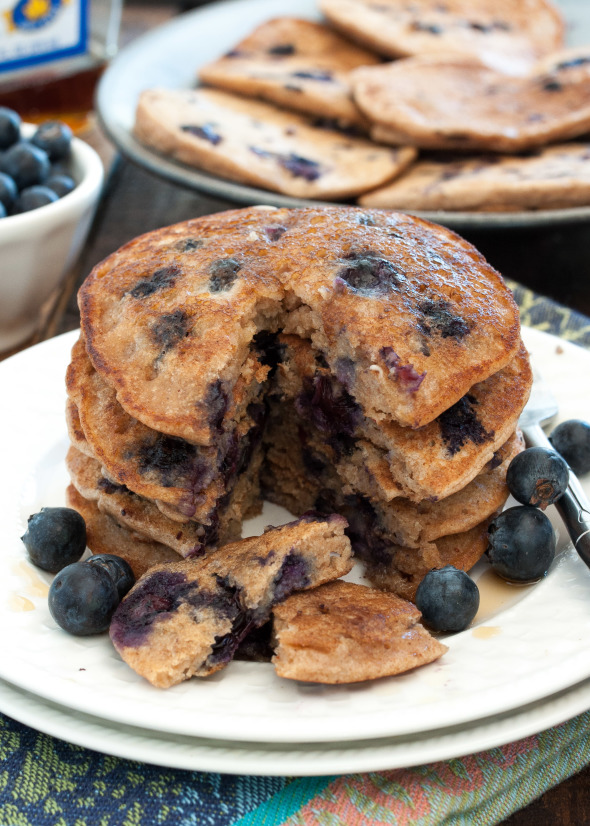 Sometimes I make these for the kids' lunch since they are so easy…not to mention healthy and delicious! These keep well in the fridge too so if you happen to have any leftover you can enjoy them for a few days.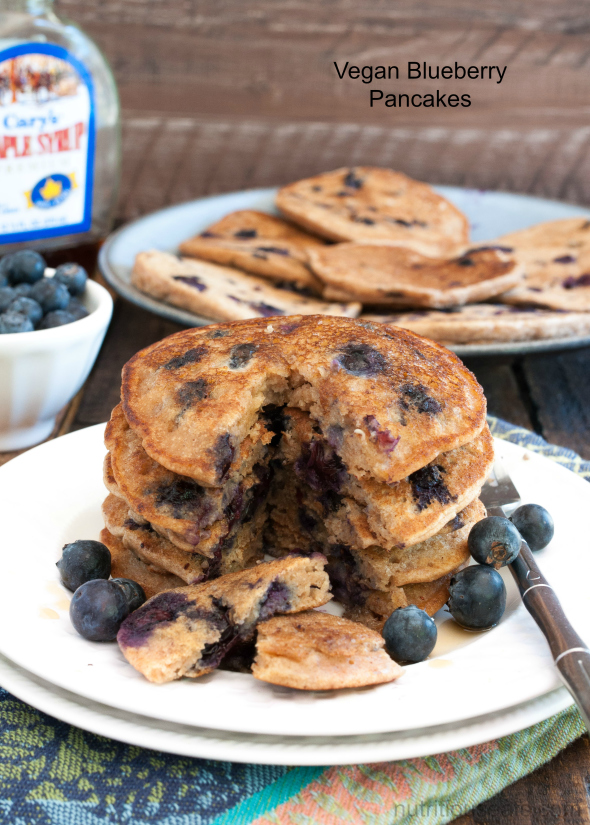 This post was first published in July 2011. The content has been altered, but I thought it would be fun to leave my meal planning just to give you ideas. I find it fun to see what I was making back then!
Moving on to meal planning. If you currently don't give your meals a thought during the weekend, I suggest by Sunday afternoon, you jot down a few things you want to make. I can't stress enough how helpful it is to have a plan; it will most certainly cause you to eat more healthfully throughout the week. When you're hungry and aren't prepared to cook, the drive-through or take-out restaurant looks a lot more appealing. If you have a super busy schedule, try out some easy recipes like this pancake one- serve it with fruit and scrambled eggs and there is little stress involved.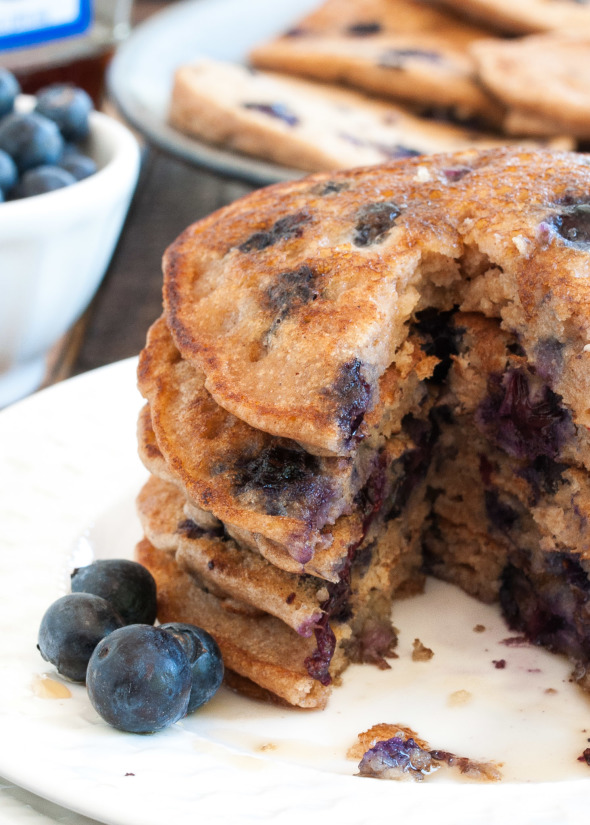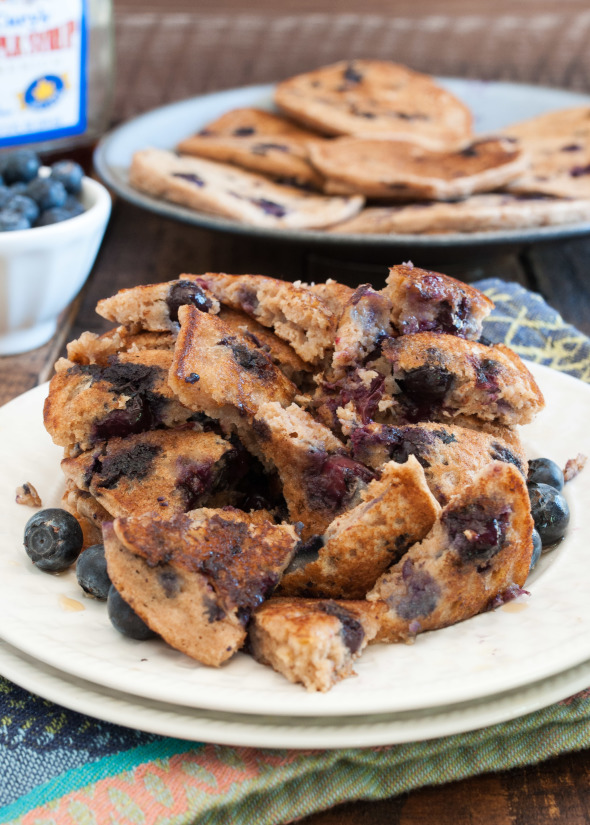 Menu for the Week of July 31st
Tex-Mex Calzones, Salad with Grilled Corn
Monday
Shrimp Caesar Salad (didn't get to this last week), Bean & Cheese Tacos for Kids
Tuesday
Summer Lemon-Vegetable Risotto, Green Salad
Wednesday
Chicken Soft Tacos, Guacamole, Slaw
Thursday
Lasagna (haven't made one in ages- not sure what kind), Green Salad
Friday
Take-out or Homemade Pizzas
Vegan Pancakes
Author:
Melanie F. | Nutritious Eats
Ingredients
1¼ cup whole wheat flour or whole wheat pastry flour
2 teaspoons baking powder
½ teaspoon salt
1 teaspoon ground cinnamon
2 Tablespoons vegetable oil
⅓ cup water
1¼ cup soy milk (or sub non-dairy milk of choice)
1 teaspoon vanilla extract
2 Tablespoons pure maple syrup (use the good stuff)
1¼ cup blueberries, washed and free of stems
Instructions
Mix together all the dry ingredients. Mix together wet ingredients in a separate bowl. Combine wet to dry and stir until just combined. Don't over mix.
Fold in blueberries. Let mixture sit while you heat your non-stick griddle or skillet on medium heat.
Coat griddle with cooking spray and using a ⅓ cup measuring cup pour batter onto pan. Cook for a few minutes until bubbles start to form and under side of pancake is lightly browned. Flip and cook another minute or two. Keep on plate in a warm oven until all the pancakes are done. Yield: 10 pancakes.
Notes
Recipe slightly adapted from Vegan with a Vengeance