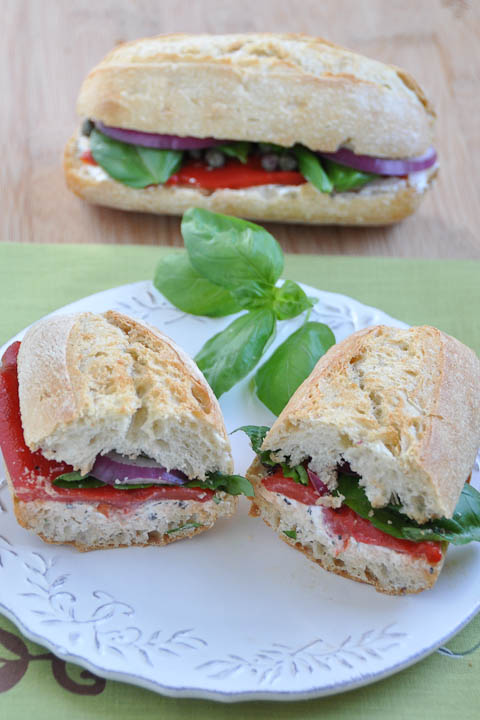 Think you'll miss meat in your sandwiches? Try this!
I made this tasty sandwich a while ago….weeks after I created this one. It was hearty and very satisfying for a vegetarian sandwich- such a refreshing change from our typical lunch. The herbed flavor goat cheese is just scrumptious and I love anything with basil leaves on it.
These are simple ingredients to pick up if you want to make lunch for a friend, pack for a picnic or take to work for a brown-bag lunch. You can make as few as one or as many as three sandwiches using these ingredients, then you'd need more red bell peppers. You can always roast the bell peppers yourself. I just happened to have this jar waiting to be eaten.
I always remove a little of the bread from the inside of the rolls mainly so that I can taste the filling more than just a mouthful of bread. Enjoy!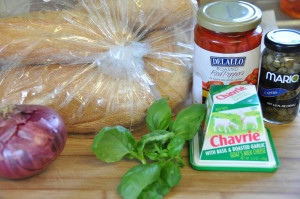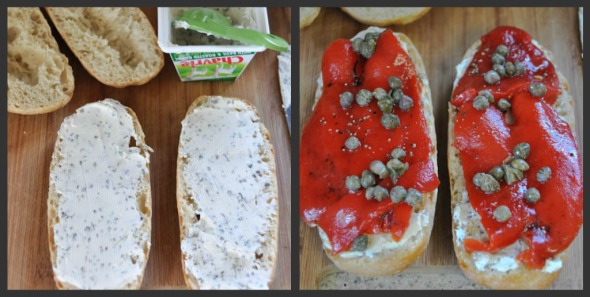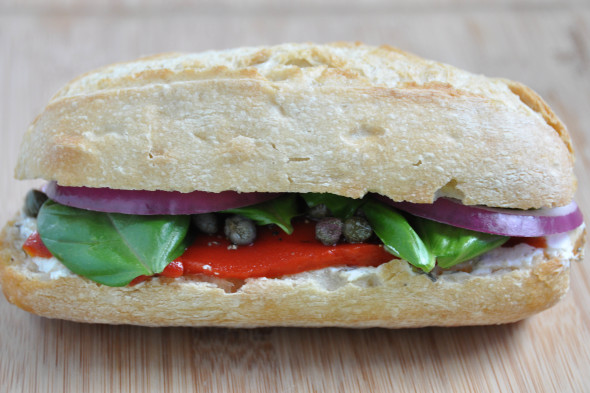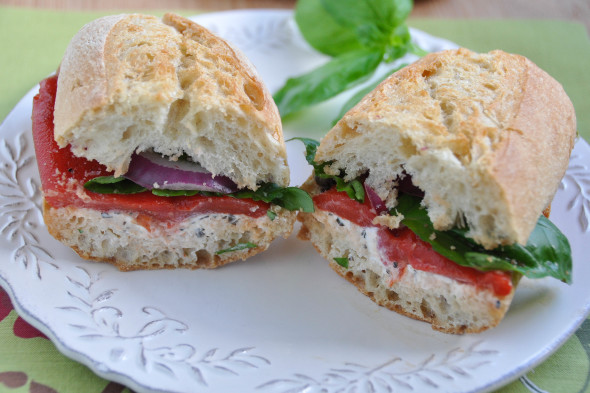 [print_this]
Goat Cheese and Roasted Red Pepper Sandwich
INGREDIENTS:
Olive oil
French bread, Crusty sub roll or Ciabatta rolls- hollowed out if too thick
5 ounce container goat cheese with basil and roasted garlic (2 Tablespoons per sandwich)
12 oz jar red peppers, drained
2 teaspoons balsamic vinegar, plus more for drizzling
1 Tablespoon capers- 1 tsp capers per sandwich
1/ 3-1/2 cup basil leaves (you need about 4 large leaves per sandwich)
1/2 red onion- thinly sliced
DIRECTIONS:
1. Remove red bell peppers from jar, pat dry with paper towel. Toss with 1 Tablespoon olive oil, 2 teaspoons balsamic, salt and pepper, set aside.
2. Cut bread in half, tear out some of filling if bread it very thick. Lightly toast or warm in oven. Set aside.
3. Spread 2 Tablespoons of goat cheese on bottom half of sandwich. Layer with roasted bell peppers. Top with capers, basil leaves and red onion slices. Drizzle with balsamic vinegar. Cut in half and serve. Yield: ~3 sandwiches.
[/print_this]
If you like this post, please share it with others! As always, thank you for following Nutritious Eats!

Pin It