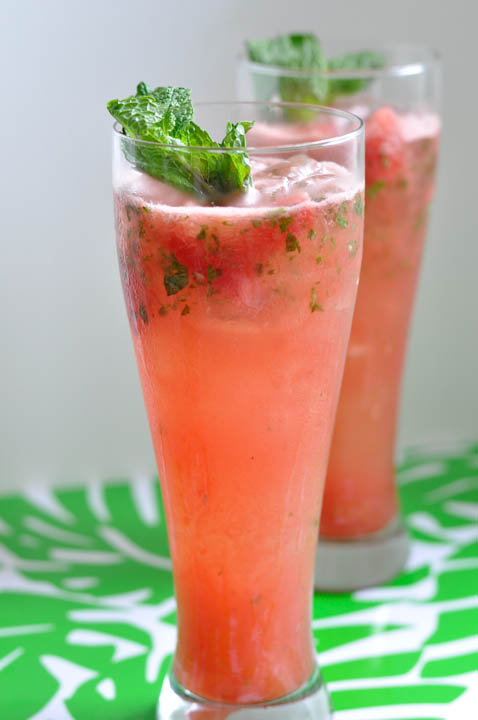 I've never really liked the word "foodie". I am not sure why. I am, however, a so called foodie. That I know. It is simply an informal term for an aficionado of food and drink. From Wikipidia, here is the difference between the term foodie and gourmet: "the two terms are sometimes used interchangeably, foodies differ from gourmets in that gourmets are epicures of refined taste, whereas foodies are amateurs who simply love food for consumption, study, preparation, and news. Gourmets simply want to eat the best food, whereas foodies want to learn everything about food, both the best and the ordinary, and about the science, industry, and personalities surrounding food."
Luckily this foodie has had the pleasure of living in some pretty great cities for dining: San Antonio, Austin, Boston, San Diego, Oahu….oh and we can't forget about Fort Leonard Wood. Juuuust kidding. I do live here, but it's not great for dining. There are no cool cafes, wine bars or fancy 5 star restaurants. Not much at all. This makes a foodie very sad. There is however, a Ryan's steakhouse, a Cracker Barrel, a Waffle House and a Ruby Tuesdays!
I've learned to adapt (especially since we have kids and no family nearby anyway), to suck it up and just cook even more at home. If I am desperate for a break in the kitchen I will just have to go to one of the chains. Cool restaurant dinners are not in our dating cards for the next year.
We did try Ruby Tuesday's twice over the last month and we were surprisingly very pleased with it! Much better than Chili's or some of the other American restaurants in my opinion (although it's been ages since I've been to those places). The hubby had an Asian salmon with spaghetti squash and I had a mango chicken and skewer of garlic shrimp. The garlic cheddar mashed potatoes were very tasty and the salad bar was great. I can't believe I am excited about a Ruby Tuesday's but it's all relative. When there is nothing to choose from, you appreciate the little things.
The point of my post- the drink menu– was fantastic. Good beer selection, good looking margaritas including pomegranite and a skinny margarita that I can't wait to try. The wine was very inexpensive and they had all these fun non-alcoholic drinks. Pregnant woman's dream!
So my husband and I shared a Watermelon Fizz, a low calorie, carbonated, non-alcholic beverage. As soon as I had a sip I thought, this is so refreshing…I can totally replicate this at home! And I did.  I always love finding low calorie, fun drinks to sip on during pregnancy and this one is perfect. Whip up a batch if you are having a luncheon or a friends over. I think it would be great with vodka too!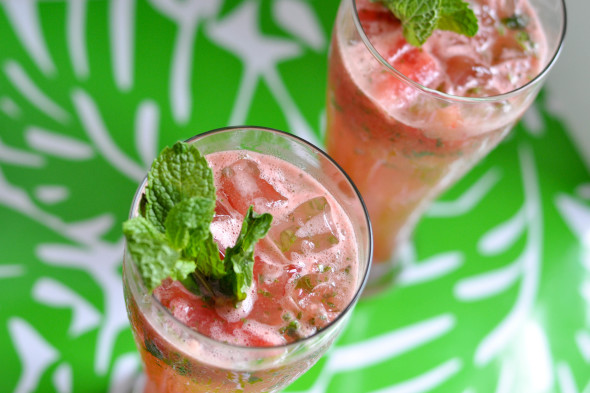 On to Meal Planning Monday! To all of my new followers from the Blog Hop, on Monday (well usually by Sunday evening) we plan our dinner menu for the week. Just post what you're having into the comments section. It helps get you organized and have a plan. Plus you can read what others are having which will hopefully get you some ideas!
Menu for the Week of August 8th
Sunday
Sausage and Spinach Stuffed Shells, Salad, Sauteed Portobella Mushrooms
Monday
Homemade Falafel in Pita, Tabouli, Tzatziki (trying to master this- last time I used canned garbanzo beans, this time I'm using fresh)
Tuesday
Leftovers
Wednesday
Bean & Guacamole Chalupas, Salsa, Mixed Sauteed Veggies (whatever we have on hand)
Thursday
Vegetarian Rice Noodle Salad
Friday
?

[print_this]
Watermelon Fizz
INGREDIENTS:
2 cups club soda
1/4 cup fresh mint leaves, roughly chopped, plus a few extra big springs for garnish
1 3/4 cup watermelon chunks, divided
1/4 scant cup fresh lime juice (about 2 juicy limes)
2 teaspoons sugar
DIRECTIONS:
1. Fill two large (20 oz) glasses full of ice. In a blender combine club soda, mint, 1 1/2 cup watermelon, lime juice and sugar. Blend for about 10 seconds. Divide between 2 glasses. Garnish with reserved 1/4 cup thinly sliced watermelon (divided) and mint springs. Serves 2 or 4 (if you want to use smaller glasses).
COOK's NOTES: this is not a very sweet drink. If you are looking for something sugary, you'd have to add more sweetener.
[/print_this]