I had such a wonderful weekend in Seattle with my girlfriend Heather. I had no idea Seattle had such an awesome downtown- the shopping, the restaurants, the market! Fabulous! We live about 50 miles south of downtown so we haven't had a chance to visit much since we moved here almost a year ago. I am definitely going to start my list of places to try before we leave. Luckily we stayed in such a great location that we were able to walk everywhere- Pike's Market was 4 blocks away, shopping started at 2 blocks away and all restaurants were visited by foot. I loved that we didn't have to get in the car all weekend!
I briefly searched restaurants the week prior and I found one amazing review after another. So many to chose from! Ultimately I went with places that were in walking distance to the hotel and I thought they were all great, Palace Kitchen, the Purple Cafe and Wine Bar and Lola. If you ever find yourself passing through Seattle, make sure to research restaurants- the food is fantastic!
Today I am sharing what I ate this month at home via iphone pics…only because I think it's fun to share ideas of regular meals that don't make it on the blog. I also love doing this feature because I can get all these food photos off my phone and don't have to spend time editing nice photos!!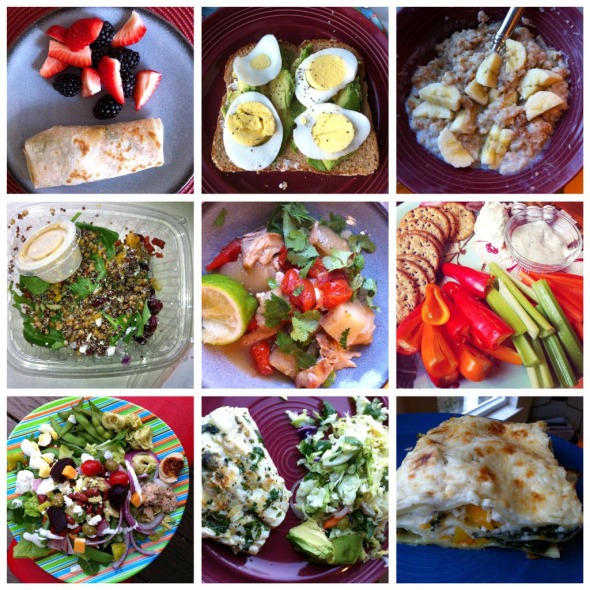 A variety from breakfast, lunch and dinner!
1) Egg and spinach breakfast taco with fruit
2) Avocado on whole wheat toast with sliced hard boiled egg
3) Oatmeal with almond butter and bananas
4) Trader Joe's Wheat berry and Spinach/Kale Salad
5) Cilantro Chicken and Potato Stew
6) Pre-dinner snack of crackers/cheese and raw veggies
7) Huge dinner salad bar
8) Italian halibut and avocado-lime slaw
9) Butternut Squash and Kale Lasagna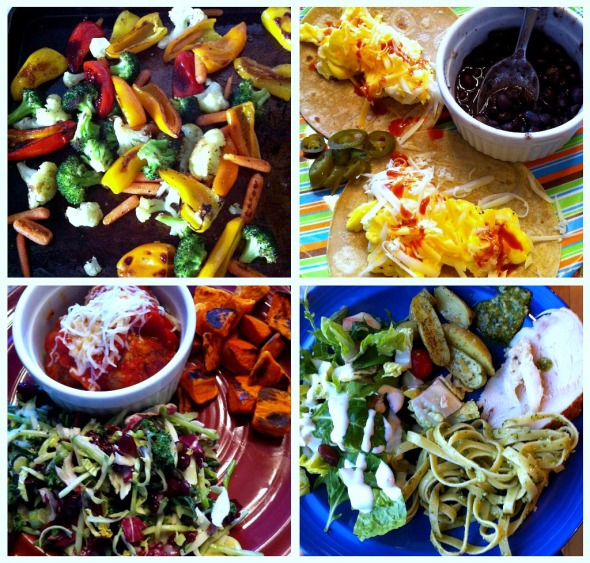 10) Roasted veggies to go on top of pizza
11) Breakfast for dinner- Egg tacos on corn tortillas with homemade black beans
12) Turkey meatballs, roasted sweet potatoes and power slaw salad (clean out the fridge meal- delicious but random!)
13) Another assortment of leftovers- salad, pesto pasta, roasted potatoes and baked chicken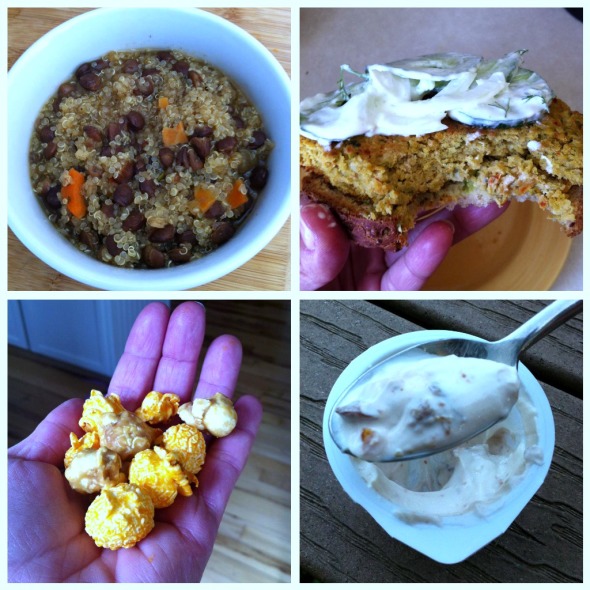 14) Quinoa and Lentil Soup (from my Bestowed box- great to keep on hand for quick-fix meals- high fiber, low sodium, fat and calories!)
15) Open-faced Falafel burger with Creamy Dill Cucumber Salad
16) Cheesey-Caramel popcorn from G.H.Cretors (bought at Costco- so amazing and dangerous!)
17) Chobani Bites Fig and Orange zest flavor
Last week I asked my kids to each plan one meal for this week's menu so I gave them a pile of cooking magazines and let them choose. This is a great way to get your kids involved in cooking and nutrition and will hopefully encourage them to be try new dishes. I quickly planned the rest today so I could get this post up, but might have to modify things after I go through and see what we have on hand.
Meal Plan 
Sunday
Chicken, Bean, Cheese and Guacamole Burritos, Cilantro-Jalapeno Slaw
Monday
Chicken Pot Pie Soup (chosen by my son)
Tuesday
Grilled Ribeye, Chimichurri, Smashed Garlic Potatoes, Fresh Artichokes (steak chosen by my daughter)
Wednesday
Salmon Cakes, Rainbow Swiss Chard
Thursday
Leftovers, plus roasted sweet potatoes
Friday
Out for pizza
Have a great week everyone!
Question: How was your weekend- what did you do? What's on your meal plan?