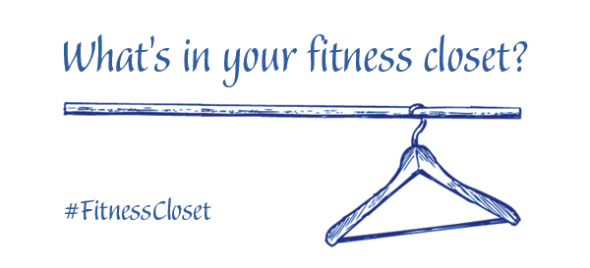 Being a stay-at-home mom who exercises on a regular basis allows for me to dress, um shall we say comfortably? The good news is that I always have make-up on and my hair is combed upon leaving the house to take my son to school! Yay me.
I'll admit though I put on workout clothes first thing in the morning about 95% percent of the time. When I am really on top of things, I workout, shower and put on regular clothes before leaving but that isn't the norm. Luckily the exercise clothes they make these days are SO cute. I have to say Nike, Lululemon, Under Armour and Athleta make up the majority of my workout gear (plus Adidas for shoes).
Don't you just love knowing where others got their cute workout clothes? A fellow FitFluential blogger Pavement Runner came up with this post idea and thought we should all share the workout gear in our closets. Since my closet is quite dark and a mess I brought out a few things to model for you.
Favorite long sleeve tops
1. Nike Wear Blue, Run to Remember -this shirt for my running group. It's lightweight and comfortable. Plus I love seeing the sea of blue on Saturday mornings.
2. Avia neon pink– my mom picked up this hot pink shirt for me and I love it. Could it be ANY brighter? Not really, but at least the cars can't miss me!
3. Athleta in pretty purple– I adore this shirt from Athleta and I couldn't find it anymore on their site (I bought it over a year ago). I get so many compliments on it.  It's cute enough to wear casually or over a tank, running, when traveling, whatever!
4. Nike solid black (left photo in second collage)- I find myself wearing this a lot because as much as I love the bright colors, you can't beat black clothes!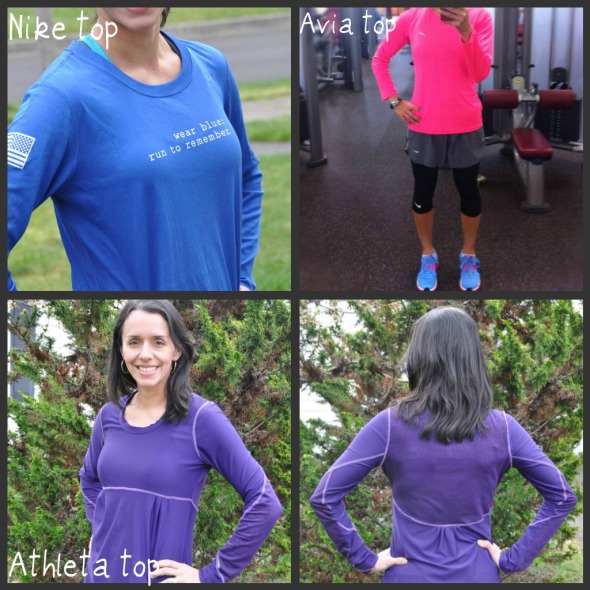 Favorite Jacket & Multi-Purpose Items
1. Actra purple zip up– another gift from my mom that looks super cute with jeans as well as workout clothes. It has the thumb holes and it's so warm and cozy.
2. Lululemon shorts– these are so soft and comfortable. I wear them for lounge wear, weights, yoga, basically anything!
3. Lululemon Wunder Under Crop– these are the best, most comfy yoga pants!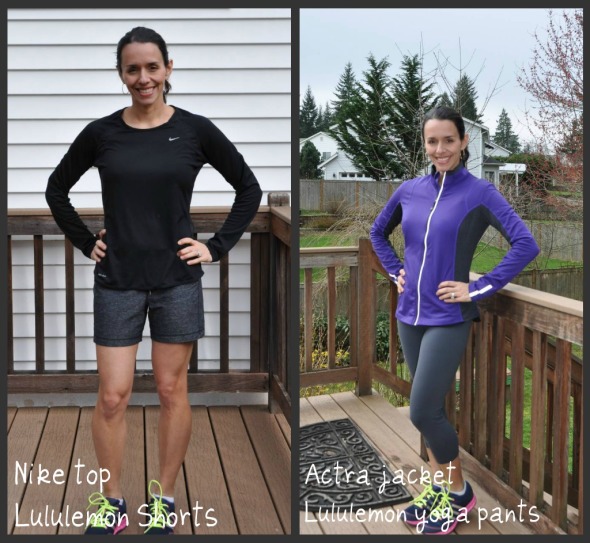 My favorite shoes
1. Nike– pretty, bright and comfortable! Nike makes some of the best looking shoes in my opinion.
2. Adidas– been wearing Adidas for running as long as I can remember (I've had the marathon and Climacool). I reserve this newer pair for my inside treadmill workouts. Love them!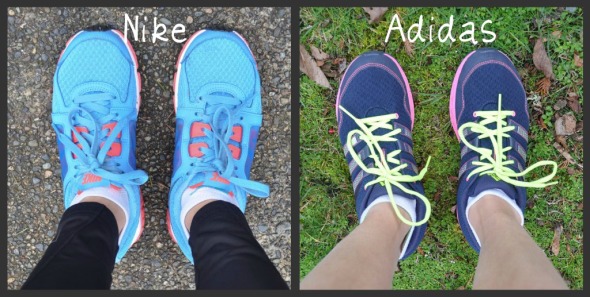 Favorite Workout Pants
1. Running tights from REI– I bought these  in Missouri in the winter when I quickly learned that I wouldn't be running outside without them. I never imagined I'd be comfortable wearing tights but I love them and have gotten a lot of use out of them here in Washington too. I don't see the exact pair I bought but I linked to a pair that look similar.
2. Runabout pants from Athleta– I bought these after my last pregnancy so now wish I had the extra-small as these are bit baggy in the waste and bottom area. The are little heavier weight then I like my running pants but they are great for errands and other workouts when you want to stay warm.
3. Nike black capris– very first top right photo (worn under the nike running shorts). These are amazing. The fabric is a perfect mix of compression and comfort.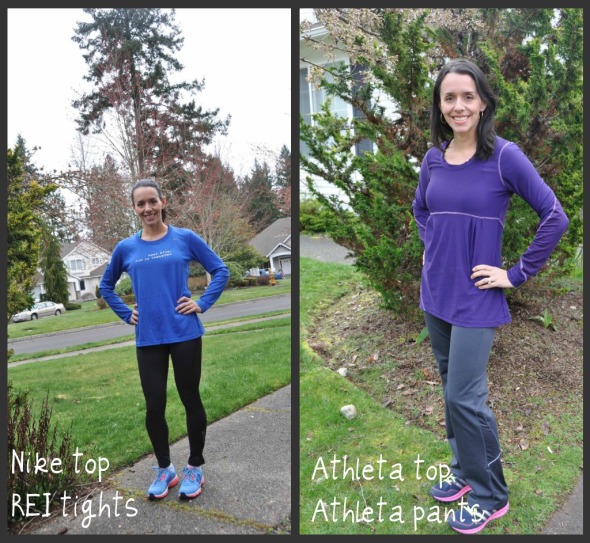 And that is just a small fraction of some of my favorites! Since I have so many workout clothes I am going to save tanks, t-shirts, the rest of my shorts and accessories for the second edition of "what's in your fitness closet?"!
Before I go, I wanted to let you know I skipped meal planning because my mom is visiting for the next week and a half and I never know what shenanigans we'll be up to. We did make a fabulous salad bar last night which really hit the spot. Have a great week everyone!
Question: What are you favorite workout clothes? I'd love to see what's in your closet! Have any meal planning done for the week?
Disclaimer: I have no association with any of these brands. I was not compensated for this post; I just love all these brands and their products and wanted to share with you!