White Fish With Orange Salsa is a fresh and light dish that is gluten free, Whole 30 compliant and simple to prepare.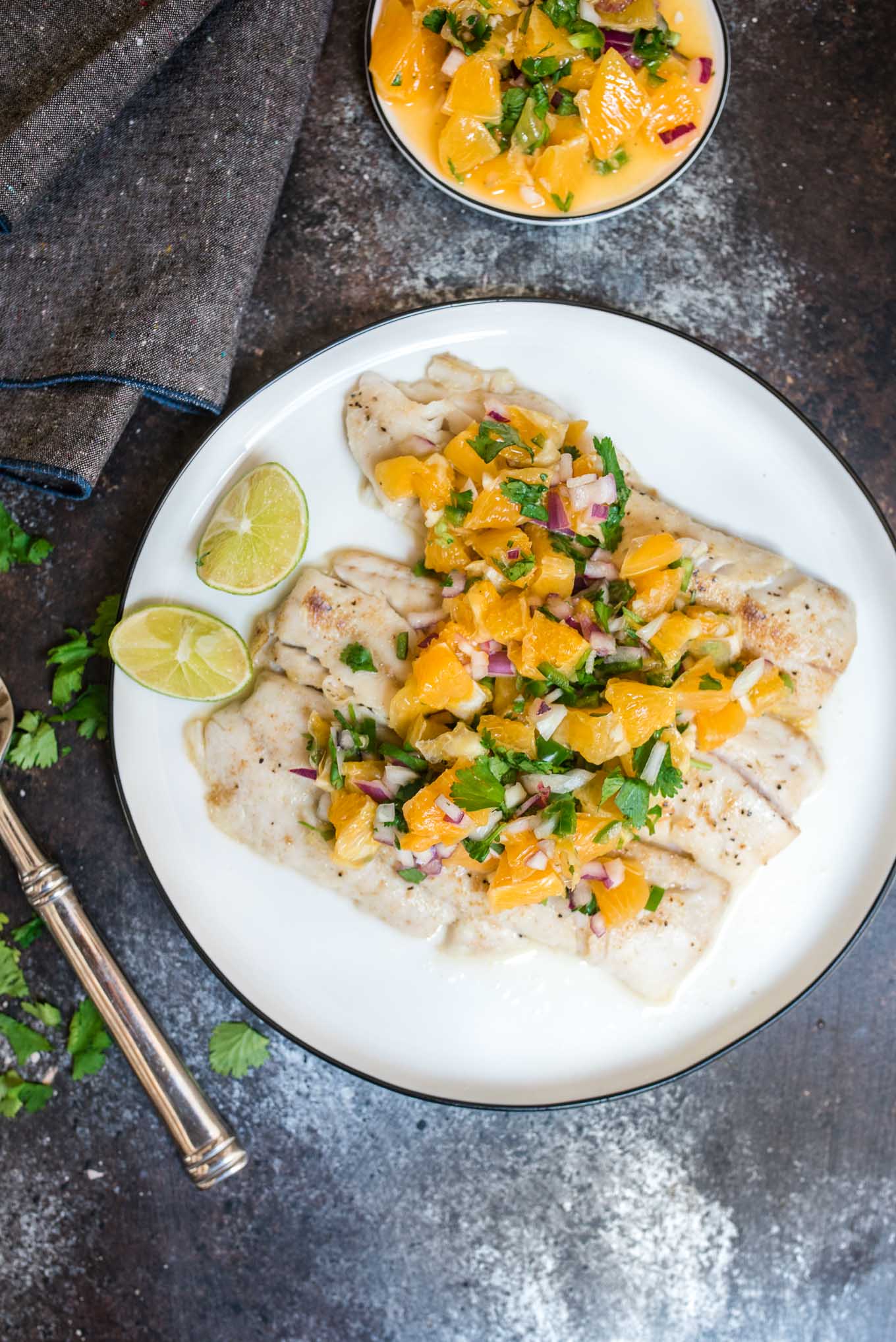 White Fish with Orange Salsa goes great with a salad or can be turned into a yummy fish taco with a corn tortilla, some shredded cabbage and guacamole!
Summer is in full swing which means lots of fun activities for the kiddos, playdates with friends, tons of pool time and not so much thought about food.
I have started placing weekly orders at our local HEB so that I don't have to drag four kids to the grocery store, thank you God for curbside pickup. Grocery shopping with kids goes down as one of my most detested things to do, right up there with going to the dentist.
But I haven't been planning very well and have allowed my diet to include more splurges than not. Can we say Chik-Fil-A and Taco Cabana? Oh my word, if you haven't been to San Antonio, we got some seriously good eats here.
Anyway, I had to get back to fresh and healthy. I bought the most delicious oranges at Costco and wanted to try a salsa since not everyone can eat tomatoes, for example people omitting nightshade fruits and vegetables. I have done mango, pineapple, apple, of course standard tomato, but never orange. It was yummy paired with the cilantro, garlic and heat from the jalapeño.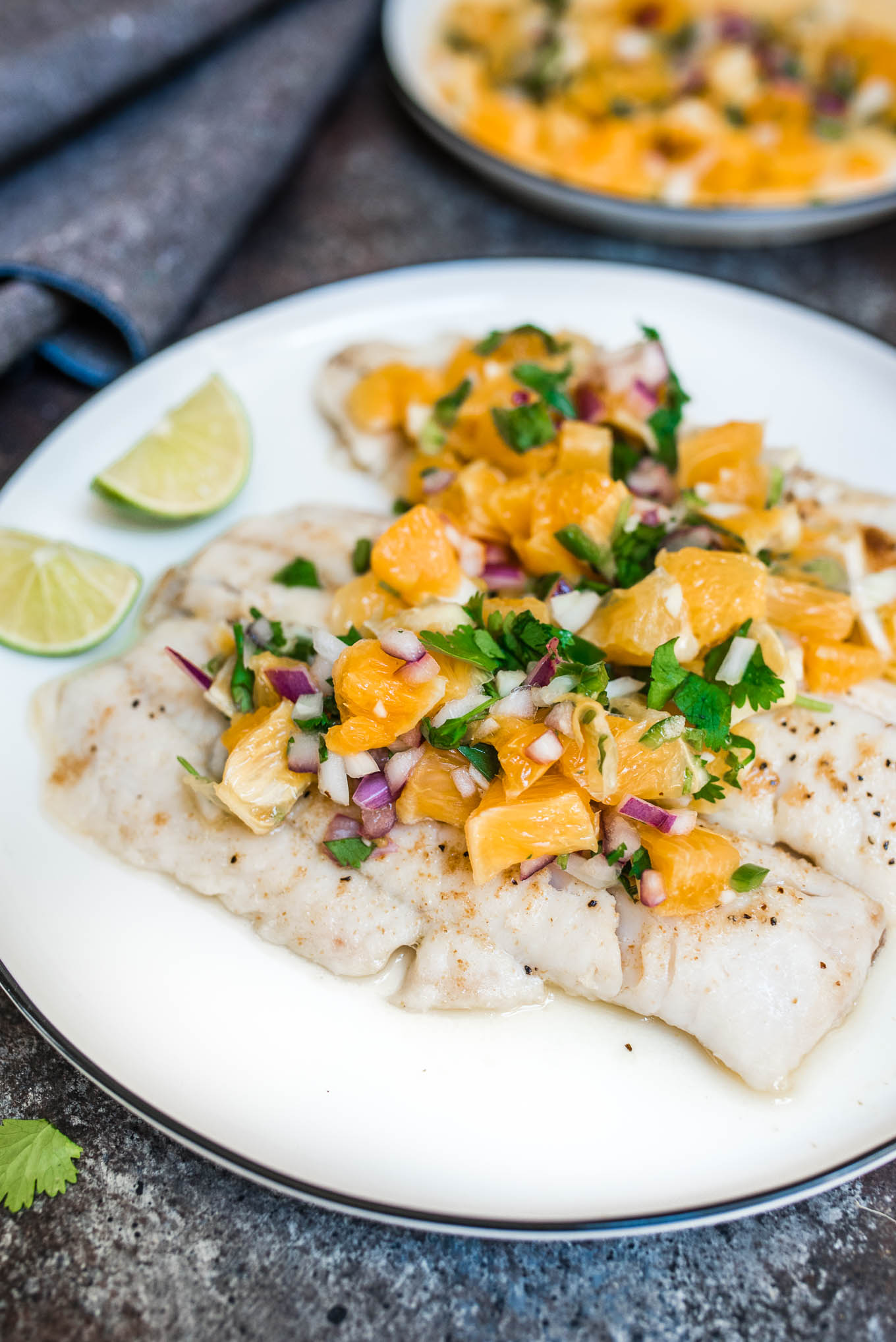 Orange salsa is the perfect addition to add to a grilled or pan seared fish, which I had conveniently stocked in my freezer. I recommend a mild fish like tilapia or cod….because who really likes fishy fish?
After I ate it, I thought I should've turned it into fish tacos. How good would it be wrapped in a corn tortilla topped with the orange salsa and some guacamole and shredded cabbage. Yes, I will do that next time!
The salsa is yummy with tortilla chips too, of course. What have you been eating this summer? Winging it or doing some planning?
Looking for more seafood?
HELPFUL TOOLS USED IN MAKING THIS DISH AND RELATED LINKS:
Non-Stick Frying Pan- I use my cast iron skillet a lot but for this one I used my trusty non-stick frying pan, mainly because the cast iron is harder to clean and I don't want it smelling like fish.
Pyrex Bowls- I used my clear pyrex bowls for most of my prep work, including this salsa. Then I just pop a lid on if there are leftovers.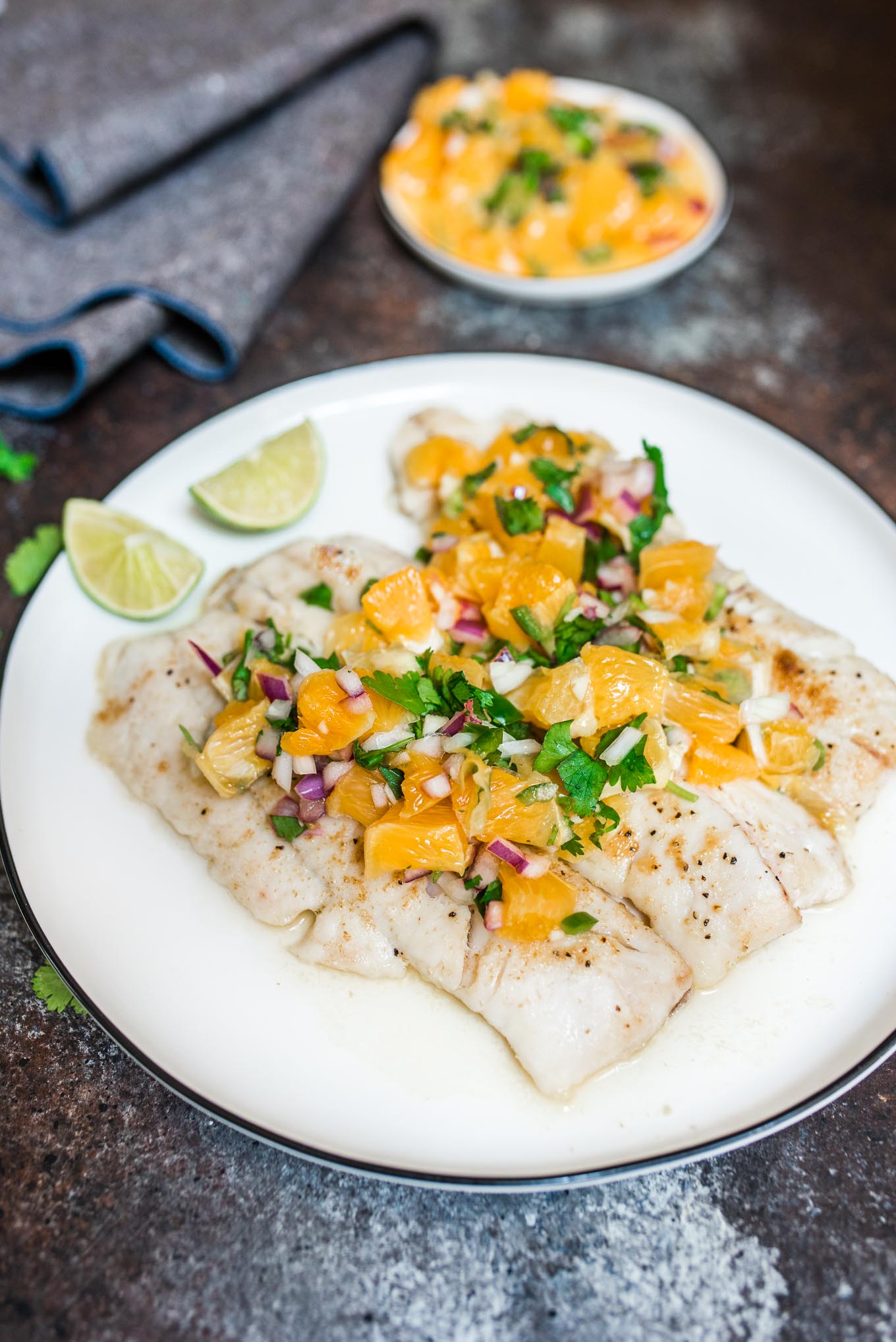 Pan Seared Fish With Orange Salsa
Pan Seared Fish With Orange Salsa is a fresh and light dish that is gluten free, Whole 30 compliant and simple to prepare.
Author:
Melanie F. | Nutritious Eats
Ingredients
2 teaspoon olive oil
1 lb mild white fish such as tilapia, cod
¼ teaspoon garlic powder
¼ teaspoon coriander
salt and pepper
For the Orange Salsa:
2 cup diced orange (about 3-4 oranges)
½ cup chopped cilantro
⅓ cup finely diced red onion
½ jalapeño (about 2 tablespoons)
2 teaspoons fresh garlic
juice of one lime
pinch of salt and pepper
Instructions
In a bowl, mix together all the ingredients for the salsa. Set aside or refrigerate until ready to use.
Season fish with the spices. Heat olive oil in a large non stick skillet over medium high heat. Place fish in skillet and cook 2-3 minutes or until flakey.
Plate and top with orange salsa. You can also wrap this in a corn tortilla, add shredded cabbage and guacamole and enjoy a fish taco.
Notes
For even better flavor, grill the fish on the barbecue grill.