Hi friends! Can you believe I've never participated in a WIAW post? Jen from Peas and Crayons hosts it and it's where bloggers write a post about everything they ate in one day and link it up every Wednesday- mostly because it's fun but also to share ideas and inspiration.
I am normally too scatterbrained to remember to photograph all my eats (you'd think I'd have that down by now), but when I got tagged by a fellow Dietitian, Carissa of Fit 2 Flex, for the RD edition of WIAW I had to participate! This is RD version started by Carlene of Healthfully Ever After where RDs all over the world share their day of eats.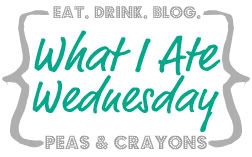 This is a real day of eating, nothing fancy for the sake of blogging, all pics taken with my phone. I don't really have a typical day. I eat a variety of food and vary the size of my meals depending on my activity.
My husband is a huge oatmeal eater. He has it almost everyday. I eat it much less in the summer but wanted to make him some crock pot oatmeal for the start of his back-to-work week. I made a cherry almond steel cut oatmeal and let it cook over night. I've made it before and it's pretty tasty, with no added sweeteners, but it sure is ugly! Keeping it real here.
7am
This particular batch soaked up most of the liquid but I actually really liked the consistency. I also had a hard boiled egg and cup of coffee too (which is a necessary start to my day).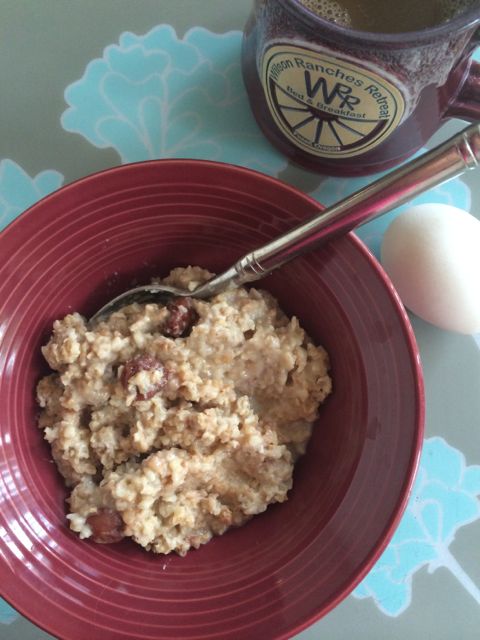 The morning was spent running around with my 2 little ones, Evangeline 5 months and Roman 2 years, while the other two are in school. We had paperwork to turn in on post to get Evangeline registered so that one day in the future I can enroll her in fun activities and even hourly childcare if necessary.
10:30am
I was pretty hungry when we got back home and had one of my homemade coconut larabars and some apple slices, before feeding the girl.
I am still exclusively breastfeeding so really crave the calories around this time of day (mid-morning).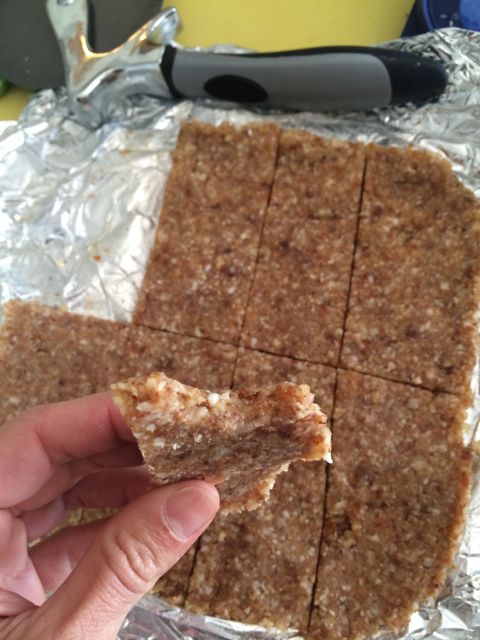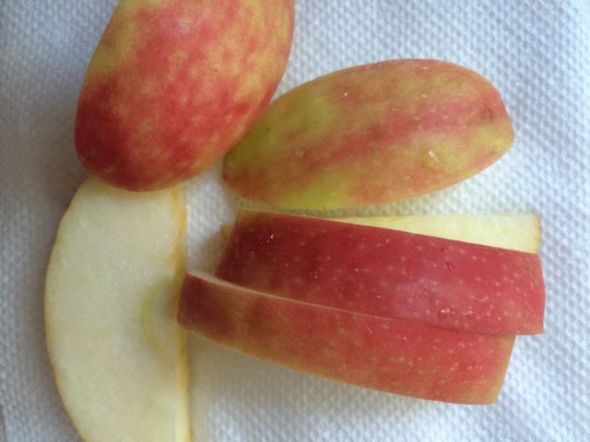 After nursing, I tried to finish some laundry and clean up the mess from breakfast when my son wanted to go outside. We played outside for about an hour then came in for lunch. I had a nice big salad with some my delicious goodies from our CSA box- carrots, onions, bell peppers, tomatoes. I had some leftover chunky pico with avocado and made a quick tuna salad to add in.
12pm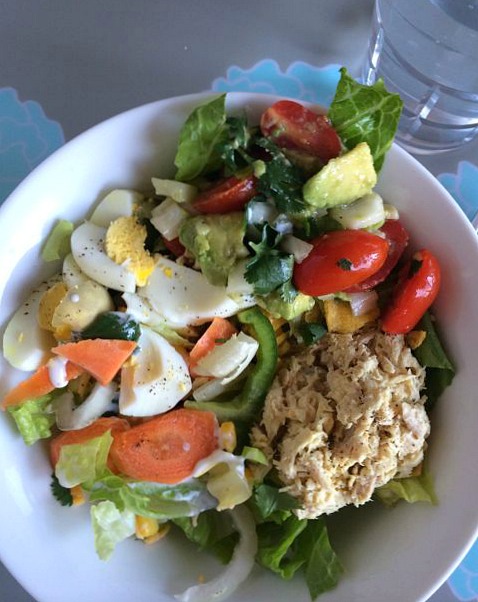 Then we were off to pick up my daughter from pre-school and came straight back home for naps for the little two. During that time I and a snack, half a grapefruit and a handful of almonds.
3pm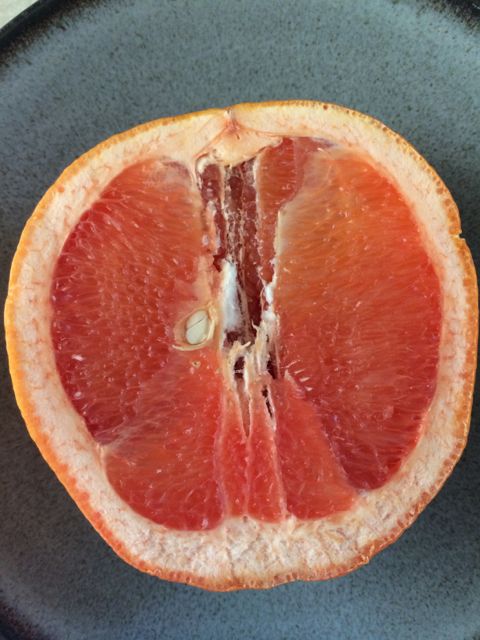 Devoured in minutes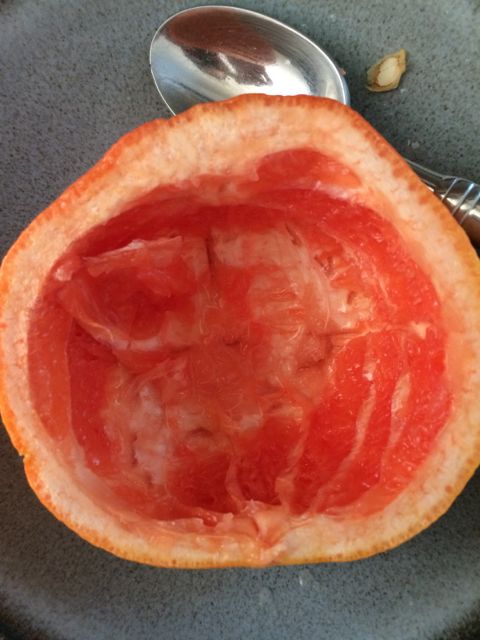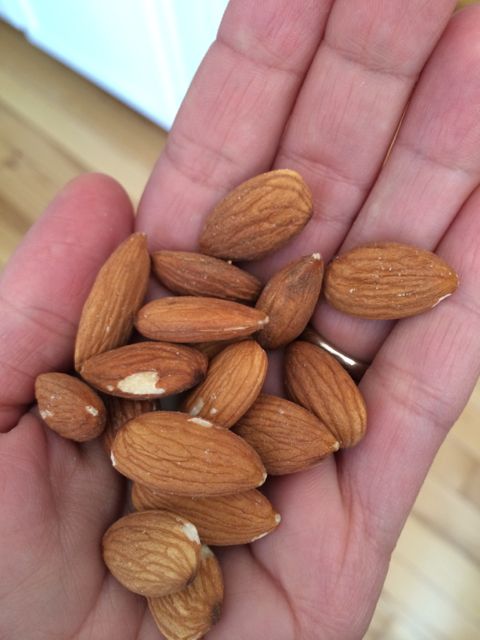 The time flies while they're napping as I usually feed the girl, clean up after lunch and hang out a little with my daughter before having to wake everyone up to go get my son from school.
I had to get my daughter dressed for gymnastics and pack snacks for everyone (but of course forgot about me). By the time we got back from gymnastics it was after 5pm and I was starving.
I started dinner and snacked along the way- a bite of cheese, a bite of chicken (unpictured bites).
6pm
I made another salad, spinach this time, with avocado, tomatoes, almonds and feta.  I also used an entire bunch of swiss chard and 1 whole onion and made a garlicky pasta sauce to put over some gluten free penne. It was a vegetarian delicious dinner!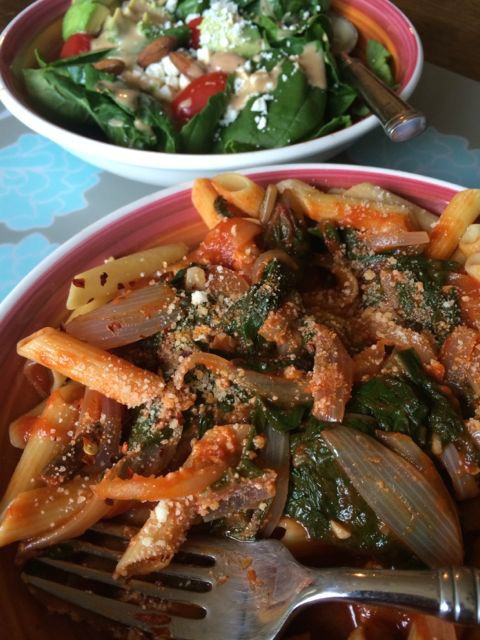 9pm
My dessert is a spoon of peanut butter with a square of dark chocolate.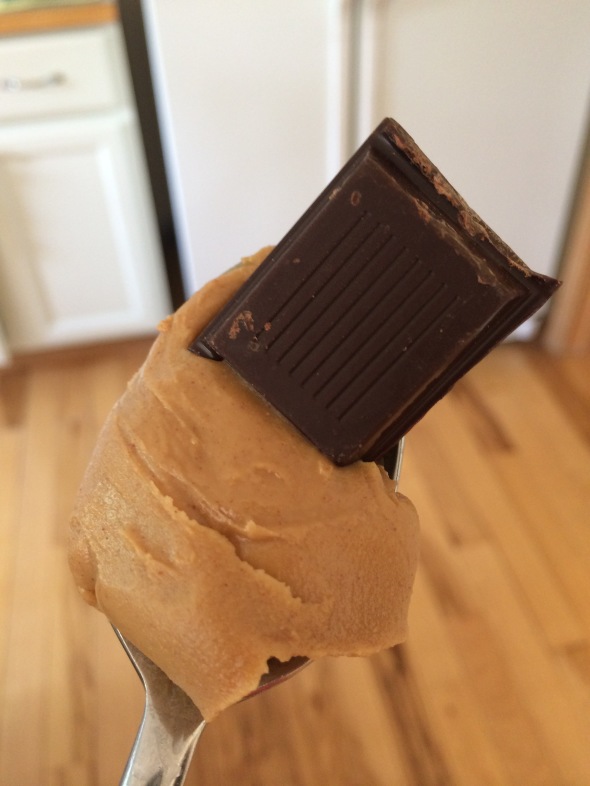 So there you have it! A day of food in the life of an RD.
This was really fun so I am going to have to do it again some time! It is fun seeing what other people eat!
*******This blog post is a part of a 'dietitian tag' to see what other registered dietitians from around the world really eat!
To carry on this tag all you need to do is:
1) Copy and paste this section (marked within the ******) to the bottom of your WIAW blog post.
2) Tweet/Facebook the link using the hashtag #WIAWRD (What I Ate Wednesday Registered Dietitian).
3) Add your blog post link into the section below.
4) 'Tag' 2 other dietitians to carry on the tag via email!
******
I tag Katie from Katie from Healthy Heddleston  and EA from The Spicy RD! Okay ladies it's your turn to eat, click and share!
Tomorrow, Thursday, I am co-hosting a twitter party with Udi's Gluten Free. Here's the info, we'd love for you to join us!!

Where: Twitter @nutritiouseats @udisglutenfree @tapinfluence
When: Thursday June 12th at 6pm EST
What: Gluten Free Living and Summer Activities
Questions: Do you like seeing what other people eat? Do you participate in WIAW?