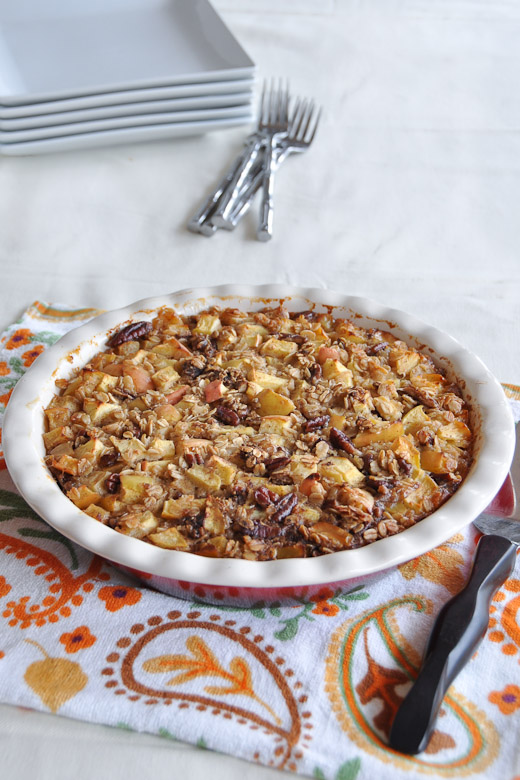 October 29th is National Oatmeal day and what better way to celebrate than with a new oatmeal recipe! We are huge oatmeal fans in this house; every variety makes an appearance in our pantry from quick cooking to rolled oats to steel cut.
I have always enjoyed oatmeal but it wasn't until I met my husband 10 years ago that I started including it in my diet on a regular basis. He adores oatmeal and eats in almost everyday. When we were first married and lived in San Diego I discovered that he makes the most perfect bowl. It's always so creamy with just the right amount of cinnamon and banana. I would wake up and always crave a bite from his bowl. I love that it is warm, filling yet so nutritious. Plus it's a great way to have a high fiber breakfast! With a family of heart disease it is important that I eat foods that are linked to lowering cholesterol and heart disease prevention. Oatmeal is one of those foods! With 4 grams of fiber per serving (half of which is soluble, the kind that reduces the absorption of cholesterol in your bloodstream), it's a great way to start your day.

Eating a bowl of oatmeal isn't the only way to enjoy oats. You can grind them and add them to pancakes, muffin and bread mixes, you can make cookies, granola bars or granola with them. They are also a great addition to meatloaf!
For my oat-inspired recipe I wanted to combine the flavor of a fall apple pie with a bowl of hearty oatmeal so I created a baked oatmeal recipe using Quaker® rolled oats. The result is a delicious and healthy breakfast that is perfect for a busy weekday or to serve company for brunch. I enjoyed reheating it all week for a tasty breakfast. Although it looks like dessert, it is not very sweet which I like. For a more decadent way to serve it, top it with a dollop of low-fat whipped cream or drizzle of pure maple syrup or even honey. I like that each person can customize it based on how sweet they want it. This recipe is low in saturated fat, high in fiber and nutrients. It's a great meal to start your day with. You can customize this too- omit the nuts, add raisins, etc. I plan on experimenting with this one and hope you enjoy it too!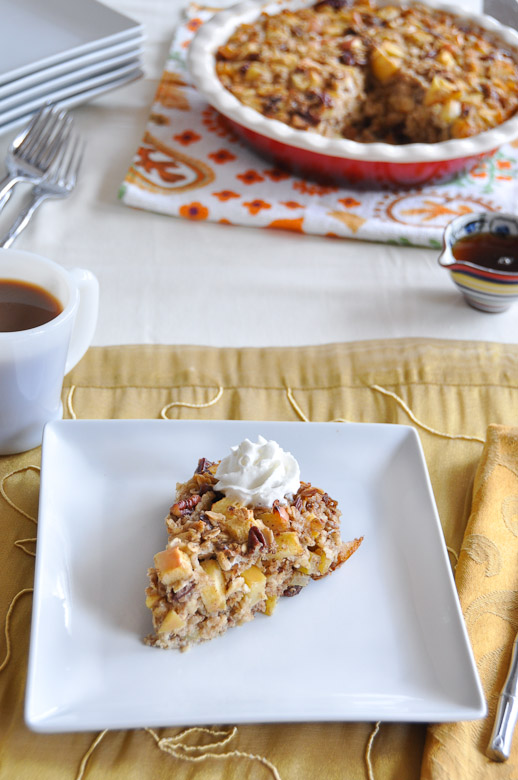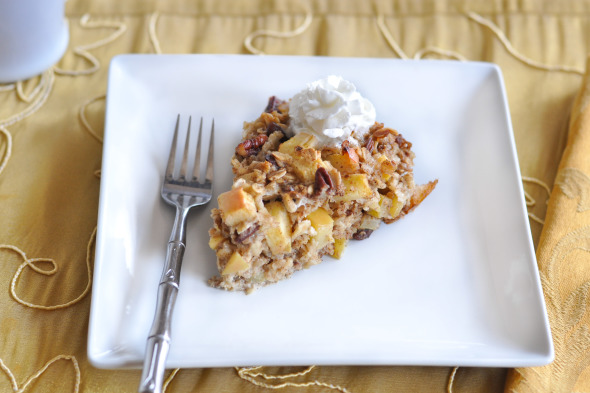 Apple Pie Baked Oatmeal
Ingredients
2 large apples, chopped (use a sweet-tart crisp apple such as Honey Crisp, Jonagold, Pink Lady)
2 cups Quaker® Old Fashioned rolled oats (can sub gluten free rolled oats if on gluten free diet)
1 teaspoon baking powder
½ cup chopped pecans
1¼ teaspoon cinnamon
¼ teaspoon ground cloves
¼ teaspoon ground nutmeg
¼ teaspoon ground ginger
dash of salt
2 cups milk of choice (I used soy)
2 eggs
⅓ cup pure maple syrup
¼ cup vegetable oil
2 teaspoons vanilla extract
Instructions
Preheat oven to 375 degrees. Spray a 9 inch pie dish with cooking spray and set aside. In a medium size bowl combine dry ingredients: apples, oatmeal, baking powder, spices and salt. In another small bowl combine wet ingredients: milk, eggs, maple syrup, oil and vanilla extract and whisk until well combined.
Pour wet ingredients into the dry ingredients and stir well to combine.
Pour mixture into prepared pie plate and bake on a cookie sheet for 45 minutes; cover with foil for the last 5 minutes if top is getting to brown. Cool on a baking rack for 10 minutes. Cut into wedges and serve with a dollop of low fat whip cream, a drizzle of maple syrup or eat as is.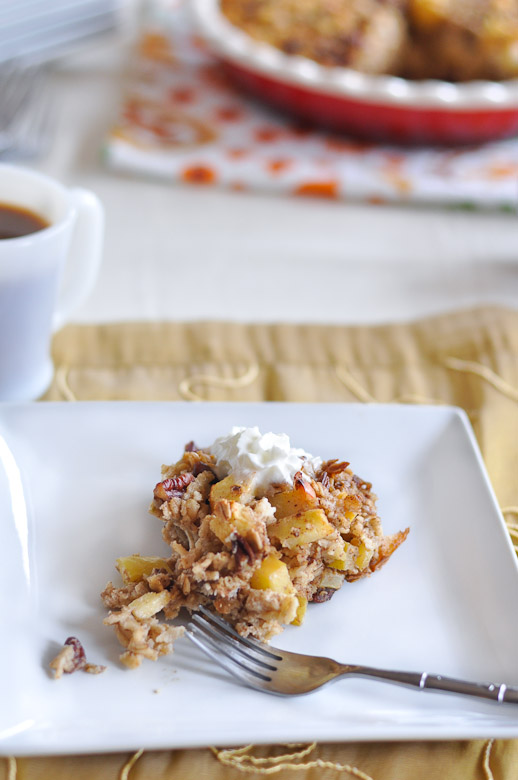 In honor of National Oatmeal Day on October 29th, VOTE for my recipe and I have a chance to be featured in the Quaker® Oats newsletter.
When you vote you will be entered to win a $1,000 gift card!  I would love one of my readers to win! Yay Oats! Official Sweepstakes Rules
This is a sponsored conversation written by me on behalf of Quaker®. The opinions and text are all mine.