Hello friends! I posted some pictures from our Hawaii vacation earlier this week and now I am moving on to the food we ate!
We definitely ate well on vacation, although we cooked ourselves the majority of the time. Eating out with that many people would have just been a pain and way too expensive. Of course we made exceptions for some of our Hawaii favorites like poke, malasadas (which are similar to donuts but not as sweet (shown in front) and shaved ice.
Let's start with malasadas- they are a Portuguese confection, similar to a donut (front box) and they are amazing. They only make them fresh to order so when you pick them up they are warm and not overly sweet. Order cinnamon sugar from Agnes' bake shop in Kailua or Leonard's in Honolulu- the best!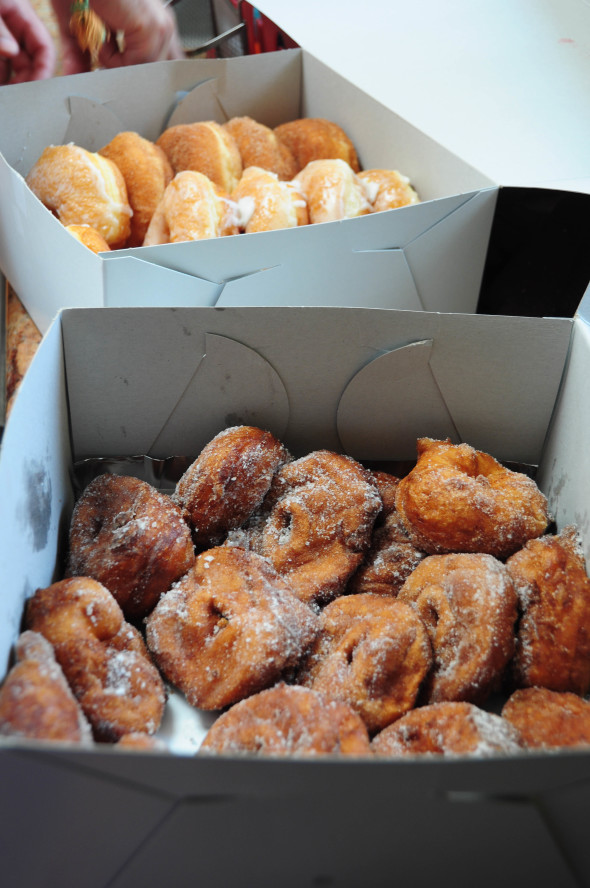 Poke is this amazing raw fish seasoned in different ways- some are spicy, some with soy, ginger, onions, seaweed, etc. It's the Hawaiian version of the Japenese sashimi. All delicious! You can find it at any grocery store and a lot of restaurants in Hawaii, typically as an appetizer.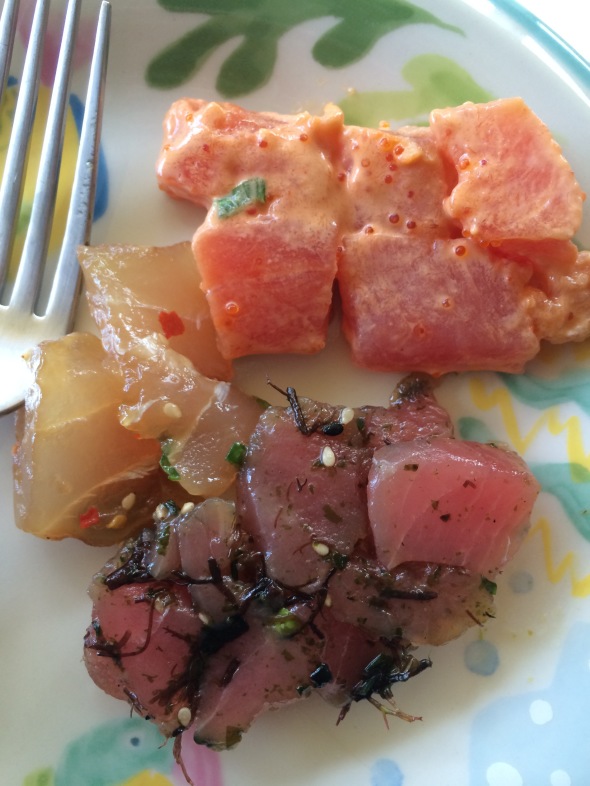 Shaved ice is soooo much better than a snow cone. The ice is light and flakey in texture and they have the best flavors of syrup. You will see shaved ice places all over the island.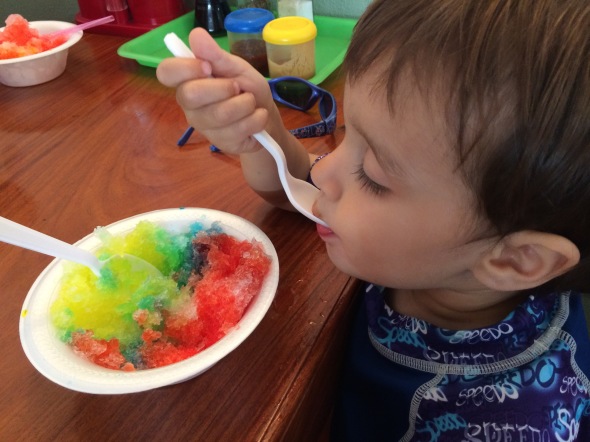 even Hawaii has some pretty good pizza- we had it once in Kauai and once in Oahu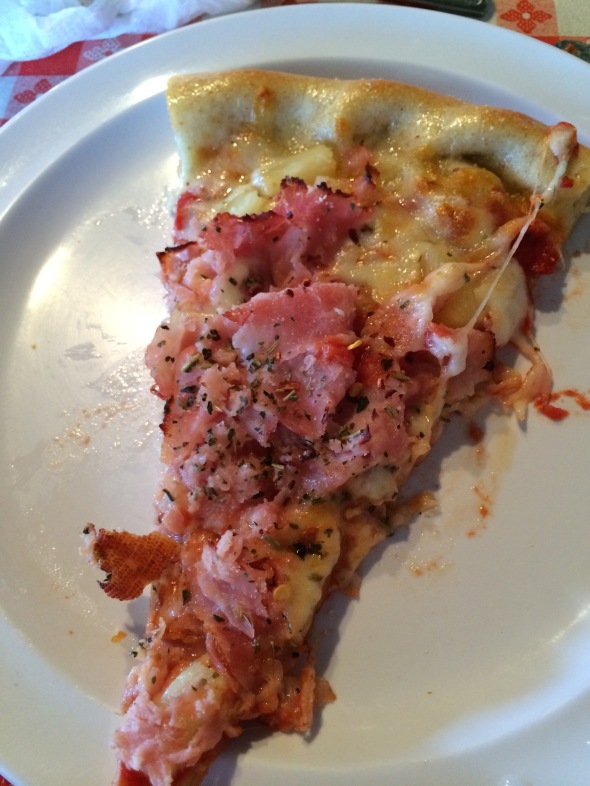 Fresh tofu spring rolls were also a hit made by my sister-in-law.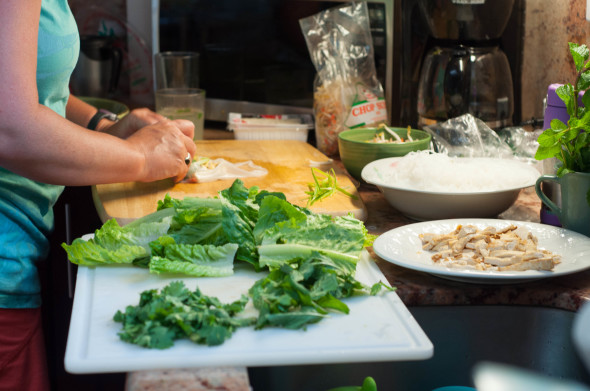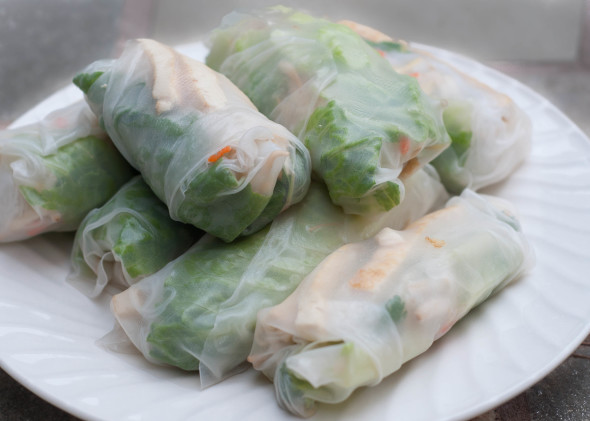 We ate a ton of fish and yummy salads and delicious fish on the grill! I made the Asian Noodle Pasta Salad I shared on the blog last month.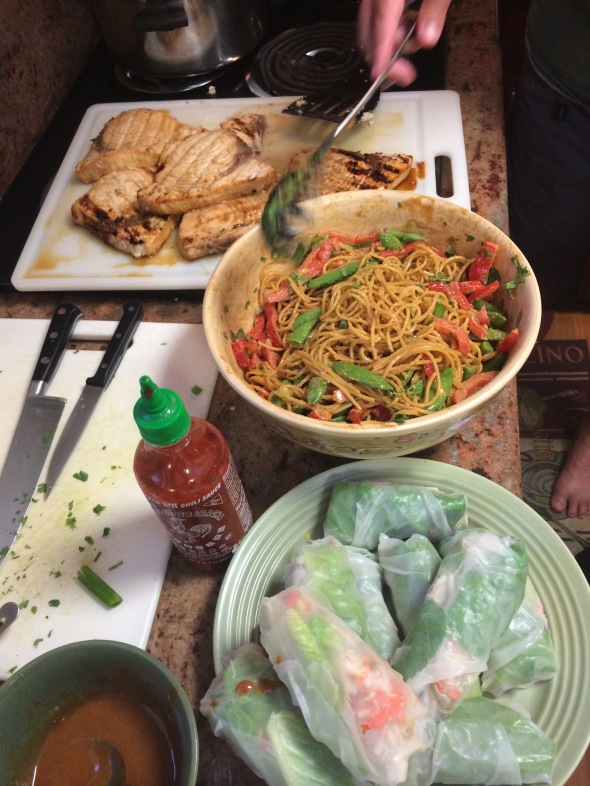 I even brought some homemade spice rub so the hubs could smoke some chicken. Mmmm.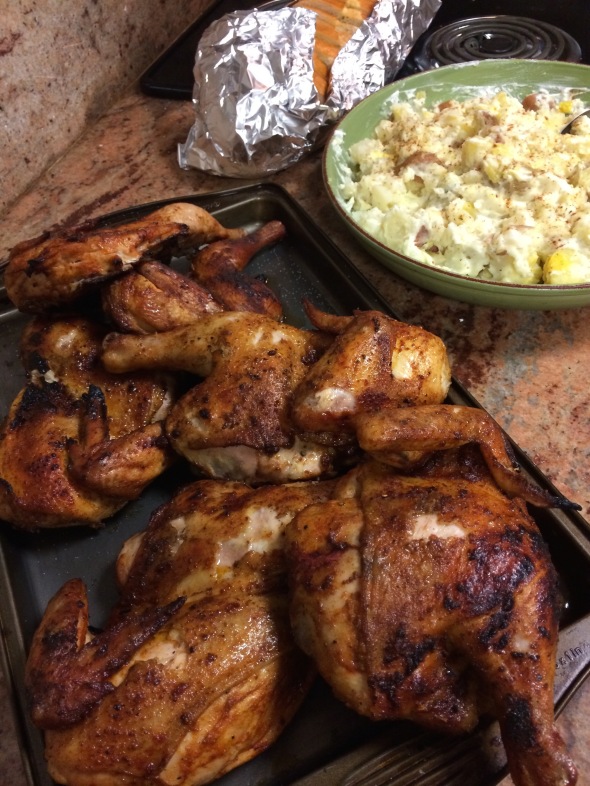 and Nuttzo wasn't ever too far. Perfect for on-the-go snacking.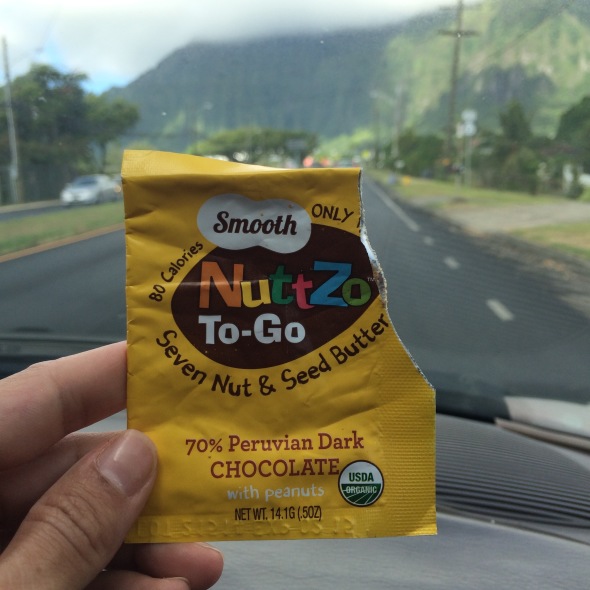 The most delicious roasted vegetable sandwich ever at this local homegrown cafe called Sweet Home Waimanalo.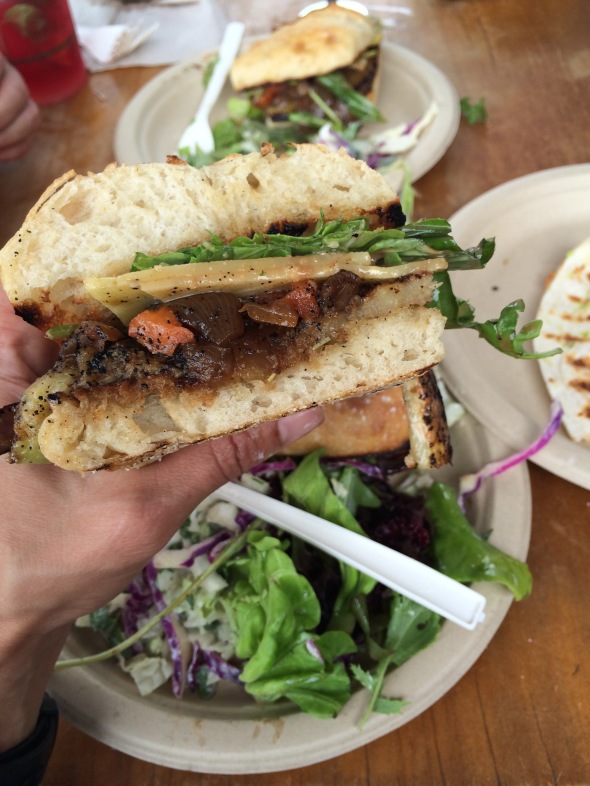 Our one nice meal out was at Buzz's steakhouse in Kailua which is known for their amazing fish and steak.
Boston style pizza….SO good. Loaded with garlic, yum!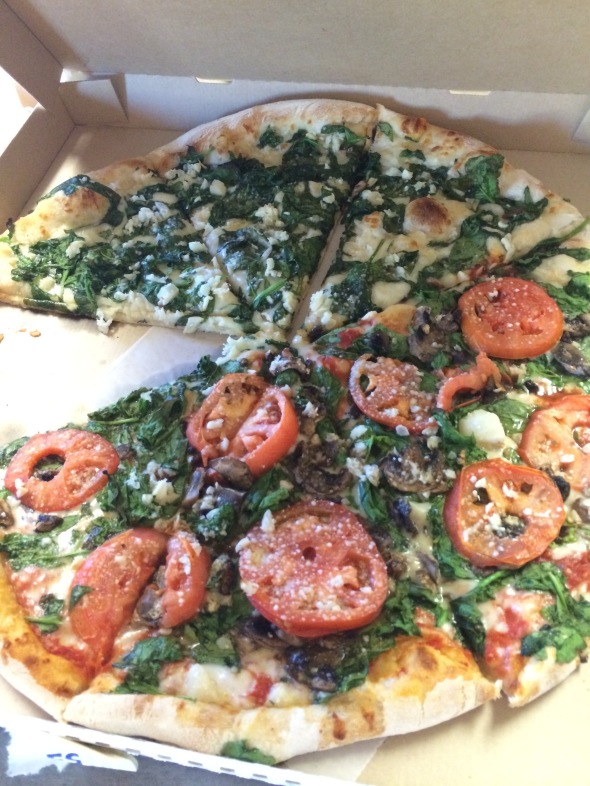 I rarely order beef burgers out. I am just not a big meat eater but this place is one of our favorites, ever. It's called Teddy's Burgers and there are several locations in Hawaii. And now I am freaking out because as I just pulled it up online so I could link to it, I see there are two in Washington (probably no where near me but still!). I used to get turkey burger when I lived here because I didn't eat red meat then, now I eat in very occasionally so I figured I better try a beef version. They use this special mustard sauce that is amazing.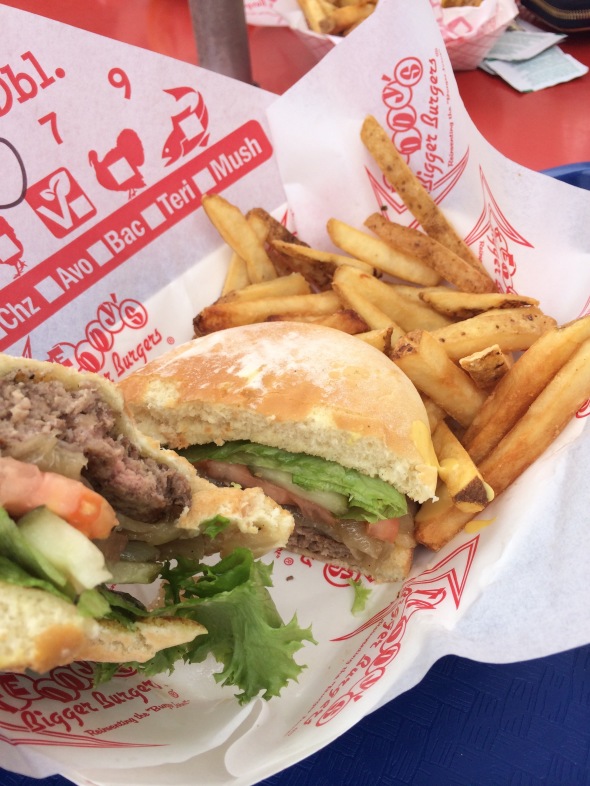 aaaaand more shaved ice!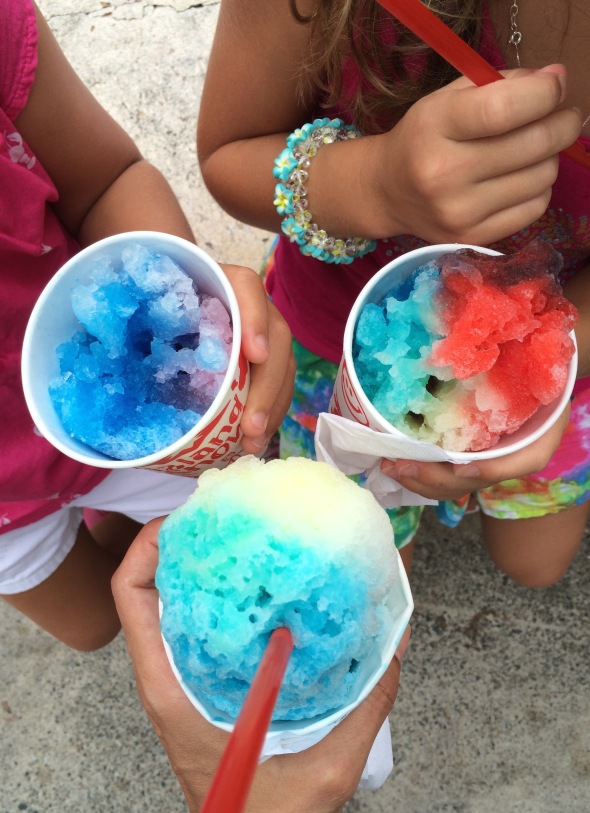 and more poke from Fresh Catch, which was featured on the Food Network for their poke bar….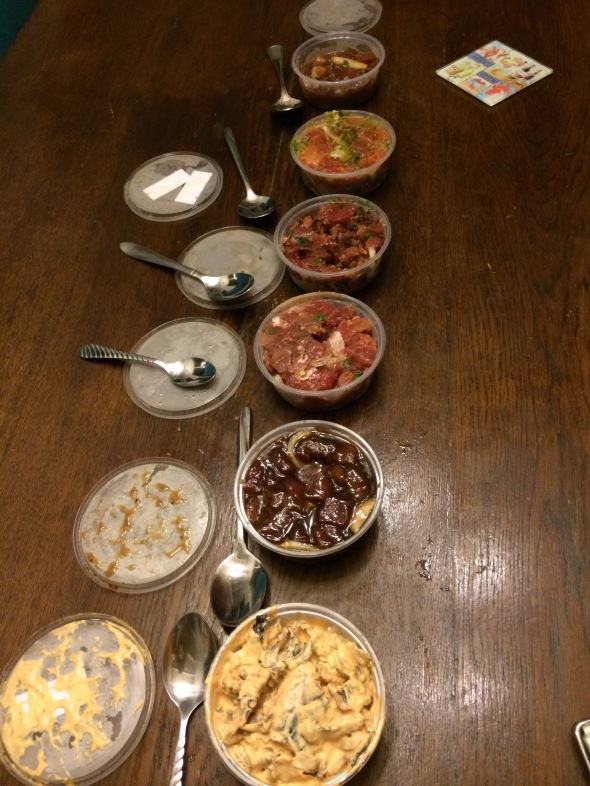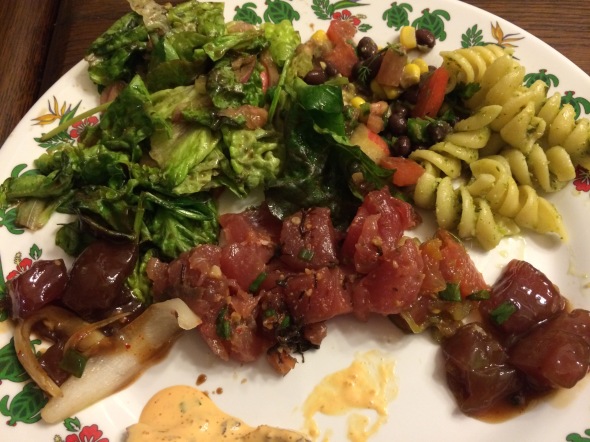 and those are just some of the meals we had. I obviously didn't take pictures of everything although looking back I should have!
We definitely ate well! Splurges were definitely made but we also ate a ton of salads and local, wild fish. I will miss the island flavors but I am also happy to be back in my kitchen. Now if only we had AC because it's in the mid 80s and there is only one ceiling fan in this house and mama doesn't want to turn the oven/stove on!!
See you soon!
Questions: Do you follow your usual diet on vacation or splurge? Favorite thing to eat in Hawaii? Have you had shaved ice? Have you ever had poke?