Earlier in the week I mentioned coming down with the start of a cold. It ended up being one of the mildest colds I've had, but I still had a little sore throat and some congestion. And when I've got a minor cold you know the two main things I crave? Coffee- to wake me up, duh. And smoothies to ease my sore throat.
And what's crazy is that I was given a Blendtec Designer 725 blender to review (plus the Wildside+ Jar) and all I could think about were making drinks. I mean smoothies, how cliché right? There are approximately one million things you can make with this amazing Blendec blender but I needed these drinks in a bad way.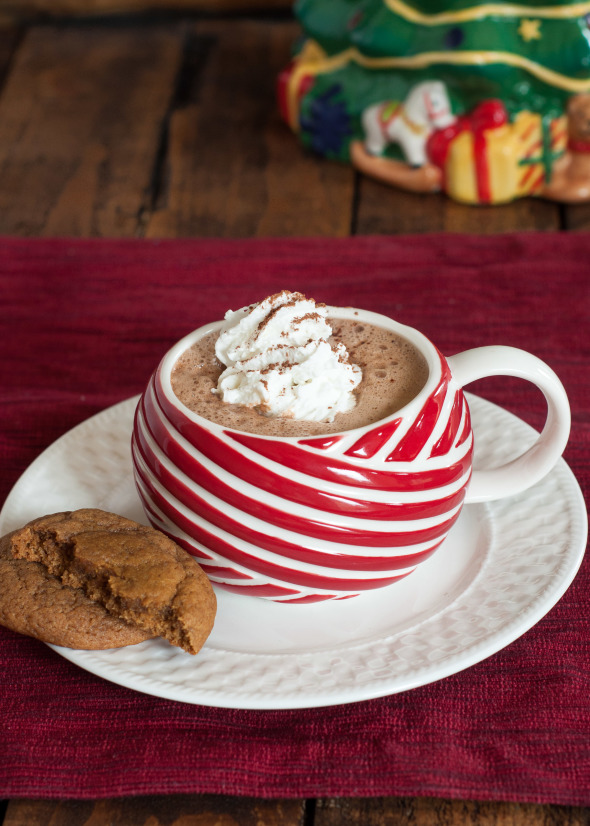 and then I realized I basically had 3 drink recipes on this blog and absolutely needed to get on that.
So let's talk about the Café Mocha. I had just sent half of the kids off to school, put the baby down for her nap and kicked myself for not stopping to get a Starbucks on the way home. I poured a lukewarm cup of coffee from the pot that I had brewed several hours before and began flipping through the manual that came with the Blendec blender reading about all the amazing features this beauty has.
For example, a soup setting. As in you put savory ingredients into the blender and it turns it into soup. Say whhhhat?
This is no joke friends. It whirls around for ~ a minute and a half and results in a steaming liquid….in this case my homemade Café Mocha. I mean the coffee was already room temperature from sitting around but it did not need to be wasted!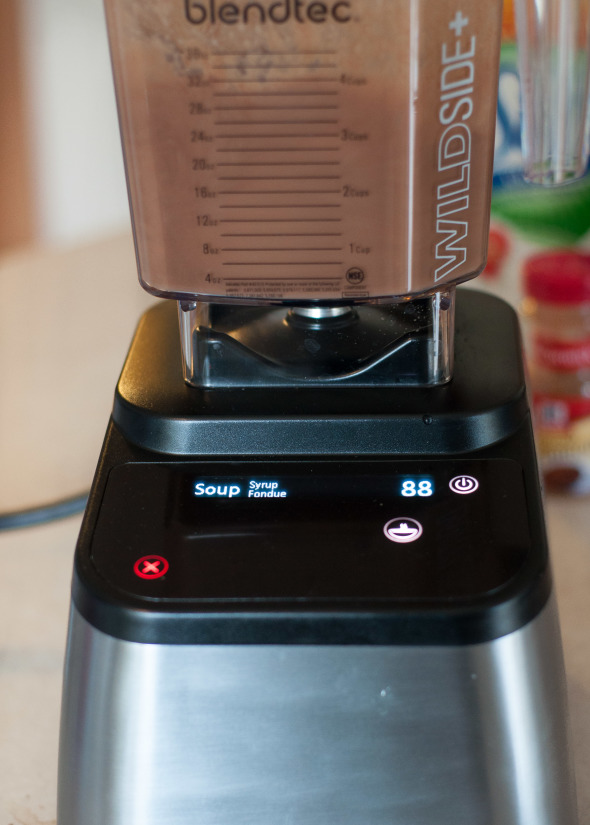 I was giddy. I was thrilled. I was ecstatic. I was in love.
And as much as I love the flavor of coffee, what is so wonderful about this is that it tastes like a delicious Mexican Hot Chocolate (you know with that touch of cinnamon and all)…but it's got a hint of coffee flavor and obviously the caffeine you need (or decaf if you prefer).
Now let's talk whipped cream. My mom taught me the art of adding whipped cream to a basic cup of home-brewed coffee. It really takes things up a notch. So of course since this was Hot Chocolate meets Coffee, it absolutely needed the whip cream.
I might never go to Starbucks again. Which is reason 135,689 why you need this blender (note the plain Molasses cookies on the left that paired absolutely wonderfully with this beverage).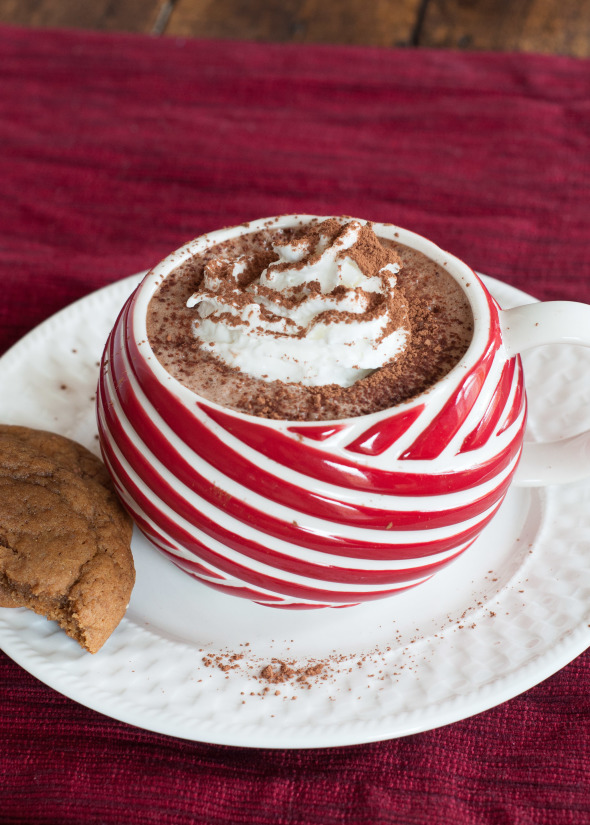 and the next day my sore throat was slightly worse. I needed something cold cold. I am partial to berry smoothies, but happened to have all these yellow and green fruits and veggies laying around so went that route instead.
You would be absolutely shocked at how many people ask for smoothie recipes. I think of it as a no-brainer- dump ingredients and blend type of thing, but I made a conscious effort to write measurements down for those that aren't on the smoothie bandwagon.
Oh let me point out that touch interface on the Blendtec! These are all pre-programmed cycles you just touch and it goes. Then you can adjust the speed of the blender with a simple touch.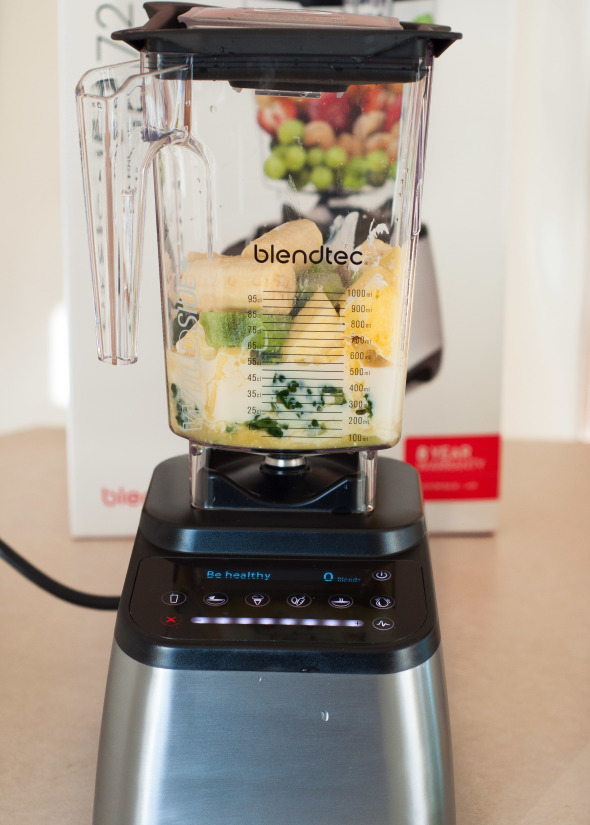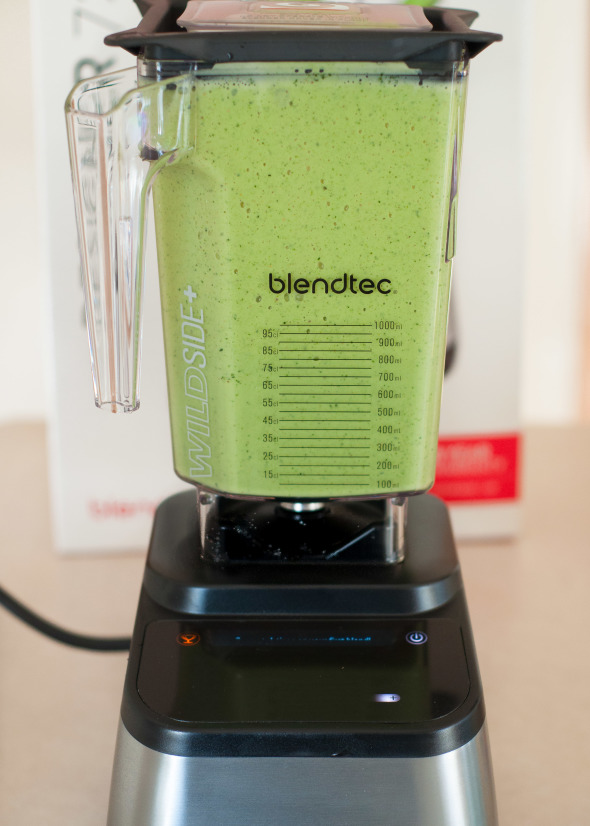 This was was a little tart from the pineapple and kiwi that weren't overly ripe so it needed a touch of sweetness (I used agave). And you would not believe how creamy this is just from the half avocado. It doesn't get much healthier than this- you've got fruit, veggies, healthy fat, calcium, protein. Everything you need in a green drink!
I slurped this down like there was no tomorrow. And I was nice enough to save half for my little guy who loves smoothies. I gave it to him for an afternoon snack and he too slurped it down.
Smoothies are perhaps the worlds best invention and is often the only way I can get (some of) my kids to eat their vegetables.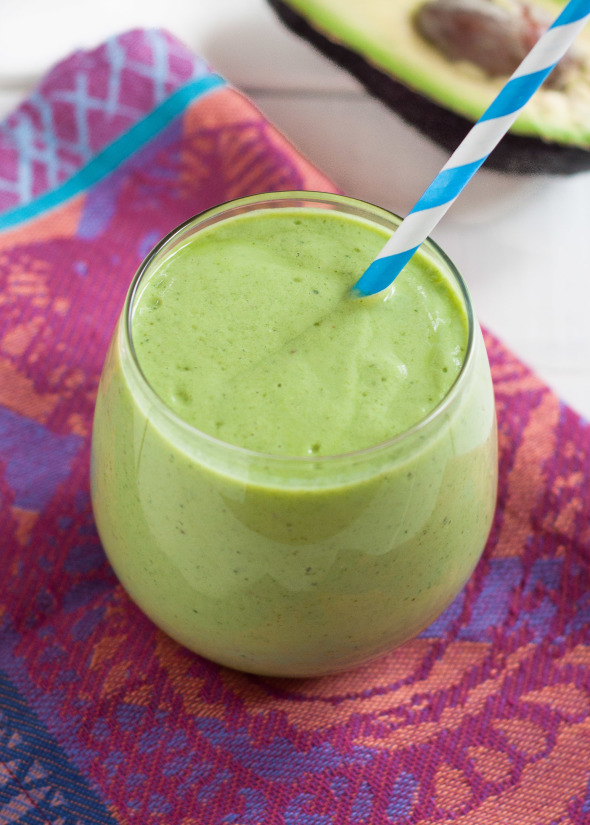 But I can't emphasize enough that this blender does SO much more than make smoothies. You can use it for:
Blending- smoothies and other drinks, blend batters, salad dressings
Wet Chopping- a convenient way of chopping, just pulse ingredients with a little water until desired consistency, then strain
Dry Chopping- use for chopping nuts, hard cheeses, coconut and other hard ingredients
Dry Grinding- use to grind grains to use in hot cereal, baked goods and bread
Juicing Whole Foods- Blendtec blenders break the whole food fibers into microscopic pieces that are easy to digest
Making Frozen Treats- make ice cream, sorbet, frozen yogurt and more
Kneading- you can transform your flour and wet ingredients into bread dough
And I can't fail to mention that this machine even cleans itself. That's right a clean cycle that only requires water and a drop of dish soap.
So in a nutshell you need this blender on your wish list. Maybe it is already? Maybe you will get some cash for Christmas and you can buy it after the Holidays.
Oh and don't say anything to my husband because this is going under the Christmas tree for him (well us)! Oh and I will be back to show you that Wildside Jar- it's recommend for thicker items like hummus and nut butters. So excited!
Follow Blendtec on Facebook | Instagram | Twitter | YouTube | Pinterest | Google+
Café Mocha
A delicious at-home Cafe Mocha made with the powerful Blendec blender.
Author:
Melanie F. | Nutritious Eats
Ingredients
1 cup coffee (can be room temperature)
1 cup vanilla soy milk (or milk of choice)
2 Tablespoons cocoa powder
1 Tablespoon sugar
2 shakes of cinnamon
Whipped cream for topping
Instructions
Place coffee, soy milk, cocoa powder, sugar and cinnamon in the Blendtec blender and hit the "soup" feature. Once liquid is finished blending, pour into coffee cups and top with whipped cream.
Green Power Smoothie
Fight your cold with this power smoothie full of nutrition- Vitamin C, Potassium, Protein, healthy fat and Antioxidants!
Author:
Melanie F. | Nutritious Eats
Recipe type:
Green Power Smoothie
Ingredients
1 cup chopped pineapple
1 cup chopped kale, rinsed, stems removed
1 banana (frozen if possible)
1 kiwi, peeled and chopped
6 ounces plain Greek yogurt
½ cup orange juice
½ cup vanilla soy milk
½ small avocado
½ teaspoon agave
1½ cup ice
Instructions
Place all ingredients in a blender and blend until smooth and no chunks remain, or if using a Blendtec blender use the smoothie setting.
Comments have been turned off. Please comment below via the TapInfluence.
This post is sponsored by FitFluential LLC on behalf of Blendtec.