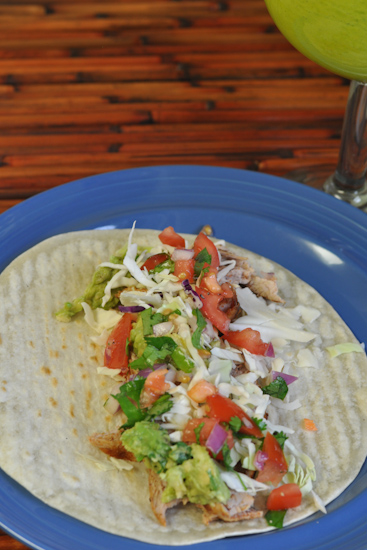 Who is excited for Memorial Day weekend? I am SO looking forward to having the hubby home for 4 days. We are still deciding on whether or not we should take a short road trip, but if not we'll keep busy with some outdoor activities. We are still adjusting to Spring time in the midwest. Tornado watches every few weeks, crazy thunderstorms and some nice, warm weather thrown in between. I am still in shock over the tornado that hit Joplin, MO which is only 2 1/2 hours west from here so I am not sure about driving anywhere this upcoming weekend. So terrible to hear about the devestation. I for one am ready for summer, especially to get over these crazy weather patterns. We've been holding off on buying a grill until this rain is gone for a while, probably by next month. In the meantime, I was thinking about our Memorial day plans and testing a couple of recipes. And before I talk food, let us not forget Memorial day is a day of remembrance. It's not just about BBQ and days off work, but about coming together and honoring those who gave their life to serve our country. As we do that, we can still eat (and drink and have friends over)!
I was thrilled to have received a huge box of these fabulous tortillas to review from Tortilla Land and knew I wanted to put them to good use. My husband and I both grew up in Texas so we eat Mexican food as much as, well the Mexicans! This product review couldn't have been more perfect for me. First off, have you tried these before?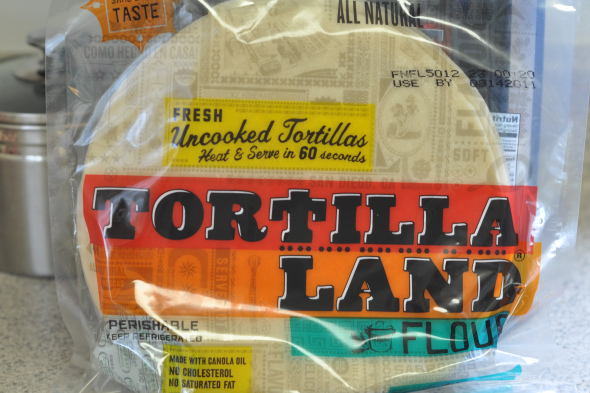 They are fresh, uncooked tortillas that you can buy from places like Walmart and Costco. You simply place them on a warm pan or grill and in a minute you've got a fresh tortilla! I practically squealed when I read the ingredient list: wheat flour, water, canola oil, sugar, salt. FIVE little ingredients! No preservatives!! Five ingredients compared to the 18 in the store bought tortillas. Seriously. Don't believe me, go look at your package. Click here to find a retailer near you! They are delicious and as close to homemade as you can get without rolling out the dough yourself. Oh and they have corn tortillas too which I bet are fabulous.
I immediately thought of pork tacos with lots of lime, cilantro and onions. If we'd had our grill, I would've cooked it on the barbeque. However, I went with baking it and grilling the tortillas on our grill pan.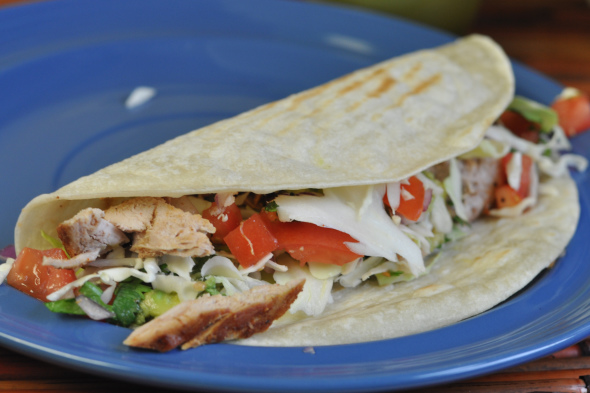 Here is a series of how quickly those tortillas cook up- 1 to 1 1/2 minutes tops!
Place on a warm grill pan or skillet. Bubbles start to form as it cooks.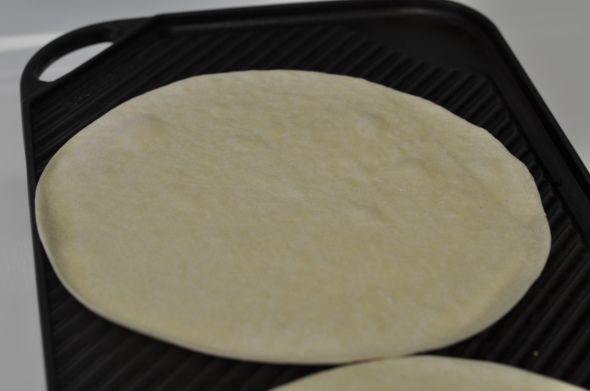 When you flip it, the steam that gets trapped creates an air pocket.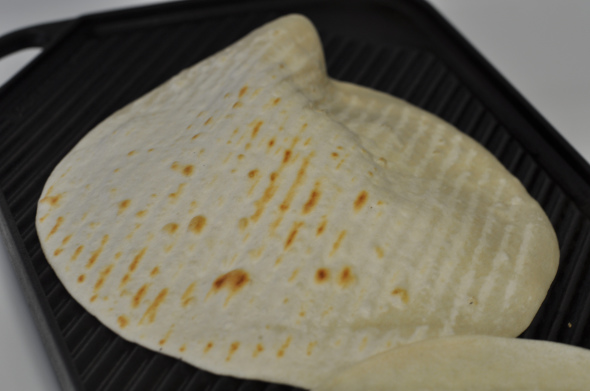 It will settle flat once you take it off the grill.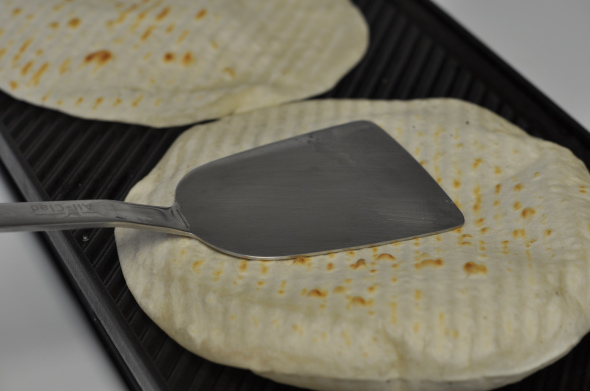 Delicious, homemade tortillas in minutes! It will be hard not to eat them all at this point.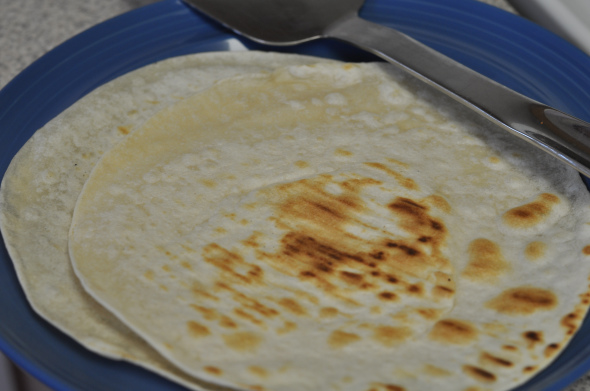 What I learned, as the grill pan got hotter, is that the more toasty they are, the better. I thought I had burned a couple (not pictured), but they ended up being so flavorful. Hope you can find some of these tasty tortillas in your area!
Pork tenderloin is a great healthy alternative to chicken. I'll have to admit it isn't the most flavorful cut of pork out there, however it is SO lean and healthy. In a dish like this, where there are so many other flavors (onion, guac, cilantro, lime) I'd rather save my calories on the meat I'm using. If you get a nice crust on it when searing it first, you will lock in lots of flavor. If you're planning on grilling over Memorial Day weekend, just place this on your oiled grill rack for about 25 minutes or until thermometer registers 155 degrees.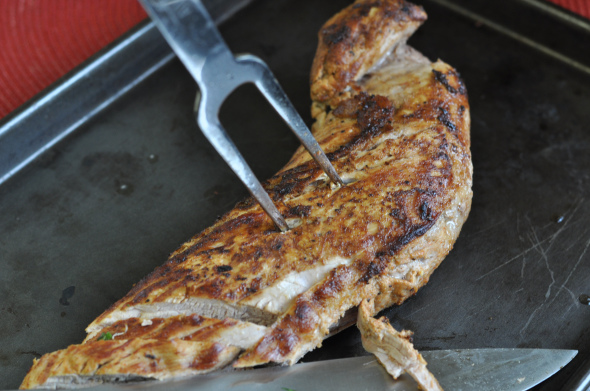 I like shredded it but you could always eat it in slices.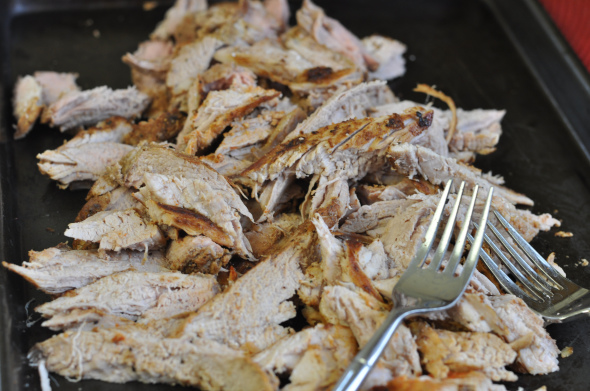 Like I've mentioned before, when eating guacamole solo as in "chips & guac" I add in a few more ingredients, however, when you are piling it in a taco full of other stuff, I make a simplified version. Don't get me wrong, it is still delicious and very chip worthy. You need a simple pico to serve with this or you could just have separate bowls of toppings- tomatoes, onions, cilantro.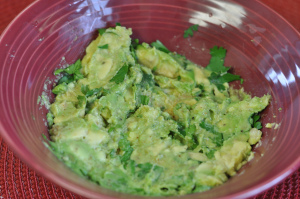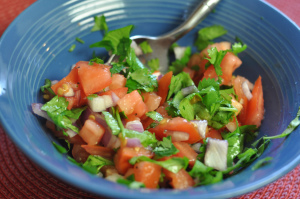 Do you like tacos as much as me? I could eat them everyday.
Assemble all those toppings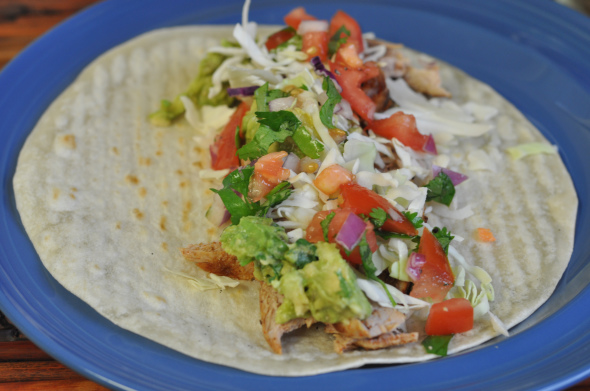 Oops, almost forgot the lime!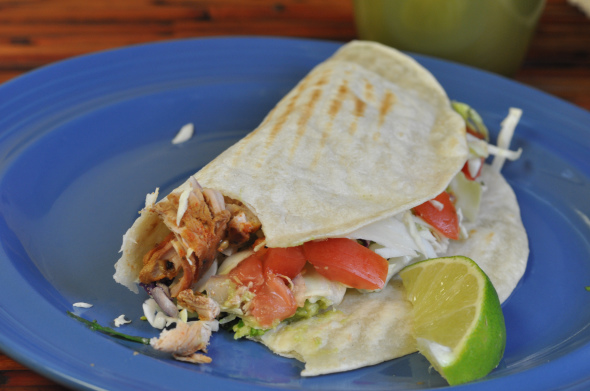 [print_this]
Grilled Pork Tacos
Recipe from Nutritious Eats
Flour tortillas
1.25 lb pork tenderloin
3/4 teaspoon coriander
1/2 teaspoon paprika
1/2 teaspoon cumin
1/4 teaspoon garlic powder
1/8 teaspoon ground red pepper
1/2 teaspoon salt
1/4 teaspoon pepper
2 limes
3 Tablespoons olive oil, divided
2 garlic cloves, minced
Toppings:
Pico de gallo (chopped tomatoes, onions, cilantro & lime)
Guacamole (avocados, cilantro, lime, cumin, coriander, garlic powder, salt, pepper)
Shredded cabbage or romaine
Lime wedges
Sliced jalapenos
Hot sauce (like Cholula or Tapatio)
DIRECTIONS:
1. To prepare pork: place pork in a large zip lock bag. In a small bowl, add spices (coriander through pepper) and stir to combine. Slowly add spice mixture to pork in bag, rubbing to distribute. Add lime juice, 2 Tablespoons olive oil and chopped garlic. Make sure to massage mixture into the pork. Place zip lock bag in a large bowl (to prevent issues with leaking) and set in the refrigerator to marinate (minimum of 1 hour, up to overnight).
2. When ready to cook pork, take out of refrigerator for 15 minutes. Preheat oven to 350 degrees. Heat large oven proof skillet over medium high heat (I used my dutch oven). Add 1 tablespoon olive oil, add pork and cook 4 minutes per side until a nice brown crust forms. Transfer entire dish to the oven and continue cooking 15 to 18 minutes or until thermometer reads 155 degrees (slightly pink), turning after 8 minutes. Once cooked, let pork rest 10 minutes before cutting. Cut into slices, then take two forks to shred slices into smaller pieces.
3. While pork is in oven make your guacamole and pico de gallo (recipes to follow).
4. While pork is resting, grill tortillas. If using fresh tortillas such as Tortilla Land tortillas, set on medium hot grill for 30 minutes per side or until cooked through and lightly browned. Keep warm.
5. To assemble, place pork in tortilla, top with guacamole, pico de gallo, shredded cabbage, squeeze lime onto taco, slices of jalapeno and hot sauce of choice. Serves 3-4 (2 tacos per person).
Quick guacamole recipe:
Mix 2 avocados with 1/4 cup chopped cilantro, juice from 1/2 lime, 1/8 teaspoon coriander, 1/8 teaspoon garlic powder, 1/8 teaspoon cumin. Pinch of salt and pepper. Stir to combine.
Quick pico de gallo recipe:
Mix 2 large diced tomatoes, 1/3 cup diced red onion, 1/3 cup chopped cilantro, juice from 1/2 lime, salt and pepper to taste.
Cook's notes:  There are usually 2 tenderloins per package so you can easily double this recipe if serving more people.
[/print_this]
Enjoy your long weekend!!
Disclaimer: Product review item was provided free of charge with thanks to Diva Digital Media, LLC and Tortilla Land. The opinions regarding this product review, however are my own.
Linked to: What's Cooking Wednesdays, These Chicks Cooked, Mouthwatering Mondays, Tasty Tuesdays