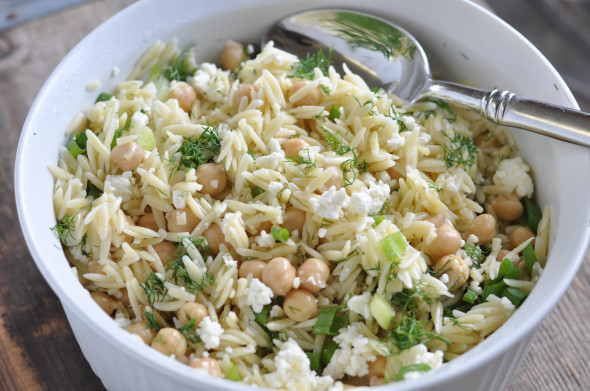 I made this pasta salad from Cooking Light years ago and forgot all about it until recently. This orzo-feta pasta salad is the perfect summer side. I have made it twice in the past two weeks because it is my new favorite side to eat with this Lemon-Dill salmon. It is so refreshing and lemony and easy. Easy is key. Plus, it's great leftover and is meant to be eaten chilled or room temp which makes it an ideal make-ahead dish. Perfect for picnics, to pack in your lunch or to have at home for a quick meal. Don't you just love having good stuff leftover in your fridge? This holds up well for a few days so it can definitely get you through a few meals.
Another benefit of mixing the orzo with the beans and feta, you are getting more protein and less carbohydrates per serving. When my husband and I eat this we get about 6 servings out of the dish (3/4 to 1 cup) using 1 cup of uncooked orzo, which means you're only getting half of a serving of pasta each time you eat it. This is filling and satisfying!
I also haven't managed to kill my dill yet (well only 1 out of 3) so this comes together beautifully with the Lemon-Dill Salmon I previously posted. Throw in a green salad and you've got a perfectly balanced meal.

[print_this]
Orzo-Feta Pasta Salad
A light, flavorful pasta salad with the zesty flavors of lemon and feta; garbanzo beans bump up the protein in this simple side.
INGREDIENTS:
1 cup uncooked orzo
1 can chickpeas (garbanzo beans), washed and drained
1/2 cup sliced green onions
1/2 cup crumbled feta
1/4 cup fresh dill, chopped
1/4 cup lemon juice (about 2 lemons)
1 Tablespoon water
2 Tablespoons olive oil
1 garlic clove, minced
1/2 teaspoon salt
pinch of black pepper
DIRECTIONS:
1. Cook orzo in boiling water according to package directions. Drain, rinse in cold water and set aside in a large serving bowl.
2. Once cooled down a little, add garbanzo beans, green onions, feta and chopped dill.
3. Mix lemon juice through black pepper in a separate small bowl and stir with a whisk. Pour lemon dressing on to pasta salad and stir well. Refrigerate until ready to eat.
Serves 6.
Recipe modified from Cooking Light
[/print_this]