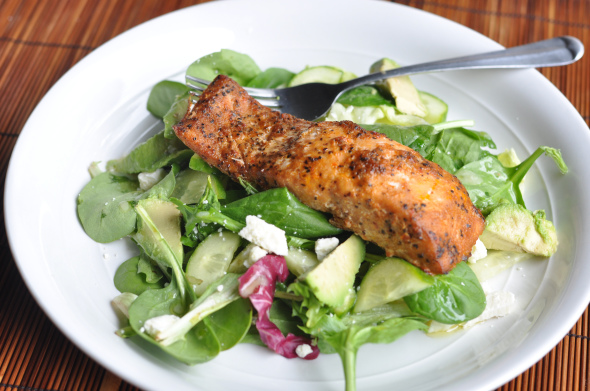 Since I talked about the importance of Vitamin D yesterday, today I will share a simple meal with you starring salmon which is naturally high in Vitamin D. I found this pre-seasoned salmon from Costco. We have a hard time finding wild salmon at our local grocery stores and since farm raised salmon is higher in mercury I try to avoid buying it. This salmon is tasty, easy to to defrost and throw in the oven for a quick supper. The salmon is seasoned with olive oil, garlic powder, paprika, onion, red bell pepper and smoke flavor.
You can find it in the freezer section at Costco. Boy how I LOVE Costco.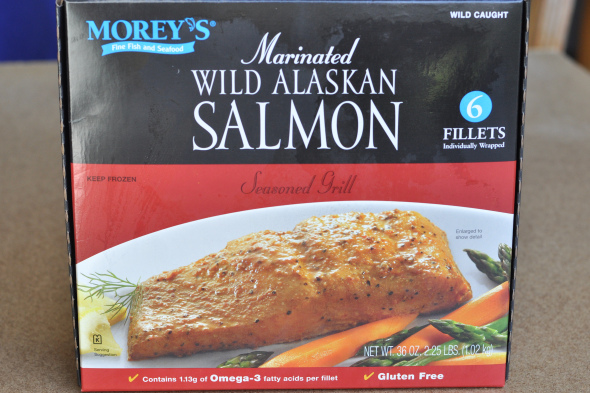 On fillet only has 2 grams of saturated (the bad kind) and the rest is unsaturated and it's a great source of those great Omega-3 fatty acids. And I will point out the obvious that salmon (and other seafood, meats and poultry) is high in protein- 30 grams in one 6 ounce piece!
There are 6 individually wrapped pieces in the box which is so convenient because you can pull out one or four and it makes defrosting so easy since they're in small packages. Sometimes when I forget to take it out of the freezer in the morning, I just pop one of the plastic wrapped pieces in some warm water and it defrosts it very quickly.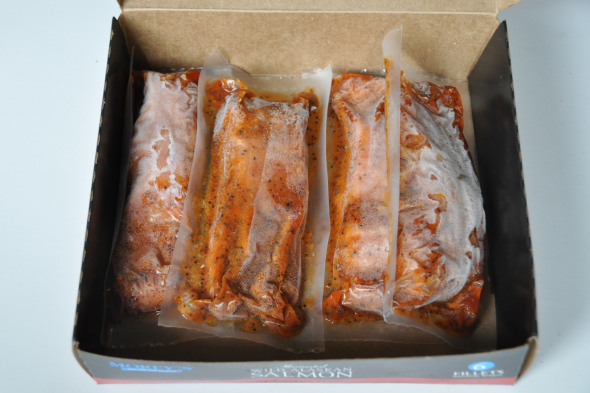 Even my kids think it's pretty good!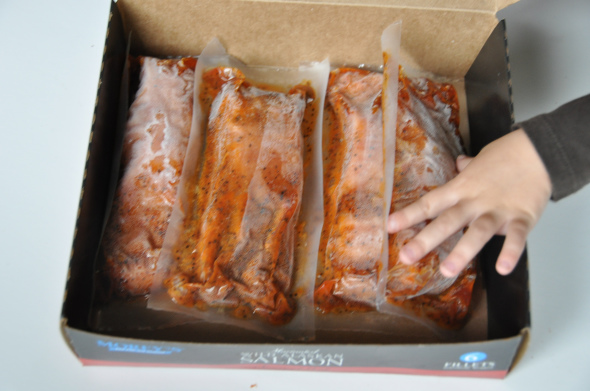 This salmon is raw, but bakes in no time ! In ~15-20 minutes (see instructions on box- you can even bake the salmon frozen, it will just take longer) you've got a nice, flavorful piece of salmon ready to eat.
Then this is what I do with it most of the time: put a handful of your mixed salad greens in a bowl, add in whatever you'd like- feta, avocado, tomatoes, etc. Toss with your favorite dressing. I usually have my lemon dressing on hand. Add the baked salmon on top and enjoy! Great for lunch or dinner!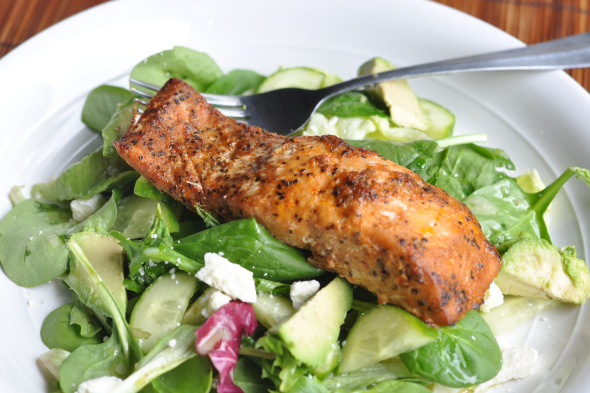 Here is the no-recipe "recipe"
Salad with Seasoned Salmon
Recipe from Nutritious Eats
INGREDIENTS:
mixed salad greens
feta
veggies- cucumber, tomato, red onion, bell peppers- what ever you'd like
avocado
Lemon Dressing
Morey's Herbed Salmon (from Costco)
DIRECTIONS:
1. Mix salad ingredients in a bowl. Toss with dressing. Place salad on plate and top with baked salmon.
Here is the recipe for the dressing if you missed it last time!
Garlicky Lemon Vinaigrette
Recipe from Nutritious Eats
INGREDIENTS:
1 1/2 teaspoons dijon mustard
1 lemon, juiced
1 garlic clove, grated (I use my microplane or you can dice very finely)
1/4 teaspoon sugar
1/3 cup extra virgin olive oil
Pinch of salt and pepper
DIRECTIONS:
1. Mix dijon and the next 3 ingredients together (through sugar)- whisk together. Very slowly add olive oil, little by little until emulsified. Add pinch of salt and pepper. Shake in glass container with tight fitting lid. Drizzle desired amount onto salad.
Yield: 7 Tablepoons
Nutritious Eats (salmon plus salad): Vitamin A, Vitamin C, Vitamin D, Fiber, Omega 3 fatty acids, high in protein