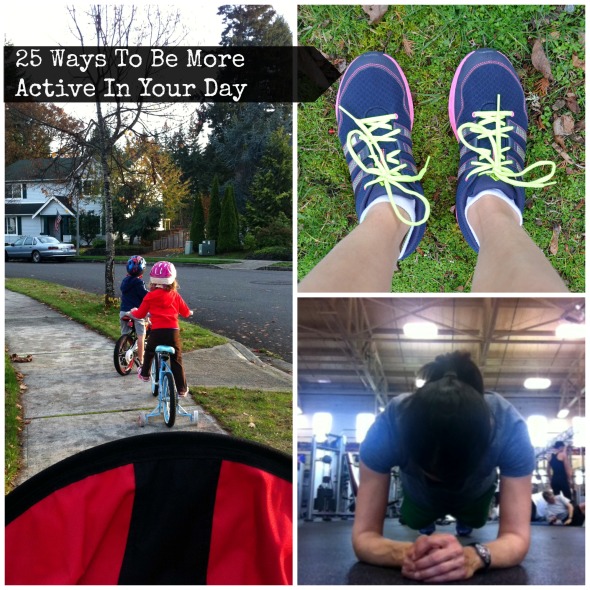 Hi friends, how was your weekend? We had gorgeous weather again….I am not sure what is going on in the pacific northwest, but I'll take it! Sunny, blue skies and in the upper 50s called for a lot of outdoor time- bike rides, playing at the park and just lounging out in that wonderful weather. It's amazing how uplifting a pretty day can be.
The kids and I were pretty active and and it got me wondering what my total daily steps were averaging. I haven't tracked my steps in forever. I used to wear an old school pedometer and I loved making it a personal goal to get past the recommend 10,000 steps. These days the trackers are a bit fancier and I still haven't made the purchase. I am really curious as to how many steps I get with daily exercise and chasing my 4 kids around.
As we were playing games at the park, I started thinking of how great it feels to move your body. Even when it's  not planned exercise, the rush from sprinting away from kids during a game of tag….or hanging from the monkey bars. We take that for granted don't you think?
So today I just wanted to remind you to get out there and move….those little things definitely add up!
25 Ways To Be More Active In Your Day
1. Walk to check the mail instead of driving around to your box (especially for those who don't have a mailbox in front of their house).
2. Put away laundry in small batches. Yes, it seems like a waste of time, but you'll be getting more steps in.
3. Take the stairs instead of the elevator. Elevators are for wheelchairs, the elderly or sick and strollers. Everyone else, stay off.
4. Dance to music in your house. Or anywhere for that matter.
5. Get off the subway or bus one stop early.
6. Play tag with your kids. If they are like mine, you will be running in circles for quite some time.
7. Go for a walk anytime you have a work break. Even if you can only squeeze in 5 minutes throughout the hallways of the building, do it.
8. Play with your kids for 30 minutes a day. Kick the soccer ball, lift and swing them, play chase.
9. Bring in your groceries one bag at a time. Put food away, repeat steps.
10. Walk your dog.
11. Walk during your lunch hour.
12. Schedule breaks throughout the day to get up and move. Set an alarm if you have to!
13. Walk or jog while you're waiting at your child's sport/activity practice.
14. Do squats at your computer desk while things are screens are loading or you are perusing Facebook.
15. Walk to your coworkers desk to talk instead of emailing or calling.
16. If you have a baby, do leg raises or baby push ups with him/her.
17. Wash the car by hand.
18. Mow the grass, rake, pull weeds, garden.
19. Use a shopping basket instead of a cart when possible.
20. Park further away. Nobody wants to do this, but just do it.
21. Pace while on the phone.
22. Tap your foot while you are at your desk. Fidgeting burns more calories!
23. Exercise while watching TV….or at least during commercials.
24. Walk instead of drive from store to store when running errands in an outdoor shopping mall.
25. Clean the house.
Hope you all have a wonderful and active week!
Question: What are some of the ways you are active throughout the day? Do you do these things? Which one do you not liking doing? Cleaning the house is my answer!