I am on a roasting vegetable kick. Broccoli, carrots, asparagus, you name it! My newest favorite is roasted cauliflower. I'll have to admit cauliflower is not my favorite veggie raw and I really don't cook with it often. This however is simple and so good. I could eat it everyday prepared this way. If you're not into cauliflower, try it roasted. It'll be on your veggie rotation in no time.
Cauliflower is a cruciferous vegetable responsible for helping to reduce risk of cancer due to it's special antioxidant properties, anti-inflammatory effects, as well as it's high fiber content. It is also an excellent source of Vitamin C! ONE cup of cooked cauliflower will provide you with almost all the Vitamin C you need in a day (92% to be exact). It is beneficial to include vegetables from the cruciferous vegetable family (also includes broccoli, cabbage, brussels sprouts) several times a week at minimum.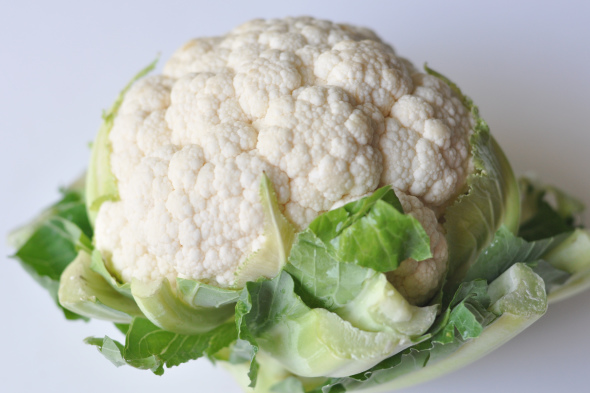 Cut that head of cauliflower into bite sized pieces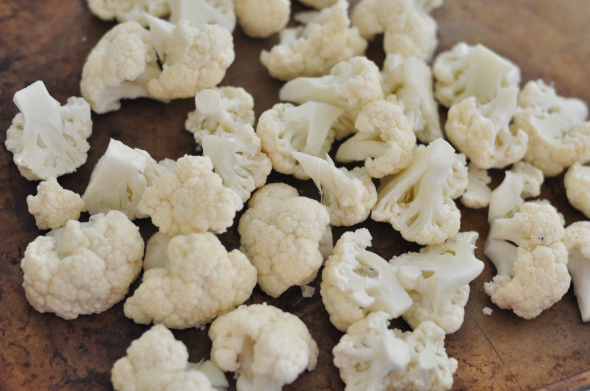 Toss it with your olive oil, lemon juice, garlic, salt & pepper and into the oven it goes!  Finish it with some parmesan. Delicious!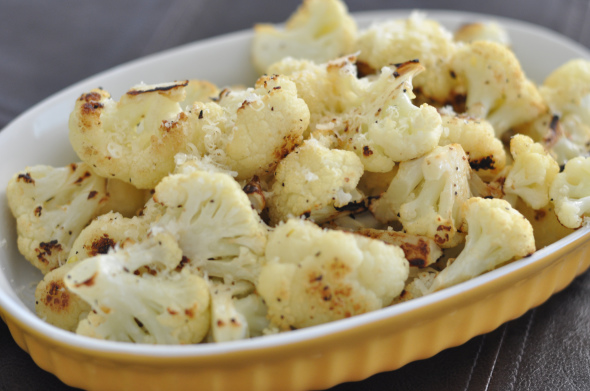 [print_this]
Roasted Cauliflower with Lemon and Parmesan
INGREDIENTS:
1 medium head of cauliflower, cut into 1-2 inch pieces (mine measured about 5 cups)
2 Tablespoons olive oil
2 Tablespoons lemon juice
2 garlic cloves, minced
1/2 teaspoon salt
1/4 teaspoon pepper
1 heaping tablespoon freshly grated parmesan cheese (best to use the good stuff, Parmigiano-Reggiano)
DIRECTIONS:
1. Preheat oven to 475 degrees. On a cookie sheet, toss cauliflower pieces with olive oil, lemon juice, garlic, salt and pepper.
2. Roast for 15 minutes, stirring occasionally, until crisp tender and lightly browned.
3. Transfer to a serving dish and sprinkle with parmesan cheese.
Yields: 4-6  servings.
[/print_this]
Nutritious Eats Benefits: Vitamin C, Vitamin K, folate, fiber
Have a great weekend!